12 Pics That Show How Designers See Things Differently vs Everyone Else
Opposite to what everybody says, designers are not aliens in disguise. You can mark them with a tag like mutants ▬ X-Men 'with the greatest sense of seeing things around.
They hate ugliness and having an innate affection for caffeine(coffee or tea) and alcohol.
The excellent folks at Creative Market produced an exceptional fun series of creative images that shows designer's viewpoint vs everybody else's viewpoint about objects and conditions.
Stamp them out below.
Here we embedded images optimized by digitalsynopsis
1. Photoshop
2. Free WiFi Zone
3. The Blue
4. That Flash Player
5. Canvas??
6. Colours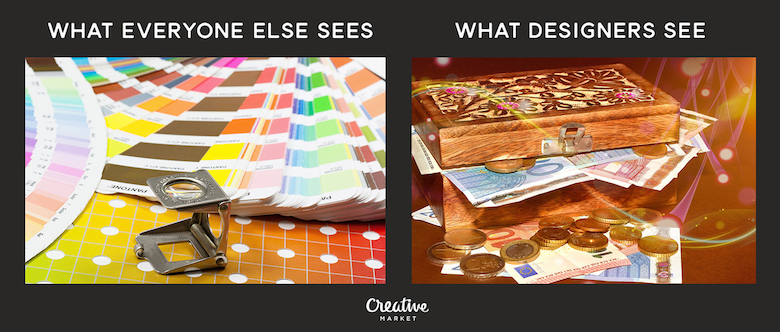 7. Free Goodies
8. IOS 9 / Product Launch
9. Monstor Who did this (Chocolate)
10. Grrrr
11. Resturant Menu apple
12. Reviews

Our favourites: no. 1, 5 and 7. What about you? Share this post with a designer friend and voice your views in the comments below.