Every day we save tons of new files on our computer, and it takes time to categorize them. Most of the times we do not carefully categories them and even if we do what are the odds your files stay safe forever? Things can go south, any second.
Your may accidentally delete files, format entire partition and what not else. A virus can wipe entire disc, a cleaner program can delete the files and a kid can do on purpose. Learn what to do when your files are deleted and you need to restore them back, all that with EaseUs's updated Hard Drive recovery software.
How to Fix MBR on External Hard Drive
The Best Disc Imaging Software
How to Wipe Hard Drive
Features of EaseUS Hard drive recovery.
It supports all Internal and external hard drives including HDD/SSD, Hybrid Hard Drive (SSDH), USB flash drive, SD card, CF Card, etc.
Quick Scan – Searches file using basic algorithm for quick results. This shows recently deleted files instantly.
Deep Scan – Scans the storage device sector by sector to ensure recovery results.
Allows preview of all files available for recovery, you can preview images and video files before recovering them. It help choose what you want to recover to avoid unnecessary recovery.
It can find and recover more than 1000 types of file types.
Improved lost partition recovery, now Recover data from deleted, hidden, lost or RAW partition.
Here is how to start using the software to scan and recover deleted files. Make sure to install it on a safe drive, to avoid data overwrite.
1. Select A Disk or folder.
Connect the hard drive if it's external, and make sure all the drives are properly attached and recognized.
Do you have the slightest clue about which Disk you need to retrieve deleted files? If not select each disc and scan top to bottom order.
Click the Scan button.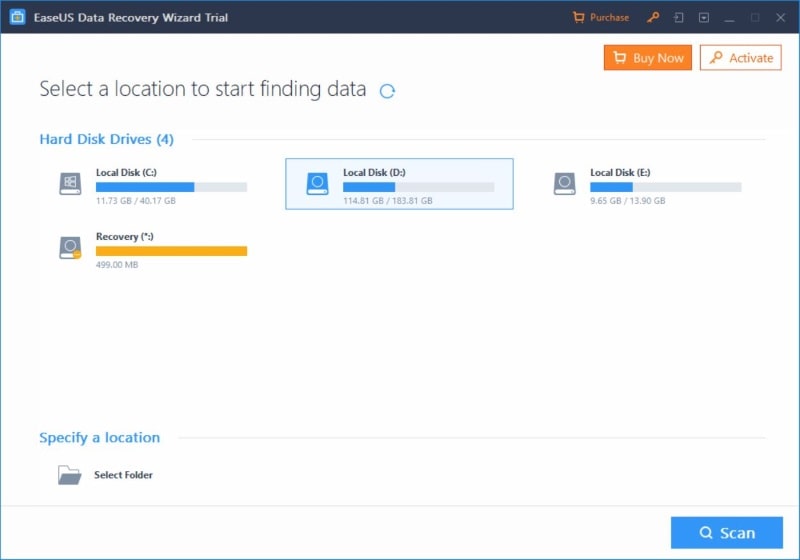 2. It will take a little bit.
The scan will crawl the entire Disk, it will take a while, meanwhile you can take a look at the discovered-deleted files. It depends on space used in that Drive.
Left panel has two menus, one is Deleted files and other is current-index. The "Deleted files" will shows all lost data result.
You can recover the file once it shows up (even before scanning process competes) You can try to recover lost data from here.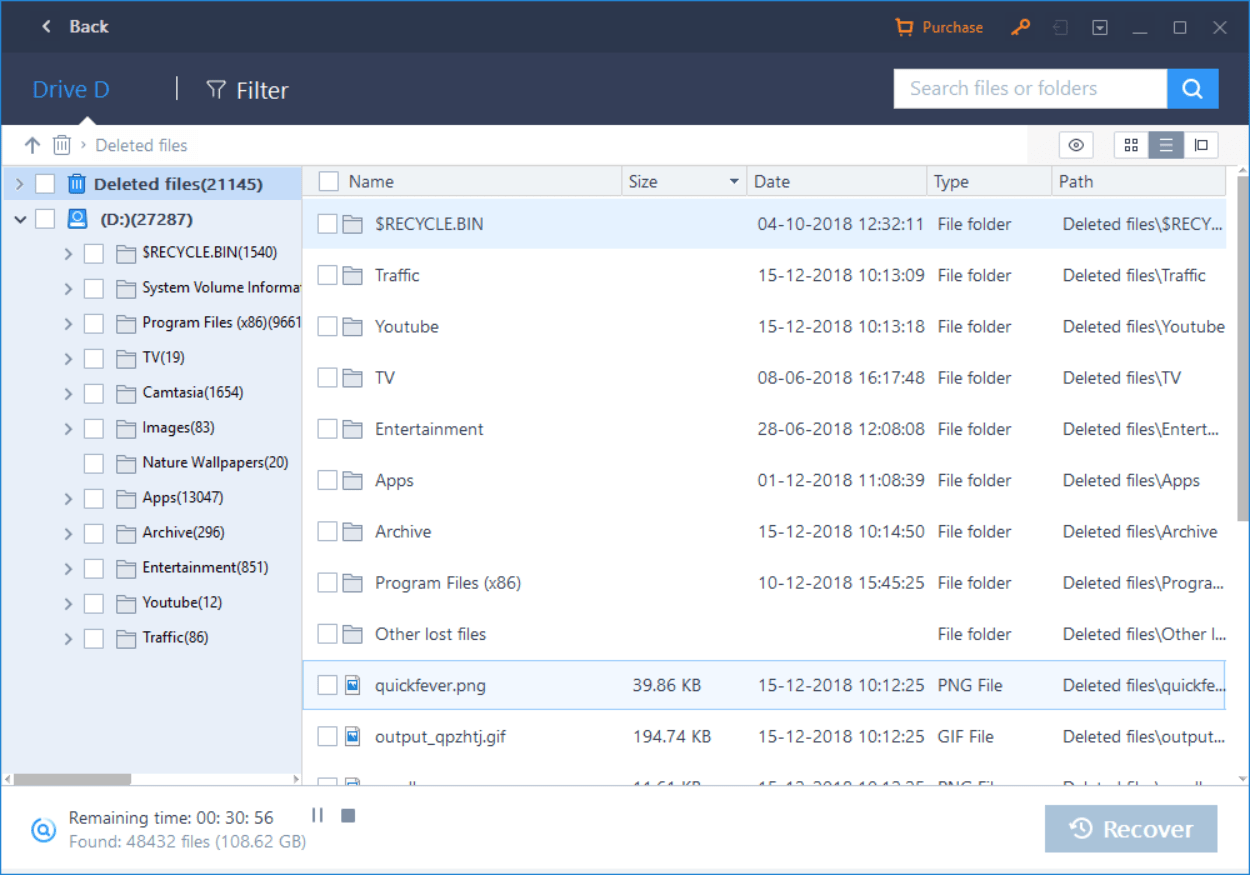 3. Make use of Filters.
The file you're looking for! How would you find in thousand of results? Make use of the filters, can you guess the targeted files size and type. Simple select that in filters to narrow down results.
If you find your target file, select it and click on "Recover" button. You might want to preview them before you recover to make sure its the target file. When you're sure that the preview matches to the file you want to recover, you can purchase licence before you can recover your files.
Why you can restore deleted files?
Hard drives uses the data remanence feature, only index of the file is cleared when a file is deleted. That index tells location of the file for access, and without it you can not access files. EaseUS's powerful data recovery tool makes it dead-easy to find deleted file and allow to recover them easily.
Wrapping it up.
Since you can restore deletd files that doesn't mean you should not backup your files. Use a external Hard drive just for backup purpose. And if you use a External Hard drive for data storage and you switch to different computers, make use of Google backup and similar services to backup specific-important folders to cloud. Do not Backup Games, Movies and large data to cloud because it doesn't make any sense, most of the large file you store can be downloaded again from the Internet. Do care about those not-space-hungry files and give the a second place to stay safe.