Phoenix OS is a stylish Linux-based Android operating system that allows you to run Android Apps and Games from the Google Play store. You can customize the look and feel of your desktop and background. You can use Phoenix OS to boot from a USB drive and do everything including, Playing battle royal games like PUBG, Fortnite etc.
Phoenix OS Review
How To Dual Boot Phoenix OS With Windows
You'll need the following to create a bootable Phoenix OS USB drive:
A 4-GB USB drive
Phoenix OS ISO
Download the ISO File for Phoenix OS
Download the latest version of Phoenix OS . You can choose either the 64-bit or 32-bit version. Most likely your computer will support the 64-bit version; however, choose 32-bit variant if your computer is older and have less then 2GB of RAM. The process to create USB Drive is same for each version. TO create bootable USB drive of Phonenix OS you'll require to follow the steps.
Format the USB Drive
Plug the USB drive into a free USB port on your computer. For better results connect to a USB 3.0 Port.
Open MY PC by press Windows + E button.
Right click on the USB Drive and select Format option from the context menu.
In the box that appears, choose FAT32 or NTFS as the file system and click "Restore device Defaults" and tick Quick Format box.
Click Start.
Install Rufus
Download the Rufus application. There is not need to install it on your computer since it does require installation. Double click the downloaded file and do follows these steps in Rufus application.
Save Rufus on your desktop for easy access.
Create the Phoenix OS USB Drive
Plug the USB drive into a free USB port on your computer. For better results connect to a USB 3.0 Port.
Double-click the Rufus Application from your Desktop.
Select the drive letter in Rufus application to make sure the drive letter is the same as the one for your USB drive.
Click the "SELECT" button in the application and navigate to the Phoenix OS ISO file.
Leave all options to as it is, choose GPT in target system if your computer uses forced UEFI scheme.
Choose the Phoenix OS ISO downloaded previously.
Click Start.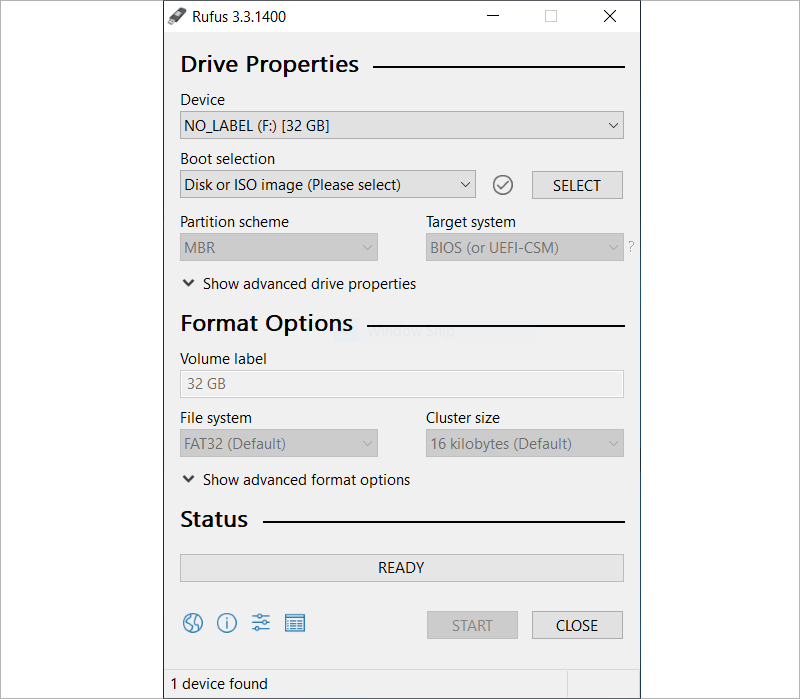 Turn Off Fast Boot
To boot Phoenix OS from USB Drive on a machine running on Windows 8, Windows 10 and Linux you need to turnoff Fast Boot and Secure Boot if your computer uses UEFI bootloader.
Click the Start button.
Type Power Options and click on result that appear.
Click on Choose what the power button does.
Scroll down and uncheck Turn on fast startup.
How to Boot From the USB Drive
When your current system is Windows 10, you can press and hold Shift key and click Restart from power menu. Your computer will now give you an option to boot from USB drive that you just created.
Alternatively, start your computer and press one of these keys to choose bootable deivce. Some keys are ESC, Del, F10, F12 and F9 in HP machines.
It will boot normally within a few minutes and from now you can boot into Phoenix OS to test Android apps and Games.