Every computer component has a limitation and life span, they get old and ultimately you'll need to upgrade that hardware. One such is hard drives. When you upgrade to a new hard drive all you need is to make a copy of the whole hard drive. Also, for not-so-tech-savvy people cloning a hard drive along with an operating system seems easy but trust me you can't just copy-paste all data from old to a new hard drive and wish windows would boot. It won't. Probably you'll run to a service centre. You can avoid all the mess.
The solution for all your making identical copy of hard drive upgrade has to stop with Disk Cloning Software!
Related: The Best Time Machine Alternatives for Windows 11/10
Today people can get affected by ransomware that puts all your data at risk; your data will stay on your hard drive but is highly encrypted that you won't be able to decrypt. There is no solution, but precaution and that is having your drive cloned to an external drive. Some software makes it easier to move your operating system to a new hard drive or even to SSD (which is faster but expensive), and at the same time, you can make partitions to organize your data in categories. Such hard disk cloning software does the job and creates a full copy (or copies) of all your data stored on your computer which you can restore any time in the future. The advantage of this process includes saving your files from data loss or hardware damage. Manually copying data is a headache, and a time-consuming process (doesn't mean cloning isn't) but software doing this is better than anything. When you switch to a new SSD or hard drive using Disk imaging or Disc cloning software they create a single ISO image file and allow you to make as many copies out of it. The result is useful when you want to clone a bunch of computers with the same operating system along with your favorite application and data. On an enterprise level, we understand the value of using such Disc cloning software to turn all data into a single Iimagefile. But for an individual does it offer the same benefits? The answer might vary from user to user.
Take this example. You have an old computer that you bought enough a long time to forget its product key. So what can you do to keep using the same operating system on a newer computer? Or when your operating system goes boom? You can re-install that again right! But where will you go for the product keys? (unless you want to crack the activation you won't want to use an operating system that keeps saying please active me so I can change desktop wallpaper for you. When you make a copy of your hard drive, you can re-instate the almost same environment on another computer without the need of using product keys. The majority of these kinds of drive imaging applications can be used for many purposes but the major is taking backup of the entire system. Whether you use a Windows or MAC computer you keep installing software's that you use for various tasks., if you make a disc image of such a hard drive that has all the installed software you can restore that later if you damage your hard drive or a nasty virus cleans up that for you.
It's now clear; you should have a backup of your hard drive. And a hard drive cloning process will help you in this. For this reason here is the best disk cloning software for Windows operating system. These disk cloning software will ensure the safety of your data and secure way for you to restore all the data at once.
These Disk Imaging Software will work on Windows 10
1. Hard Disk Manager Professional
Keynote Functions: Hard Disk Cloning, System backup, File and folder backup, SSD support, Disc Wipe, Copy Partition | Webpage Link
This software supports Windows 10, Windows 8.1, Windows 7.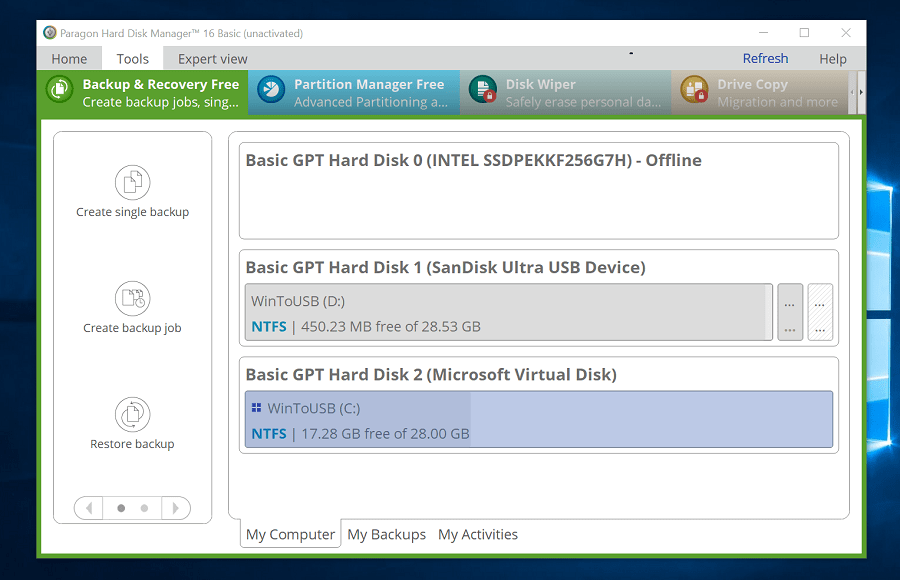 Hard Disk Manager 16 Professional version is a flawless backup and disaster recovery solution for Windows PCs. You can clone your whole framework and mount everything on a virtual machine utilizing this nifty disk imaging tool. The product gives a great measure of security to your information by utilizing a symmetric block algorithm. It is perfect for partition management and enables users to backup basic information and important documents.
Things which is not included in the free version are automatic backups, advanced partition, disc cleanup, and migration. This means you can not make an operating system copy unless you pay for the paid version. You can get the 5 days trial and it can be used to create recovery media.
If you are interested in saving backup to cloud storage you can do that as well using the software. Depending on your backup file size you might have to upgrade your cloud storage because most of the free cloud storage services like Dropbox and Pcloud do not offer much space. You can consider using Google Drive if your backup file size is less than 15 GB.
The majority of options will remain locked unless you provide a product key. If you are looking for a standard disc or partition backup the Paragon drive backup is a good choice.
You can do backup jobs, restore backup created using the same software.
2. Ease US Todo Backup Home
Keynote Functions: Hard Disk Cloning, System backup, File and folder backup, SSD support | Webpage Link
This software supports Windows 10 and older but is newer to Windows 7. Windows Home Server 2011.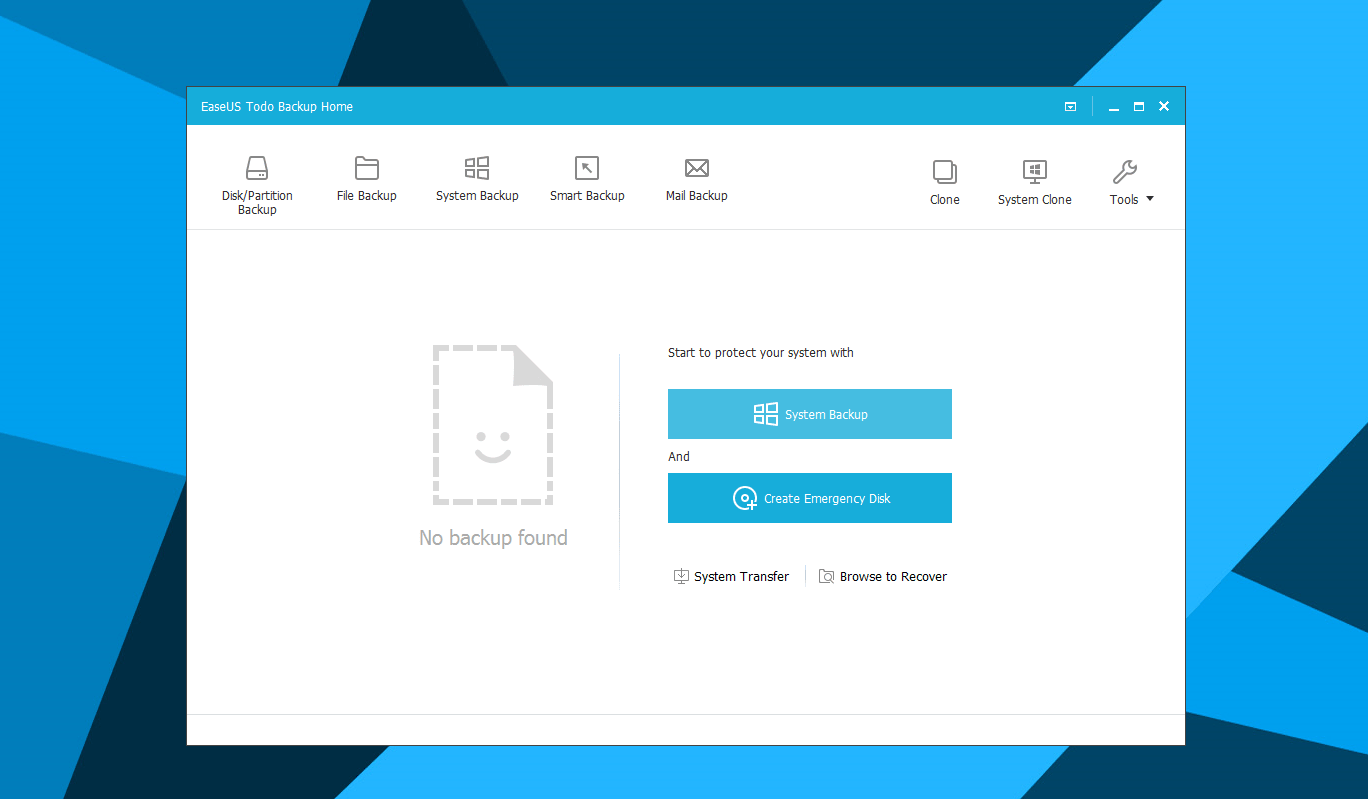 EASEUS provides free software with the core function of cloning disc drives. The user interface is quite simple and gives two 2 options. You either create a System backup (for example creating Windows 10 OS clone to a hard drive so that you can boot to the exact-same operating system on a new computer). The other option lets you create an emergency disc that you can use to boot your computer (and perform several tasks).
The ability to copy-and-clone your operating system to a new computer also brings all installed programs cutting the process to re-install them saves a lot of time. This is useful when you're going to replace a hard drive on both desktops and laptops. For desktop users, it's a quite less hard task as the motherboard allows multiple hard drives to connect at the same time eventually making it easier to copy-paste all data (excluding the operating system) in a breeze. If you are referring to an internal hard drive you might need some adapters to connect them via a USB port on a computer.
However, you can not explore the backup data within Windows Explorer. This requires the EASE US Todo backup.
3. Clonezilla
Keynote Functions: Hard Disk Cloning, SSD support, UEFI support on Amd64 CPU Open Source | Website Link
This software supports Windows 10 and older but is newer to Windows 7. Windows Home Server 2011.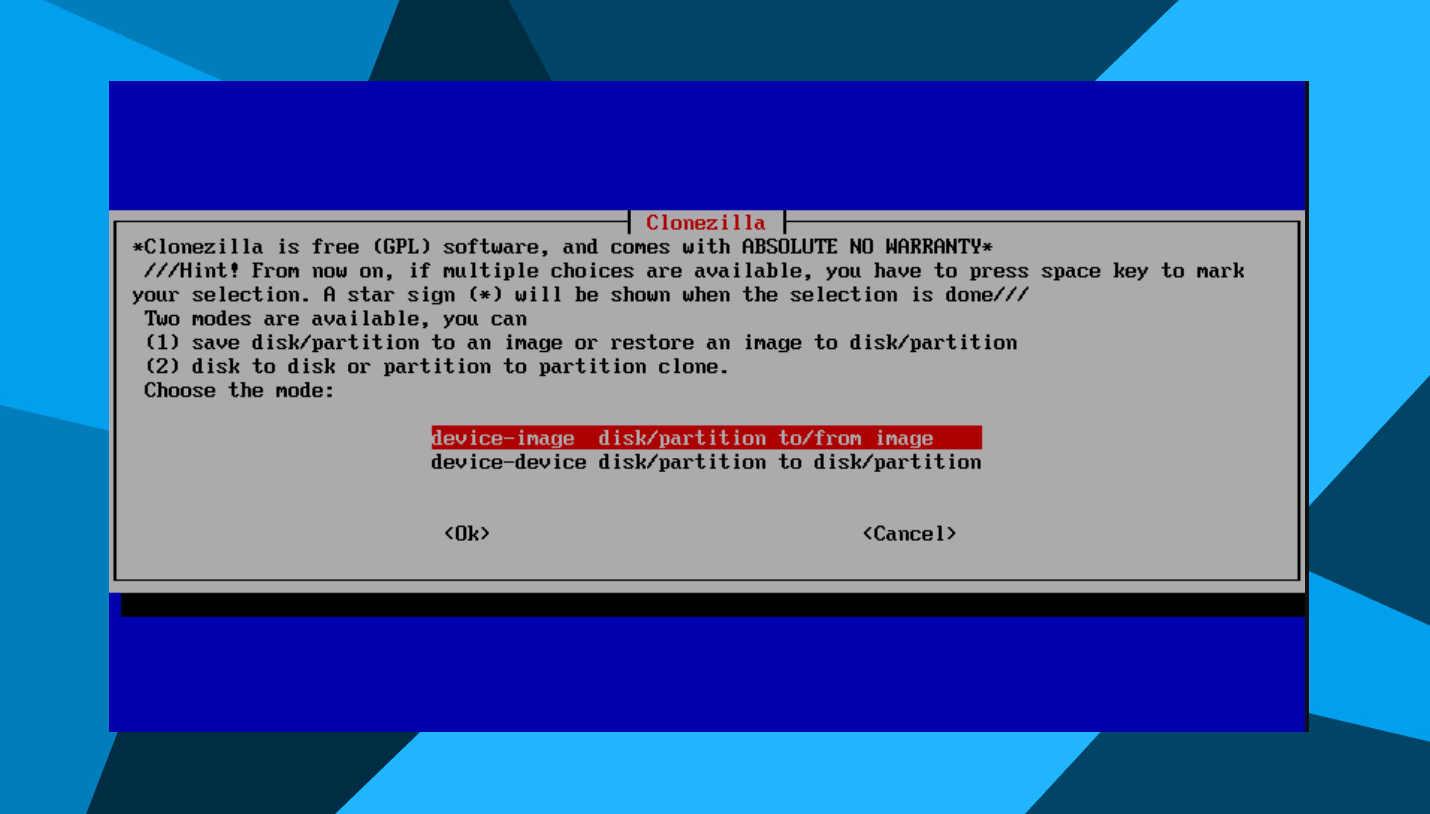 The first thing you should know. You can not run this software on a Windows PC. You need to download the ISO file from its website. You can burn this ISO file to a USB flash drive. Awesome! When booted you can perform several takes including the disc cloning. You can also encrypt the backup file if you want. For many users, this tool can be healthy and useful because you are not going to install anything on your computer and your operating system will remain intact. It does not matter which operating system you are running on your computer, you can be using Windows, Linux, or other.
Take this scenario for an example: You just installed Windows 10, with absolutely zero Malware no tracking no cookies no nothing. Attach external hard drive and boot Clonezilla from a USB flash drive. If you do not have a spare USB port as you have to connect the external drives you can burn the CloneZilla tool on a CD or DVD and Run from it. Using this you can clone your entire partition so if you have Windows 10 installed on local disk c, you can make a clone of that disc to the external drive. It also allows you to save the backup file to a particular location this helps when you have multiple backup images on your external hard drive. I don't know if he still has a partition manager but you have to create a separate partition on your external drive using Windows.
The GUI is clean and straightforward and lets you create or restore backups. Other features are making complete cloning of a partition. The process is simple and you will get adapted quite easily. The learning curve is almost close to none.
4. EaseUS Partition Master
Key Functions: Migrate OS to Disc, Hard Disk Imaging, and Cloning Partition Support: Resize, move, merge and split partitions without data loss to make better use of hard drive capacity. | Webpage Link
This software support: Windows XP to Windows 10.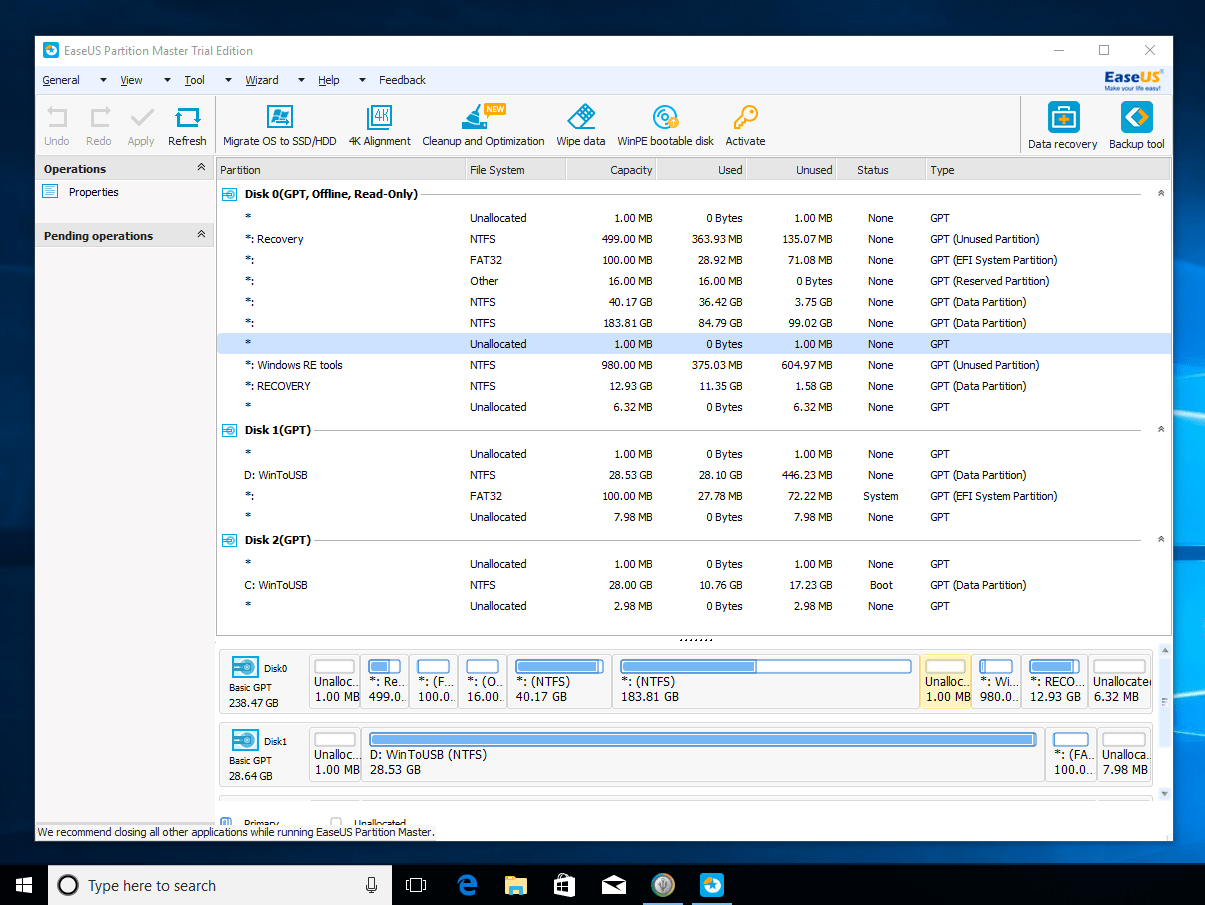 This is one of the best and most Powerful disk cloning tools you will ever see Goes by the name EaseUS partition manager. As the name suggests it's an advanced partition manager that can do a lot of things to manage your partition some of the basic examples are splitting and merging partitions. With the calling function, you can clone an entire hard disk to another drive which includes the operating system so you don't have to install your operating system again. This tool support 2 GB hard disc climbing up to 4 GB, there is the issue with MBR partition that they cannot use more than 2 TB storage even if you have a 4 TB Hard disc, you can change MBR disk to GPT but that will prevent the operating system to boot. However, there should be no predicament if it's an external hard disc.
5. Paragon Drive Copy
Key Functions: Hard disk copy, partition copy, Drive copy, migrate os, p2v copy, creating vd, backup to virtual disc, restore from virtual disc, Trimming SSD, Hyper-V |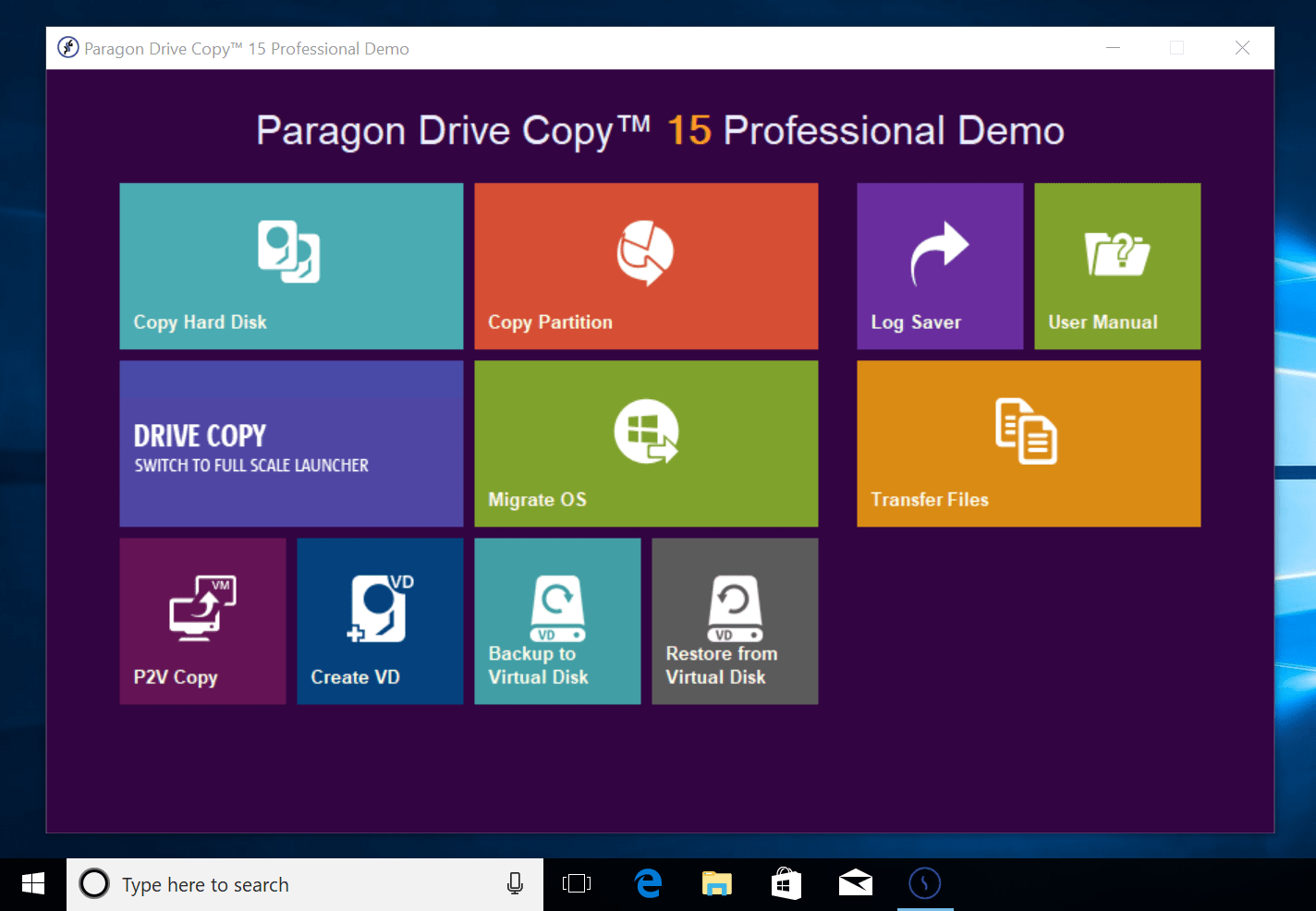 Continuing arguing which is the best disk cloning software for Windows, the Paragon backup and recovery is a rated software by many users. The first thing you'd like to use will be the backup capsule which is ultimately a disk cloning tool. Unlike the other this software lets you build a separate partition with all the data of your computer including the operating system so that if anything goes wrong you can boot from the recovery partition for easy undo.
6. AOMEI Backupper Standard
You can simply open the software and make a clone of a partition or your entire hard disc and copy it to another drive.
The AOMEI provides different types of products the one is called backupper which provides four types of backup. Disk backup and partition backup can be used to backup Everything At Once. While file and folder backup allows you to select particular files. And then system backup that will make a backup of your operating system within the software. So it's pretty much a good disk cloning software that does the job without making the process complicated.
Just like the rest of the software all of your data will be backed up in one single image file that you can save to an external hard drive or on a shared network folder to quickly reproduce the same operating system environment to multiple computers. Practically this isn't easy as it sounds.
Also for security purposes, you can encrypt your backup with a password and set compression level. Trust me this is a long process, and you may wish to get notified once the backup is complete. Also if you do not have an external hard drive, you can split the backup file into custom sizes is that will allow saving them to multiple DVDs. Also, you can configure it to make an exact clone that will back up both used and unused space. While the other is called intelligent sector backup which will leave the unused space and only backups used space.
Ok, enough backup talk. That is just the first part. When you made a backup using this software you can mount that up as a local disk and see all the data. You can pull some files from the backup if you wish. Or you can just restore all the data with a few clicks.
7. O & O Disk Image
The software can grab and backup all the data on your computer at once and gives multiple options to handle the backup image file. What is the best feature of it? You will be able to copy all the data to your hard drive by pressing only one button, whether it is your file or the individual files and folders. It not only protects your computer's file but also copies your operating system to a hard drive so that you can restore the entire installed application along with the operating system.
This software also lets you set how often does it backup everything as an image and for storage capacity you can set how many copies to create or replace older images with a new one. Like that, if you choose to keep only the recent 5 images file, it will automatically delete the last image when making a new backup. If you use the Windows operating system, then you can also use clone hard drives on different hardware because Windows installs the driver accordingly, in this case, you will not have any problem due to different hardware.
Building a bootable flash drive within the software is something that you might not need but is a nice feature to play with. Do you suspect your operating system can go down anytime? Using some registry work or installing applications? Then you should at least have a way to bring your system back to a working state without reinstalling everything all over.
8. Macrium Reflect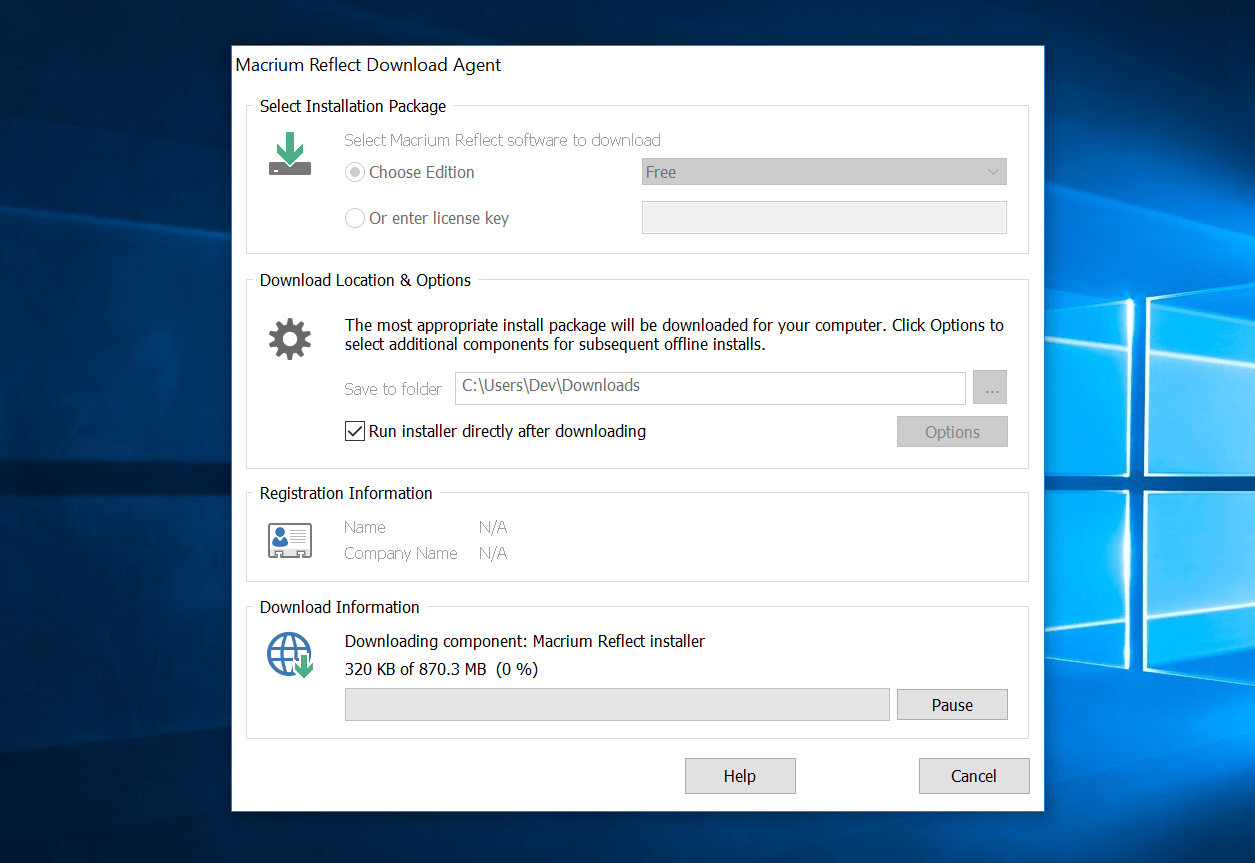 The home version provides all the essential functions you will require for example creating a live operating system backup within the operating system you are using. Also, you can go through the backup and see all the files and folders through Windows Explorer. That is cloning function is also easy to use and does clone your entire hard drive as an image file with a scheduling function to keep your backup up to date, you would not want to miss anything in 1 month if you happen to make a backup each month.
The 30-day free trial is good to go if you wish to compress your operating system and wish to boot it inside Hyper-V virtualization. The other function is similar and is backpacking all the files and folders into a single compressed image file. It supports both MBR and GPT drives that come in handy when you're cloning multiple drives into one image file. This software is good. It comes with a cost, the single license costs $70, and you can save money opting for the 4PC license.
9. Acronis Cloning Software
Key Functions: Hard Disk Cloning, Partition and Data Backup, SDD support, Mobile backup | Webpage Link
Supported Windows Versions: Windows 7 SP1 (all editions), Windows 8 (all editions), Windows 8.1 (all editions), Windows Home Server 2011, and Windows 10 (including Anniversary Update)
You never cloned a hard drive before. Don't ponder your eyes on a plethora of options. This Cloning software can save the day. With a simple interface, this turns out the best disk cloning software if you need nothing but simplicity. The feature included in this software does the job for you and makes the cloning process easier. You can backup your entire computer or just some data files you can also customize the process before you click the backup button.
10. MiniTool Partition Wizard
Supported Functions: Copying OS to SSD, Hard Disk Cloning, Advanced partitions tools like changing File System | Webpage Link
Windows Version Support: Windows XP, Windows 7, Windows 8, d Windows 10.
In the disk cloning Software Industry MiniTool partition Wizard has a good place. As the name suggests it offers an advanced level partition manager as well as functions that will allow copying your operating system to a new hard drive or SSD or vice versa. The two wizards will allow you to either back up a single partition or your entire disk. If you ever used a partition manager you can be sure that it will use all the latest technologies while cloning your disk so you will never run into any error. As this is more of a partition manager you can change your modify your disk partitions, for example, you can merge them or split them to manage storage.
Minitool Partition Wizard is not an ordinary software and tends to be the best disk cloning software for the Windows platform. The interface makes it easier to take a glance at different settings and choose the one you want. For starters, the process is quite easy as the tool lets you make file backup so overall it will give you an excellent disk cloning experience. Unlike the above tool where you have to rely on text and commands the goal is simple — making a clone of your hard drive once and for all.
11. Disk2vhd
Create Hyper-V images quickly. | Webpage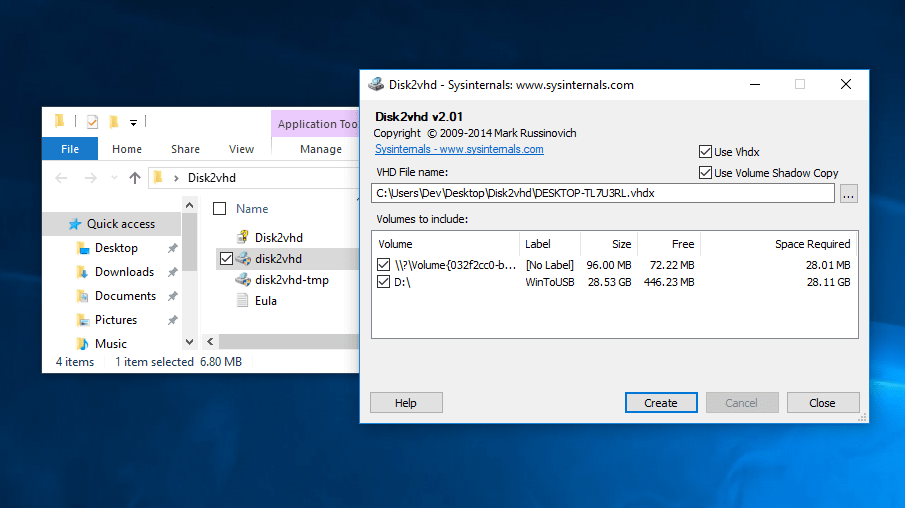 A worthy mention is probably not the best imaging software but turns out to do some functions with ease. Using this tool you can create Hyper-V images. This tool simply makes a VHD file preserving all the partition data along with files you specify during the setup.
Conclusion.
You are a Windows user. Your requirements are different and don't mean cloning is something that you want. Some want just-the-data backup, some wish to backup the Operating system maybe because they don't have the drivers anymore. Some want to do both. The requirements may vary, but the solution is indeed easily achievable using any of these disc cloning softwares.