Best Similiar Apps to Flipagram
Flipagram is a creative way to make photo and videos, stunning slideshows and damn lip sync videos. With so much to offer it's an amazing way to create something wonderful in seconds. It gives millions of free music clips to decorate your own lip sync videos. Of the chance, if you are finding other apps similar to flipagram, we've mentioned around 8 Flipagram alternatives available on Android and iOS App stores.
1. Instagram
How to Regram on Instagram From Android, iOS, and Windows
Instagram Terms & Their Means | Quickfever Tech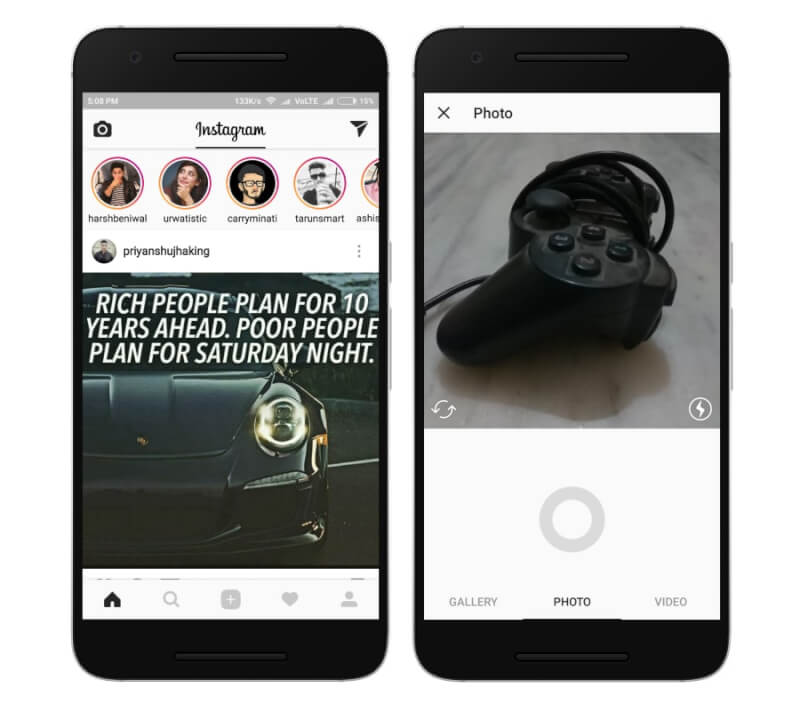 The Instagram is now owned by Facebook but remains as a big photo sharing platform. People around the world are sharing photos on Instagram and Instagram is the best way to get your favorite celeb's new photos and updates. As long as your concern is having the same features of Flipagram, Instagram the arguably the popular alternative. With the Instagram app, you can click photos, record videos and share them in a story manner. However, you'll be missing a few things in Instagram if you're coming from Flipagram; the first noticeable thing is you can't add music and can not create a slideshow using multiple photos. Despite the lacking of features in Instagram if we compare it to Flipagram but other features similarities are fascinating.
Instagram also have few additional features and filters; boomerang option can create videos in loop and filters can make any photo magical. Moreover, it earned it place to be called an app similar to flipagram.
2. Snapchat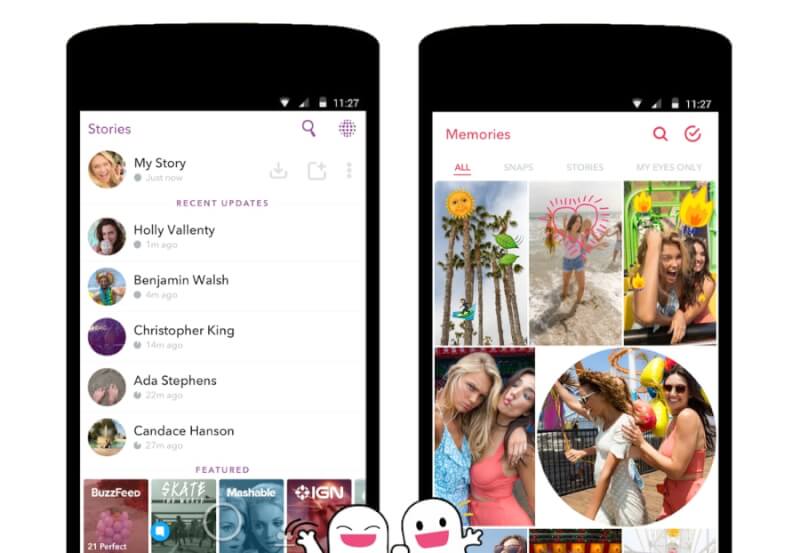 Snapchat does remove the photos and videos created as a story after 24 hours. Talking about the similar features, using snapchat you can add custom music or create own music to a video background. The story interface feature in it can be seen on the Instagram and Flipagram as well. Despite the fact that it can be a similar app to the Flipagram it also offers more exciting features, chatting, and snaps that are one-time-view only. There are more in the Snapchat, but that has to be experienced, felt.
3. Dubsmash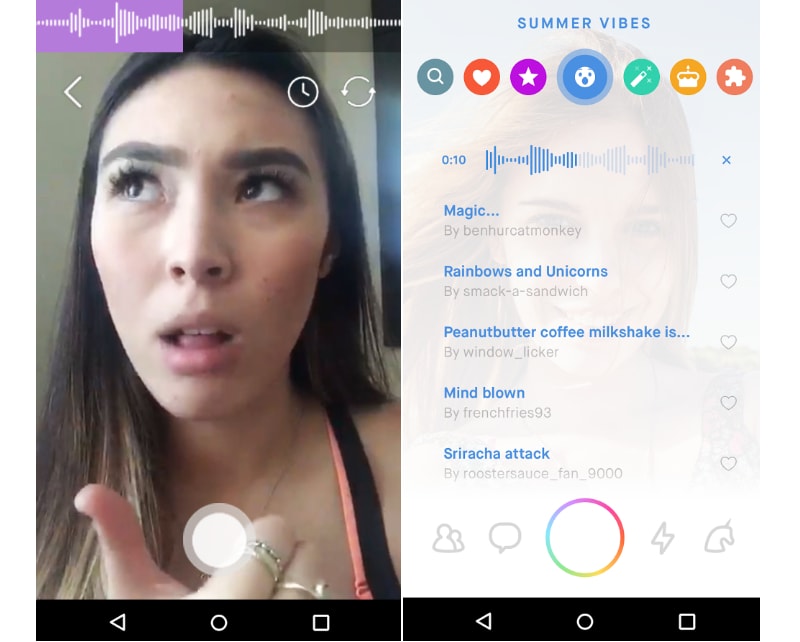 Look, who is in the list. Users can directly record their video and add a background music and publish it. It let users do the same things we can see on Flipagram. But here there is a term "Dubs" to call whatever you create using this app. It is somewhat the Flipagram should be but isn't. Just like Instagram and Flipagram you can add other users by adding their username and other also can add you to their account. You can create short clips with custom music or even mimic anyone. People from worldwide use Dubsmash and there are good reason to be it a popular video sharing platform, but with your friends and followers.
4. Triller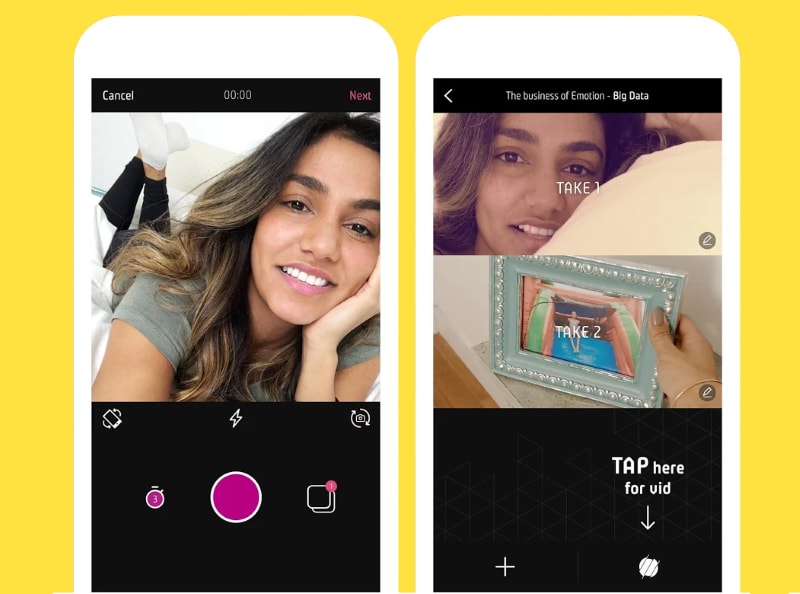 Triller allows adding custom music to slideshows and video. You can jump on the App, shoot a video and add a custom music to make it a music-video kind of thing and publish on your profile. Just like the Instagram this one also comes with lots of filters to choose from your photos. Overall, if I have, to sum up this app in a line I'd say "Triller is an app with videos." you can, of course, create your video and share it with triller community. You can also specify the number of takes, and many more things are in the app. With a basic and simple interface it a one of the cool way to create own videos with custom music in the background.
5. Flashgap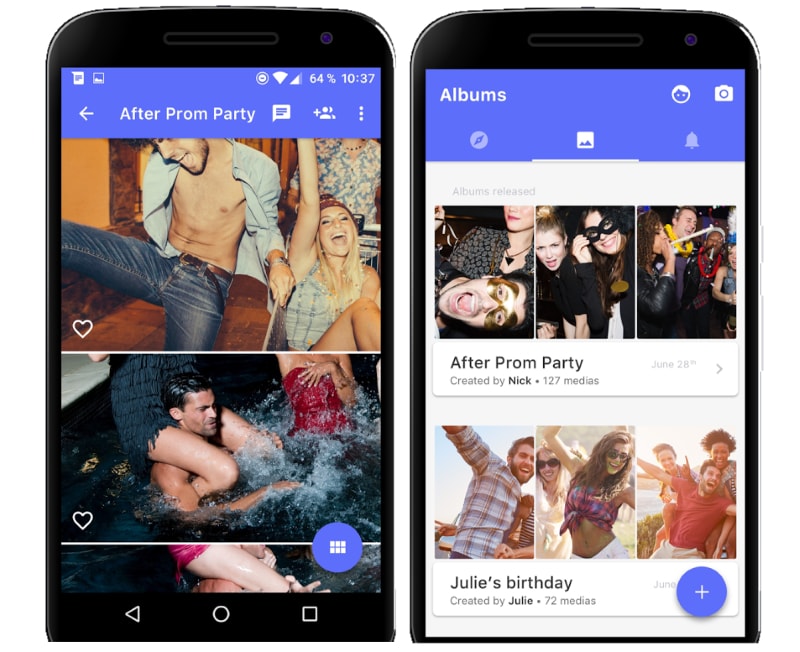 With a unique idea, this app is somewhat not very similar. Suppose you had a party last night, and you added the participant who attended the party. Now you can add photos to the album and so is your friends. The next day, at sharp 12:00 or call it Noon, the app will reveal the album including all the photos added by its participants. I'd not say that this is some kind of app inspired by some alcoholic movie. But as they say, meanwhile we are enjoying the party we do not really consider remembering it on the next day, or anytime soon. You'll probably let the memories fade and die. This app is such a great way to store those memories from all of your friend's phone.
But like all of your friend may not be using this application so it might take some time to push them using the app, and here is it falls short.
Flashgap (Android, iOS)
Also, see these Flipagram Alternative Apps
The above listed similar to Flipagram should be more than enough for your thirst to create and share random stuff you do each day. Some of the mentioned apps like Instagram and Dubsmash already have more users than the Flipagram. So for any reason, you are feeling you're missing something or wanted to try something else. You can try or even shift to any of flipagram replacement app mentioned above.
Here are some of the other apps we found that can help you create video, slideshows and every amazing thing you could ever imagine.
====
6. Slideshow Maker
You can find a huge similarity between the two apps, slideshow maker. It provides a feature to create slideshow of pictures. The application made slideshows can not be shared on itself as they don't have any community or personal profiles. But created slideshows can be shared via YouTube or email. It is a good way to create slideshows from photos, especially the ones you want to share with everyone. You can also glitter slideshows with Stickers and filters. It is definitely any closer to the Flipagram if your concern is to create-and-share instantly in a community. It only allows creating slideshows from photos that you can export and share it to another place, with ease and simple interface. I almost forgot about the adding a custom music part, yes you can add them here as well.
Slideshow Maker (Only on Android)
7. Photo Grid
(Collage Maker & FX Editor) Can be a handy extension for any of mentioned flipagram alternatives or for flipagram itself. You can turn your photos into collage, and this app has got more than 300+ layout just for collage making. Most of the people use this to make collage and later post them on Instagram. The app offers some of the best filters, adding funny stickers and even write on photos.
Also, you can create videos from photos, add music or text and stickers. It also allows to export whatever you create in High-definition in your phone, and you can easily share them on any social network including Instagram and the rest.
(Android)
8. PicsArt
PicsArt is another tool to create images and videos. It got so many editing options. You can save your creation on your phone to share it with your friends on any social network.
(Android /iOS)
9. Flickr
Basically, A without-modifications app to let your upload images. And there is a limit of 100 GB. Flicker has nothing much to do, and it just can be used to store images.
10. Viva Video
Lets you create good videos and with some animations and effects. It can help you create short video clips in a fun way. Try Viva video if you're much into recording videos.
Most of the apps that made their place in top 5 apps without watermark. And the rest of the app can be either used to create rich-images or videos or even slideshows and let you share them on any of your favorite platform.