Disclaimer: Downloading copyright content using torrent is illegal. However, for example, you can download Ubuntu using torrent from the official website. Also, to avoid any issue I didn't link any site but simply search in google to visit a service.
There are many popular torrents website using them you can download anything including free music, documentary, and eBooks. Eventually, some big pirated website is being shut-down, which is a good step. However, there is one thing that always bothers, downloading torrents using official Torrent clients are a real bummer for those people who live in a country where the Internet service provider (ISP) limits the p2p (torrent) downloading speed. Alternatively, maybe Most of the Torrent client does not work for you as there are numbers of factors you need to solve before downloading a torrent successfully using a Torrent client.
So what's the best yet easiest solution to download torrents?
A cloud torrent service! What is that? How does this work?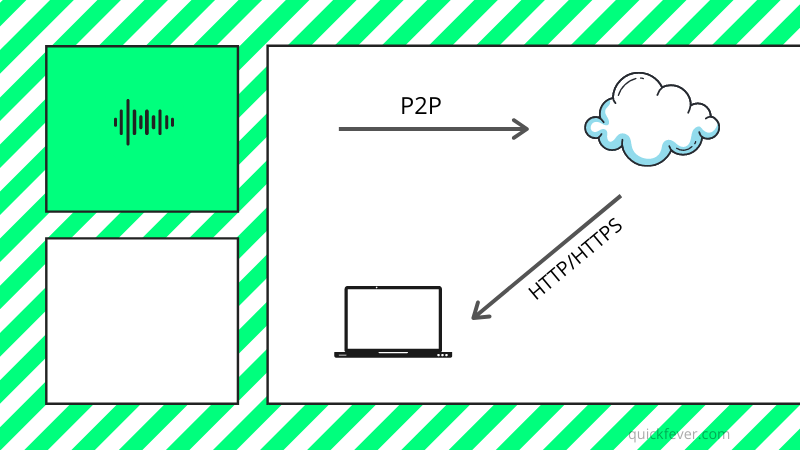 Cloud torrent service provider; such websites offering a graphical user interface where you can add torrent (either .torrent link or file and magnet) so that they can download them on their server, now you can directly download that data over an encrypted connection. Which means you can directly downlaod the data on any device. If it's a video
These are the Cloud torrent service providers
There are alternatives to any web service, and just like that there are options available in Torrent services can be used to ease the overall process to download files using torrent. Here are the 10 best torrent services you can use to download torrents without using a torrent client.
HTTPS protocol, insanely fast service.
It let you stream and make download torrent to the cloud so you can download torrent files over an HTTPs connection. It converts magnet link to direct link online, For the purpose, you need to sign up there. Once you sign up, confirm the email address, and you are ready to convert a torrent file into direct links. All you need is a .torrent file link or a torrent Magnet link and paste it on the website. To do that open seeder and paste the .torrent link or magnet and click on the + icon. In a few seconds, the torrent files will be loaded to their cloud storage.
It is our all-time favorite Torrent service to turn any Torrent file into direct download links in almost no time. The free plan comes with 2GB of free storage that can be the extended by referring your friends and doing a few other tasks. Paid plans are also available if you need more storage to deal with bigger torrent files. Even, I mention that when answering a question related to torrent on Quora.
TorrentSafe is simple to use, there is no login, signup required. In their free plan, you can add 3 torrents monthly up to 10GB. it's enough for some people unless they want files stored for more than 2 days. If your requirement is more, the paid plan starts from $3 month which offers unlimited torrent size and storage meaning you can download as much as torrents, they'll be live for 7 days.
When you buy a license key, you'll get a special auto-login URL where you can see your downloads and manage them. If you're looking for a simple way to download torrents to a cloud Torrentsafe is a good choice.
3. Self-hosted cloud torrent
You can actually set up a server and upload these files to create your own torrent cloud downloading server. So what basically you are doing is purchasing hosting and set up in your own cloud Torrent service where you can upload a .torrent file to start downloading write into your server storage. It is much like other Torrent services but hosted on your server, and it will cost you nothing but a hosting service.
It is another cloud torrent download website that supports 1 GB of cloud storage in the free plan, but all the downloads are over HTTP connection (unsecured), but you can stream torrents on all of your devices. If you need more, they have paid plans starting from $5 a month. I might get a premium plan very soon, will update the experience with it.
After testing we found Bitport a solid alternative to the rest of cloud torrent services. It does seeds torrents to their servers with a 1:1 upload ratio (which is a respect for other people who use torrents). I've tested the "Small plan" that provides 30 GB storage with 5 slots for simultaneously torrent downloading. A few times when downloading files on mobile (download managers) pausing-and-resuming sometime gives an error (authentication error) but it was easy to replace the link and resume the download, however, seedr doesn't have this issue at all.
Another Torrent service can be used to fetch torrent files into a cloud server and then download directly using https connection to your computer or any device. Sometimes it takes longer to fetch torrents to their servers. The mechanism is the same you have to provide a Torrent (. Torrent) or magnet link. Although there is no limit of Torrent size even in the free plan, you can only convert 3 Torrent links each month this is a huge bummer for people looking for unlimited bandwidth.
It also lets you upload a Torrent file directly to a cloud service for that you need to add your cloud account from the settings. It also supports remote downloading when you feel you need to save something from the web but not on your computer. The free plans give you 10GB of space or torrent conversion.
6. Nody
It is somewhat different, and instead of letting you put a .torrent file it let you search for files and directly download them to your computer. It even cut the extra time you have to spend adding a torrent into a service.
You can sign up with a free plan that lets you search for files mostly torrents hosted on their server so unlike other mentioned Torrent Services you do not have to visit a Torrent site to grab a torrent link or a magnet.
Bonus cloud torrent service provider.
Fox Leech
Foxleech doesn't have a free plan but they offer everything you need in a cheap plan starting with $3 for 30 days, the only difference in plans is validity and rest features are the same which is a good thing here.
Premiumize me
While it does not have a free plan, so you have to purchase a subscription in order to download torrents in using this site. I might personally won't recommend services that don't give a free trial or a free plan to test out things. We already have some torrent those service providers whose free plan is enough for most people.
Direct torrent
This one does not require any sign-up and comes handy when you need to convert only a torrent to a direct download link and save it to your computer. However the website is full of pop-up advertisements, and it uses link shortening service where you are again is subject to what does annual advertisements.
File Stream
The free plan gives you the ability to download a max size of 1GB torrent, but storage space is not an issue here, as you get 300GB for free. However, files will be saved for 3 days, which is more than enough. I tested a 180MB file, took it around 5 minutes to finish the conversion and serve download links, while Seedr only took a few seconds for the same torrent file.
ZbigZ
One of the most popular remote file downloading websites that needs almost no sign up if you want to use it for free you can upload a maximum of 1 GB file or a torrent using .torrent or magnet link. Be uploaded file will remain saved for a week, and also you get around 150 + kbps downloading speed. They also have a premium plan once you are satisfied with the service you can go along with their pro package.
Put.io
While it doesn't have a trial for a free plan but you can start using it from $3.99 and can turn torrent into downloadable files. It also has many more features like remote downloading. If you are looking for a more trustable over a stable Torrent Cloud Service, I strongly recommend this service as it is much we cheap and yet it is the most powerful service I have ever seen. And it's not just me praising it. Visit Twitter. Many people are told the site is extremely useful.
There are tons of other websites out there providing the same services, if you are stomach is still hungry try out in Google search and find by yourself.
---
Seedr is without any doubt the best cloud torrent download site we've ever seen, and it does provide the best user experience even in the free plan as there is not any restriction—you got unlimited bandwidth which means you can convert as many as torrents into downloadable files. The runner up is probably a self-hosted cloud download site that you can set up with bare minimum knowledge. But be careful as some countries.