Read the best voice dictation apps (also speech to text) which you can use to speed up your typing speed. Voice dictation app simply transcribes your voice into text in real-time.
We all desire to write more and better, In fact, writing a book, blog, or notes with your computer keyboard takes lots of time. That's the requirement to type, and there is no misery when typing on the keyboard. But there are several tips that can speed up your typing speed, and you'll be able to write more words—all of that without pounding palm on keyboard. Everyone can take the help of voice dictation to do sort of things, for instance, transcribe an interview and get it ready for publication. These tools are not perfect; you still need to proofread your dictated text to make sure they do not have any grammar and spelling impressions.
Let's begin, use one of the following tools and give others a try, Voice dictation is the most underrated and most overlooked feature at this time. Using your voice, you can write long content without hurting your fingers and pounding palm on the keyboard. Share this post will your colleagues who complain of a shortage of time.
The best speech to text apps
When you need a continuous voice-to-text translation (not just English but in your preferred language) get to know the best voice dictation apps & tools below.
With Windows 10 fall creator update, Microsoft included an option to dictate on any text field, which results in you can type by your voice on Notepad, Sticky notes, and in all browsers. Windows 11 provides even better voice dictation functionality.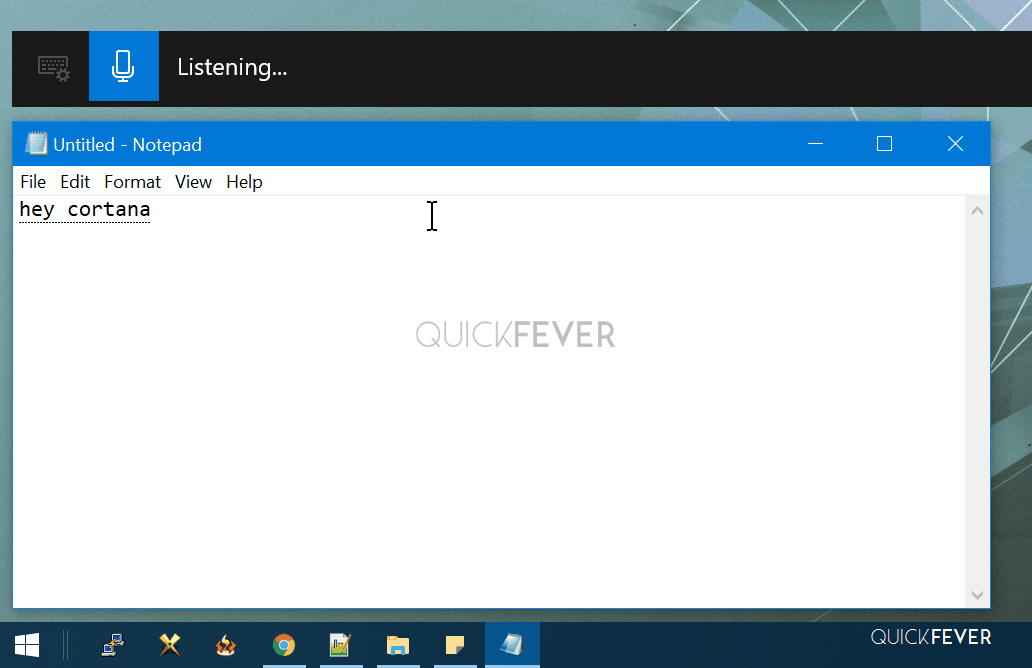 To launch speech dictation on your computer Press Windows Key + H and a voice bar will appear on the screen. People who rely on Voice, writing can bind "Win + H" to their mouse, also you can select the Voice tool to appear on the screen when clicked in the text area.
Google Docs
Google Docs is one of the leading services which helps to deal with nothing but documents. You can create, edit or share Word, PPT, Excel files without installing anything on your computer—thanks to google for giving an online solution and an alternative to Microsoft office. All you need is a browser, and you write documents on the go using the Google Docs Android app. Additionally, it supports various mobile platforms. Many people are using Google drive for its cloud storage and Google Docs for creating documents quickly. But they do ignore the voice typing option (which is a voice dictation built into google docs), Well if you don't know about this, you're missing the feeling of being relaxed knowing you've written a thousand words and did not touch the keyboard.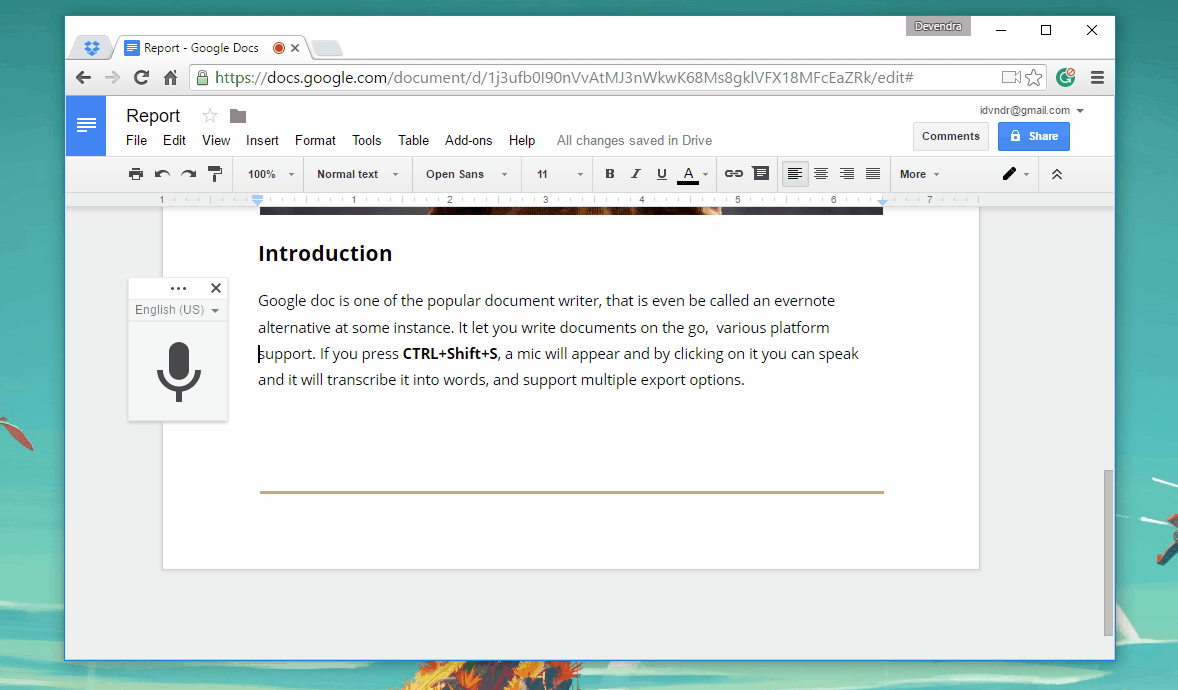 To enable voice dictation in Google Docs, press CTRL+Shift+S, an on-screen-mic will appear. Click the Mic icon to start voice dictation (for that an internal mic or external mic is required) It will automatically dictate, also it support some commands. You can voice dictate here and then export to your preferred platform such as WordPress or offline document. Google Docs makes it easier to share a document with people and see their edits as suggestions. Recently Glen long wrote a detailed guide to make the most of it.
Google Docs requires a Google account to be able to create a document. It works using the Voice APIs that only support Google Chrome; if you're seeking to dictate in Google Docs on Opera or Firefox browser, unfortunately, it won't work. So fundamentally the original and the pure voice dictator tool is inbuilt with Google docs, and you can use it right now.
Speechnotes
One of the best voice dictation app, with continuous text transcription. Let you download the written text to google drive as well as to your computer in text or doc file. The tools use browser cache so your written text will be saved temporarily. An easy to use interface and does not require sign-up or subscription. The tool's UI is user-friendly, it does not contain any ads above the fold, and there is a button on the bottom right side to copy the dictated text.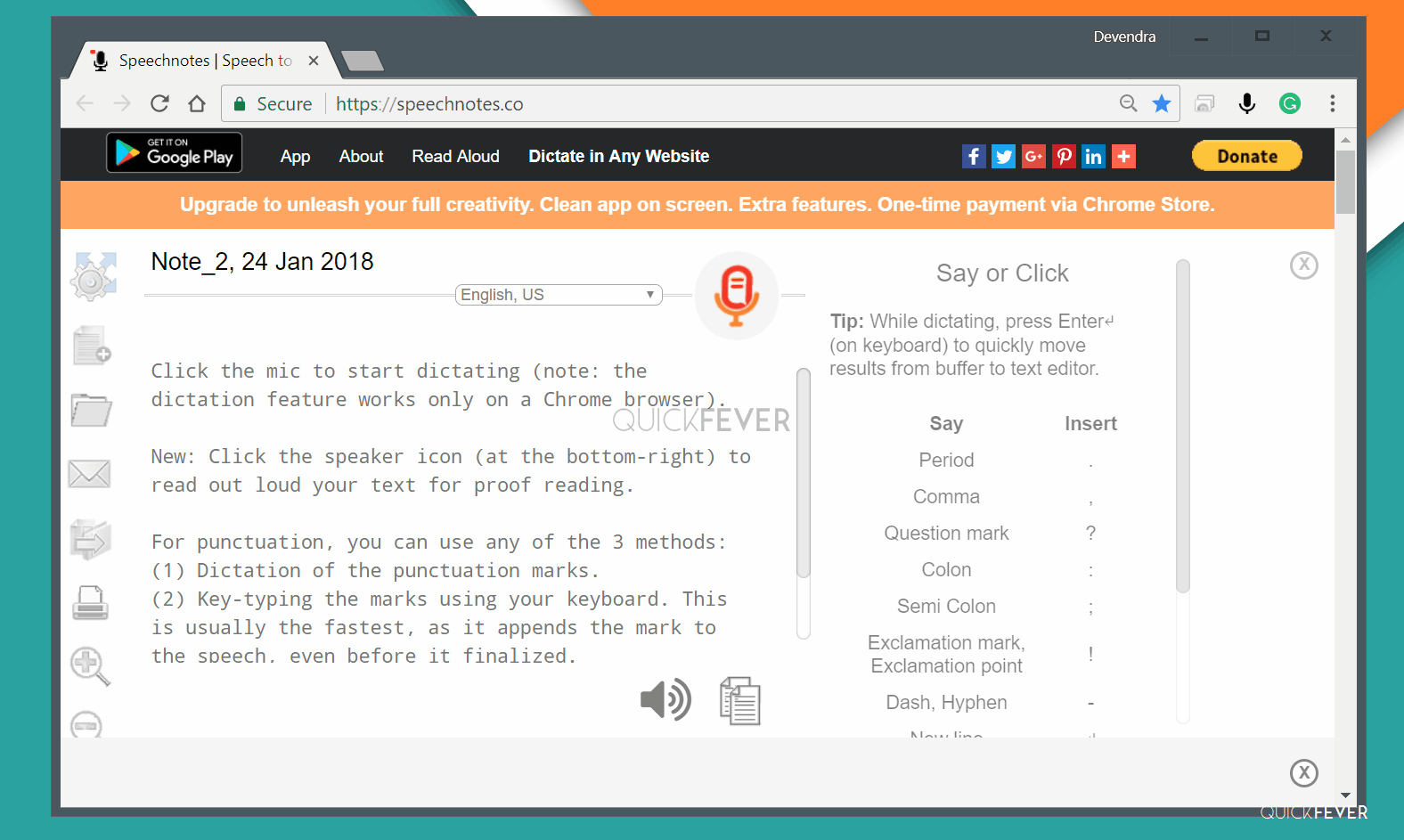 They do also offer a paid recorded voice-to-text online service, that may be useful if you have some recorded files you may want to transcribe fast. Offering an incredible speech-to-text (stt) service free of cost. It makes voice dictation freely to be used by any person with a computer. Android version: recently the releases and version for Android, which does the same job in Android, it can also be called a note-taking app but without sync. Apart from this, it can also be considered as one of the best speech-to-text apps for android since there are not so many apps offering voice dictation along with a keyboard.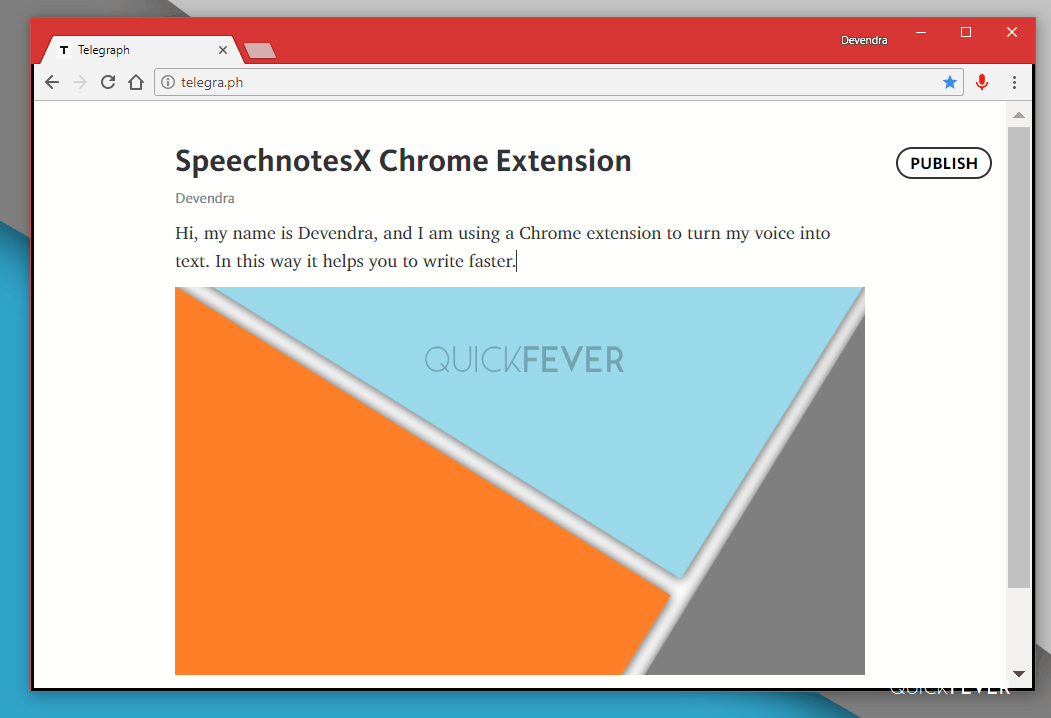 It's a popular voice dictation app (as it was launched in the early days when Google released the Voice API). However, it does not support continuous voice-to-text-translation if you are editing dictated text, and you find it ugly in some instances. Besides it is based on a simple script with no fancy text decoration options, the tool is created by Amit Aggarwal.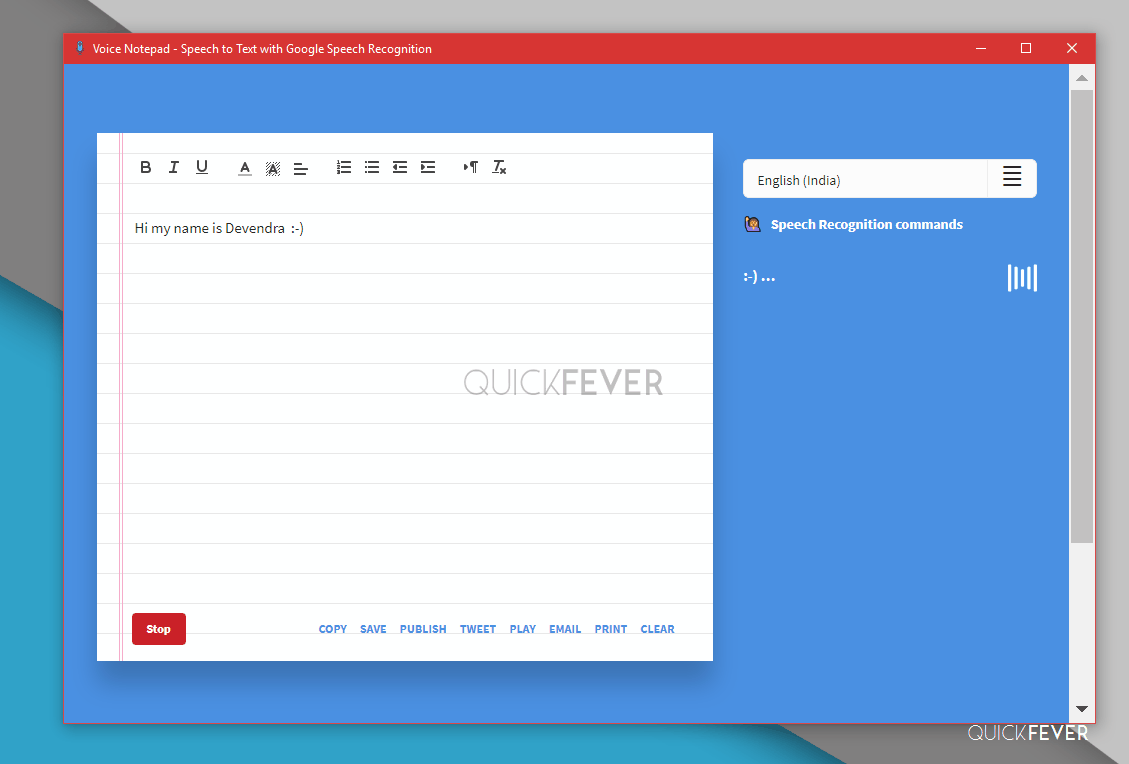 Update: The all-new Voice dictation version 2.0 is revamped and looks better than the previous version. The tool supports many languages and there is no need to install it on your computer all you need is a Chrome web browser. Now it supports free continue speech to text translation allowing to open it in a tab and voice dictate while doing other work. What makes it special is commands, for instance, you can say "stop listening" to stop voice dictation, say "copy to clipboard" it just works.
Other Apps for Online Voice dictation.
Most of the voice-to-text tools use Google Voice API to render voice into text. So they work and support when you're using Chrome browser, so if you are using other browsers, you have to use Google Chrome instead. However, Google Docs doesn't support the Grammarly extension, but the other tools will work with grammar checker tools such as Grammarly.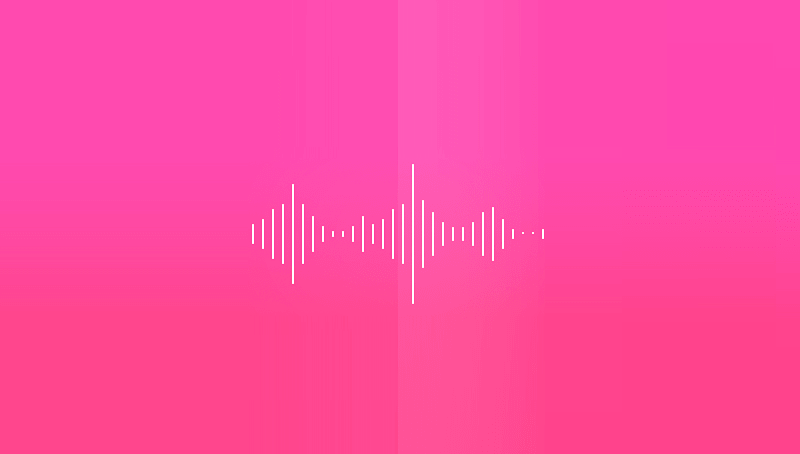 When I tested this dictation site, It was fast than other sites, Goole Docs was excluded. Also, it does provide a chrome extension that lets you write directly on other websites which have a text input, but I find that it does not work or mess with DropBox paper while it worked well with SimpleNote.It does also offers Windows integration which lets you dictate any Windows program that has a text input. However this service is paid but if you are looking for writing directly into Microsoft Word or Excel, try this. Dictanote: Voice dictation with text-decoration and editing while dictating. A free account will let you save one or two notes on their servers. They do also provide a premium plan which offers unlimited note sync and storage no their cloud servers. Similarly, TalkTyper is another web-based tool that converts your voice into text and lets you save tons of time. It allows download your dictated text, and you can select from various languages. Converttown STT: Works on google chrome and got an elegant yet distraction-free interface. This online voice-to-text transcription automatically puts and 'period' at the end of the sentence or when you stop speaking. Dragon Naturally Speaking: Whether you're trying to find some way to remain high on your personal to-do list or the way to remain ahead at work, there's a Dragon to assist you are doing more with just your voice. This tool is not dependent on Google Voice APIs. Instead, they use their own. One of the finest standalone software that supports voice dictation directly to any of your computer software, i.e. notepads, word, etc. The offline installation file size is around 3GB which makes it easier to dictate even in offline mode. Best for individuals for using PC with voice and students can complete their assignments.
Pricing: The cheapest Dragone home pack is for $74, see pricing for other builds.
Convert.town/voice-to-text
If you don't want yada yada features you can try this site, the interface could not be simpler. However, there is no stop button if you want to stop voice dictating you have to close the tab. The good part about this website is the easiness you open this website and give microphone permission and you are ready to voice dictate.
The best speech dictation app?
At this point of the time if your requirements are basic you can use the speechnotes Chrome extension to dictate on many websites. Because it might Pull off some users when they have to move the dictated text from an online tool.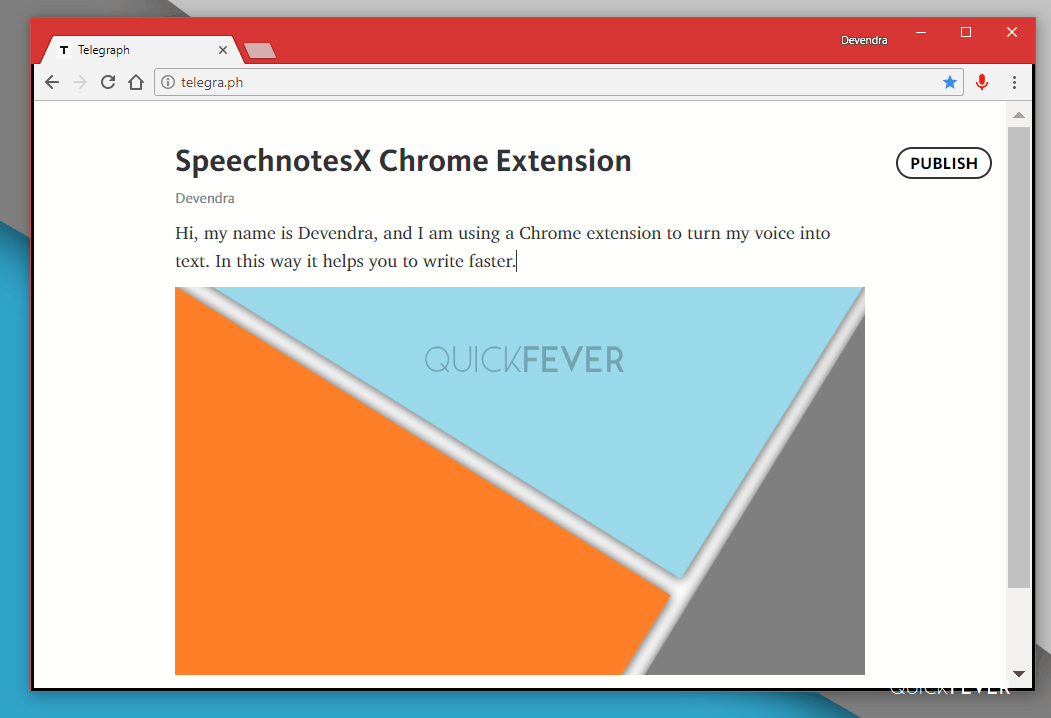 And when you want to dictate text with some of the best voice comments you can use voice dictation version 2. The rest of the tools use the same Google voice speech recognition APIs. Hope this will save the time and effort you put into writing longer content.
So,
The best speech-to-text app is Speechnotes chrome extension.
You can try from any of these mentioned Voice dictation/voice to text applications, and the best part is each and every tool listed here are easy to use. Most of the apps are free (with ads). The matter is now "how you use" these voice-to-text online tools to speed up your writing. As a matter of fact, all the tools are web-based and work in Google Chrome on Windows, MAC, and iOS. A blogger can use these tools to save time on writing and focus on other things.