Tasker for Android is a great app to automate tasks that can be helpful to save either your time and increase productivity. Here are the best ways to use by knowing these best tasker ideas and profiles you should know. Profiles triggers tasks made of actions.
With Tasker, you can do pretty much anything, when you finally realize it more than just a random app about people are bragging. For the first time, you might have no idea how to use this app, literally the same happen with my friends I told them about the app even installed it on their phones. And guess what they have got no clue what the app does so I had to jump in and fill the gap. It doesn't mean that you should be forcing your friends and teaching them benefits of this app.
So Tasker can do things, a thousands, custom sets of actions so that you can accomplish more. Need to turn on WiFi Hotspot when you are at Home? Tasker can do that. Need to open a music app when you plug an earphone? It does that too. I can not sum up all the things you can do with it, but here are the best tasker profiles you can use to make the most of the app and to make things automated.
What you have is to create a profile in that you can add triggers to perform that action. Here are our picks of best Tasker ideas.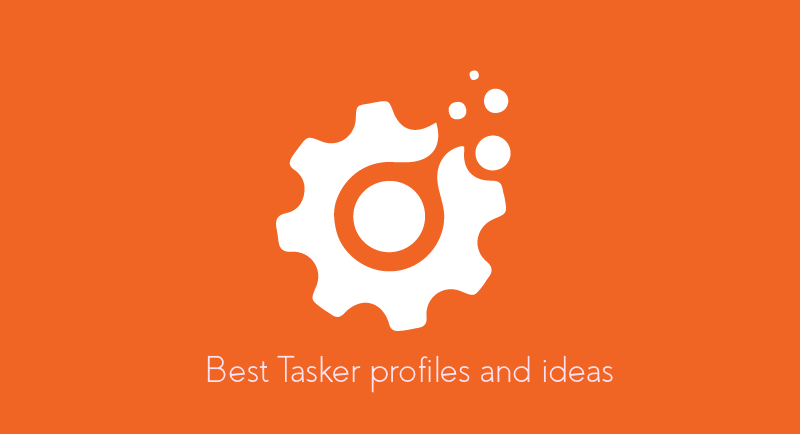 Lock phone by shaking
While the phone now comes with hover-to-wake and fingerprint sensors. You can make your phone lock with just a shake using this Tasker profile, here is how.
New Profile > Events > Sensor > Shake > Set a preference.
New task > Display > System Lock.
Insert headphone to play Music
This one is really sweet, as soon you plug a headphone or earphone it will open the specified music app. Talking of music apps, you can choose Spotify, Saavn, Gaana or even Play music.
New profile > State > Hardware > Headset plugged.
New task > launch application and select a music app.
Keep screen on when using reading apps
This task triggers when you open a reading app such as Pocket or any other app you choose. Tasker will prevent the screen from going off once this task is active.
New task and name it. Tap on the + button > Display and then Display Timeout. Increase the limit to your desired level and save the task. 
Go to Profile then tap the plus icon and select Applications. Choose the applications for which you want to keep the screen on.
Silent mode using sensor
You can make your phone go silent when placed upside down.
New Profile > State > Sensor > Orientation > Face down.
New task > audio > silent mode. (Choose On or Vibrate).
Auto-rotate for specific apps
This profile can be useful when an app works best in landscape mode.
New Profile > application > Select a app.
New task > Display > Display Auto-rotate > ON.
No lock when Home
When you're at home, and your kid isn't addicted to temple run you would want to avoid the lock screen. This profile will need a rooted android and this addon. So basically if you're using Home wifi to share the internet to the Android phone you'd be able to bypass the lock screen when you come home, and the WiFi automatically gets connected. To save battery you can use the same profile to turn on wifi as soon as you leave your home.
Part 1. New task > name it Lock off) now tap the + icon then select Plugin > Secure Settings > Root actions > Set Pattern lock off.
Part 2. New task name it Lock on and tap on the + icon > Plugin > Secure Settings > Root actions > Pattern lock on.
New Profile > State > Net > Wi-Fi connected > Put the SSID of the Wifi network and link it to the Lockoff Task. Now long-press the profile and select Exit task and choose Lock on.
Enter battery saver mode automatically
This does enable battery saver mode when your device has a low battery, the low battery percentage depends on your definition and is a variable value.
New Profile > Power > Battery Level > Set a value
New Task > Net > turn Bluetooth off, auto sync off, Wi-Fi and Mobile data off
Night mode or Quiet time
You can automatically enable the Night mode, or in other words turning off all the unwanted functions that cost your battery.
New Profile > Select a time.
Create New Task > Audio > Silent Mode to On > Net > Auto-sync off and mobile data off.
Kill Songs when you fall asleep
You must have a routine to fall asleep while listening to songs at night. Well, no more. With Tasker, you can create a profile that kills the music player app after a specified time. This function can also work with Android's built-in Sleep Timer.
New Task > media > Media Controls > Stop Choose music app you listen.
Dim screen at night
However, the default auto-brightness does the work just fine. But not everyone does like that; you may just want to Dim the screen at night or a particular time.
New profile > Time > Select a range
New task > Display > Brightness > Set a value
Low battery
Trigger a Message to a person when your battery is about to die, so they know you're safe, and it's just your battery you are not in the network.
Profile > Power > Battery level > New Task > Phone > Send SMS.
Decorate your homescreen with a new wallpaper automatically
Profile > Time (Enable repeat) > New Task > Variable > Variable Randomize
New task > Display > Set wallpaper > Choose Path go back on the profile and long press and go > Display > Display State > ON.
Cloud Backup files or folders
You can create a profile to pull files inside from a folder and upload it to a specified Cloud Backup server. Once you set the profile, your files will be uploaded automatically without any manual interference.
Open Messenger app by shaking
This can be useful if you use Messenger (Or any App) on a daily basis, so next time when you shake the phone, it will trigger the specified app to launch.
---
Check these Best Tasker Ideas and Profiles
These were our favorite picks of Tasker profiles if you ever come up with some more useful or productive, we'd love to hear from you. If your appetite is not relieved even now, you could explore more tasker profiles and excellent ideas over at Reddit and a few more at Quora.
Tasker at Google Play | Official Site