Do you want to quickly get back to Oxygen OS 12 on your Oneplus 10 Pro, let's go. I was in the same boat where I wanted to get my hands on Oxygen OS 13 and I unboxed my unit and quickly flashed the (near-public-rollout). 1 + 10 Pro is a great device it comes with Snapdragon 8 generation 1 processor, the Antutu score might not be what you are expecting from this processor, we get around 8.5 lakh Antutu score on this device.
Oxygen OS 13 is available for Oneplus 10 Pro but a wider rollout is due.
Users having issues with Oxygen OS 13 can downgrade to Oxygen OS 12.
There are many bugs in the Oxygen OS 13, including video call mic echo issue, absolute sound (where the minimum video call sound is loud), and many more that I may have missed. Hopefully, these issues will vanish with a software update, and till then continue using Oxygen OS 12.
Step 1. Get the Downgrade ROM from here
Step 2. Copy the Rollback package to the phone storage.
Go to phone settings, and then the about section. Click on Oxygen OS 13 page and it will take you to the update section.
Step 3. Now follow these steps in order, don't select another full OTA because it won't have the sign required to downgrade.
A. From the right three dots select local install.
B. Choose the package you have just downloaded.
C. Now click on extract and let the process continue.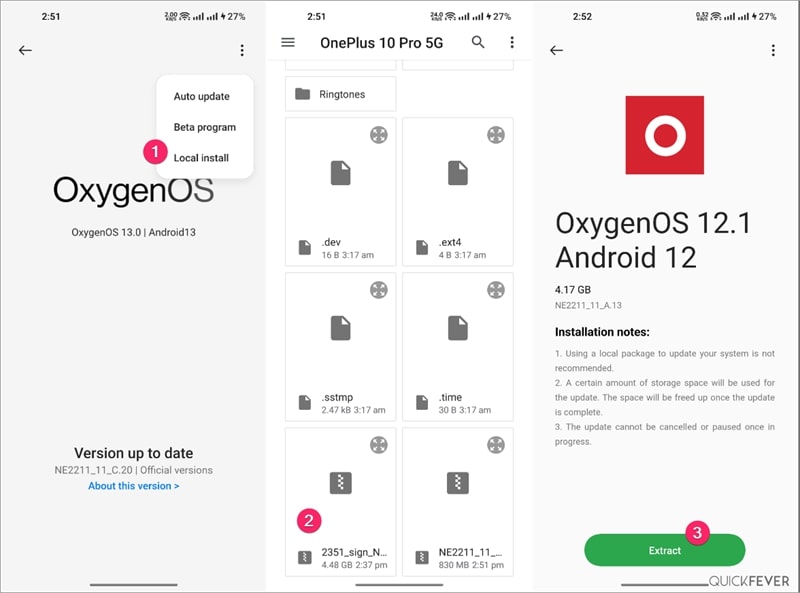 Can't see Local Install? If you cannot see the local install option, go to your phone's about section and tap several times on baseband version information it will enable developer options.
On a successful downgrade, your phone will restart and might erase your data. And when you go through the initial setup your phone may update itself to the latest version available which is A17 at this time (15th Oct). But I formatted my phone once after the new update was completed to avoid any leftover files.
Alternatively, you can downgrade > Upgrade through the Phone's about section and then factory reset the device.
Custom ROMs aren't meant for Flagship devices
Set up your device once again and you are good to go with Oxygen OS version 12. That's all for today, but if you want to taste Android OS 13 you may try looking at your bootloader and flashing a custom ROM. I generally don't install custom ROMs on a flagship (near flagship device) because there are so many options that are device-specific which we don't find on custom ROMs.
I hope the downgrade process was easier for you, if you still have some doubts or queries you can ask us directly. Oneplus 10T is an upgrade to the Oneplus 10 Pro with some downgrade to the camera department and lack of Wireless charging.