You are here and having a problem with your computer. A freeze occurs, and the screen becomes distorted. No matter what you do, nothing works. Once Windows launches the Afterburner program, your system goes totally into freeze mode. In that situation, your system freezes completely as soon as Windows starts the Afterburner program.
Why system freeze/ crash due to afterburner?
The best reason is you have overclocked your graphics card, probably to the highest megahertz your GPU can handle using the program. You might have also set the program to launch with windows which is why it is causing errors, leaving your computer completely frozen as soon as you start your computer..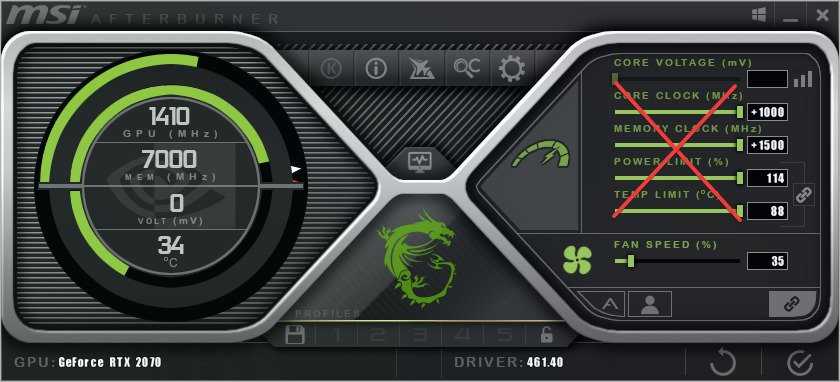 Your most probable explanation is that you have over-clocked your system, probably beyond to the maximum amount of megahertz your graphics card can handle. You might have also set the program to launch with windows, which may have caused your computer to freeze each time you start it.
1. Uninstall afterburner as soon as the computer start.
Starting your computer takes some time because of the loading of all the startup programs.
You can quickly try to open the start menu.
Uninstalling Afterburner is as straightforward as a right-click on the app icon and selecting the uninstall option.
Uninstall MSI afterburner by finding it in your computer's program files.
You should try it again several times if you don't succeed the first few times. That worked for me too.
2. Unplug the graphics card
Unplug the graphics card from the computer, connect the monitor to the motherboard, and remove the Afterburner program.
The Graphics card can be removed simply by opening the cabinet, gently removing the screws and removing the card. A monitor cable should be connected to the motherboard's port. Now, simply start Windows and remove the software.
The other solution is to boot your computer in safe mode and then remove the program. Which will take time because depending on your machine, booting into safe mode can be frustrating. As long as that resolves your issue, why not do this?
3. Boot into Safe mode and uninstall Afterburner.
Boot into safe mode, by pressing the F8/f11 key depending on your computer. There are many ways to boot into safe mode, one of which is following.
Type msconfig in Run box (Windows + R).
From Boot tab, tick safe mode.

Click apply, restart your computer.
When PC boots into safe mode, go to Programs and uninstall MSI afternurner.
msconfig > boot > untick safe boot > restart PC.
4. Boot without startup services.
If the above method didn't help to avoid the blue screen with the error INTERNAL_POWER_ERROR you could prevent startup-time services making your PC boot with minimal startup programs to fix the issue.
Here is how to do it.
Press Windows key, search msconfig and open System Configuration.
Alternatively, type msconfig in Run dialogue (Windows + R).


Choose selective startup and opt-out Load startup items. Now press OK, and it'll ask you to restart your computer. Or you can manually turn-off computer and boot it again to see it fixed the error INTERNAL_POWER_ERROR BSOD.


Now head to Services tab, if you can spot AMD related service, untick it. Make sure your Hide all Microsoft services. If unsure, choose to Disable all and save changes.


Now it should fix your issue of the blue screen of death with error message INTERNAL_POWER_ERROR if not? Try the below solution.
5. Delete Graphics/Network Driver
This is a good solution if you want a quick fix for this error, and that about removes the possible graphics or network drivers from your computer. Now basically all you have to do is go to control panel and then uninstall the graphics or network driver from your computer. But in case your computer shows the blue screen of death with error INTERNAL_POWER_ERROR you can use this approach.
Put your computer in safe mode, click on start button type msconfig and press enter key.
Now select Boot -> Safe mode -> minimal -> OK -> Restart
Your computer will not boot in safe mode now you need to uninstall graphics and network drivers.
Right click on my PC or my computer select devices.
Under the graphics and network driver right click and install them.
Run msconfig > Boot > Untick Safe mode > OK > Restart
Conclusion.
Nvidia graphics card are AMD are two major stack holder in graphics card war. Intel also shared plans to release graphics card (not CPU dedicated GPU) this might leave other Graphics card company into woods. Until then, Nvidia graphics card series 10x works best for AAA title games. For a casual gamer, GTX 1060 3GB is enough for playing games at1080p with ~100FPS is more than enough.