Blurry Photos— something that has happened to the best of us. Remember that selfie you took with someone popular, just to realize it is blurred? You've got your perfect shot and then you realize it- it is blurred. Sometimes you can go through the embarrassing option to take the photo again, but not always. There are a hundred ways this can happen. You might not have focused your camera on the object correctly. Or the object moved, or your hands were shaking while pressing that shutter button.
There are many types of blurs that can ruin your photo. Motion blur perhaps is the most common one. It occurs when the camera is moved while capturing the photo. Other types can happen due to wrong focus, etc.
Best tools to Fix A Blurry Image
Salvaging an otherwise perfect but blurred photo is a skill. There are numerous ways you can easily fix your slightly blurred photos. While Photoshop offers many ways and techniques to achieve this, it comes with a hefty price. If you're not willing to go for it just for the sake of fixing a blurred photo, here are the best alternatives. These tools are free and easy to use and get the job done just fine.
SmartDeblur is an amazing freeware utility. It is small, straightforward, and does what it is supposed to do. This tool can completely remove blur from your photos and you don't need any prior editing knowledge to use it. You just have to open the photo and move the sliders accordingly to fine tune the image to achieve the best results.
You can see the changes in real-time. This tool works with many blur types like motion blur, Gaussian blur, and out of focus blur. You have to correctly choose the blur type to get the best possible results. 

The tool now offers many more features and is not free. But you can download the older version from GitHub for free from here (Windows, Mac). I've used the free version here.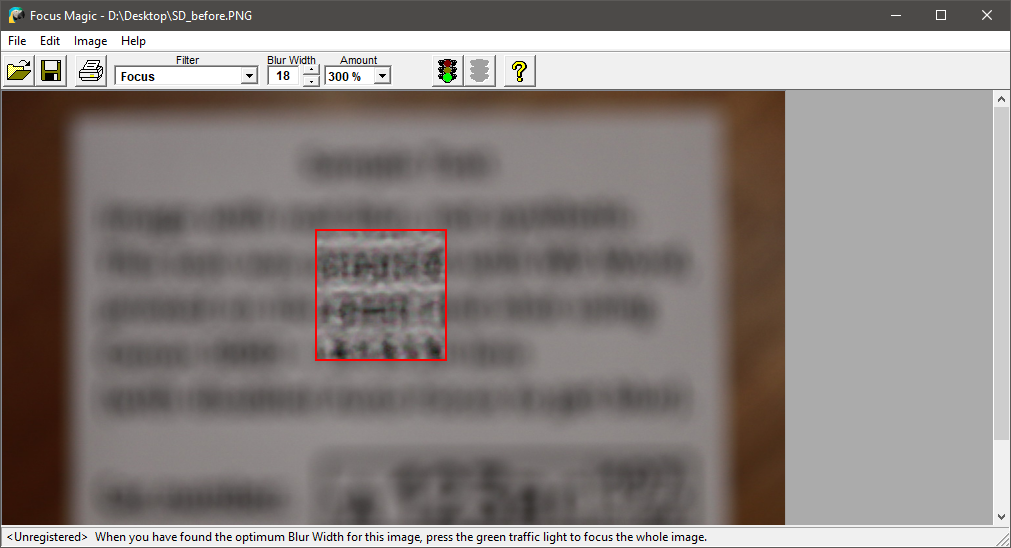 Focus Magic is a great shareware tool you can use to fix your blur photos. It is a powerful tool that essentially uses advanced forensic strength deconvolution technology to literally "undo" blur. According to their website, Focus Magic is used by many law enforcement agencies, the military, intelligence agencies, NASA and many other high profile organizations. It comes for $65 for a lifetime subscription. The free version doesn't limit any features or add watermarks. However, it does limit the usage to ten conversions, after which you'll have to buy the product.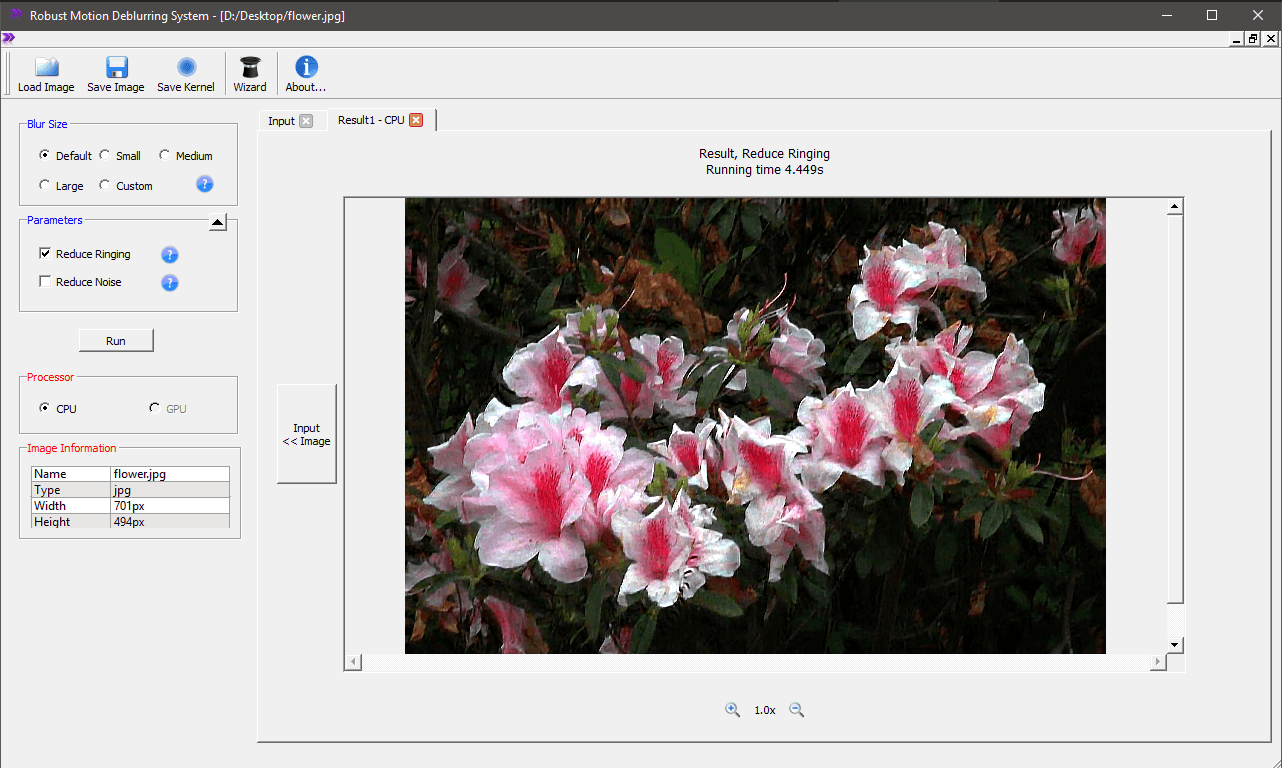 Robust Deblur software is another great tool to help you with blurred images. The tool comes in free as well as a paid versions. The free version doesn't add any watermarks or limits any features. However, it does limit the size of the image to 800 X 800 px. The tool does most of the tasks for you and you don't really have to do much. Just load the image and select the amount of blur it has, and click on Run. The tool does everything itself and presents you the result.

It runs in two modes- CPU, and GPU. If your GPU supports it, the program runs in GPU mode. Otherwise, it can also run on CPU mode just as good. The tool doesn't require any installation and you can just download and fire it up. It also shows you the output in a tabbed interface. You can always see your original image as well as different outputs with different settings at the same time which is really a great touch.
GIMP is the most popular alternative to Photoshop and it is free. You can use it to fix your images easily and its results are just as good as Photoshop's. However, using GIMP requires basic knowledge of image editing and is not as easy to use as other tools listed here. That said, GIMP lets you not only fix blurred images but many other use cases as well.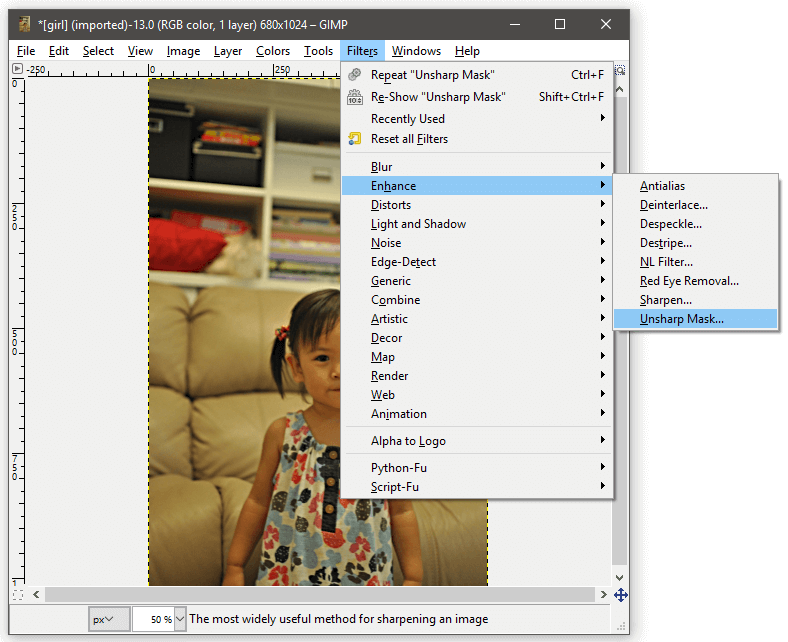 To fix your blurred image, just open your blurred image. Now, click on Filters > Enhance, and then on Unsharp Mask. Now, just use the options accordingly to get the best results.
There are other ways to do it as well but they require much more knowledge of the tool.
LunaPic is an online tool you can use to edit your images. It provides many tools including sharpening. You can use this on any platform as it a web application and will run on any platform as long as you have an internet connection. The tool can fix a small amount of blur easily and you can also fine tune your image using other tools as well.
Photo Sharpen is another web based utility allowing you to fix your blurred images. it doesn't offer any other tools as compared to the former one. You just have to open the web page and upload the image and it processes it. The tool works well on images with a small amount of blur.
---
These were some of the best and free tools to help you with a blurred photo. In my experience with all of the above-mentioned tools, I can safely say that no one tool is perfect for every photo you throw at it. For example, I found SmartDeblur really good for almost all of the pics, but other tools did a better job for some images. Robust tool did quite a wonderful job with motion blur. FocusMagic did well for small amount of blurs. Same was the case with the web-based tools. GIMP is a tool which is capable of doing much more than just fixing your blurred photos but also has quite a learning curve.  In a nutshell, the best tool is the one that works for you.