Nova Launcher is the lightweight and probably the best stock launcher replacement for Android. More than few millions people are using it on their phones because of its merits and simplicity. Also, Nova Launcher is constantly bringing new features, The recent version 5 comes with the brand new interface, and it has features that are worth to use. In many ways, it would give tight race to other launchers, although the "Google Now Launcher: is going away soon from the Play Store Google and Google might have new launcher (pixel launcher) with their new Android Version, but we already published a set of alternatives for that.
Again, Nova Launcher is the best and most lightweight Android launcher and is highly customizable. It offers separate customize options for Desktop screen, App drawer and Dock interface. It also supports Icon packs from the Play store and ability to backup and restores theme settings. The latest version (v5+) also comes with a "Quick Setup" mode, and it's a three-step process to get the look most people want.
Best Nova Launcher Alternatives Apps
Nova Launcher has been getting much appreciation, and in fact, it's worth it. If you are looking for Nova Alternative, we've brought you 10 best Nova launcher alternative you can install on your Android phone.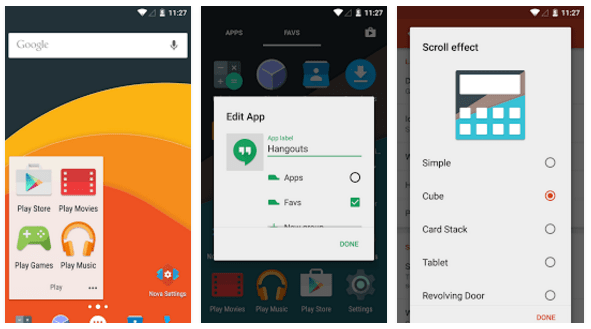 1. Pixel launcher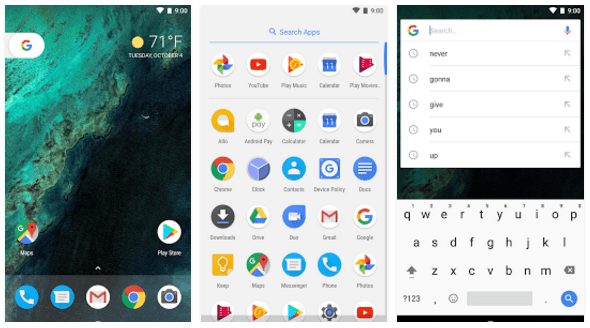 Pixel Launcher should be the best competitor to the Nova launcher, as it is derived from the New Google Pixel phone, Google made it possible to release it for people who do not have a Pixel Phone. For sure, it doesn't provide as many as customizations options like the Nova launcher, but a strong and stable interface does the job very well. Moreover, it's a Google product so you can always expect new features while having the simpler Interface. In other words, you can customize it in a manner you like, and it's quite flexible when it comes to adapt the look a user would want. If you think it's not for you check the following launchers you can use as a Nova launcher replacement.
2. Evie Launcher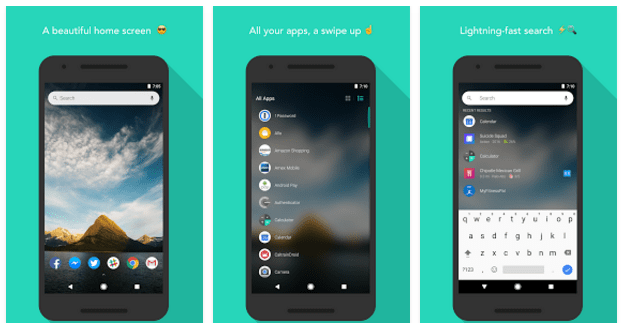 If you believed to dump the simplicity that comes with the Nova launchers, you would be happy with this gorgeous looking launcher (that is also lightweight regarding speed). While it falls short when it comes to customizing the launcher interface. The slide-and-search option comes handy to find things easier. Alos the swipe-up opens the App drawer where you can toggle apps layout between Icons and List. The home screen may not fascinate you because it has 4-5 ugly icons, which perhaps can be changed with some Icon packs from the play store.
3. ADW Launcher 2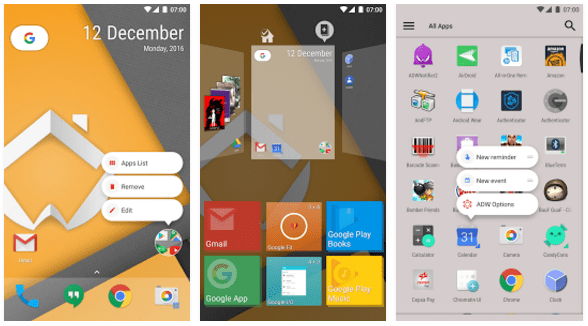 This launcher has spent many years in the Play Store, maybe the older versions were quite boring or dull, but this version 2 is a great alternative to your stock launcher replacement. It's a launcher that follows the Google material design rules, that ensures a premium and elegant interface that hopefully does not burn your eyes. It also comes with many unique widgets and lots of customization settings to play. Moreover, it was difficult to sum of all the customization options available in this launcher here, so it is something that you need to experience by yourself.
4. QF launcher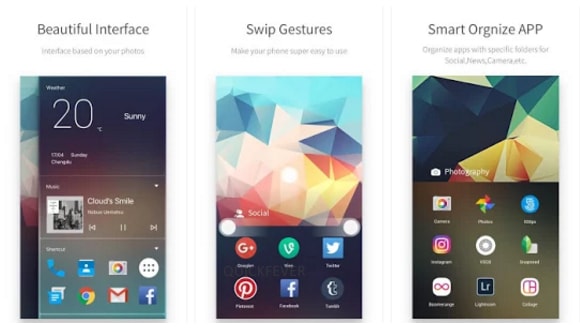 Install (Early Access)
5. Arrow launcher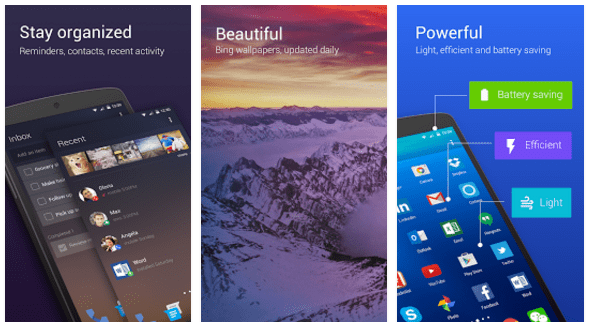 If you want to leave the simplicity aside and need a different launcher to spice up your android, Arrow launcher would be the one you need. It comes with Bing wallpaper integration so that you can have a different wallpaper the next day automatically. Although, you can use any other 3rd party Wallpaper apps and I prefer manually setting wallpapers and those which I select.
6. Z launcher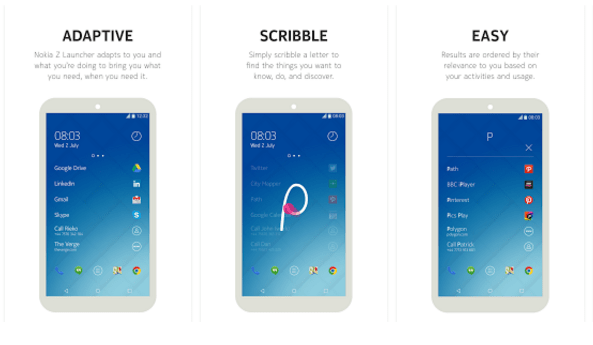 Z launcher is built by Nokia even before they started manufacturing Android Phones. In many ways it has the taste of Nokia, for example, the interface is almost clutter free and easy to use and navigate. This launcher may not for everyone but a launcher out of the way. Recent contacts are visible on your desktop screen. If you slide, you can add Widgets. Also, there be one button in the bottom to access the app drawer, other than that no dock icons are present.
The desktop screen will not have any more buttons, and you can press the only button that will open the app drawer. Apps will show list-wise, and you've to scroll up-down to navigate. Also on the home screen, you can search for apps by drawing characters gesture.
7. XOS launcher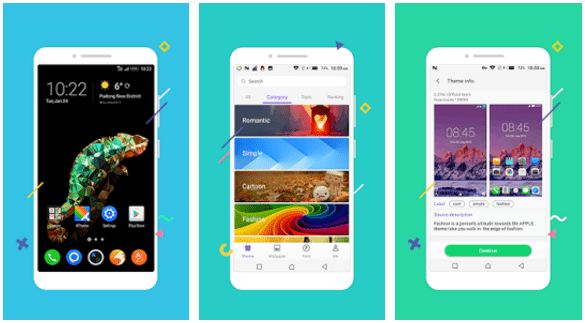 XOS works pretty much customization, and it has two screens on the desktop, it also offers plenty of themes to choose from like Wallpapers, etc. You can have the time and weather information on the top of the screen. Else, there is nothing exceptional, and it's just another launcher for your Android.
8. Aviate launcher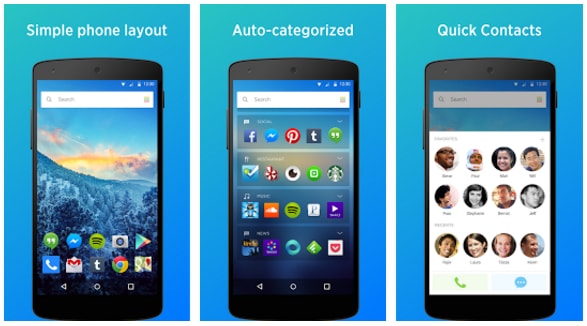 The Yahoo attempt to Android Launcher. Basically, I'll have to admit that it should be one top-notch Android launcher. Yahoo made it possible to build a launcher that is both lightweight and fast, and at the same time it has lots of useful features, and the interface is somewhat just fine. The home screen will be the place where you can take a glance at your recent photos recent contacts etc. It comes with Bing wallpaper which means you can have a new wallpaper the next day automatically and a new one after that day. It has built-in integration with the Microsoft services, but that is completely optional.
9. ASAP Launcher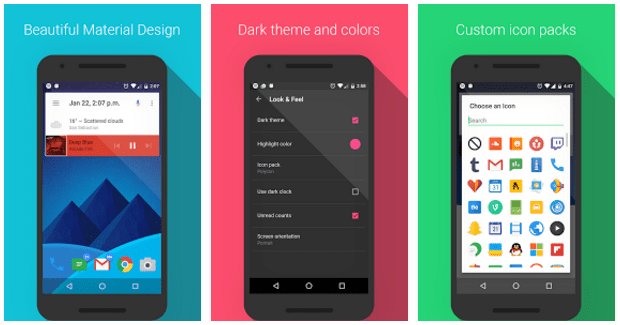 It is for those people who do not need something much customizable and want something simple and clutter free. This launcher really does feels faster and smoother. The lightweight don't consume much RAM so isn't the battery. Comes with a slide-to-open feature that feels really nice and kind of adopted from the premium Google phone launcher. However, it supports the icon packs to let you customize the Apps icons the way you want. It is compatible with the innocent best smartphones, so it does a pretty much good job even with older Android version based smartphones. This launcher is not in favor of having widgets and Icons everywhere if you like that you should try this launcher.
10. Google Now launcher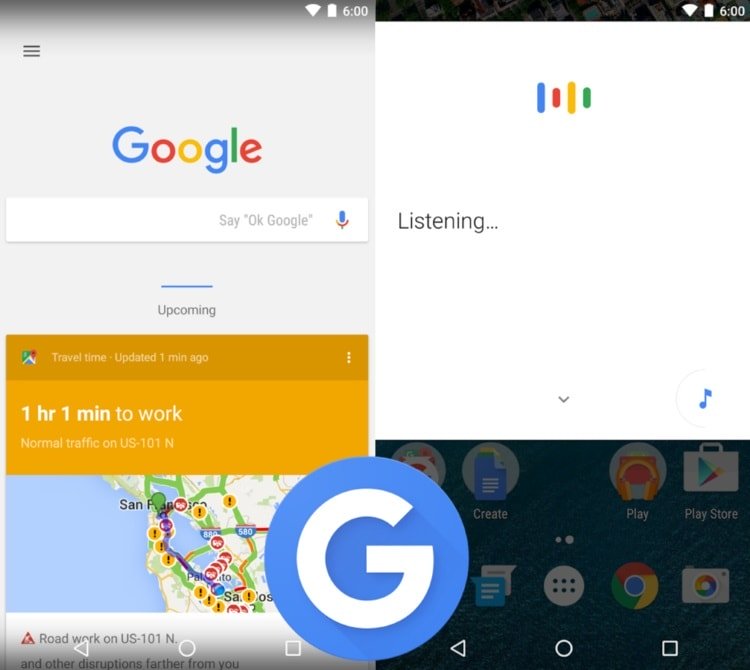 Google Now launcher is a great way to taste the stock android experience but recently it's is reported that Google is going to shut down the Launcher, metaphorically. Just because Google will discontinue the launcher means you can not use it. Fortunately, there are websites which store APK files, so it is easy to get the APK of Google now launcher even after it is erased from the Play Store. Below are the following sites you can visit to download the Google Now launcher and install on your device.
Install (Google play) | ApkMirror
These Nova launcher alternatives are really Worthy
You've come to sense that Nova itself is the best, brings all the possible customization settings and gets updates in every month. Yet if for some reason you want to use another Launcher, we've mentioned some of the best replacement launchers in this list. Here is the conclusion, there is not one strong replacement for Nova. Still, plenty of launchers offers just the similar interface like Adw, Pixel, Google now.
Via: TheNextWeb / Quickfever / Android authority