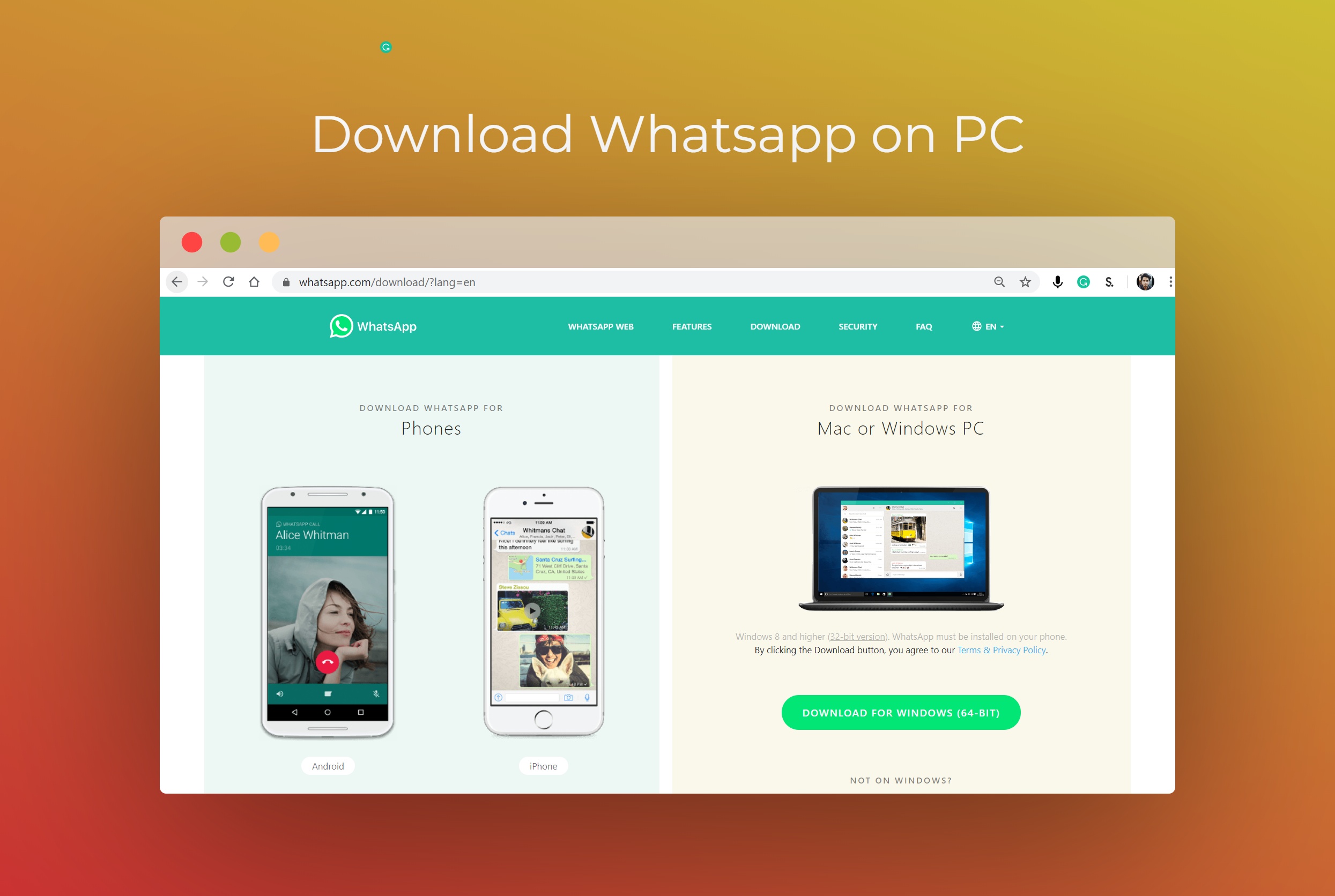 Whatsapp online is been in trend; there is already an option to use Whatsapp on PC's Web browser. However, recently WhatsApp announced a big update; they released the standalone installer of WhatsApp for Windows 8 and newer.
The Whatsapp client for Windows 10 works as the Web version. Download and install it, after scan the QR code with your phone. (For this you need a phone with WhatsApp installed.) Whatsapp is a great way to connect will all your friends, its free and easy to use. With plenty of privacy features, it now became an end-to-end encrypted chat platform. It's okay to brag by setting a cool Whatsapp status for you. Now you can have WhatsApp on Windows 10 PC as WhatsApp released official software. It is a great step as now you can install Whatsapp on PC.
Disclaimer; All the link are official. They are neither hosted or modified by us in any manner.
How to Get Official WhatsApp for Windows PC 32-bit or 64-bit and Mac OS
WhatsApp for Windows | Download WhatsApp for Windows & MAC.
Windows 64-bit Link
Open link of Whatsapp – https://web.whatsapp.com/desktop/windows/release/x64/WhatsAppSetup.exe
32-bit
https://web.whatsapp.com/desktop/windows/release/ia32/WhatsAppSetup.exe
For MAC
https://web.whatsapp.com/desktop/mac/files/WhatsApp.dmg
Otherwise, You'll see a big Green button, by clicking on that you can download the Original Whatsapp software for Windows 10 (Windows 8 or newer.) It will auto detect your computer and will download a whatsapp setup version according to it. It may take several minutes or seconds depending on your internet speed.
WhatsApp's software for windows size is around 60MB. However, if you have a slow bandwidth, you can always use the Web version of WhatsApp. Besides, Whatsapp official client software gives more functionality.
Alternative to WhatsApp official Client.
Franz is a multiple chat client software which makes it easier to manage several social account at the same time. Below is the pic of Franz on a Windows 10 Machine.
With Franz, you don't have to download and install WhatsApp because this standalone app works like a browser which let you use WhatsApp. After installing this app it will ask WhatsApp sign in from PC, simply Scan the QR code to connect your phone. You don't need the third party apps to use WhatsApp on your laptop, simply install the Whatsapp for windows software and you are ready to go.