Wallpapers are the excellent way to decorate your computer screen. Most of the time when we set a wallpaper on PC screen and keeps staring until you get bored. Until you really dislike the wallpaper, Until you completely get overwhelmed. Changing wallpapers manually is really acceding. Reddit has some active subreddits for wallpapers, in fact, there are many subreddits where people around the word submits either created or share wallpapers.
In this post, lets see how you can automatically fetch wallpapers from Reddit (any wallpaper subreddit) and set them to your PC screen and that will be completely automatic. The most interesting part is that wallpaper will change automatically, so you never again have to spend time choosing a wallpaper.
The Reddit Wallpaper Changer tool is a lightweight tool to do that for you.
The latest version is 1.0.13 (at the time of writing this post) and includes these top-notch features.
Fetch wallpapers from multiple subreddits.
Setting wallpaper fetch order.
Wallpapers History
Modified the process for searching wallpaper
Added additional logging functionality
Status text will now display the selected sub being searched for wallpapers
blacklisted panel
Added button to the About screen to open the log file directly
How to install Reddit wallpaper changer
Download the tool file from GitHub, simply install and launch it.
Just after you install the application, it will be in action, and you don't have to touch any settings required to make the awesome tool work. But, yes if you want to customize the tool according to your needs, you can read the next section where we discussed all the settings.
Hot to choose Wallpaper Source Reddit Wallpaper Changer
Hop into settings and type a wallpaper subreddit. You can add multiple subreddits followed by '+.' For example, if I want to fetch from subreddit 'ABC' and 'XYZ', you can do this by adding "ABC+XYZ."
Getting into Reddit Wallpaper Changer Settings.
The default setting is good to go when you don't want to mess with anything. but in case you want to customize it, right-click on the RWC's icon from the notification area. And from the context menu choose settings.
The settings window will open, from there you can make the tool work as you want. You can choose the source, set time duration for wallpaper change and everything else. We're going to talk about each setting below.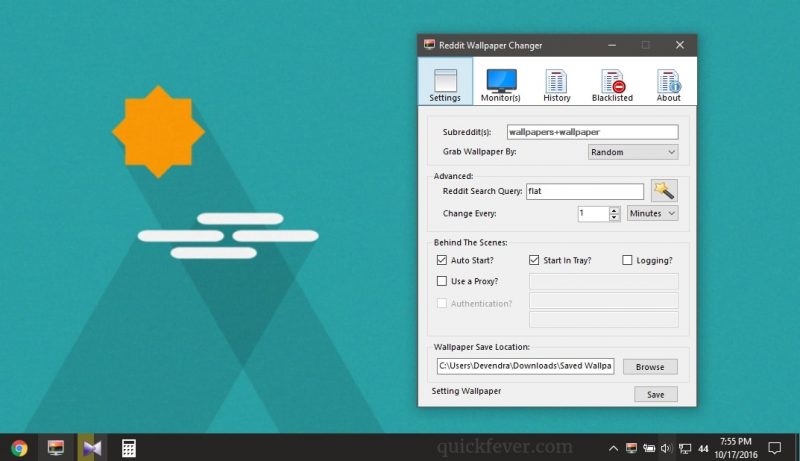 Subreddits: Choose a preferred location from where you want the tool to fetch wallpapers. Some good wallpaper subreddits are wallpapers, wallpaper, and iWallpaper.
Grab Wallpaper by Using this setting you can customize the grab preference. If you like to get new wallpapers you can set this to "Newest" or set to "Truly Random" to get surprised.
Reddit Search Query: If you want to fetch only 1920×1024 resolution wallpapers enter "1920×1024" Although this string is the default. You can also add another resolution or words i.e., Car so the fetched images will be of Cars.
Change Every: Denotes the duration of how longer you want a wallpaper to stay on your computer screen. The default setting is 1 minute, that pretty more than enough. You can lower down it maybe 15 Minute.
Behind the scene:
Auto Start: Make the tool to start with windows. That's recommended if you wish to stay longer with this tiny automatic wallpaper changer tool for windows.
Start in Tray: This will make the tool to hide into the notification area when it launches.
Enable Logging: Record logs.
Proxy: Only if you want to set a proxy. If you don't know what is a proxy, then this option is not for you. Skip this one.
Wallpaper Save location: Set the save directory, All saved wallpapers will be there. When a wallpaper is on your computer screen and you want to save it, click the RWC's icon and click "Save wallpaper."
===
A List of Reddit Wallpaper subreddits
wallpaper
wallpapers
iWallpapers
Offensive_Wallpapers
nocontext_wallpapers
WQHD_Wallpaper
Motivation_Wallpapers
4k_wallpapers
MinimalWallpaper
Reddit wallpaper changer not working
If you are facing this issue, you need to open RWC tool as an administrator. To do this follow these steps.
Go to the directory where you have the Reddit Wallpaper Changer.exe file — right-click on it and choose 'Run as administrator'. It should work fine now. If not there must be some issue with your internet connection.
---
Reddit wallpaper changer tool support multiple monitors, and works pretty fine for a single monitor. We really like this tiny little application to fetch and change the desktop wallpaper.