Since we already posted the best Screen sharing application which is the Chrome remote desktop. However, there is other remote access software that provides more features. TeamViewer is popular, but if you are not satisfied with it and looking for an alternative, Here is the best list of TeamViewer alternatives (remote access software) that you can use to share your computer screen or do other additional things. Some are free remote desktop access software with personal use license, while other with additional features may cost, below are most used remote access software with their features and pricing.
All screen sharing software included in this article has support for Windows 10, if you have an older Windows operating system you might need to check the appropriate official website of a remote access software tool.
If you are an individual and wanted to address private devices, Chrome remote desktop is the right tool for you, and the TeamViewer we'll just send all of your needs. Just when you need more options like video conferencing and other tons of features according to your needs, check out these remote access programs to choose from.
TeamViewers Alternatives of 2020 Paid And Free
I spend a lot of time on my laptop, sometimes it became hard to keep your eyes open and keep looking at your computer screen, why not just lay on the bed and stay connected to your computer using Screen sharing or remote access apps. When you're traveling and want to access a computer a remote access software can come handy.
Find and learn about best remote desktop access and screen sharing apps for quick desktop sharing and remote connection. Here are our favorite Teamviewer alternatives of year 2020.
---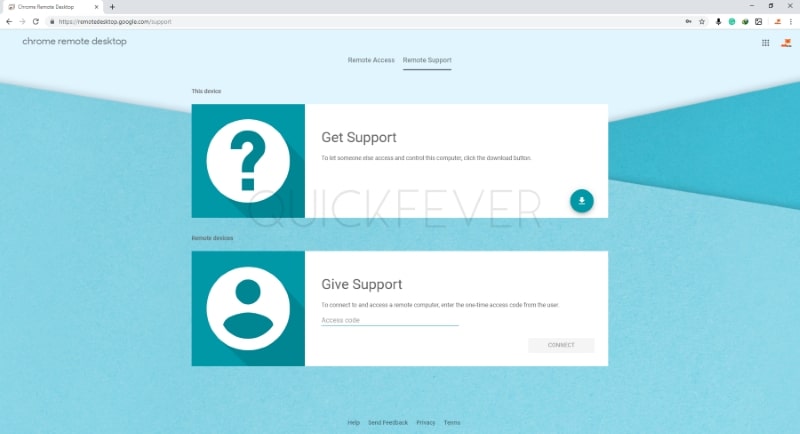 No doubt why Chrome's remote access app is mentioned here, and Google Chrome is more than you think of it. To know more about Chrome's remote access software and to set up it, Read the original article here to directly use the best screen sharing software to use for personal devices. The simplest TeamViewer alternative is Chrome remote desktop which you are ok directly from the Chrome browser. It cuts off all the hassle to install the program to both the computer.
Chrome remote desktop works on the web-interface meaning you need to access the website (https://remotedesktop.google.com/) which requires the chrome remote desktop extension.
Chrome remote desktop web-interface is really simple, you got two tabs either to set up your computer to access from anywhere or access a computer.
Get support: This option allows to set up your computer to be accessed from other devices.
Give support: Simply enter the access code of the computer you want to connect.
Best features of Chrome Remote Desktop
Easy to use.
Visually appealing Web interface.
Sync clipboard data
Keymapping
Connect multiple devices to host.
Unattended access
Downside
Additional extension and setup file required.
Requires Google account.
Lacks features like file transfer, voice chat.
It does not work over the same internet connection when data is inactive.
---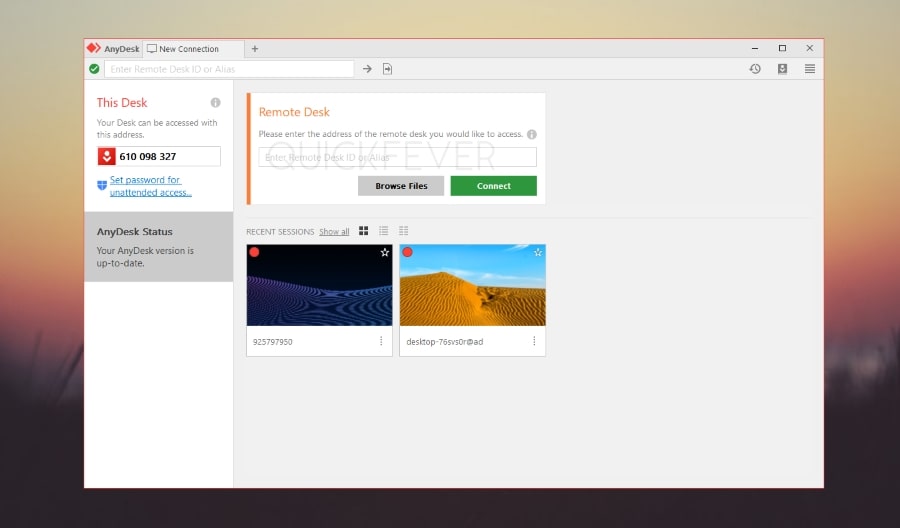 This is something you really need. Anydesk is the perfect remote access software with all the bells and whistles. The setup is around 3MB that makes it easier to setup within seconds. Out of the box, the application is click-to-open, although you can install it – which is recommended given the usefulness. Other features include file transfer, TCP tunneling, and connection customization. It allows you to prefer response time over quality and vice versa – But you would like to go with balanced settings. You can set it to record all the sessions when they start.
Unlike Teamviewer where you need both the access code and paswword you simply put the access code and the host will see a prompt to accept the connection, however you can always set unattended access with a password, once you do that you no longer require to enter any sort of password nor the host has to accept the connection.
When it comes to performance you can get up to 60FPS and furthermore you can enable OpenGL (Graphics card acceleration) from Settings > Display.
Best features of Anydesk
Lightweight
Full of features
Mirror, Windows and Android screen.
Recent session history
It's free.
---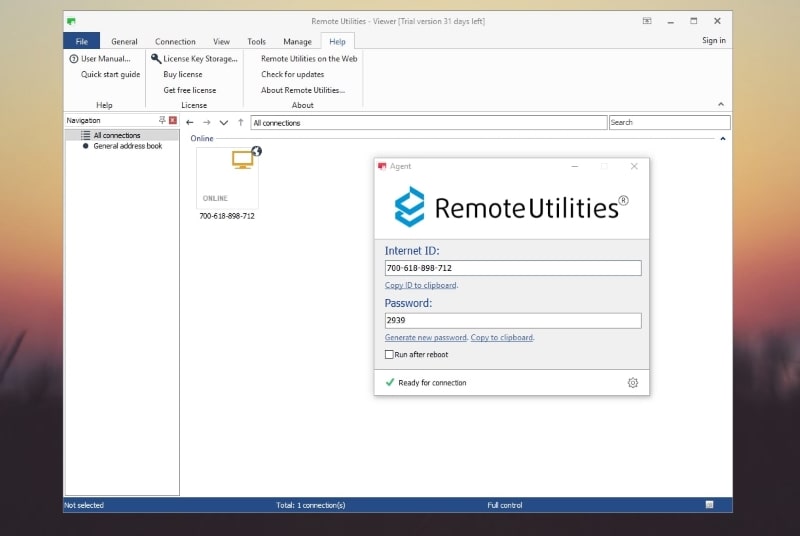 Remote Utilities has all the features with a immersive user interface. You can change and play with different settings from the top bar. You need to download two files, one is viewer and second is host. The viewer package is used to access host computer and Host package should be running in a computer which you want to access — both the package are run-only and doesn't need installation. However you can also download their installer version instead.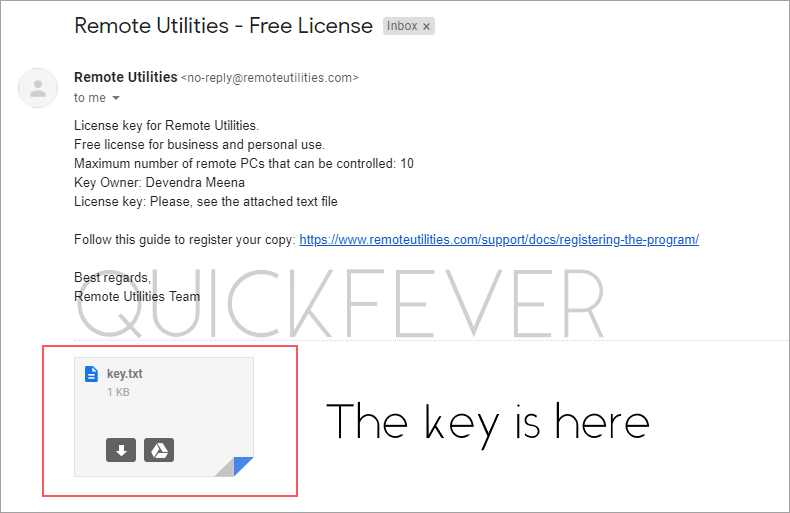 Out of the box you get a 31 day free trial and the awesome part is you can also get a free key by entering your email and name.
NOTE: Below listed options are paid.
4. Join Me | Paid
Choosing a screen sharing and conferencing tool should be deciphering. if you haven't used Join Me yet. It lets you share your computer screen with more than a single device like you can share your screen up to 50 peoples at once. Video conferencing is a paid feature, yet the audio conferencing is free. The Pro screen sharing let you allow the only screen a single window instead of the full desktop access. People who have to join your presentation or meeting does not need to download anything; they can join by entering the access code you provide. Screen sharing is Free, The Pro version is at $15 and Enterprise version $20/Mo with community and advanced meeting features
5. LogMeIn | Paid
We get LogMeIn is one of the expensive remote access software. But it comes with LastPass Premium 1 license which handles all your passwords on your device and sync them across other devices you use. Individual plan is priced at $149/ Year. File access is simpler Screen share. 1TB of cloud file storage, where you can store any sort of files and folders.
6. Ammyy
Unlike most of the remote access apps ammyy doesn't need to be installed on your computer just download a light .exe file of ammyy setup and connect to others and let other connect to your machine. It also offers chat and voice over IP function which os useful to engage with peoples.Pricing: Non-commercial license is free of any cost, The advanced plans are Premium and the Corporate which are priced at $33, $66, $66 respectively.
Bonus. SplashTop
A top LonMeIn and TeamViewer alternative, and let you mirror your device's screen to any other device. Just after you finish installing, you'll able to quick use it. This really help as you don't have to go into complicated setup. Also, all the remote sessions are secure which makes this the best security feature. But here is the catch. There are different apps for host and client. Client's app doesn't have the ability to remote connect to other computer. Instead, the app will make client computer accessible to host's computer. Overall, Splashtop is a fine chose for telecommuters need to remote access computer at work or home. As we said earlier, the installation process is cumbersome, but it comes with speed and security which make it worth trying out.
---
Writer advice.
Teamviewer is good, but I have found Anydesk more easy to use and no-guilt-inducing licence prompts. Anydesk has proved that it is the perfect remote access solution for home and tech assistant. The setup part only takes less than minute and from there you set unattended access and step out of house and explore the world while keeping your home computer (or any computer) at your fingertips. Chrome remote desktop is easy to use, only have few options, but they should be enought for home usages. If you need more control over the computer you want to mirror, try Anydesk- it's fast, lightweight and free to use.