We live in the era of the internet. People know it, and use it as and when possible. Our maximum tasks are done on the internet, be it booking tickets for a movie, or a flight. We can operate our bank account sitting on a couch, order goods in a couple of clicks.
There is probably nothing you can't do on the internet today. However, some of these services charge a certain amount whereas some are absolutely free. But are they really? There was a time when no one cared about internet privacy, it was as good as dead. No one cared to play safely on the internet, but that was quite a while back. Nowadays everyone is concerned for their online privacy (thanks to Edward Snowden for the heads-up!).
Delete your Email &Other Social Account This Quick and Permanently
8 Best Gmail Alternatives of 2017
These free services require you to sign up before using it. They usually require your Name, Phone number, address (sometimes), and your e-mail address. Some even let you sign up using other services like Google, Twitter, or Facebook. Using one of them for signing up is hassle-free but is no less than a subtle background check. Even if you don't use them, even providing your e-mail address isn't really hiding your tracks.
Here, I'm going to tell you the best online services that provide a fake, disposable e-mail address you can safely use. This comes in handy if you want to sign up for a shady website, or just want to try a service like Netflix, Hulu, etc. This also means you can theoretically try out trials forever, just use a new e-mail address every time. (if that's all it asks for).
Best services for fake email address

MailDrop is an open-source service which gives you a free, temporary e-mail address that you can use anywhere you want. Be it a forum, services that share your details with advertisers, or companies with not so great security record. It also features a spam filter, meaning, you'll see less spam on your fake e-mail address too.
There is no signup, no passwords, no security. You just have to enter the username of your choice and you can see the inbox with just one click. This is as simple as it can get.
It is worth noting that all attachments (if any) are discarded. Also, only last ten messages are stored, and if no message is received within 24 hours, it is deleted. Additionally, an inbox that has not recently received a message can be deleted.

10MinuteMail is yet another, no-fuss, temporary, disposable e-mail service. This is perhaps the easiest to use. As the name suggests, the email address, as well as its inbox is deleted after ten minutes. Unlike MailDrop, the e-mail address provided is unique and only you can view its inbox. You can also reset the timer if you need more time.
To use it, you just have to open the website in a new tab. You'll be greeted with a unique e-mail address that you can now use anywhere you want. That's it, and this is how easy it is to use!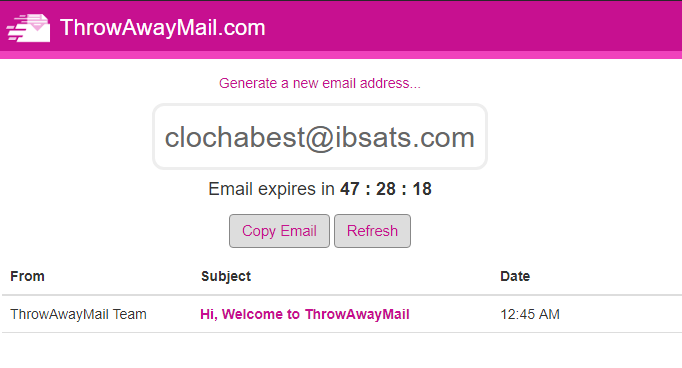 ThrowAwayMail is another free, disposable e-mail service you can use. Using this is equally easy. You just have to visit the website, and a new e-mail address is generated for you. You can view all the received emails on the homepage itself. The generated e-mail address is unique, and no other person can view the inbox. The e-mail address is accessible for 48 hours after generation and is deleted after that including the inbox.
Mailinator is very much like MailDrop. You can choose any username you wish and view the inbox. Anyone can view any inbox they wish, so there's no privacy here. There's no signup, no passwords. This too doesn't allow attachments and has a spam filter as well.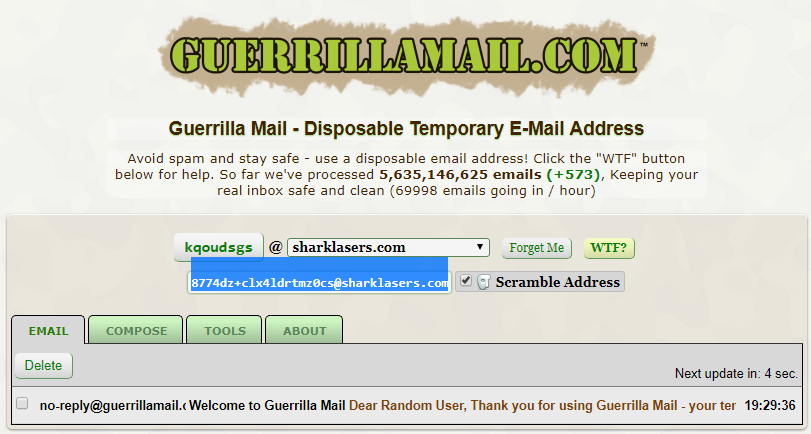 GuerrillaMail is a free, disposable e-mail service. The e-mail address has a lifetime validity. The email address can be customized by using any username you like using one of the eleven domains. The messages, however, are deleted after an hour whether or not you have viewed them. You can also encrypt your e-mail id, and the spam filter is also built right in. You can even compose an email if you want. This is something that differentiates it from other similar services. There's also an Android app if you want to use it on your phone. So creating a fake email address is very easy with this service and unlike other, it doesn't store old emails.
What do you use?
Which service do you prefer? Think any other service should be on this list? Shoot your suggestions in the comments section below!