Everyone loves searching on Google. Articles, images, videos we can search anything on Google. For User experience, Google stores all the search queries when you are logged with a Google account. Even if you are not logged on Google, your browser keeps saving your history and various websites uses that to show relevant advertisements. But it is easy to delete browser history just by pressing Ctrl+Shift+Del key.
Of the chance, if you want to clear google search history in seconds, follow this tutorial and find how to delete google search history.
How to clear google search history.
There may be several reasons you may want to delete Google search history. For example, when someone is using your Google Account / devices and what if they found out what you have been searching, if they do you may experience a considerable embarrassment.
Let's make this straightforward. Access this URL https://myactivity.google.com/myactivity (you must login with your google account to access this page).
On that page you will see all your saved history, queries you made, to remove particular search history click on the three vertical dots icon and choose Delete.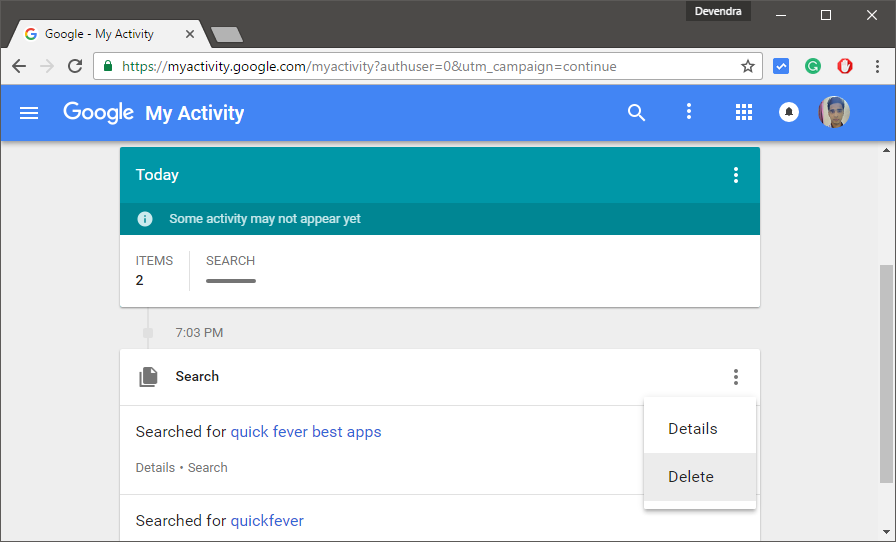 A pop-up will appear asking to confirm your action, click delete.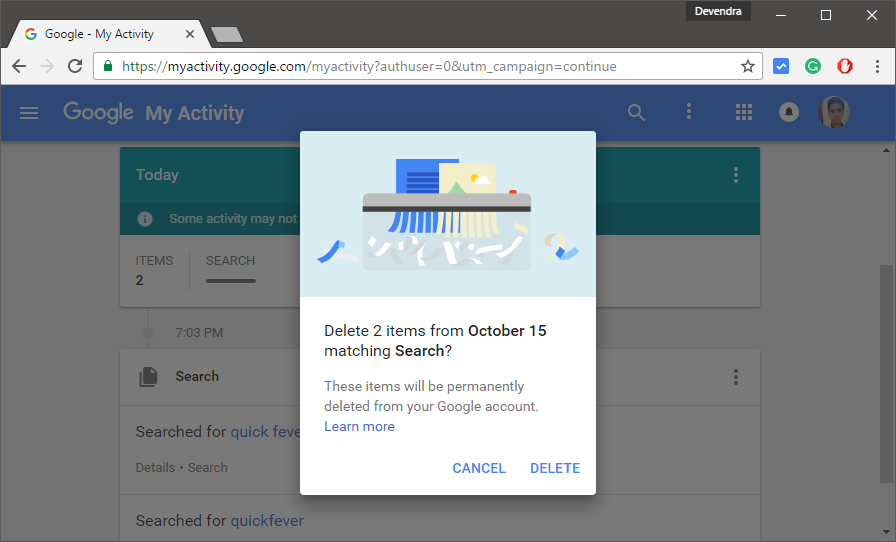 You can repeat the process to remove multiple search history from Google.
When you are up to removing all search history or other history, read the next section.
How to Remove Google History At once.
Click on this link myactivity.google.com/delete-activity, (sometime it redirect to /my-activity page) from the left side there is a link "delete history by" click on that) and if you need to remove "google search history" of all the time. Choose All Time and Search and click on the Delete button (as shows in the image). You can remove other history all data at once by choosing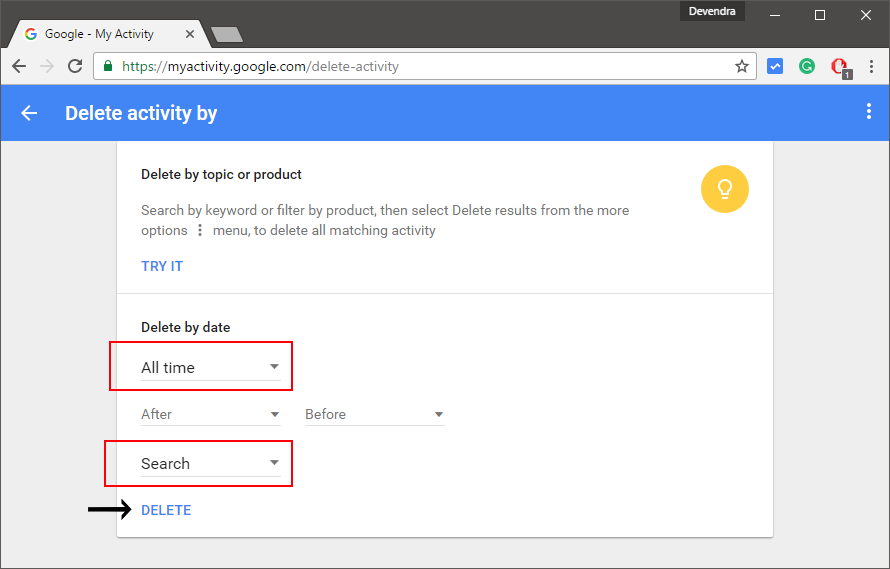 Make Google Not to trance you in Future.
If you do not want Google search history of your future then you can opt not it, This step is really not required unless you really need to. Google is something that helps us a lot. Here is how to opt-out google to not save your future searches and visited sites.
Step 1. Log into your google account and jump to this URL address " https://myaccount.google.com/activitycontrols "
To make google not to track and store your searched queries and visited sites, click on the toggle icon to set it off. If you can see the (paused) text means it's off. This also applies for Location history, voice activity, YouTube history. From the same page you can control Searches, YouTube, Location, Voice history settings. You can turn them Off so google no longer log your searches and this way there won't be any google search history in future.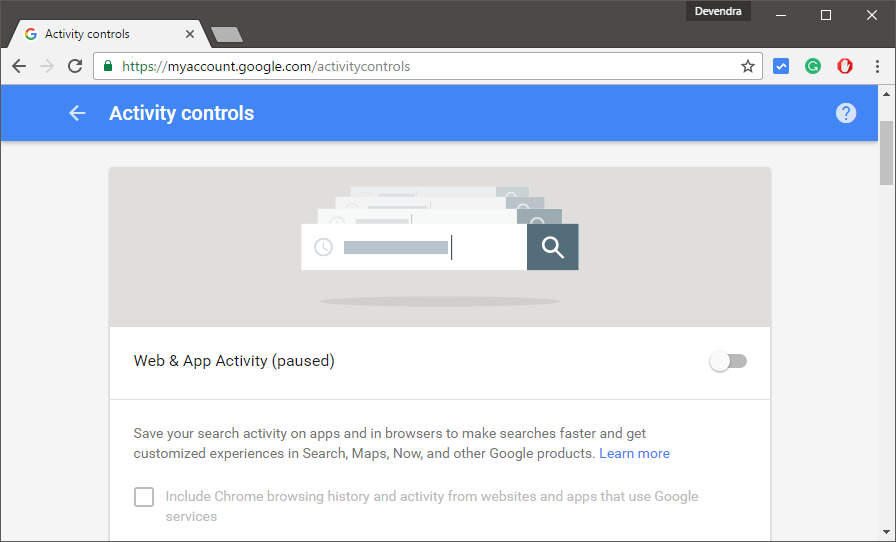 You can quick look at what's is on and whats is off.

Hopefully now you have to know how to delete search history of your searches on Google. Well, Google is a great search engine and to millions of advertising and Publishers It is important that the advertisement is related to a user's search history and there is no reason you should denied that. But if you are searching some sensitive and NSFW things you should consider remove that history from google.
When you Have an Android Phone.
In the event that a friend requests to get your cell phone to search for something on the web, you most likely don't need any of your private pursuit searches showing in the auto-complete area when they begin writing their search terms.
There are two or three approaches to remove or hide your Google search history. The first technique is brisk and valuable on the off-chance that you just need to remove a couple of particular search words. The second technique is helpful in the event that you need to expel a hefty portion of your search inquiry things at one time.
Your Google App should be up to date and you can check on the Google Play Store if you need to update the app. You can simply clear a couple of particular search terms from your Google search history, you don't have to sign into your Google account to do as such. Just tap and hold the term when you are typing in the search bar. A prompt will pop-up to confirm removing the term.
The same applies when you are using a computer, begin typing your search term and if google has saved it you will see a "remove" text, by clicking on that google won't be suggesting that next time when you type something to search.