Reading on your screen is not something new, there are a lot of options to read a book on your device. PDF is an easy way to read books and almost all operating system natively supports it. The Epub is an another e-book file, which is advanced in terms of features. It can preserve and optimize text for particular display and you can bookmark to make quick-jump. What more, it supports the ability to change font type and size, background color etc. Just like an Html web page, it supports custom CSS, metadata and yeah Vector and raster images. Also, ePub is widely supported file format and for that reason, we've summed some best Epub readers for Windows operating system and other platforms.
iBooks and Google Books are Epub based, while Amazon Kindle is an exception here. If normally called, Epub is a zip file that contains Metadata and CSS files as well as chapter wise HTML pages.
Facebook Messenger Bot/ Facebook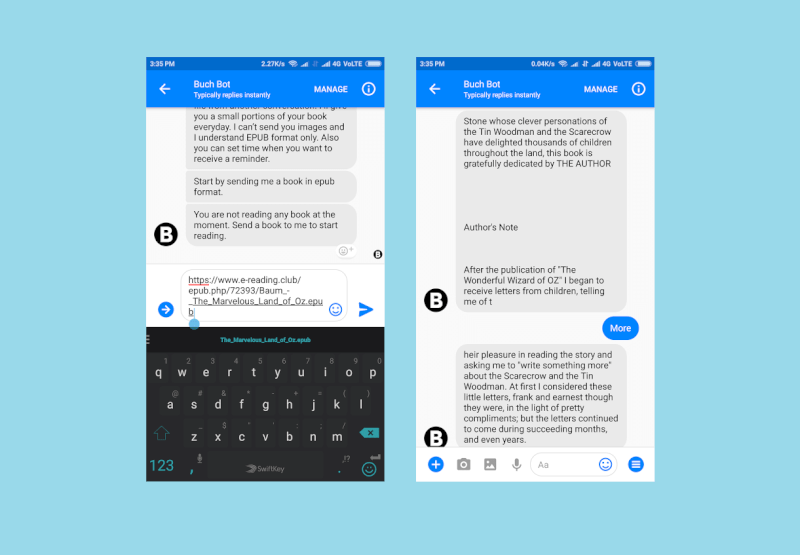 An innovative idea to break down and read a book content is pieces each day. This Facebook app automatically sends one part of a book daily, so that you can read a book very slowly. You can launch the Buch bot on your Facebook (general site or messenger) getting starting is somewhat you might have to struggle a bit, as you've to provide a direct link to a (.epub) file.
Suppose you're not much into reading or have a very little time, sure you can't read a lot in that time. What you can do is to break it into a thousand pieces and read it daily, manually doing this will take too much time and you might even lose track. Thanks to Buch bot, that keeps track and you can always check the reading percentage. Also, if you have a comic or an e-book that contains a lot of graphics you might disappoint as this bot doesn't process images at all. This is not a bummer considering it's one of a unique idea to complete a book in a conversation manner.
Font settings, Google Text to Speech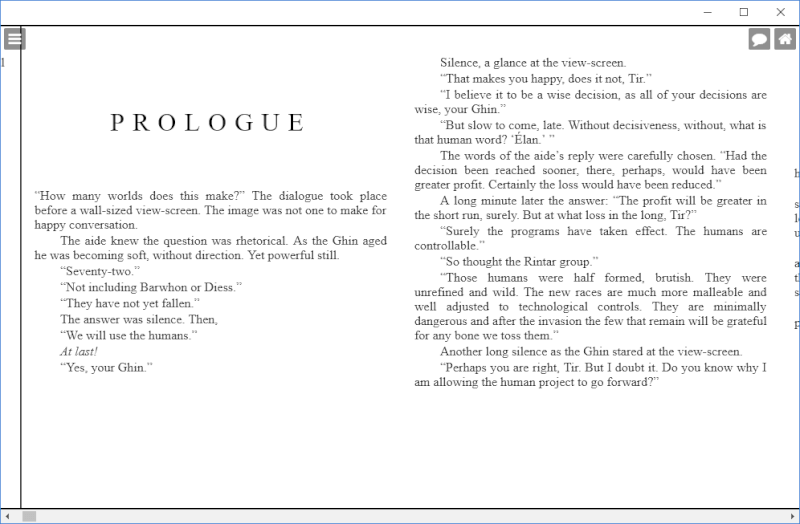 Believe me dealing with epub wasn't this easy before I stumbled this chrome app, To open a book, you can drop the file of that book directly into the application, in addition, there are some advanced settings, through which you can convert text or JPEG image to Epub format. In this app, you also have Google Text to Speech integration, through which you can also convert the text from the opened book into voice and convert it to voice. In that event that you're not using Chrome, you can install this chrome app on Opera, Vivaldi or any other browser based on Chrome engine.
Microsoft Edge
Bookmark, Microsoft Text to Speech | Windows 10 Browser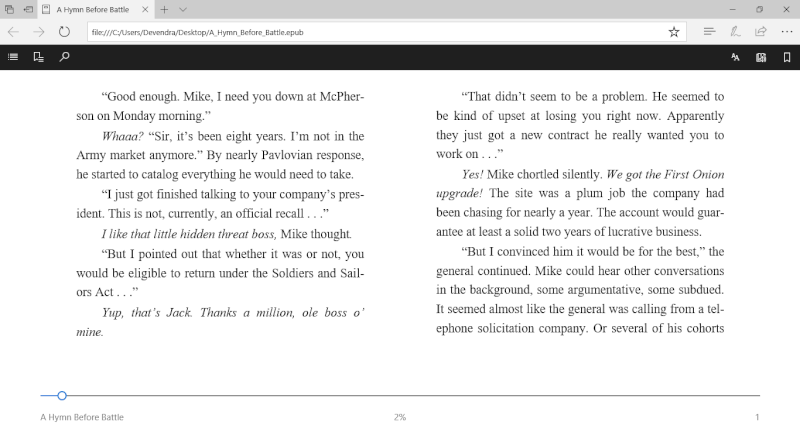 Microsoft's new Edge Browser is capable of so many things, handling epub and PDF files is a good step to improve this browser's usability along surfing internet. In this, Microsoft Voice To Speech Inbuilt is given through which you can listen to any book, apart from this, Font Configuration has given its many options. The special thing is that it has 3-page themes, one of which is a dark theme, if you are reading a book in the night, then it is very profitable for your eyes.
The Microsoft Store Apps (Windows 8 or newer)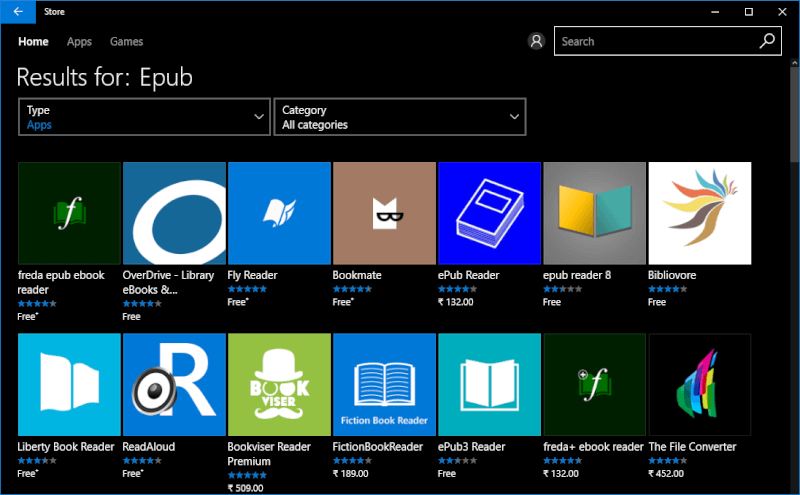 Windows Store holds plenty of book reader apps which is more than enough. Listing them all here is not facile.
Windows, Linux, Mac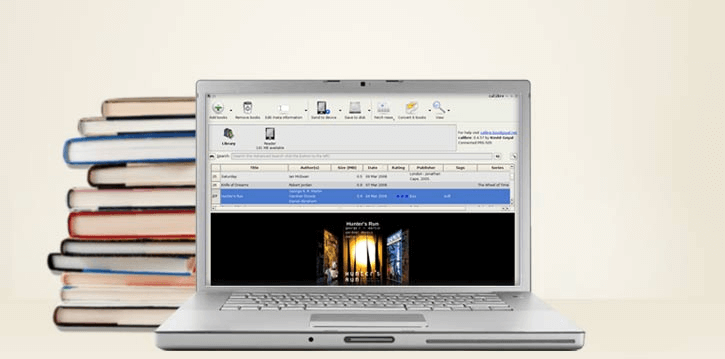 It is a powerful book reader in which you can manages and modify books and also create a database. If you were looking for a good manager along with book reader then this application will be the best for you. The thing that is available on Windows is that it can mask the metadata of books. It's also available for Mac, Linux OS and a portable version for Windows. With the help of this application, you can read books easily and open well, big buttons have been provided, which provide an easy user interface for both a normal computer user and expert.
Aladiko Book Reader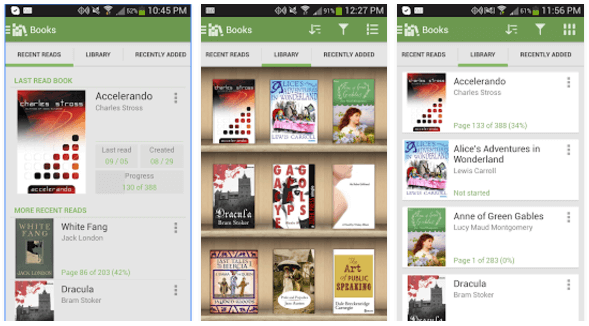 This is claimed to be the best eBook reader out there for Android platform that supports Epub, (even Drm protected). If you have lots of books lying on Android then you can create a library by opening it in this application. You can also add a bookmark in addition to this, you can open books by accessing the public library directly, which is very much apart from this, there are a lot of formatting options and features in which the search option is very useful.
Addr
This is a simple iPad app that helps you read Epub eBooks. You can import your DRM-free e-books It's all about importing your DRM-free ebooks and adding a social layer to take annotations and share them with your friends. Its design is simple and you can add a margin with a single finger and slide notes by adding notes.
Read more with Epub Reader on Windows
So far our favorite way to read an Epub is Microsoft Edge, despite the Text to speech isn't as good as Google's but this has got custom fonts and styling options. As far as reading time is concerned the night mode comes handy, what more the new Windows 10 insider builds has annotations and other new features regarding Epub + Edge Browser.
In case you're not an Edge browser fan, and for the reason alone you can try the Simple Epub reader (chrome app) that would work on every major operating system where Chrome Browser is supported.
For Android Aladiko works just fine with some out of the box features such as handling DRM content, moreover, it plays well with other e-book formats.