How to get Windows 10 ISO and to install it on your computer, this is a dedicated article for that. We've listed all the methods to get Windows 10 ISO file according to your computer (whether it's 32-bit or 64-bit machines).
Before starting, you might want to know Which operating system you're running and the architecture. Here is a simple way to detect whether your system is 32-bit or 64-bit. Open the Local Disk C, and if there is a "programs Files (x86)" folder it means it's a 64-bit architecture and if not you have 32-bit. Also, make sure to have the minimum space required to install windows 10.
Users with the modern computers oftern gets major updates update early. However, use the following links and tips to get the ISO file of Windows 10 April update and install it to your computer.
Download Windows 10 build version 1809 (17763).
Download Windows 10 October Update | 64-bit
Download Windows 10 October Update | 32-bit
Filename: Win10_1809_English_x64.iso (64-BIT / 4.5GB)
Filename: Win10_1809_English_x32.iso (32-BIT / 3.2GB)
However, Download KB4464330 for upgrading your Windows 10 1803 to 17763.134 | download.
---
If you want to download Windows 10 October update ISO, use following links. These links will allow you to download Windows 10 version 1803 ISO file (April 2018 Update).
Windows 10 build 17663.134.
KB4464330 update is required to get the version 17663.134.
Steps to get the latest version.
Download both files (the Windows 10 ISO from the link above with the latest KB update).
Install Windows and do not connect to the internet until you finish installing it, now navigate to the update file and install KB update then restart your computer.
To ensure your Windows 10 is up to date and the version is 17663.1, press Windows + I key combination to open settings then navigate to system > about. To check your Windows version. When your Windows is up to date like at the time of writing this article you will the below image.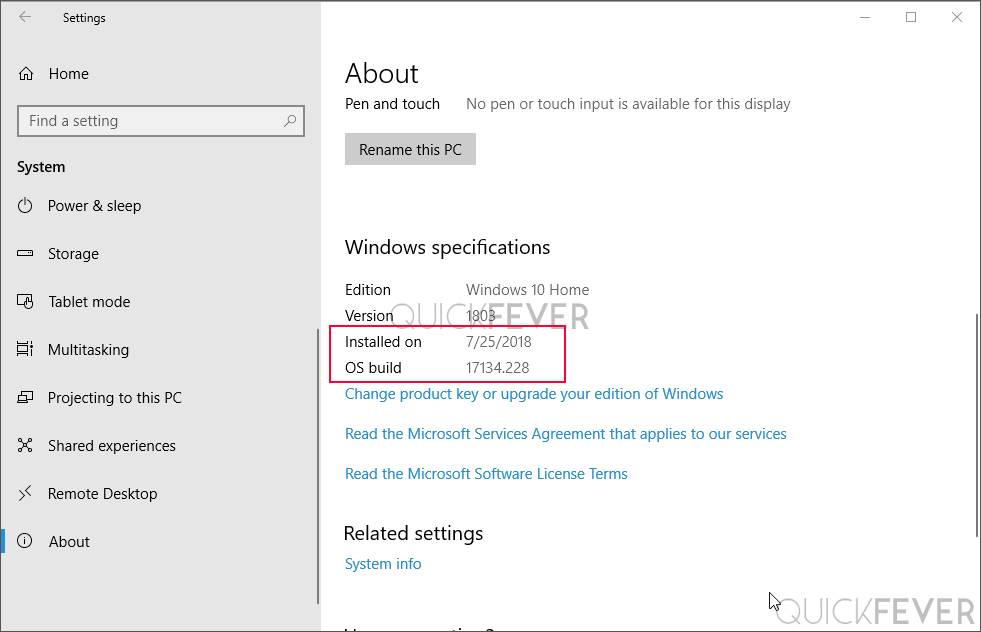 Here are other ways to get Windows 10 ISO to your computer.
Obtain Windows 10 ISO from Microsoft
Windows 10 ISO from Microsoft: (Use a smartphone device for this method, because Microsoft redirects the link given in the guide to an upgrade page, So this is a bit tricky Use this guide instead if you still want ISO of Windows 10 using your computer).
Step 01. Head to this Microsoft page from a mobile. If you're visiting from a computer follow these steps.
Then select, Language and choose the architecture you need to download.
Get Windows 10 ISO using Media Installer Tool: Use Microsoft's official tool to download Windows 10 (64-bit and 32-bit) ISO file, you can also choose a Windows 10 version such as "Windows 10 Pro, Single language, Windows N."
[Media creation tool] Download ISO and Install Windows 10 April Update
Windows 10 direct download link: You can directly save a Windows 10 ISO file to a cloud to save the file in as many hours or days you want because Official Microsoft links expire in 24-hours).
---
Installation Guides & Resources
How to Install Windows 10 From USB: If you already have a Windows ISO file to your computer, you can create a bootable installation media to install Windows 10 on a computer.
Install Windows 10 using Media Creation Tool: You can also get Windows 10 ISO according to your computer using the Media creation tool. Which can also make bootable USB drive and for this, a high-speed internet connection is required.
==
On 30th April Microsoft rolled the April 2018 Update. While the major rollout was started from 8th May. That's because even if it's called April updat,e it is prone to higher chances of BSOD (blue screen of death) that's the reason Microsoft had delayed the update in the first place, as it should have released by 10th of April. It's April and users already can install the insider preview of Windows 10 version 1803 from the Windows update or manually. However, I always recommend doing a fresh Windows 10 install to avoid all kind of issues and save a couple of minutes (hours). You can also use update assistant tool to download and install Windows 10 April 2018 update.
Windows 10 in such a great operating system regarding providing new features and update throughout the year. Even if sometimes a new version of Windows 10 fails Microsoft quickly manage to fix the issues and rerelease the version. This has happened with the update 2018 update which was to be released initially on 10th of April, but we have seen a higher amount of blue screen of death issues, so it was pulled off. The April 2018 update was rescheduled 2 release on 30th April, so you can go to the Microsoft website and use their site and download the new Windows 10 ISO. Or you can wait for them wide roll out which will happen on 8 of May. But it seems that Microsoft already started rolling the April 2018 update for most of the users.
Follow us on twitter to get the latest Windows 10 update, also get added to the list so that we can send you new updates.
A few things you need to know.
April 2018 is the name of the major update of Windows 10.
It was delayed, the original release date was 10th April.
The April 2018 update will release on 30th April.
The broader rollout will begin from 8th may.
Download Windows 10 April Update ISO from Microsoft
Head to this Microsoft page from a mobile. If you're visiting from a computer follow these steps.
Now choose the version.
(OUTDATED) How to use?
Build your Own Windows 10 ISO file (noob friendly)
Download the tool, extract it. Run the Aria2downlaod file. This script will download everything automatically and eventually convert it to ISO file.
The archive will contain aria2c.exe application, aria2 script, and an aria2_download.cmd script that will start the download.
If you choose the option with conversion, then archive will also include a conversion script that will be run after successful download.
Please! A step by step procedure? With images
Download the tool from the links given, use the 64-bit link to download 64-bit Windows 10 April 2018 Update ISO. And use the 32-bit link to download 32-bit Windows 10 April 2018 Update ISO.
Now extract the tool, right-click and select Extract All option.
Open the extracted folder, run aria2_download file, this script is an automated script that will download all the files using the Aria2 download program. This is necessary to download multiple files at once.
This will take some minutes, use a high-speed internet connection. you can see the progress inside the command prompt window and all the files that this tool download is from Microsoft server, so yes there is no involvement of third-party files.
Once done, this script will execute another tool that you can find inside the same folder. Run the UUP-Convert to start converting downloaded files to Windows 10 April 2018 ISO.
Windows 10 17134.167 ISO download options
First, there is various way you can use to get Windows 10 April 2018 update.
Having an ISO of Windows 10 April update.

Using Media creator tool to download ISO
Making ISO from UUP files.
[Media creation tool] Download ISO and Install Windows 10 April Update
Update assistant is a tool that can help you upgrade your computer to feature update or April 2018 update version 1803 (or Redstone 4 stable build). The Update Assistant tool keeps the installed programs, apps, personal files and custom user settings. It upgrades the old Windows 10 version to the new version automatically. It's identical to the media creator tool which also can create bootable media drive along with downloading ISO file.
Sidenote: If the tool is unable and taking longer you can download Windows 10 ISO from here and make a bootable media using Rufus.
Similarly, like installing Windows 10 Lean, where we've shown you can use a tool to get original Windows 10 files from Microsoft servers and then automatically converting them to ISO file, is a conventional and practical method.
Windows 10 April 2018 Installation guide.
The only tricky part was to get Windows 10 April update ISO, which you can burn to USB flash drive or to DVD and start the installation. However, here is an easy breakdown of all the steps you need to do to install Windows 10 on your computer.
Step 1. Male bootable media
Use Rufus or any other tool to create bootable Media. Check this guide for more help.
Step 2. Start the setup.
Just like the original Windows 10 setup, you will be going through on-screen instruction that you need to follow in order to install Windows 10 Lean. You had throughout the process we have a guide for that as well that you can check here.
Step 3. Setup part.
The second part is pretty much the simple if you installed through a bootable USB flash drive now it's time to unplug it Windows will ask you to account information like for the example what name do you want to use for your computer account. If possible connect the computer to a Wi-Fi network when prompt so that way you will get the latest drivers automatically installed.
Now when Windows 10 April 2018 is installed, here is how to disable all of Windows 10's Built-in Advertising in anniversary update builds.
More Windows 10 resources.