Microsoft is all set to roll version 2004 with the title "May update 2020″ to the public starting the same month. What's interesting is that it has some nice updates and features. The version is finally available to download and the build version is 19041.423; in other words, if you install this build, you'll have windows 10 version 2004, which is already being rolled to devices. 
Before you start: if you are using an older version of Windows 10 operating system check system requirements before installing on your computer.
How to Install Windows 10 may update 2020
Microsoft already tested version 2004 in both slow and fast rings of insider preview. (slow ring gets slow updates and fast gets quickly). You can easily find .iso but they might be infected for the sake of removing blah and blah to make Windows 10 faster. That is why I opinion recommend users to build ISO on their computer. In such a situation, you can be sure that what you are using is a hundred percent original.
However I trust on these ready-made ISO provider.
Windows 10 2004 ISO
Windows 10 version 2004 both architecture, the ready-made ISO has a size of 5GB and 3.5GB and contains all edition with the English Language.
WINDOWS 10 VERSION 2004 64-BIT
WINDOWS 10 VERSION 2004 32-BIT
However to make a up-to-date ISO follow the next method.
Method 1. Build Windows 10 2004 (19041.423) ISO
What if I tell you that you can build the latest edition ISO on your computer using all the original files. So basically it is a script that downloads all the necessary files (UUP) from Microsoft server and then converts it to ISO file, so you will always get the latest version of the window.
The build is the final 2004 RTM release, which Microsoft will push starting May month. Fortunately, you can build the ISO at your home, boot, and install Windows 2004 right now.
If you use this method, less bandwidth will be used and more computer power is used to compile UUP files to ISO. (But it's comfortable as the script will do everything once started). I'll upload a video soon, watch that to get familiar with the process.
Windows 10 2004 64-bit | Download (build 19041.423)
Windows 10 2004 32-bit | Download (build 19041.423)
How to Install Windows 10 From USB
Once you have your ISO ready, follow the instruction given in this article to successfully install it on your computer.
Method 2. Fresh Install | Obtaining fresh ISO from Microsoft
In ordered to download Windows 10 may 2020 update from Microsoft. Visit this Microsoft page, (press CTRL + SHIFT + M, select a mobile) select Build 19041 (which is v2004). I am not sure if the version is the latest in doubt install the KBupdate linked below.
But first, download the ISO from Microsoft. The below screenshot is of Insider builds, you will see Windows 10 may 2020 update, select that.
Upon confirming select English language (or your native) and click Confirm Again, two links will appear. 64-bit image size is 4.9GB and 32-bit image size is 3.5GB. Please note that both files have all the Windows 10 variants (Home, Pro etc)
Tip: Use the homebrew method if you want to build ISO on your computer and save bandwidth (4.9GB versus 2.5GB for 64-bit).
Here at Quickfver I always recommend doing a fresh Windows 10 installation to save time and avoid lots of issues and bugs.
Download KB4557957 if your Windows 10 2004 is older than build 19041.208
Method 3. Upgrade | Through Insider program
Home > Update and Security > Windows Insider Preview > Get Started then follow the instructions.
Creating Bootable USB
Use this method to create a Windows 10 installation media, and You're required to use a USB drive at least 4 GB, higher is better if you want to have a Bootable USB for both 32 and 64-bit versions of Windows 10.
Use the Rufus tool to create bootable USB, the tools automatically detect plugged USB drive, select the ISO file you downloaded or build using the Browser button.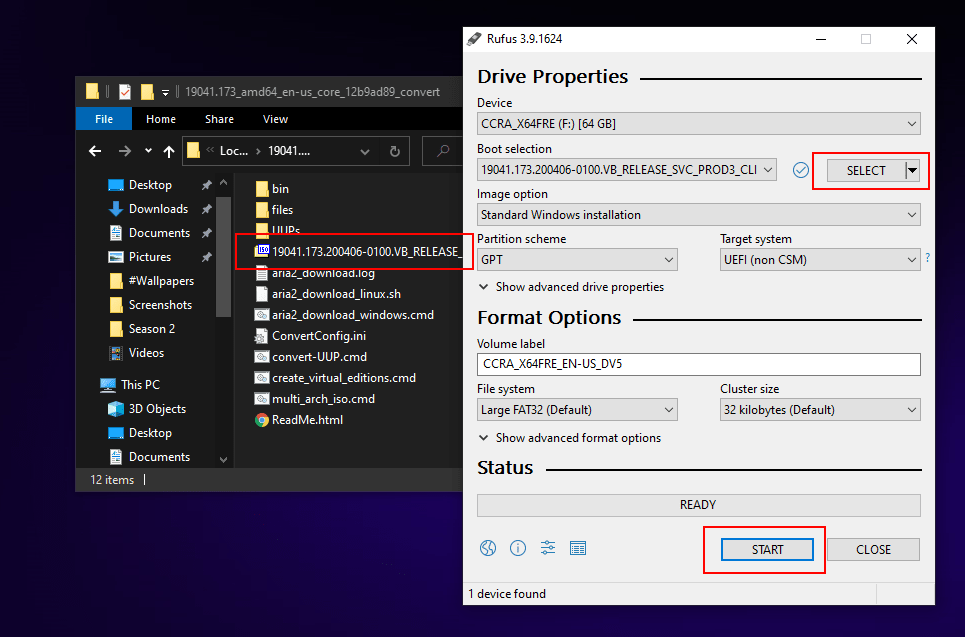 Intreasting articles to check.
Other articles.
Windows 10 Version 1909, 1809 ISO Download
All version of 19041 (2004)
| | | | |
| --- | --- | --- | --- |
| OS build | Availability date | Servicing option | Kb article |
| 19041.388 | 2020-07-14 | Semi-Annual Channel | KB 4567523 |
| 19041.329 | 2020-06-09 | Semi-Annual Channel | KB 4557957 |
| 19041.264 | 2020-05-27 | Semi-Annual Channel | |