This article is aimed toward the latest stable Windows 11 build, while you may want to check the following articles for other Windows 11 versions.
Windows 11 is great, it's a whole new experience including beautiful UI, Windows layout options, better multi-monitor options, improved performance features, and the ability to run Android Apps. Microsoft released it on 5th Oct, and we also have an Insider preview version of Windows 11 which is already installed on tens of thousands of computers. We believe Windows 11 has already been a success. Windows 11 is available to download from Microsoft for free.
📌 Windows 11 Insider Preview ISO Offline Download and Windows 11 22H2 version.
Download ready-made ISO for Windows 11
get a ready-made direct link to Microsoft's Windows 11 English language build 22000.318.
Download Windows 11 Version 21H2 ARM.ISO (please build ISO below)
The above link is an English ISO replica of what's being offered on this Microsoft Page, want the ISO in another language? visit the link.
---
Download Windows 11 ISO with integrated updates
Download Windows 11 stable build, get the tool that fetches UUP files of Windows 11 from Microsoft server, and create ISO file, Homebrew and original.
🟢 (recommended) Current build 22000 | 08/2022
This tool will build Windows 11 ISO in the English language with all major Editions.
Windows 11 Home & Pro
Windows 10 Home Single Language
Windows 10 Pro
Windows 10 Pro for Workstations
Windows 10 Pro Education
Windows 10 Education
Windows 10 Enterprise
Windows 10 Enterprise for Virtual Desktops
Windows 10 IoT Enterprise
↪️Jump: Instructions to build ISO and follow @quickfever 📃 on Instagram for updates. Create Windows 11 ISO with TPM and secure boot bypass (guide)
Don't install Windows 11 ISO from 3rd-party links of Google Drive, Zippyshare, Mediafire, or AndroidFileHost they can be infected with bloatware such as pre-activated, links on this page leads to official Microsoft and copies without any change In file, an Activation is required.
(Instructions) Build Original Windows 11 ISO
Read this warning: many people still rely on the internet to download ISO from the internet which often led PC to get infected, folks of UUPdump created this script that compiles ISO using original files obtained from Microsoft servers. It's safe to use this tool from our [quickfever.com] website only.
Download the script from the links given above, and use the 64-bit link to download 64-bit Windows 11 UUP files. Use the ARM link for ARM Windows insider preview ISO.
Now extract the tool, right-click and select Extract All option.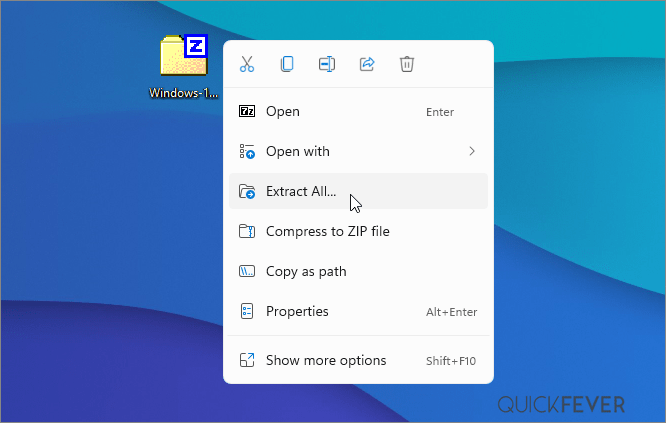 Open the extracted folder, run uup_download_windows file, this script is an automated script that will download all the files using the Aria2 program. This is necessary to download multiple files at once.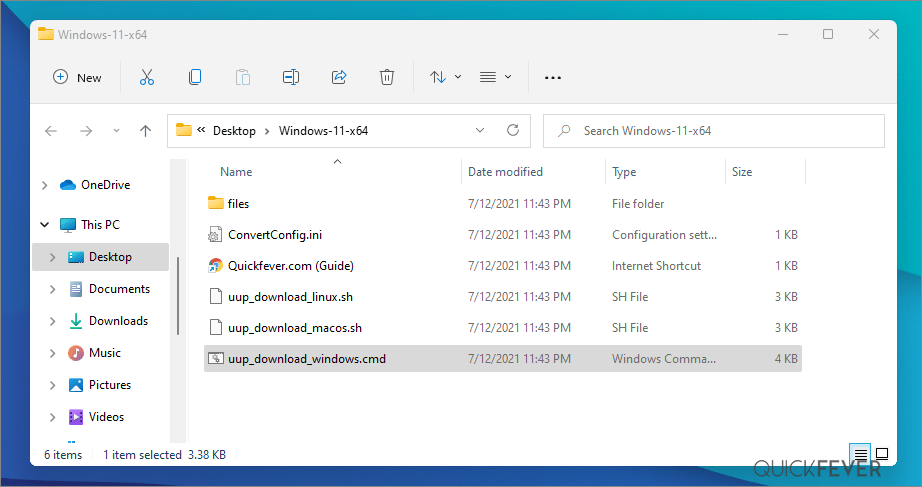 4. This will take some minutes, use a high-speed internet connection. you can see the progress inside the command prompt window and all the files that this tool download is from the Microsoft server, so yes there is no involvement of third-party files.
note: If for some reason, you see an error in downloading, just close and start the tool again, it will skip downloaded files and confirm all files are downloaded.
5. The new version of the tool, automatically creates ISO from the files. We've optimized some settings to make the process even faster. For an estimated the tool will take less than 5 minutes to build ISO on your computer.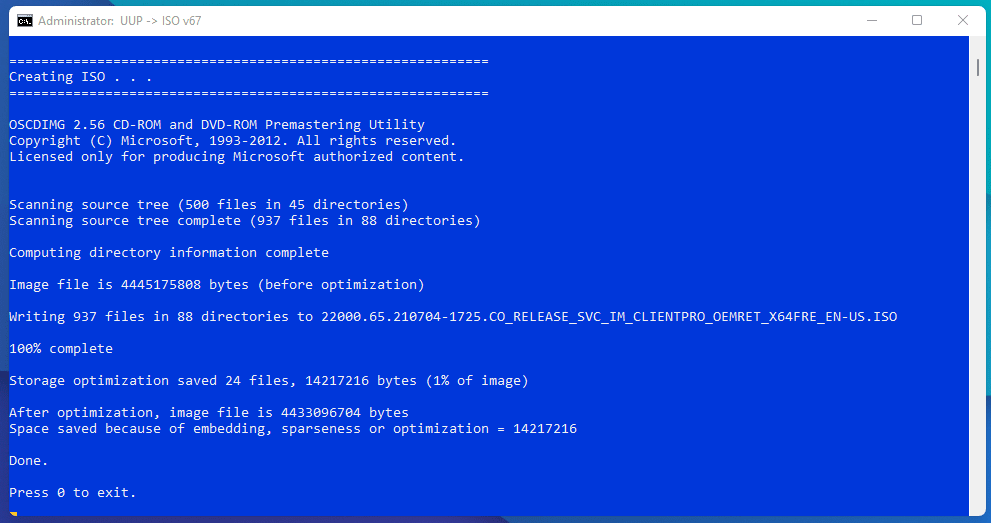 6. Find the ISO file inside the Windows-11×64 folder. Now you can install Windows 11 by creating a bootable USB using Rufus tool.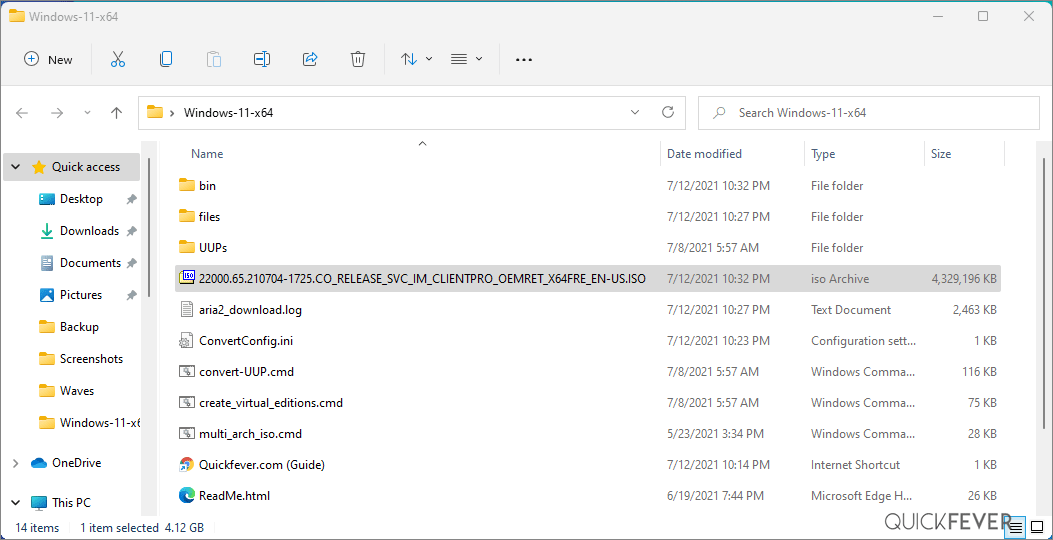 (Optional) Once the tool downloads all the files, this script will execute another tool that you can find inside the same folder. If you wish to manually trigger the ISO building process, please run the convert-UUP to start converting downloaded files to Windows 11 Insider preview ISO.
Frequently asked Windows 11 question
*These are some of the questions arriving with this build.
Right now this build requires the TPM 2.0 and secure boot function to be enabled along with a compatible processor. There are possibilities to work around this.
1. Copy the appraiserres.dll from the Windows 10 iso into the sources folder of Windows 11 iso. After that, you can install Windows 11 on your computer regardless of TPM support.
2. Use Rufus and Create a Windows-to-go installation. This is what I recommend with Windows 11 build, what you are doing is directly running Windows 11 from a USB drive.
Windows 11 long-term review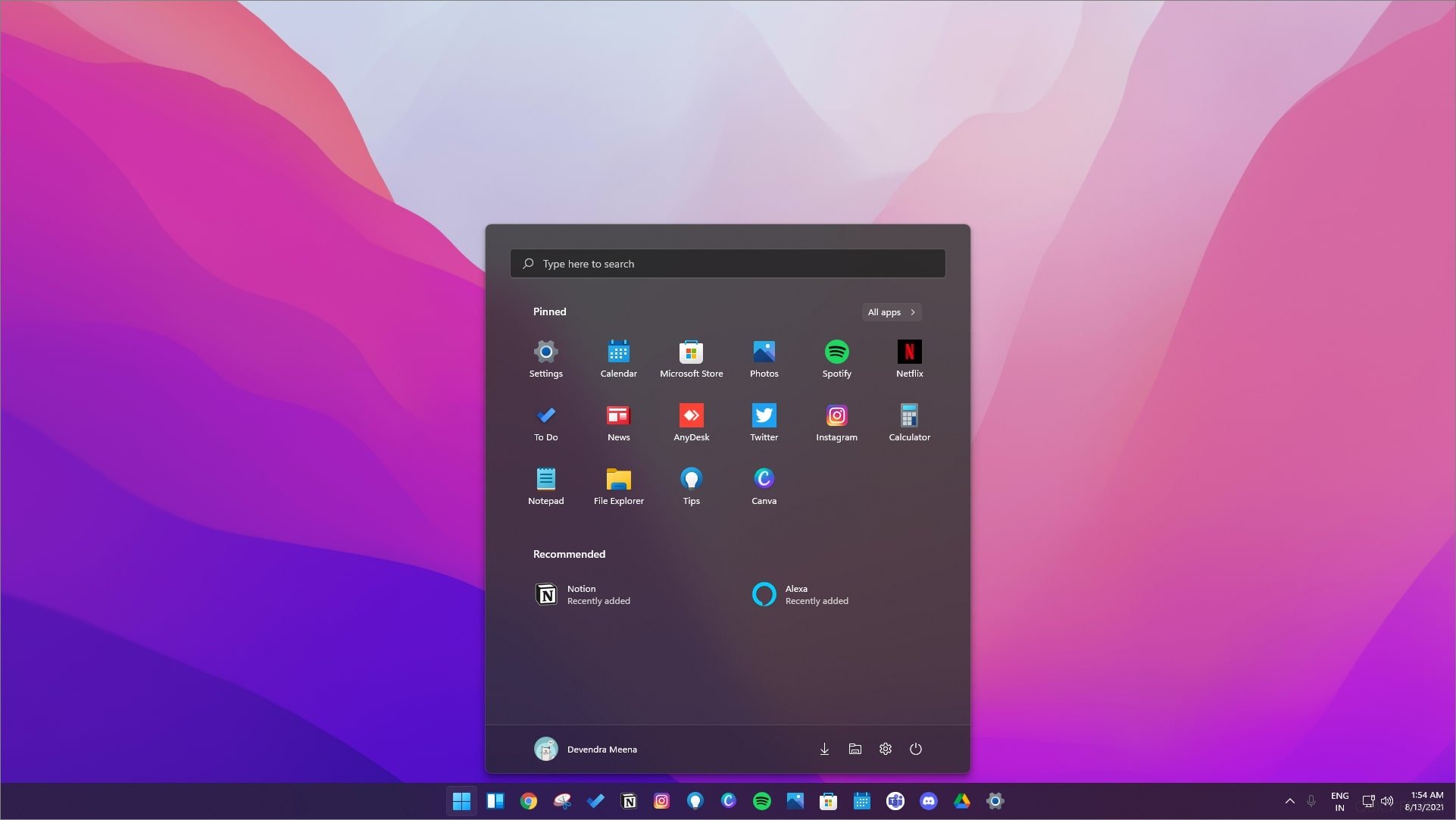 We tested the build and we're impressed with what Microsoft did with the start menu and brought us rounded corners. All the newer Windows 11 builds comes with breathtaking Wallpaper and animations. Else is pretty much the same, or we're yet to discover. Microsoft seems really inspired by the TaskbarX (which essentially centers the icons and makes the taskbar transparent). Use the following tweet link to create latest build ISO on your computer. Q
Windows 11 build release history
Use this space to track Windows 11 Insider builds. Newer builds are added to the top of the table.
| Availability date | Build |
| --- | --- |
| 2022-04-25 | 22000.652 |
| 2022-04-12 | 22000.613 |
| 2022-03-28 | 22000.593 |
| 2022-03-08 | 22000.556 |
| 2022-02-15 | 22000.527 |
| 2022-02-08 | 22000.493 |
| 2022-01-25 | 22000.469 |
| 2022-01-17 | 22000.438 |
| 2022-01-11 | 22000.434 |
| 2021-12-14 | 22000.376 |
| 2021-11-22 | 22000.348 |
| 2021-11-09 | 22000.318 |
| 2021-10-21 | 22000.282 |
| 2021-10-12 | 22000.258 |
| 2021-10-04 | 22000.194 |