Microsoft keeps releasing Windows 11 insider preview build so you can test upcoming features in Windows 11 before public release. In this case, we are setting our eyeballs on Windows 11 channels 22H2 and 23H2. This is a comprehensive guide on how you can download the latest Windows 11 insider preview ISO files and get them installed on your computer. In simple words, the Windows insider preview is more like a beta version.
Microsoft releases insider previews to test things before and get feedback before rolling to the public. There is a higher chance that you get to see all the changes in the public release of Windows 11 and some functions can be purely experimental.
Download Windows 11 Insider preview
🟢Current build: 22512 Build in Dev channel Windows 11, view changelog 🐱‍🏍
Windows 11 Insider preview 22H2 and 23H2
Use the below download button to choose 64-bit or ARM64 Windows 11. We are using this tool to download UUP files from Microsoft servers. The tool automatically converts UUP files to ISO in the end, so YES, you can build the latest insider preview ISO images at home, 100% original and safe. (remember to download links only from quickfever.com website)
Important notes:
1. See Instruction Guide | Message on Instagram @quickfever for special language builds.
2. Google Chrome and Edge might warn you when downloading the tool, simply click the arrow and select Keep.
Build Original Windows 11 Insider Preview Build ISO
Warning: many people still rely on the internet to download ISO from the internet which often led your PC to get infected, folks over uupdump.net created this script that compiles ISO using original files obtained through Microsoft servers.
1. Download the script from the links given above, and use the 64-bit link to download 64-bit Windows 11 UUP files. And use the ARM link to build ARM Windows insider preview ISO.
2. Now extract the tool, right-click and select Extract All option.
3. Open the extracted folder, and run uup_download_windows file, this script is an automated script that will download all the files using the Aria2 download program. This is necessary to download multiple files at once.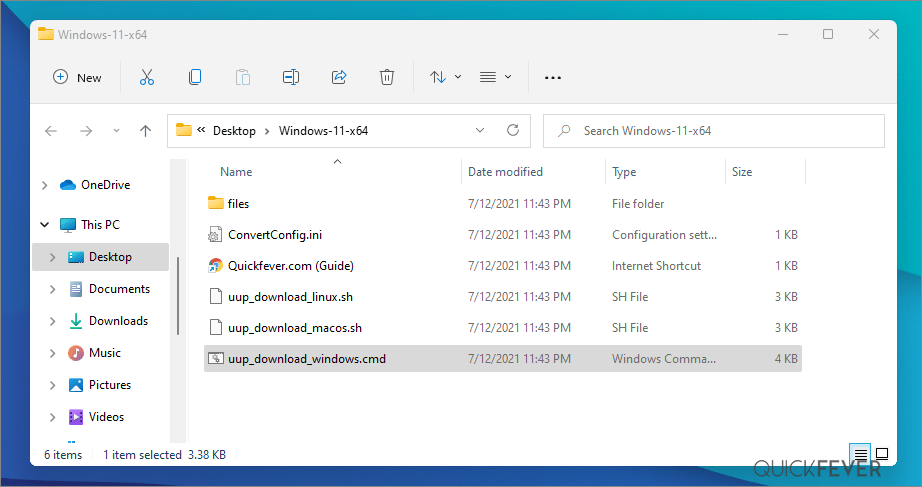 3-1. This will take some minutes, use a high-speed internet connection. you can see the progress inside the command prompt window and all the files that this tool download is from the Microsoft server, so yes there is no involvement of third-party files.
note: If for some reason, you see an error in downloading, just close and start the tool, it will skip downloaded files and confirm all files are downloaded.
3-2. After a few minutes, the tool automatically creates ISO from the files. We've optimized some settings to make the process even faster. For an estimated the tool will take less than 5 minutes to build ISO on your computer.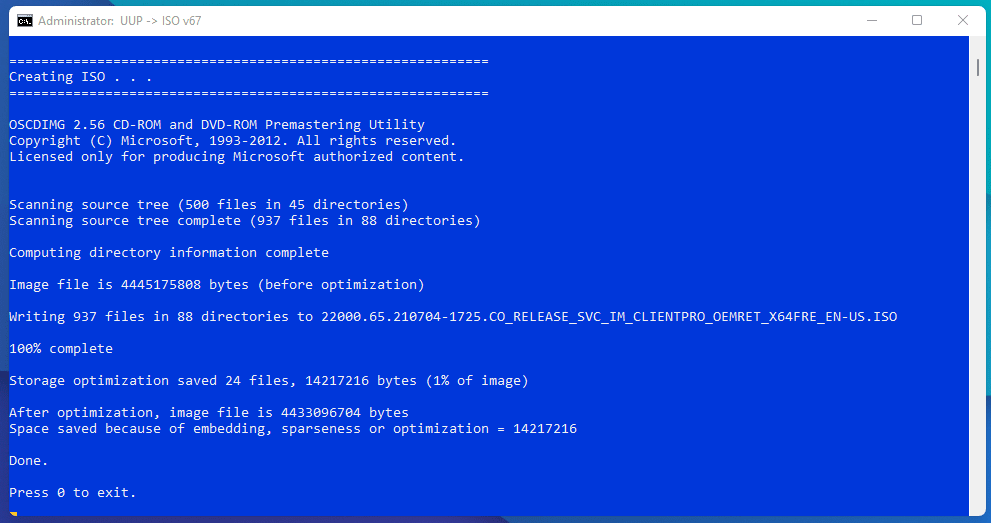 4. Find the ISO file inside the Windows-11-x64 folder. Now you can install Windows 11 by creating a bootable USB using a tool like Rufus.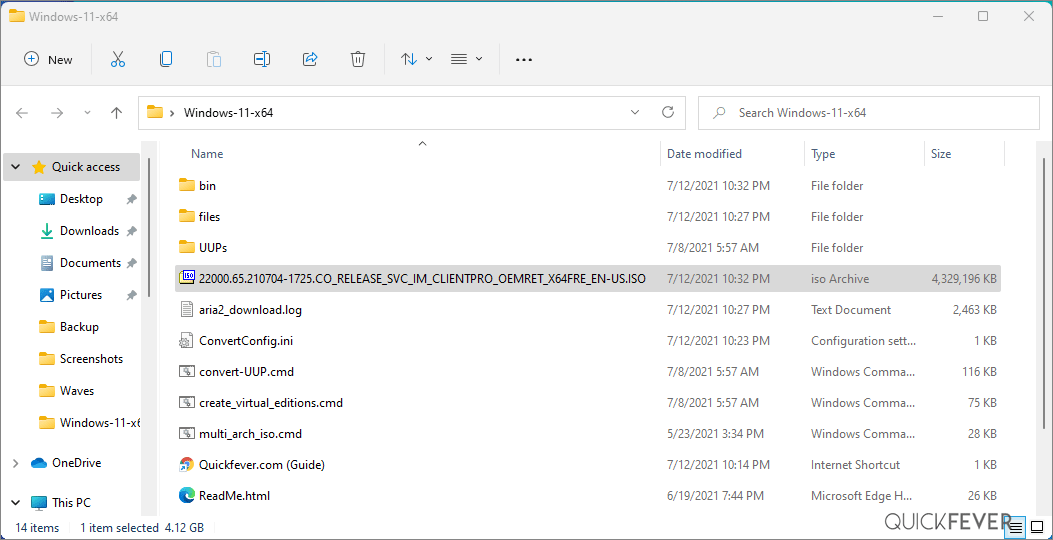 (Optional) Once the tool downloads all the files, this script will execute another tool that you can find inside the same folder. If you wish to manually trigger the ISO building process, please run the convert-UUP to start converting downloaded files to Windows 11 Insider preview ISO.
Getting the latest Insider build.
You can join the Windows insider program within Windows settings to receive official Insider preview builds. This method usually takes longer than a manual install.
Step 1. Go to computer settings, press Windows Key + I (shortcut)
Step 2. Update & Security > Windows insider program > Setup with Microsoft Account.
Step 3. Update & Security > Windows update > check for update.
This should hook you with the insider program, and you will get the latest insider build if you choose Skip Ahead at the time enabling the insider program.
Windows 11 Insider Preview
Download from Microsoft. What's available: Build 22000.194, Insider Dev and Beta channel, Insider Enterprise.
First, go to this page and log in with Microsoft account, if you don't have one; create one. Unlike downloading a Windows 11 stable ISO, this will require a Sign in.
From the page select the Edition and the Language. Here I choose "Win 11 Insider Preview. Not every recent version is available from Microsoft if you didn't find a recent version by using this method, feel free to jump to the bottom of this article where we add links to the latest versions.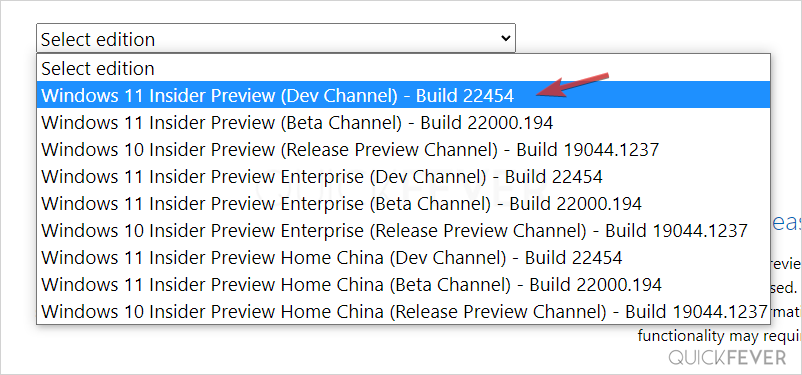 Choose the language and select Confirm.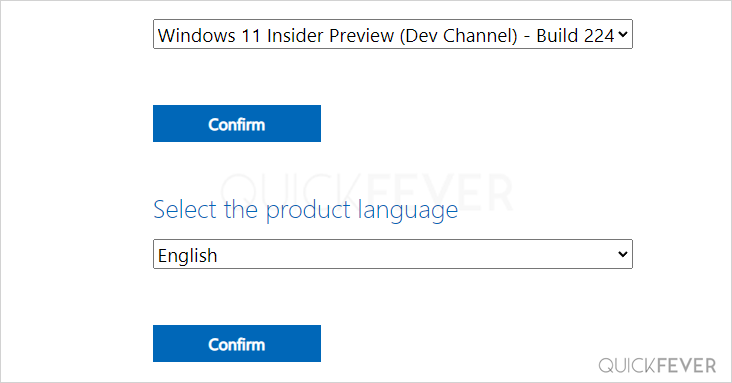 Links will be created for both 64-bit and ARM machines; you need to download one according to your PC architecture. For some editions you will find only a 64-bit version How do I know which one I have?

Remember these links are valid for a 24-hour period, (optional) If you wish to download the file in a few days here is how to do that. You can remotely download the file to any cloud storage by pasting the link provided by Microsoft. After that, you can download the file from the cloud storage the usual way.
Creating Bootable Media
There is more than one way to create a bootable installation media. Creating a bootable USB is a fast way, and installing Windows 10 from USB just makes sense.
I hope this helps you get your hands on the latest features and new tweaks. Do more with Windows 10 here are some interesting guides to get going.
Features
Windows Insider is like a treat for Developers and tech-savvy people who are interested to test out upcoming and bleeding-edge features of Windows 10. This article helps folks in downloading Windows 10 insider ISO (building one on your own).
Windows 11 insider preview is divided into two channels, one is beta and the other is Dev. Beta is the next version that will release, while the Dev channel includes features that can make it into the next stable update. It's counterintuitive to test the Beta channel, rather than just download and hop to the latest Windows 10 insider preview ISO and get it installed on your computer.
PS: Thank you for all the love, we're proud that we were the original content creator of the story, almost all popular websites now started including this tutorial.