Looking for a fast and lightweight operating system for your old computer? You can install a fast OS to revive your old machine and turn it into a fully functional one. In this article, you learn more about the fastest operating systems which are lightweight and boot fast. Install one on your computer or laptop using a USB Drive. These lightweight OS uses fewer resources and should run fine on your old computer.
Microsoft is striving to push Windows 11 updates to eligible Windows 10 users, some users are moving to expensive Rigs and Instagram models are posting selfies in high-heels with fancy tags to gain attention; what's left behind?
Your old computer desperately needs to breathe in the open and fresh air. Here are some of the fastest operating systems for old PC, you can install to make them young again. In order to make your old PC useful, we put together some of the best operating systems. We already discussed many alternative operating systems, which are not specifically for old PCs.
Suggested articles: 15 Best Lightweight OS for Computer: We discussed alternative operating systems not specifically for old PCs. Check out this article for more amazing options.
Let's dive
#1. Chrome OS Forks
Main article: 3 Chrome OS forks, pick: Chrome OS flex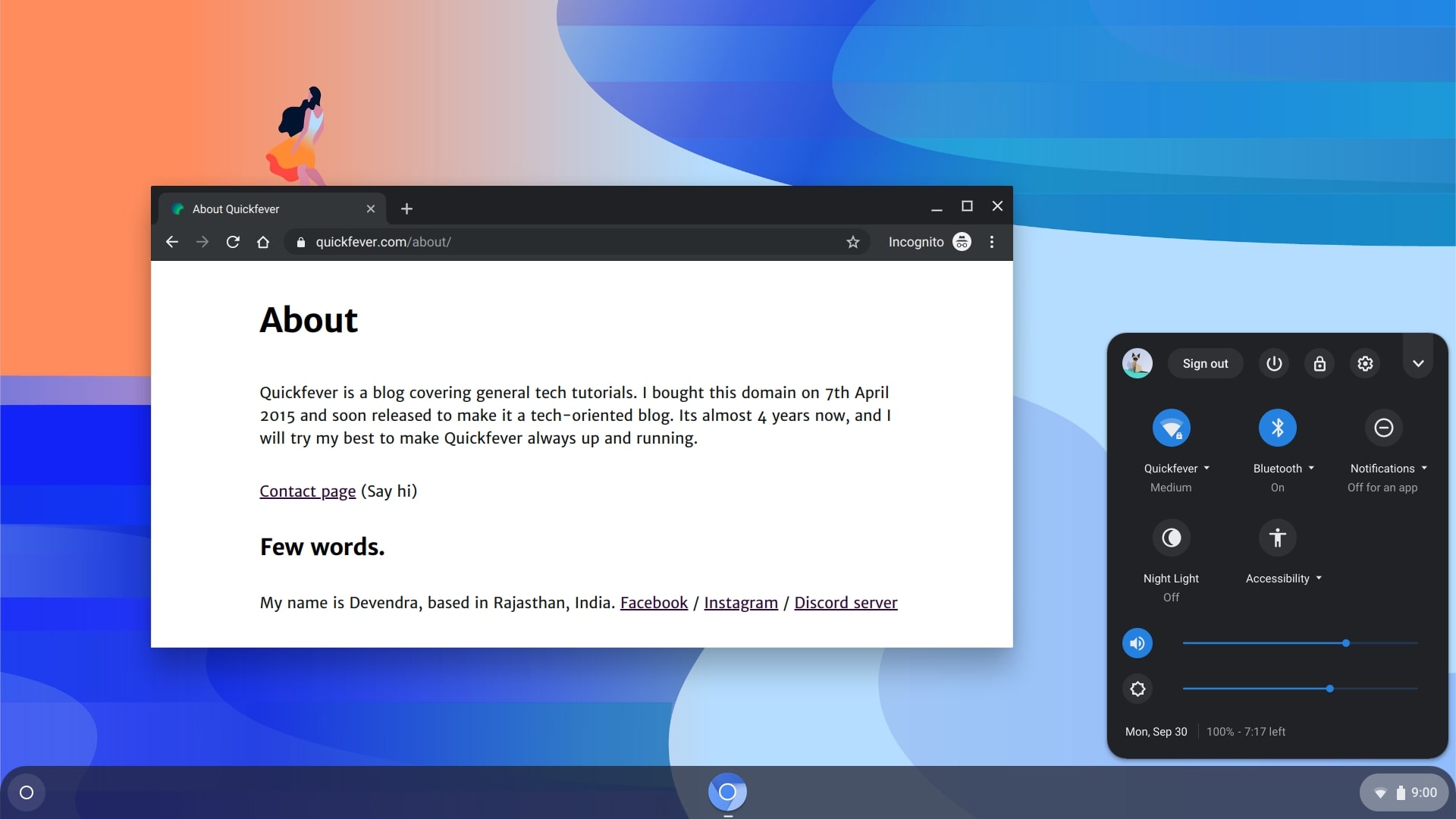 Chrome OS is proprietary software you can find in Chromebooks, They are based on open-source Chromium OS. In the past, I have reviewed all the popular Chromium OS forks, especially Arnoldthebat's builds.
The winner is none other than Google's own Chrome OS Flex which was recently pushed in the developer channel and the good thing is anyone can install it on their computer. Android Apps are not there but Linux app support is available.
#2. Phoenix OS; good android OS
Main article and downloads: Phoenix OS
Image for an article titled Light and Fast Operating System For Old PC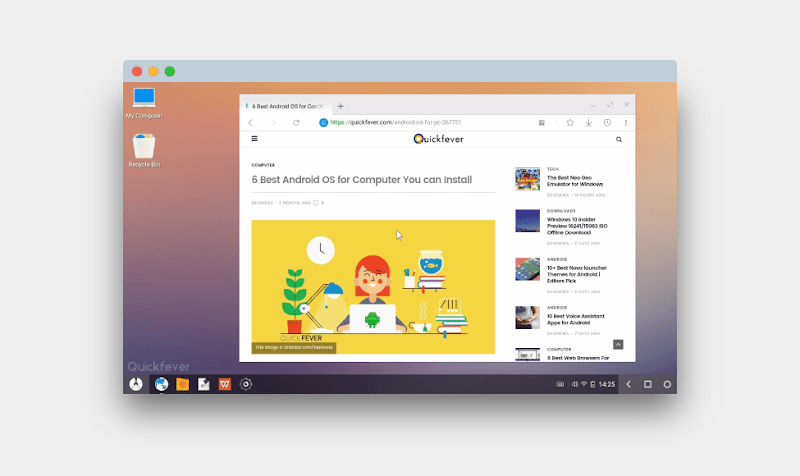 The latest version is based on Android 7.1 which is great and stable. It's one of the best Android OS forks for desktops. Phoenix OS is an Android operating system that started with x86 support and then extended support to 64-bit. Having a taskbar and start menu like Windows 10 made it very popular. Do you want to install it on the USB drive? No worries use the installer to do that. Additionally, install it on your hard drive. A good Android operating system for old PCs and even runs on Intel Dual-Core processors. Offers minimal power options and works as an alternative to the Windows operating system.
#3. Slax; runs on anything
get Slax and boot on your PC.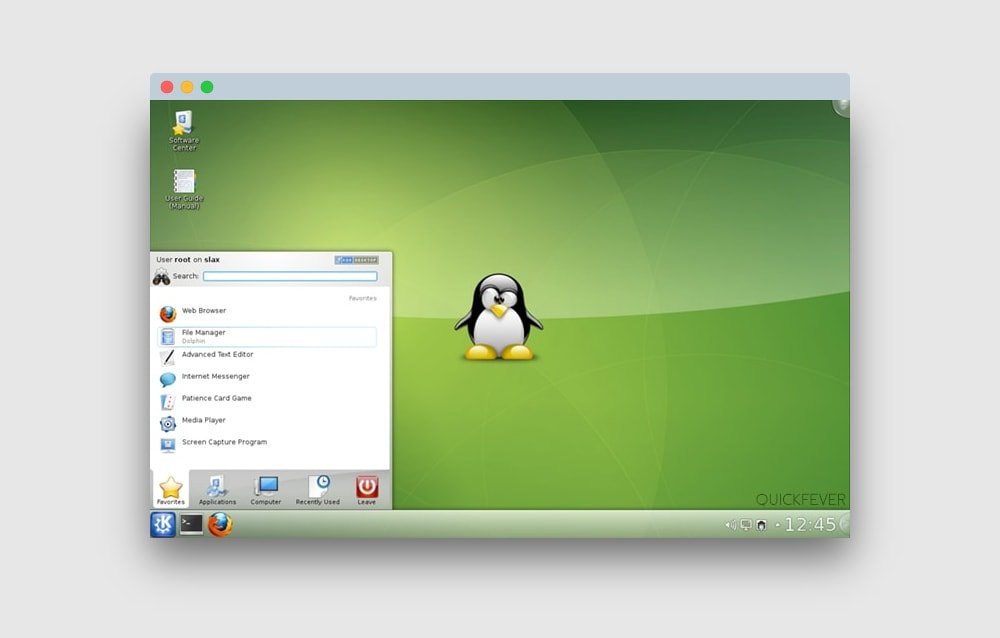 Slax is one of the lightweight operating systems that can boot directly from external media, and there is no requirement to install it on your hard drive. Based on Linux which helps to use fewer resources. However, it is a little distribution based on Linux but you can do anything like installing chat messaging programs like Pidgin or uGet download manager. Slax is available for both 32bit and 64bit processor architectures. The 32-bit version is designed to perform exceptionally better on older PCs (such as Intel 486 if you go back to 1989). It will run legitimately on fresh out of the plastic new PCs as well.
However, it is restricted in the measure of RAM it can see and constrained to 3GB of RAM most extreme. The 64-bit adaptation has no such points of confinement, yet won't keep running on PCs more seasoned than a couple of years. On the off chance that you plan to utilize Slax on a hoary PC, or you look for a framework with the most extreme conceivable similarity, then pick 32bit. If you aim to use Slax on a fresh out-of-the-box new machine, you'd better go for 64bit. Slax Minimum Requirement is i486 or more modern CPU, Intel / AMD processors with 256 MB RAM. Other Linux OS based on either Debian or Fedora has a package management system.
It is the Fastest operating system for PC you can install to supercharge your computer. It runs on 256 MB RAM.
#4. Damn Small Linux
Damn Small Linux website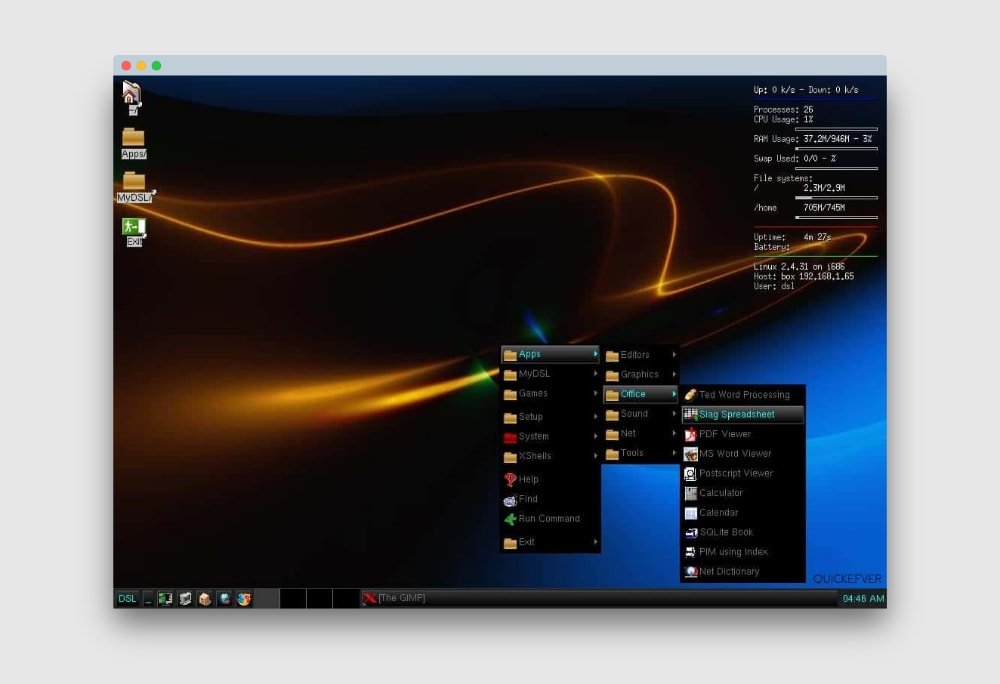 A highly flexible operating system that is around 60MB (installer) which is smaller than most used Linux appropriation. DSL has a complete desktop and a little center of order line devices. The total of what applications have been decided for the best adjusted to usefulness, size, and rate. It can also help you deal with SSH/FTP servers. You can use DSL right from an installation media like a USB drive and keep running it from it, and there is no need to install it on the hard drive. It can run entirely in RAM with as little as 128MB and is sufficiently light to power a 486DX with 16MB of RAM.
Minimum Requirement is an i486 or newer CPU, Intel / AMD processors with 64 MB RAM.
#5. Puppy Linux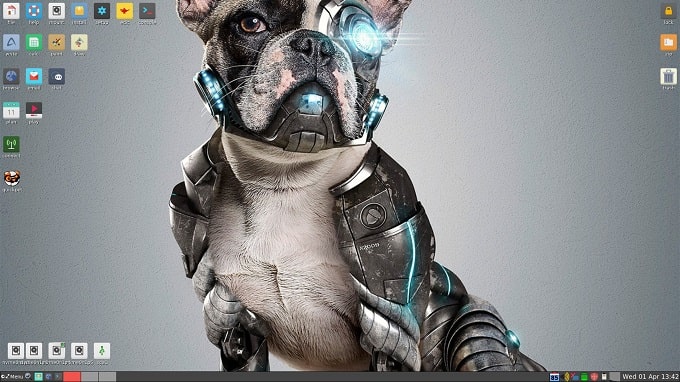 Puppy Linux is another super lightweight that is designed to run on even low-end computers. If you need to make its bootable USB, it roughly cost around 100MB of space, and also the installer ISO file size is about 104MB. All you have to install it on DVD, after that you can temporarily boot from the DVD. After it's booted, you can create a bootable USB drive from the menu which is located under Menu > Create Bootable USB. So Puppy Linux is fundamentally an effort to make your old PC usable again. The new 6.x version image file is around 200MB and is available in 32 and 64-bit. recently in curiosity, we tasted to see how this is different from the last time we used it when we wrote this article back in December 2015.
#6. Tiny Core Linux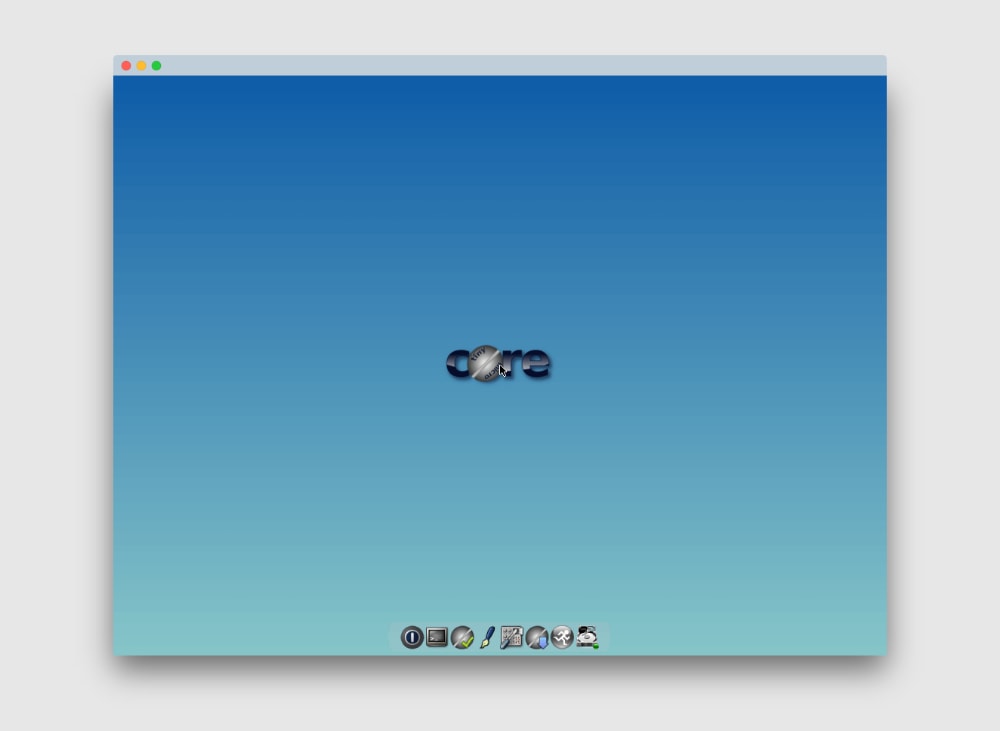 Looking for a bare minimum version? Tiny core Linux comes in 3 versions, the lightest version called Core consists of just an 11MB ISO image. The other 2 versions TinyCore and Core plus go up to 100MB in installer size. The desktop is simple and has nothing but a bunch of icons that open the system and user apps.
#7. Nimblex
get NimbleX | 4MB Zip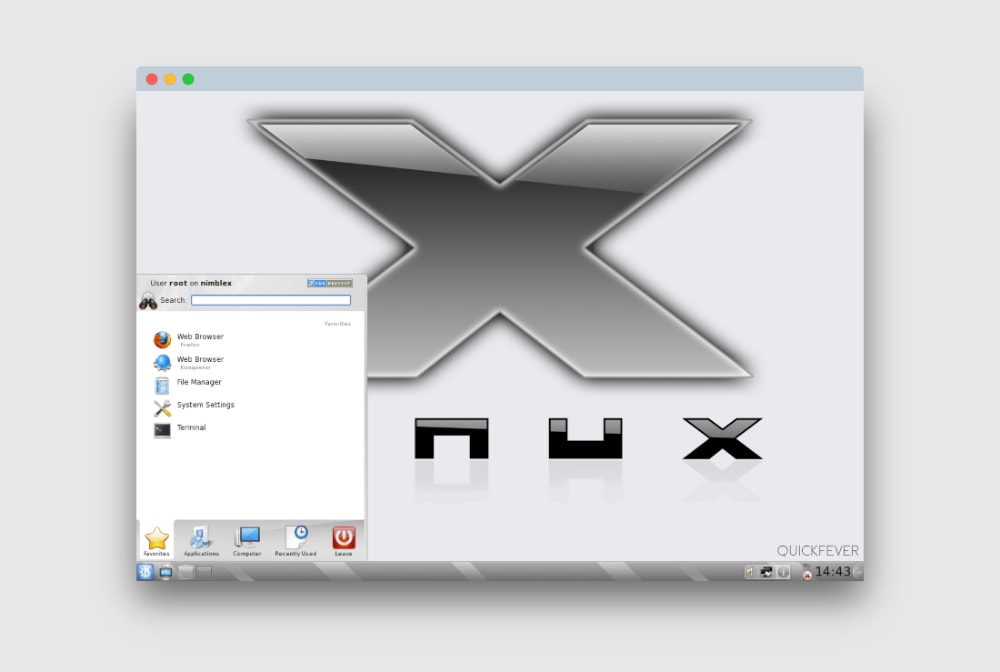 NimbleX is a small yet flexible working framework that can boot from CD, USB, or network environment and even from the hard drive itself. Since it runs altogether from a CD, USB, or system, it doesn't need to be installed on the computer. Thus, you don't need a Hard drive. In NimbleX, you can browse the web with Firefox, chat with your friends using the Kopete multi-protocol IM application, download torrents with Transmission, use DC++, and connect remotely to other computers, and much more.
#8. GeeXboX
The last version was released in 2013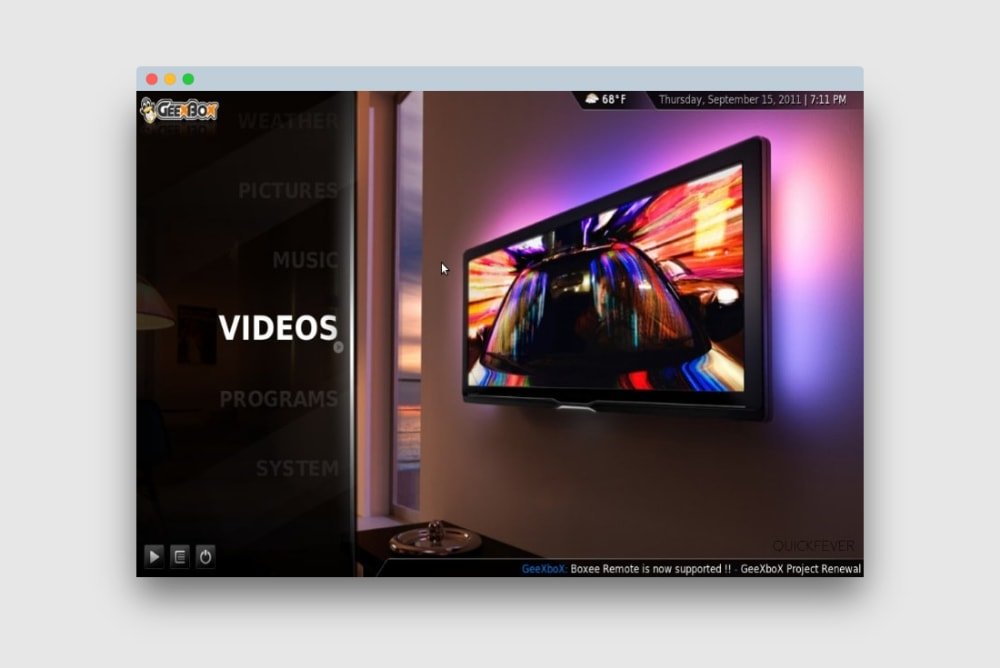 GeeXboX is a free lightweight, and Open Source Media-Center purposed Linux distribution for embedded devices and desktop computers. GeeXboX is not an application, it's a full-featured OS, that one can boot as a Live-CD, from a USB key, an SD/MMC card, or install on its regular HDD. It provides you with a ready-to-be-used, plug-and-play Media Center application that can play any multimedia content. And has been designed to be fully controllable through either keyboard, mouse, or a remote controller and does not require any particular computer-related skills. Also features the state of the art technologies to provide you with the best multimedia experience to make the most out of your hardware.
#9. VectorLinux Light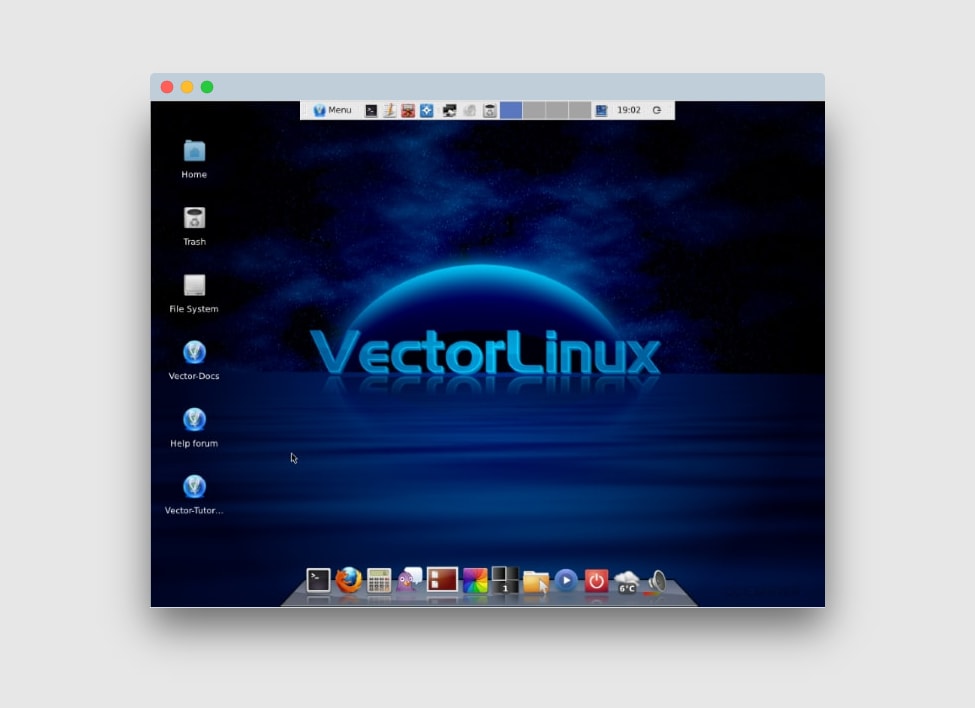 The ISO file of VectorLinux v7 (600+MB) is not smaller than Puppy Linux, but it runs very well on a computer with just 64MB, the standard version supports Pentium 200 or newer. Despite, there is more ultra-lightweight os such as DSL and Puppy Linux, but according to me, you might not feel very comfortable using them for a long time, but you can do all sort of things with VectorLinux.
#10. Linuxliteos
As the name goes, Linus Lite is a streamlined Linux operating system. It's overall a nicely operating system that comes along with popular apps such as for viewing videos there is VLC, Mozilla Firefox for browsing, and LibreOffice for dealing with documents. You can download it for both 32-bit and 64-bit from the site and the size of the image file is between 900MB – 1GB, which isn't smaller when you compare it to other lightweight OS listed on this page.
Requirements: CPU: 700MHz processor, RAM: 512MB ram, 1024×768 resolution.
#11. 4MLinux – Lightweight OS
4Mlinux recently updated to version 39, and it's lightweight Linux distribution, which can magically turn your old computer into a functional one the best part is you get multimedia support, tools, and those classic games. Recently we've seen primary Linux Distribution are killing the 32-bit architecture support, so it's a bummer for old computers.
Fortunately, many lightweight Linux distributions support 32-bit architecture, which makes old computers play old games, watch movies, and surfing the web. 4Mlinux, as we told earlier, is a very lightweight Linux distribution that only requires 128 MB of RAM. It comes in two editions, Desktop edition for 32-bit machines and the server edition for 64-bit. You can use the Operating system as a Live rescue CD, a mini server, or a full-fledged system. As the name is not very usual, after digging a little bit 4 M in its name, tell these points.
Maintenance: You can use it as live rescue CD.
Multimedia – Built-in support for major media formats.
Mini-server – LAMP suite.
Mystery – classic Linux games.
We've reviewed most of the Android OS for PC you can install on any computer, it lets you do sort of everything you could do on android mobile.
#12. Android-x86 Project
Androidx86 is an open-source project to port Android to X86 Machines. Yes! It runs fast and works on both 32 and 64-bit machines. If you use Android+ x86 build, you won't get as many features like Start menu and taskbar, but a fully functional typical Android experience. Technically this is a stock Android forked for computers.
Conclusion
These are the lightweight and fastest operating systems able to run on old computers, even with 126 MB* ram. (please check minimum recommendation of any operating system before using.) Below listed operating systems are exceptionally fast and it's easy to install them temporally via a USB. Most of these lightweight operating system is basically Linux distros.
There is an uncountable number of operating systems, and we have a separate post where we added some other top and reliable operating systems to supercharge your computer. You might want to buy a new thin and lightweight laptops. Now you know your PC can run other Operating systems and will work faster compared to Windows or Mac OSX. Give any of these mentioned OS a try to make use of your old PC. These operating systems can be a cure for your old PC. The majority of these computer operating system can be stacked to a USB stick and keep running from it instead of installing on your hard disk. As well as some of them have options to install on a hard disk.
Summing it up
It all depends on your situation, we all have an old computer which we rarely use, slapping an OS that works fine on them is good. You can give the machine to kids to help them understand the technology and get used to computers and stuff. An old slow machine is still more feasible than having nothing.