Today you'll learn how you can install Chrome operating system on your computer, and the special thing is that for this you do not need Google's Chromebook, you can use Chrome OS on an ordinary computer. Let's get started.
The Best Android OS for PC
How to Install Chrome OS on Computer using USB Drive
How to Install Chrome OS on non-Chromebook Computer
Before beginning these are the screenshot of Chrome OS running on a typical Intel powered computer. The right side panel will pop-up the quick settings, from where you can control volume, connect to a Wi-Fi network, shut down your computer, accessibility. Sign out and locking the PC is easy from the quick access panel. The interface is minimal, looks beautiful and consist of notification count, time, wifi and battery icon and finally user image. Also, you'll be able to see all the notification clicking the icon before the clock.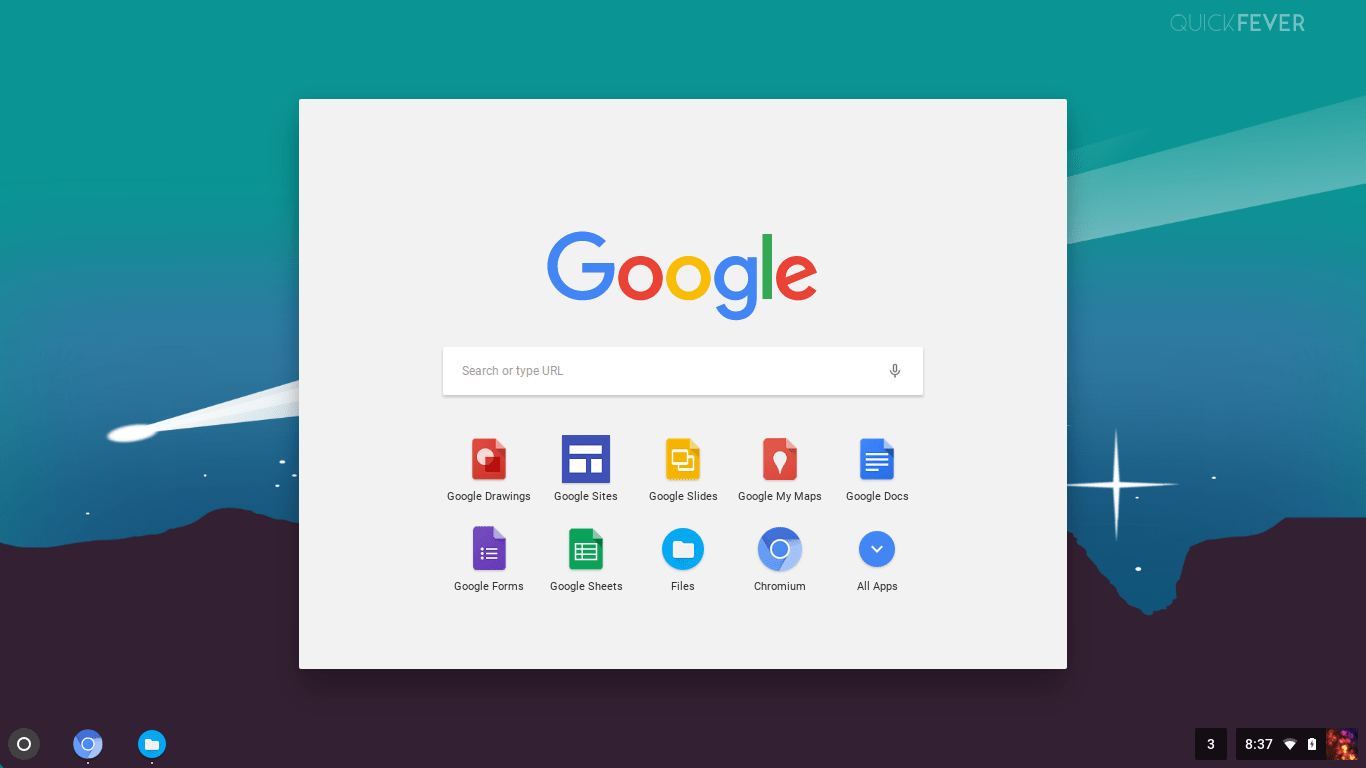 And this is the minimal yet beautiful home screen. Interested? It even has the box-shaped google quick access shortcuts. The screenshots are of Chrome fork by ArnoldTheBat. You've got other forks to decide which one you would like to intall on your computer.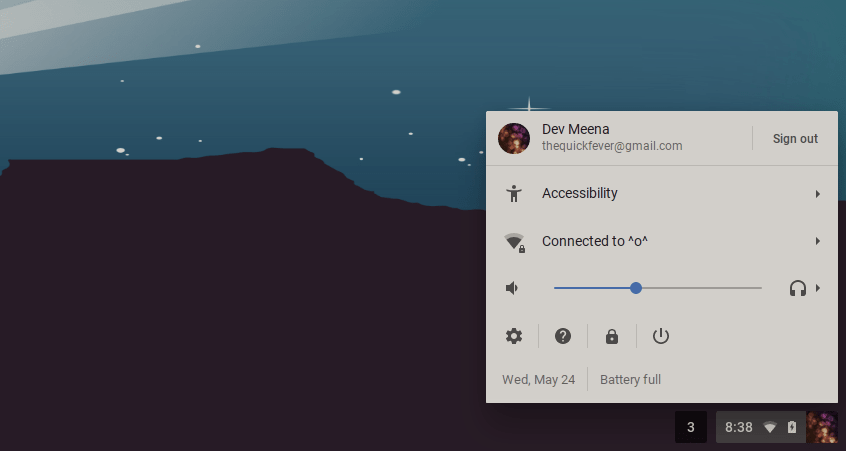 Chrome OS for PC (Chromium Forks).
1. Fyde OS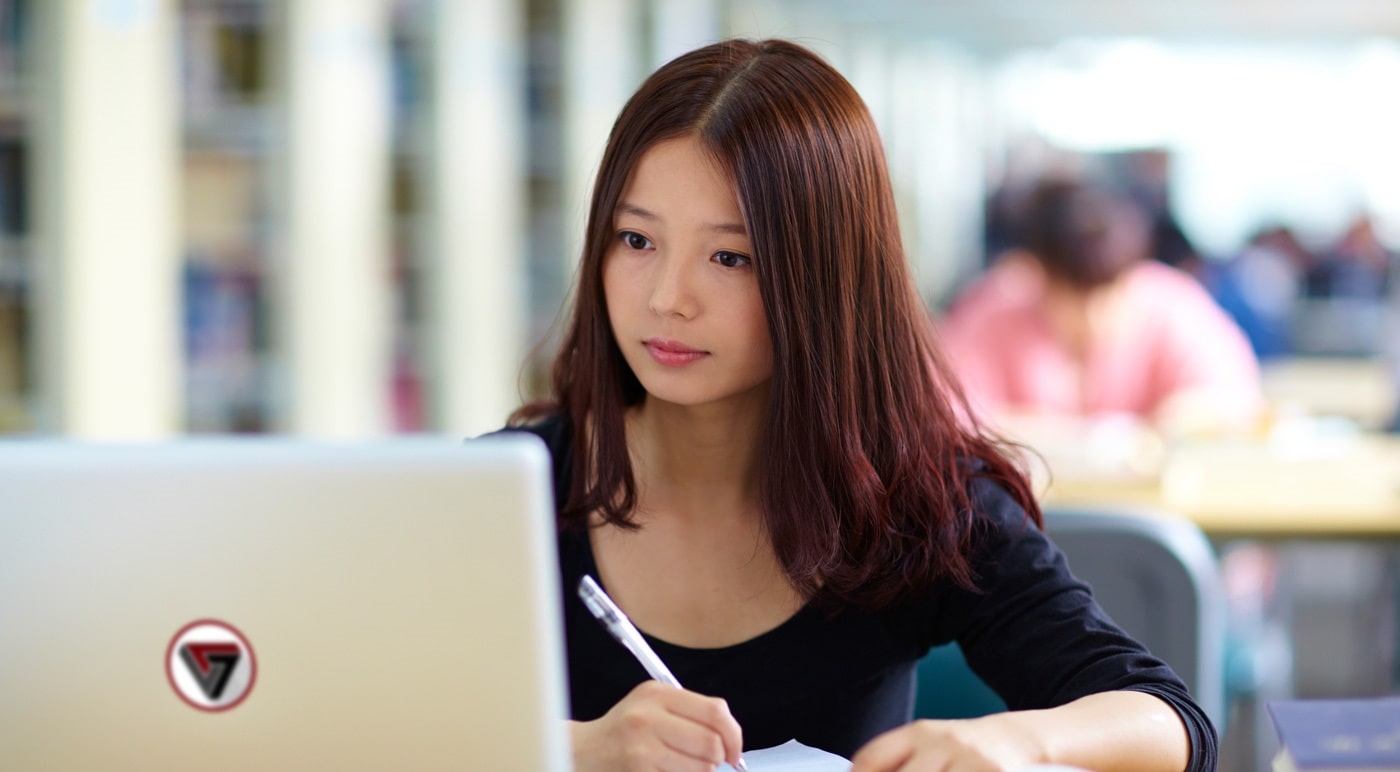 FydeOS is based on chromium fork to run on Intel computers. Version 5 is running on Chromium r70 and supports Android Apps. Despite you won't find play store as it was mainly focused for Chinese market where Google services are banned. Still, you can sideload Android apps or even install Google Play Store.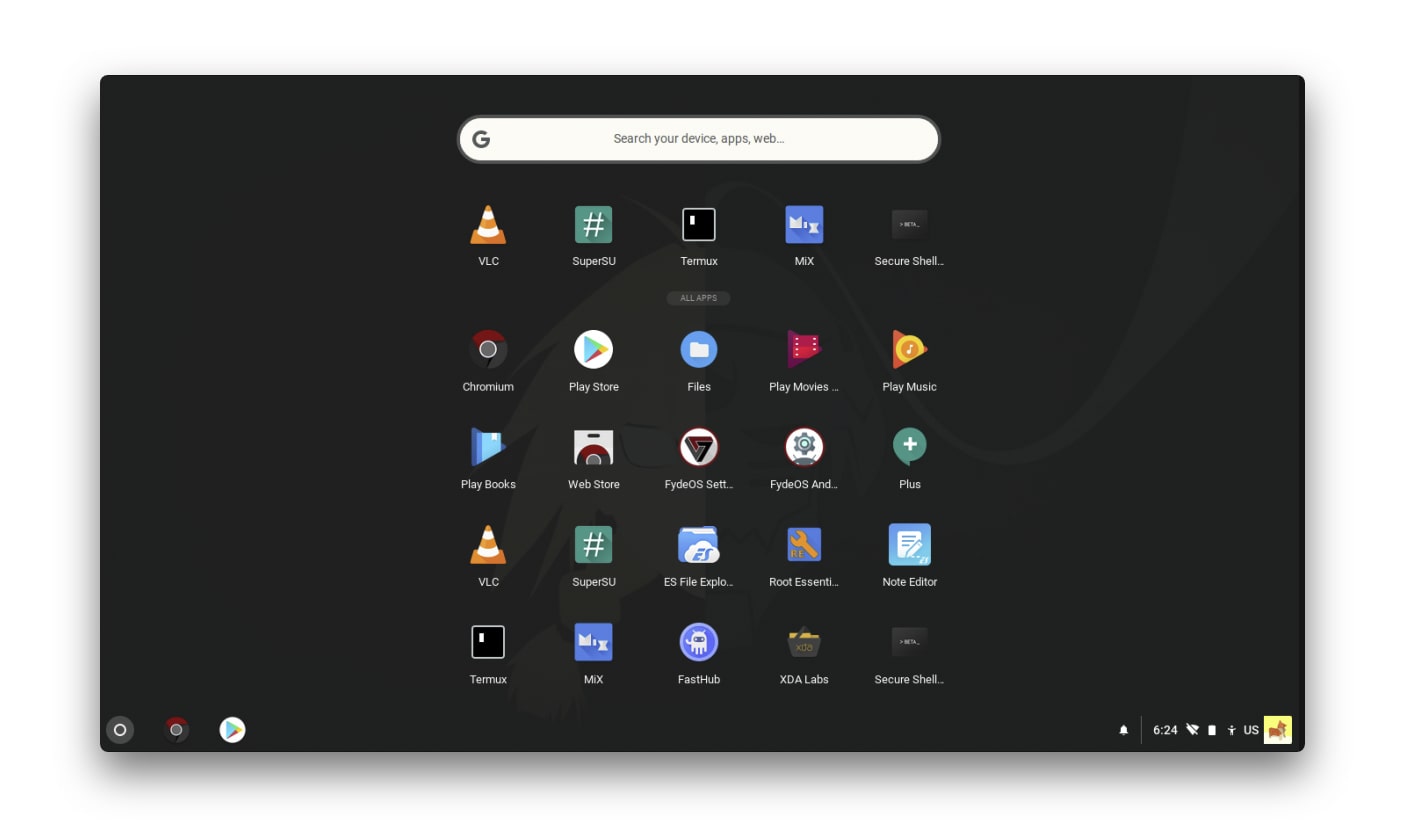 The version addressed to solve some common issues.
The kernel compiler has been re-tuned to solve the problem that some models cannot be booted.
Fixed network connectivity issues with the Android subsystem.
The default working mode of the CPU is restored to "automatic adjustment" to improve the heating problem.
We should remind you FydeOS is still in Beta meaning the first time boot will take you half an hour. Android subsystem and related functionalities are limited to Intel series graphics cards.
2. ArnoldTheBats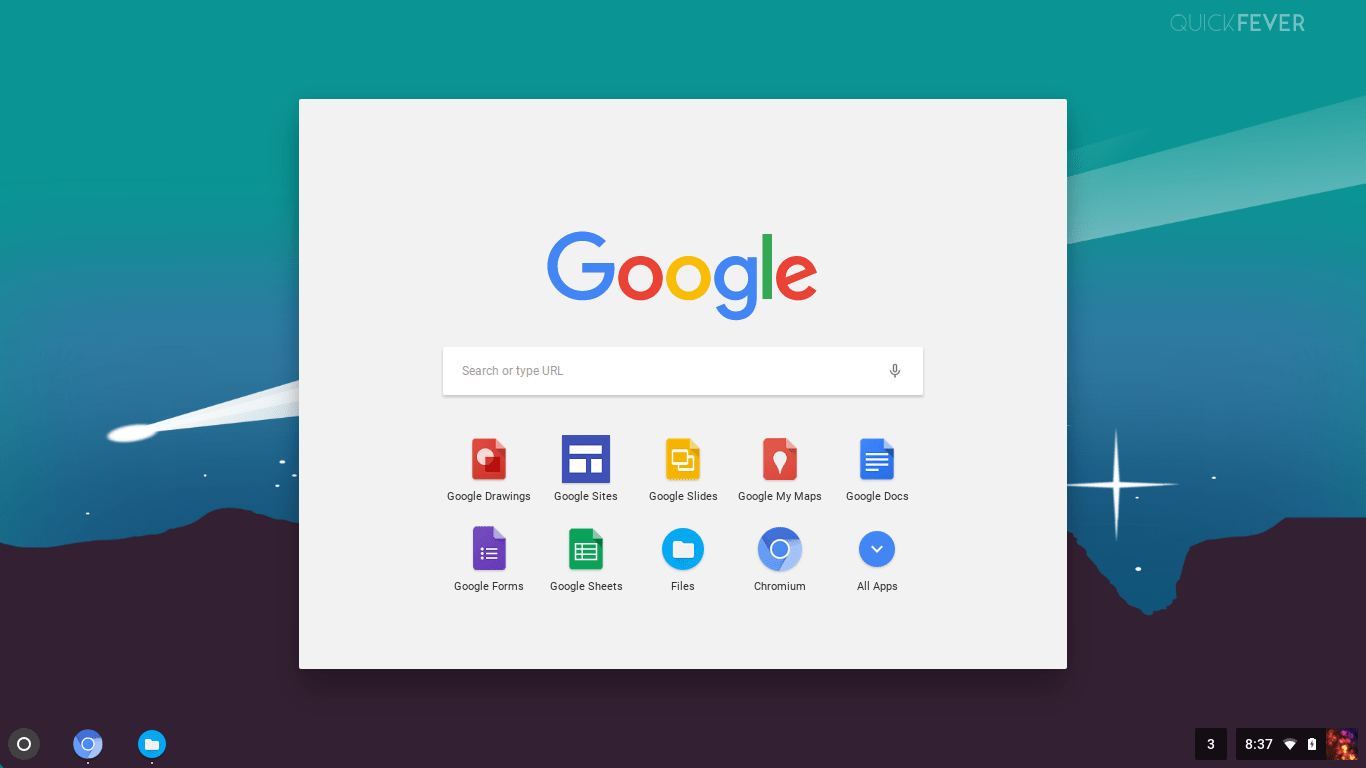 Daily, weekly and special Chrome OS builds to choose from. This site provides up-to-date Chrome OS build based on Google's Chromium project. This is the best option to get the same look of Chrome OS that you see on a real Chromebook. The limitations are fair, you won't be able to run Android App. Otherwise, everything will work out of the box I must tell you that the stability of this unofficial Chromium OS is amazing.
You see porting Android and Chrome OS for a normal computer is already done and the result are astonishing, we can't say the same for MAC OS because mackintosh is confusing and is a long task.
Chrome OS = Chromium OS in this guide*.
On the website you notice 3 types of builds, CARMOS builds denote ARM processors, Camd64OS builds denote x64 processors and Cx86OS builds denote x86 processors. If you're not sure start with Cx86OS which stands for 32-bit machines, rather old computers.
The special builds contain these following perks.
Google Drive support
Enterprise Enrolment
Spelling API support
Broadcom STA wireless drivers
Full Linux firmware deployment
4.4 kernel
Better Webcam support
Enhanced Radeon/Intel Graphics Support
Additional Wireless device support. See the posts per release for details.
Because the special builds come with additional drivers, it supports a lot of computers. You should try the weekly latest build because it may not have bugs and compatibility issues.
Since there are continuous updates it hard to download each new system image, burn to a USB to boot so you can just go to Settings > About > Check for and apply updates and it will install the latest update. Thanks to the Air (OTA) updates from dev servers.
How to use (on Windows).
Install a Zip utility like 7zip to extract IMG file from the downloaded file.
Use Win32 Image Writer, then select the IMG file and select the USB device from the menu.
Click on "Write".
Boot from USB stick.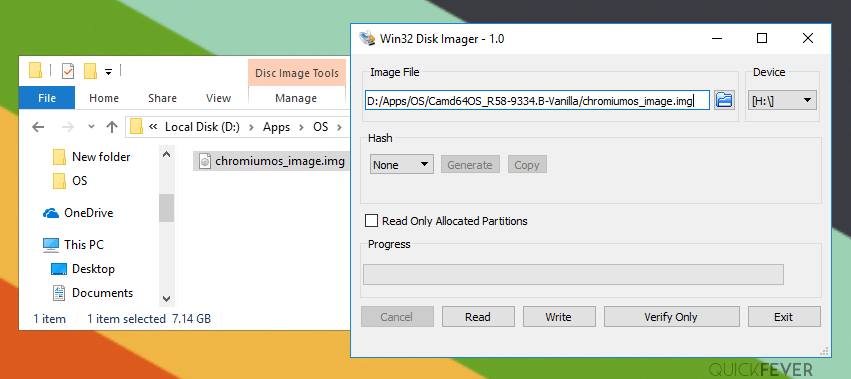 3. Nerveware's Cloudready
Nerveware a company, forks the open-source code of Google's Chromium OS and forges Nerveware CloudeReady. It's like Phoenix OS (Modded Android OS with extra functions) but for Chrome OS for PC. The changes includes additional management features and hardware support, and the company business plan is to sell it directly to schools and businesses who want to use Chrome OS on their existing PCs.
They also offer a free version of CloudReady for home users. Since it's Chromium OS-based, you don't get the functionality to run Android Apps on it; moreover certain multimedia and DRM features may also not work on some websites.
Check this tutorial to use this OS on your computer > guide link.
4. CrOS Linux
It's easy to mistake this as a Chrome OS. It's a Linux based operating system with chromium Browser to give you the look of Chrome operating system. It is the best of these two Worlds. Since it is running on Linux you can also install Linux applications and play with the terminal. In past we have discovered is a similar Linux project Goes by the name cub Linux but unfortunately, the developer shut down the project after a copyright name dispute with Google. If you have used a Linux operating system before it is easy to get used to it the operating system play around the chromium web browser.
Which Chrome OS for PC fork you like to install?
It is very confusing to choose an Android OS for your PC, but you can choose the very first option which is Arnoldthebat. What you will get it frequently OTA updates so your system will stay up to date. If you want to use another Chrome os for PC you can try Cloud-ready. Don't want a Chromium OS-based operating system then you can go with the Cr OS Linux. It is very hard to choose an operating system to make this thing easier we have compiled these articles to help you choose the best operating system for your computer.
Further read.The 6 Best Android OS for PC: Several options that you have