Get to know the best Android OS for PC available on the internet and learn how to install them. In this guide, we reviewed the popular Android Operating system available to download and use for free.
After the drill-down list of the best android OS forks, we discussed other options to install or simulate Android environment on a computer. Remember these operating systems can be downloaded in ISO format system image, allowing you to easily create a bootable USB and boot directly from USB without having to install it on a hard disc (though you can install it on a hard drive if you want).
There are multiple reasons for running Android on a computer.
Running Android apps and games on computers is fascinating.
Android OS boots faster compared to Windows on old machines.
You can WhatsApp your friends, and run a native VPN app, that is hard on Windows devices.
---
Android OS for PC list in 2022
You can use these Android OS to bring all your favorite Android games and apps to your computer. You've many options to run Android OS on your PC. Android is popular with millions of mobile users worldwide, installing and using Android on a computer is also possible, but how?
Natively installing android on your computer allows games and apps to run butter smooth and without any fuss. You can run the Android operating system for both 32-bit and 64-bit machines. We understand that by now you should have received enough information about the Android operating system on computers. You can now you can easily decide which Android operating system you can install on your computer. If you know of any Android device for PC we are looking forward to hearing from you as well.
Android OS for pc table for overview.
RELATED: read android os comparison here.
---
1. Windows 11's Android 12.1 Subsystem
Setup Android Subsystem on Windows 11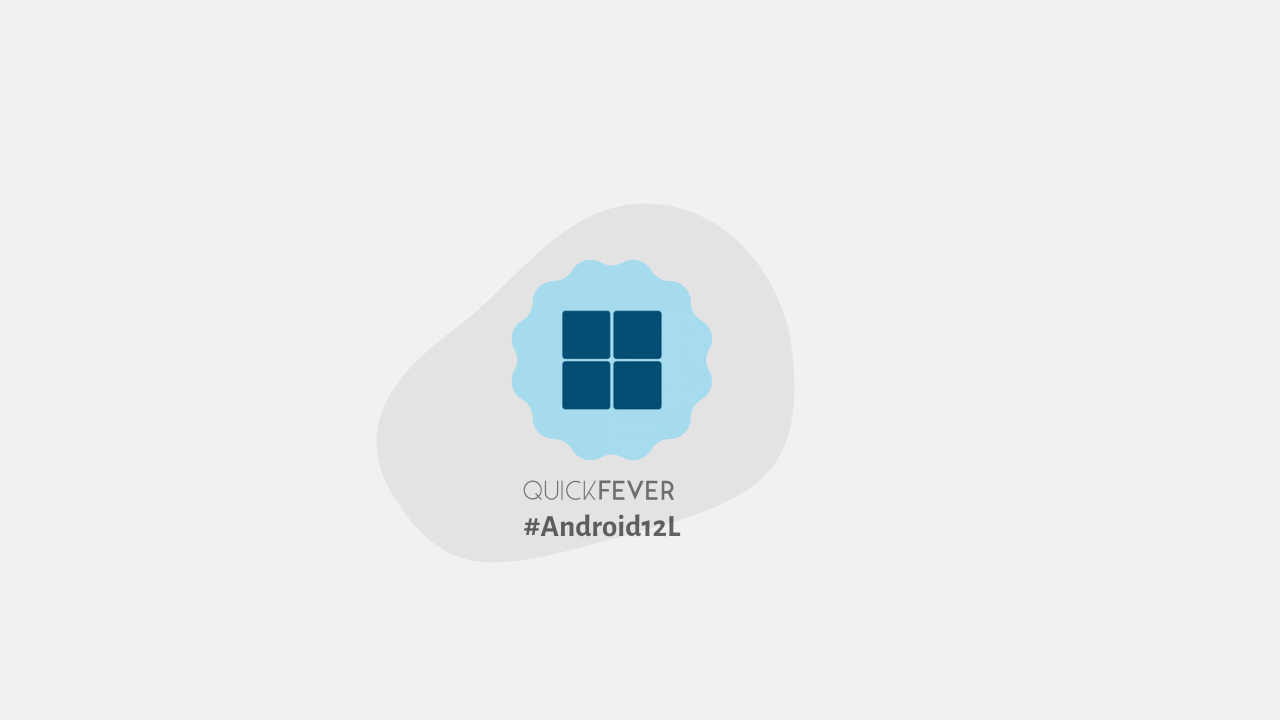 You don't need to install a whole Android operating system when running Windows 11. When your hardware is Windows 11 compatible you can easily run Android apps. Thanks to a new update from Microsoft, the Android Subsystem is updated to Android 12.1. Users with stable Windows 11 version will get the stable Android 11 Android subsystem. We have a dedicated guide to help you get started with Android apps on your Windows 11, check that as well.
---
2. Phoenix OS – for everyone
Download Phoenix OS | Android 7 Dual boot guide, persistence USB
Download Phoenix OS 32-bit (uploading soon)
Phoenix OS was released shortly after the publication of the Remix OS. At the time it went popular, especially because it was the only Android operating system to work on 32-bit machines. PhoenixOS is a great Android operating system, which is probably because of its features and interface similarities to the remix operating system.
Both 32-bit and 64-bit computers are supported, but newer version of Phoenix OS is only x64 architecture supported. Based on the Android x86 project, which powers other forks as well. It has many good features if you want to play games like PUBG Mobile. The Phoenix OS installer makes it easier to install the operating system on your hard drive/USB drive. This is the only android x-86 fork that currently offering updates and hopefully, they will continue to do so in the future. This is one Android operating system for the computer which is based on Android 7. The downside is annoying ads and built-in apps.
---
3. FydeOS – Chrome OS + Android
Chromium OS with Android App support, 64-bit only.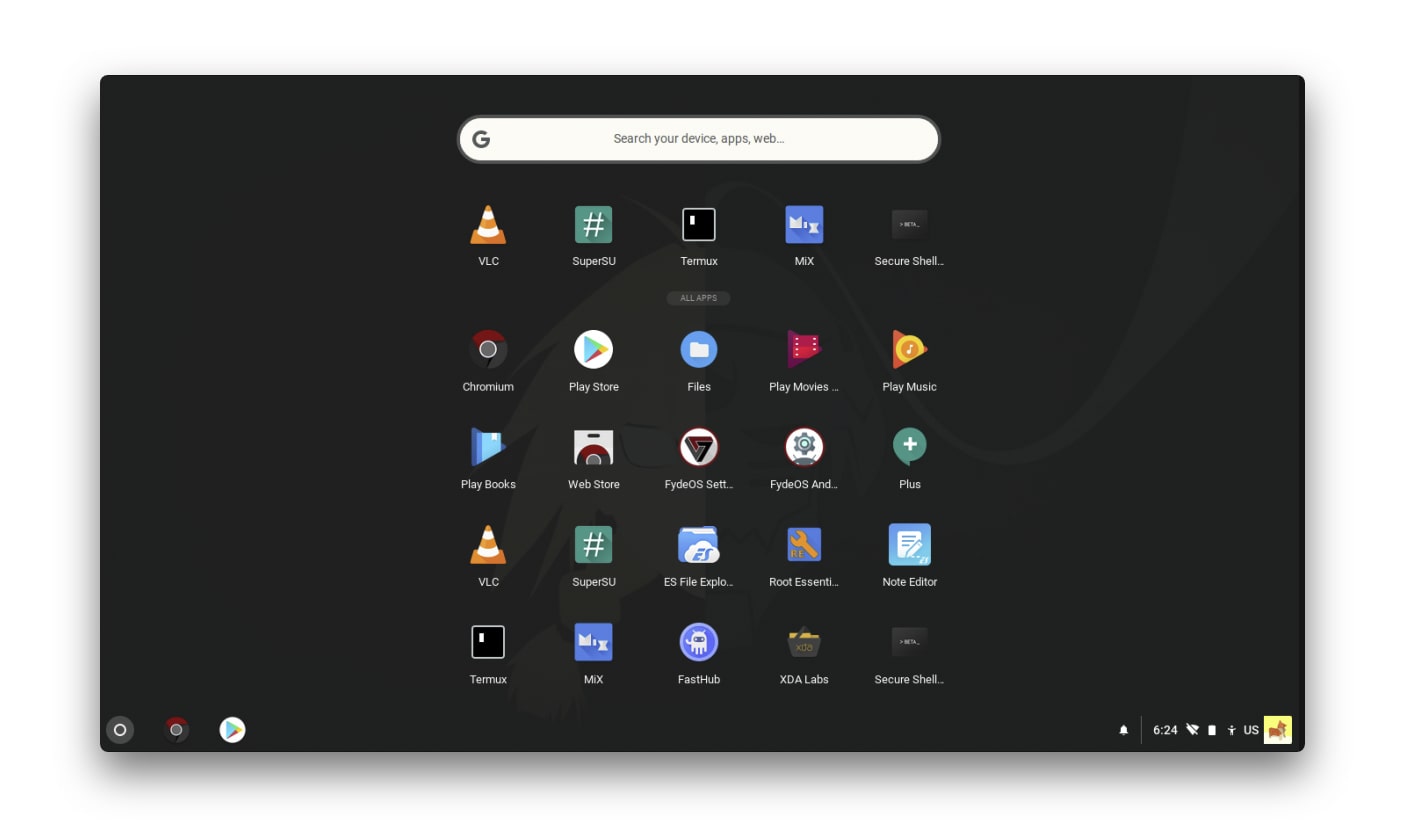 FydeOS is based on a chromium fork to run on Intel computers. You can easily download and sideload Android apps. Despite that, you won't find the play store as it was mainly focused on the Chinese market where Google services are banned. Sideloading Apps and using a third-party app store is possible.
Since the last time we checked, it made lots of progress and booted quickly. Sadly 32-bit machine owners won't be able to boot this operating system. You can choose a Google Account to log in to sync your Chrome Browser data. Installing Android apps is pure breeze experience. You need to open "Android App" from the shelf (app drawer) and then it asks for an agreement; on accepting you can download Android apps [.apk] files and open them to install.
---
4. Android-x86 project
Download Android-x86 | Android 9
Android x86 is the project to port AOSP-Android for x86 machines. The project plays a very significant role in all the mentioned Android operating systems. If you want a lightweight android operating system without customization, install the android OS build from here. You'll get the same key features and interface seen on a real Android smartphone.
If you lack good computer hardware you can test the KitKat/Marshmallow x86 build which is a 350+MB image file you can burn into a USB to create bootable media. After, simply boot and use the Android OS. Also android-x86 ports of Android Lollipop and Marshmallow you can use on computers with moderate hardware. For some reason, the project is floating in ice and we haven't seen any major update in recent years.
Note: For most users, the 64-bit version should just work fine, people with a single onboard processor can use the x86_64 build.
---
5. Bliss OS – latest x86 fork
Learn how to dual boot Bliss OS with Windows
BlissOS is purely the best Android OS for PC with few modifications like the taskbar and system stability. You can also launch apps in Windowed mode rather than the full-screen which helps open two or more apps side by side. A note about Openthos and Bliss OS: When testing both OS failed to boot over UEFI firmware, they run successfully when Legacy mode was turned on from the BIOS settings. So if you have a computer with only UEFI firmware you maybe not be able to boot both of the Android Operating systems from a bootable media device.
But if you insist and like to test them you can use virtual machine software to run them on the operating system you are using. Some modern computers might have support for Legacy mode, but you need to enable it from the BIOS settings. So technically if you are running on Windows 8 or newer your computer probably has support for UEFI firmware you might face problems booting these two so check in your BIOS settings if you can find Legacy mode and enable it.
Latest Android version
Compatibility with ARM and x86/x86_64 apps.
3 User Interface (Desktop, tablet, and stock) to choose from
People who care less about highly modified Android OS under a Windows look-alike skin but still want some usability features should try this.
---
6. Prime OS
based on Android 7
We Don't recommend this: The PrimeOS version 2 is an overhaul based on Android 12 and this time we don't appreciate it, you may encounter bugged interface and the website forces you to click on partnered programs links. We initially though to remove this from our list of best Android OS for PC but later decided to leave it here.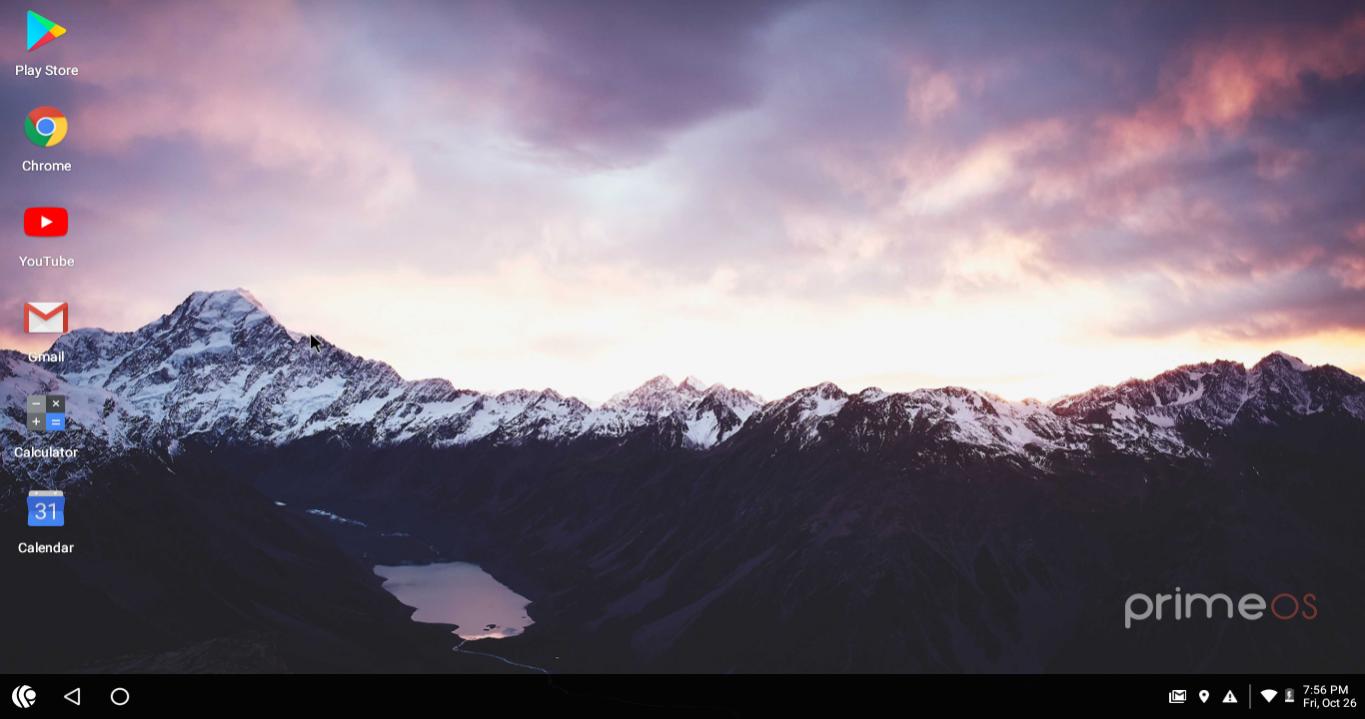 Prime OS is an operating system that claims to give you a full desktop experience just like Mac and Windows. Combines Android and Windows features and the output is somewhat good. If You are seeking a gaming Android operating system you should check this out.
The special thing about it is deca-key mapping for gamers. Read our review on PrimeOS. The lag problem goes away when you use Android operating system on your computer natively. Also, It does not change aspects and aesthetics which is a good thing, we don't require something heavily modded like MIUI.
7. OpenThos
Project abandoned and unknown status | Download OpenThos
Openthos is new, and it supports Android apps and Linux apps in multi-windows. For this to run your computer's CPU should be 64-bit architecture. Getting the ISO file of this operating system was a tedious task itself. First, you have to go through the link and enter the password, and later you need Baidu client software where you need to create an account (which is also problematic because everything is in Chinese) then you download the operating system image.
Moreover, tested in the Legacy mode as it failed to boot in UEFI mode. If you want to test put an android OS on your computer, you may probably want Phoenix OS or something near to stock i.e. Android x86. OpenThos specs are good on paper but still, it has not achieved a great user experience just yet.
8. Remix OS (Dead)
[Marshmallow, discontinued] Remix OS — the first best Android operating system is released in 2016 by Jide. It was the discussion topic because of its similarities to Windows 10: the taskbar, notification system, etc. Remix OS supports both 32-bit and 64-bit computer architecture and can be easily installed whether the PC is UEFI-based or Legacy. If you want a great Android operating system, then Remix OS will work best. For starters, you have to make a bootable USB remix OS so you can directly boot and run on a computer. Then if you wish to keep running it from USB, you can do so by creating a persistence USB that will allow running this Android operating system from a USB drive. Otherwise installing it on the hard disk is a better option when you solely want to have this as your primary operating system.
Remix OS was probably the greatest Android OS until it was pulled off and discontinued. You can still use this operating system by downloading its system image, but you need to know that you will be using a system released back in 2016 with no future updates.
9. Android 5 and 6 (android x86)
Android 5.1 for x86 fork: download and Android 6 download
If you have limited resources try the Android lollipop or marshmallow forks of the Android-x86 project. Android Lollipop is known to be the best fork available for x86 machines and popular Android emulators like LDPlayer run on version 5.1. To boot Android version 5 Android OS fork on your computer, download the appropriate ISO file using the links below and use Rufus to create bootable media.
10. Android Emulator; LDPlayer
Gaming Android Emulator for PC | Android Emulator
LDplayer is an emulator to play online android games like PUBG Mobile and Call of duty. You would love to emulate the Android environment on your Windows computer when you have good hardware. It is possibly an amazing Emulator for playing PUBG mobile. Tested on an i5 (Gtx 1060) computer, it was able to run the game at 60fps, HDR extreme graphics, and 2K resolution. This is the best you can get from this game. Because it is a royale battle game, you may notice frame drops at certain times.
11. Virtual Machines
Virtual Machines are much like emulators as they help you test any Android operating system in a simulated environment. You control resources like CPU and RAM to allow. For instance, you can select how much RAM and disk space to assign along with the CPU cores. VirtualBox and VMWare are some favorite free Virtual Machines. It is always good to test and operate systems for you to use on your computer too quickly to know if you're good to go with it.
Starting with a virtual machine is quite easy, first, download any of the Android OS ISO and save it on your computer. Open up your favorite Virtual Machine software and create a new environment and select the ISO image as a boot image. Please understand that installing an Android operating system on a virtual machine is not the best idea if plan to do intense tasks including Gaming.
Also, PUBG mobile players with emulators deal with game lag, and screen tearing so it'll be super awesome if you play these games on the Android operating system. Emulators only take a percentage of computer resources and won't be able to give you a smooth Android experience.
---
Frequently asked questions
1. Which Android OS for PC is best?
Now that you have options available for Android operating system for computer you need to figure out which features you want and your preference only then you can figure out which one you want from the list of Android operating systems given.
2. Can I install Android OS in PC?
Yes, you can install Android OS on your computer, the available options are using a bootable USB disk, but you can also use a virtual machine to install any of the Android Operating systems.
3. Which Android OS is 64bit?
Currently major Android OS forks comes only in 64-bit and we've tested many of them, Phoenix OS and Android-x86 are good in terms of stability, BlissOS is another good competitor in this segment.
4. Is Bliss OS for gaming?
Yes, Bliss OS can be regarded as one of the best Android OS for low-end PCs, so if you like to play Android games you want t to avoid it this operating system sensor is not gaming oriented.
5. Which is better Android-x86 or PrimeOS?
When comparing Android-x86 vs PrimeOS, we strongly believe that with the Android -86 project you will not regret anything since it is pure Android. On the other hand, Prime OS is a heavily modified fork of the same project.
Summing it up
Android OS on your computer is still fancy for many users, as they are hardwired to believe that Apple and Microsoft are the only ones building Operating systems for their computers. Boundaries and learn something new by installing Android on your computer. Choose any operating system from our list of the best Android OS for PC and you will not regret having the ability to run Android on your old laptop or computer.