We've reviewed the best free yet reliable VPNs for United States, United Kingdom, and India.

Enjoy freedom & visit any website you want
Change IP address for better anonymous browsing & downloads
Stream Netflix, CWseed, Disney+ & more from any country
Discover quick VPN deals & the best VPN free trials
---
Today being secure online is not easy because big tech giants are eager to get your info and use it for revenue. The best thing you can do rather than stay offline?
Change your IP and MAC addresses, but that's not a cool way to get your work done. There are some system-wide VPN apps you can use to stay secure on the internet. You can do these things to stay anonymous change search engine, turn on DNS over HTTPS. Don't get us in an erroneous way, we're not claiming that you should become a complete Anonymous; that would be a satirical joke in this civilized world, however, if you still want to stay anonymous use one of the VPN application or built-in Browser VPN services.
RECOMMENDED BY OUR EDITORS
5 Best paid VPN services for Windows 11 and MAC
We're providing you tips, the ones which can be googled too. But to make it easy for lazy people, here is my list of best VPNs that will let you be a bit safer over the internet. Maybe safe enough so that any kid won't come between you and your privacy. So my list of Top VPNs goes here. But wait, what is a VPN?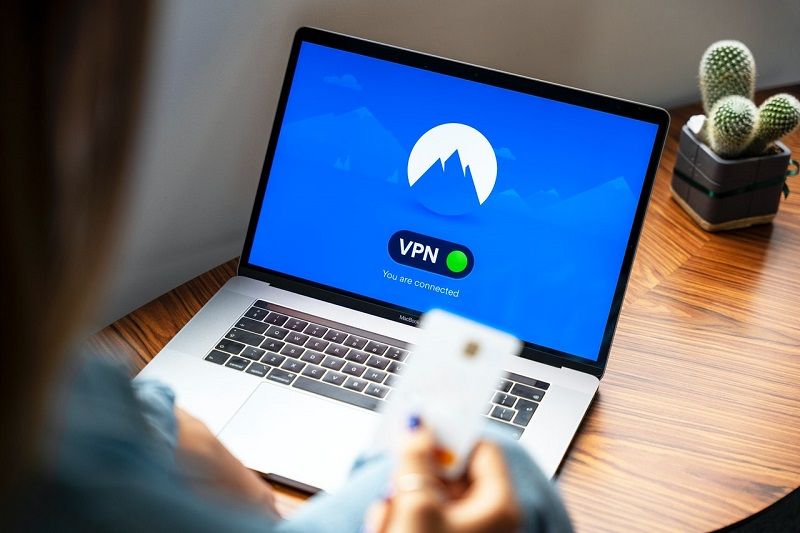 PIECE OF ADVICE: Just use a VPN to minimize what you share unknowingly online.
What's a VPN for Windows 11?
VPN (Virtual Private Network) is a way you by which can extend your internet into a public network. For example, you have a LAN network in an office. Now, you want a way for your employees to access your office LAN network from home, so they can work from home! Yes, you should use a VPN but what does a VPN has to do with being safe? What does a typical office's problem have to do with being safe?
Here's the deal.
What if you access the internet through a brand new device?
Less of you and your device's information will be exposed.
Good idea!
That's how a VPN works.
When using a VPN your data is transmitted from your machine to a VPN network. The VPN network secures your data and sends it to the Internet. The internet sends data back to your VPN network, where it gets decrypted and finally you receive data on your device.
The "VPN network" referenced above is a VPN provider or service. You can access the internet from a private network and stay safe without exposing too-much. Still unsure about how you can browse and stay be safe? You have to trust your VPN provider because you are sending all your information through their network (HTTPS minimizes any information leak).
Let's check some of the top free VPN out there so you can browse with peace.
1. Surfshark
Get Surfshark free VPN (get 30 Days free access right away, one of the best VPN)
An attractive 2 year plan with at just $59
30 Netflix libraries
Ad-blocker built in, has to be enabled manually
Cross platform apps for Desktop, TV, Mobile and Browser Extensions.
A rating of 4.3 on TrustPilot (over 10K reviews)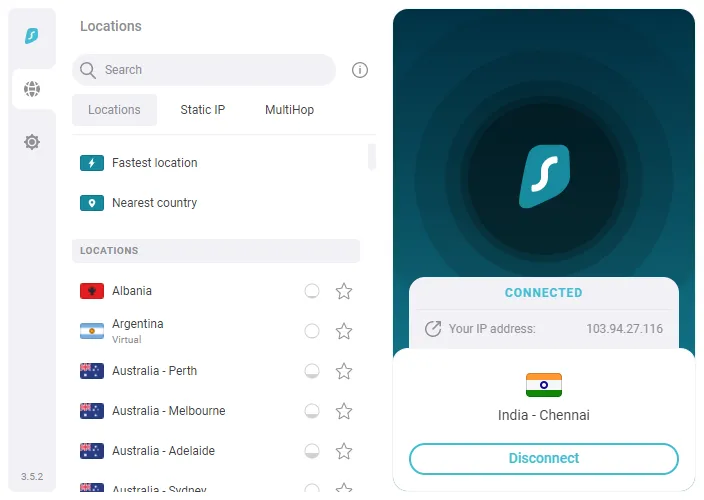 TIP: Share with your friend and both of you gets 30 Days of free access to Surfshark.
This VPN application can be installed on computers, Macs, mobile devices, and even televisions. It is available for computers, Macs, mobile devices, and even televisions. By selecting the Best Connection Speed or a nearby country, you can quickly enable VPN. In addition, you can also manually choose a country and connect to it.
---
2. Betternet
Really simple as a touch. No registration, no fee, simply and purely free. It made the list only because it's fast and simple plus provides fairly the same features as other VPN providers. It doesn't make money from showing the annoying ads or logging your info but rather earns money from sponsored Apps that are offered to users. It's purely based on the idea of a free VPN.
Betternet free plan includes
4 free servers CA, NL, RU, and DE
Unlimited bandwidth
9/10 connection speed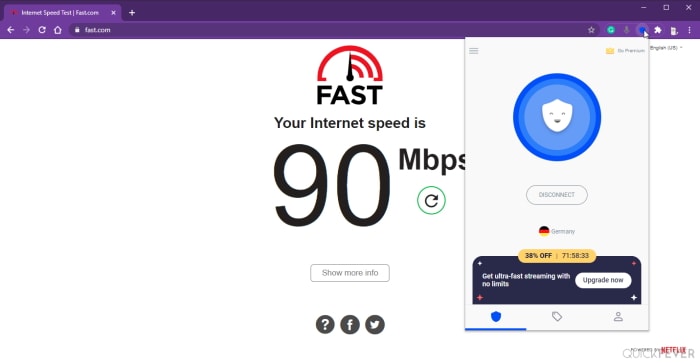 Use it when you just want to install a VPN on a specific browser (Google Chrome) this doesn't best doesn't interfere with other applications installed on your computer. You really don't want to play a Battle Royale game with a VPN enabled.
Download Betternet | Windows, Mobile, and Web Extensions
---
3. Proton VPN
ProtonVPN is our pick for the best free VPN service category. The paid plan offers everything that you need including Tor, P2P, and 54 servers. The free plan, on the other hand, is not very restricted, you get to connect to 3 free servers (US, Netherlands, Japan) with unlimited bandwidth, in our testing connection speed was arguably faster than the competition.
ProtonVPN free plan includes
3 free servers to choose from
Unlimited bandwidth
6/10 connection speed
You need to download the ProtonVPN client application after signing up for an account. Since they offer config files so you are free to use the open-source OpenVPN client.
---
4. Windscribe
Windscribe is another super secure, free VPN service. Not only this, it is generous in terms of bandwidth allowance, giving away 10GB of bandwidth to free users. Also, it'll give you an extra 5GB just for tweeting about the service and 1GB for each user you refer. The tool offers a Windows Application and a browser extension, both of which can be used separately. The features are all the same for free as well as paid users, the difference being in the bandwidth offered. The tool is very easy to use. Windscribe offers eight different server locations to choose from. It comes with a built-in ad-blocker and firewall as well.
Windscribe free plan includes
10 free country servers
10GB monthly bandwidth
8/10 connection speed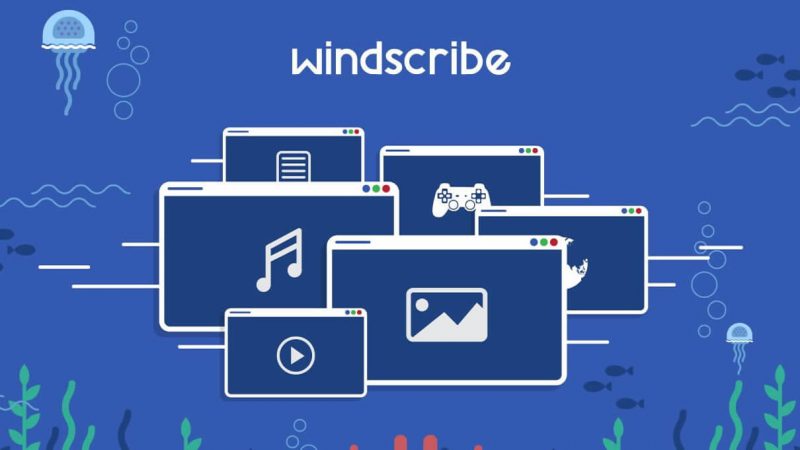 You just need to set up a username and a password to start using the service. Using your email is optional. Windscribe doesn't store any logs, history, or such data on its servers. It only accesses the username and amount of data exchanged, which is cleared within three minutes after a session ends.
Windscribe is a great choice if you want to use a free VPN that offers great bandwidth without compromising on the security front.
---
5. Opera Unlimited VPN
Download opera browser | Desktop and mobile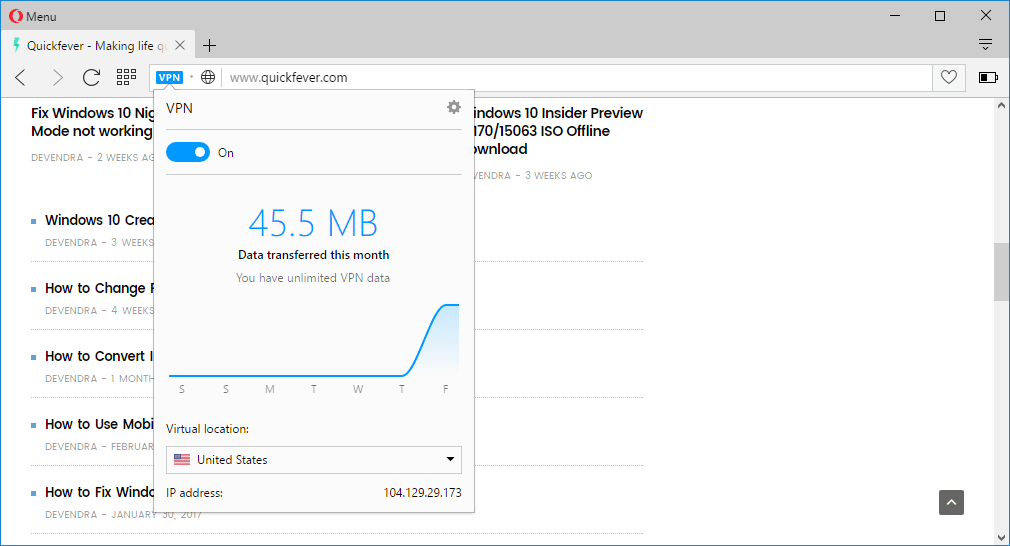 Opera is quite a popular web browser and it has a built-in private network from where you can access the internet. This makes things pretty simple and safe. Here you don't need any additional software/extensions for securing your journey over the web. So on public WiFi, just open your opera browser and enjoy a safe ride. (As long as you trust Opera). It's doesn't have so many functions that other standalone VPN services have to offer, if your concern is to open blocked websites without getting into mess; Opera VPN should be just right for you.
Opera Browser built-in VPN highlights
Easy to use and bypasses search engine
2/10 connection speed
Once you have opera installed, press ALT+P or manually open browser settings under Advanced > Features; toggle on Enable VPN to start blocking third parties from tracking and accessing blocked sites. You should notice a VPN icon appear in the address bar from now on.
---
6. Brave's TOR Browser
Download Brave browser to access private windows with Tor Mode
A standalone TOR browser is not a cup of tea for everyone. Brave is based on Chromium and many users prefer it over Google Chrome. It introduced us to a controversial crypto wallet built right into its Desktop application and a built-in Tor Browser. Using the browser eliminates all the third-party tracking that you can manage from the extension area. This would be sufficient for people who are less concerned with and want to get things done with minimal effort. please note that while it's a Chromium browser a lot of features that work in Google Chrome might not work here including Sync and Voice API.
Brave's TOR highlights
Improved security, but captcha challenges will be in your way
2/10 connection speed
Note: Since it's a TOR browser you will be seen as suspicious on the Internet. You'll have to face captcha and other challenges while accessing websites.
Accessing the TOR browser feels similar to opening incognito mode. You can press Alt+Shift+N to open a private window with Tor mode on the Brave browser.
---
7. SetupVPN
SetupVPN Chrome extension Download
Acess to 13 servers including, US, UK and India
4/10 connection speed
No bandwidth limit
Server are hosted on DigitalOcean, Linode (which we recommand for hosting too)
We tried SetupVPN this week and it's a good one out there. Apart from OS apps, it's also available on Google Chrome and Firefox. The installation and activation were quite easy, it didn't ask for email and confirmation but within a click provides a Key that activates the VPN.
the overall experience is good, VPN connects at a good speed without any hurdle. There is an optional WebRTC prevent leak option which is within eye reach. The Windows app didn't work out for us, the last release was in 2020 maybe they ditched the Windows platform and are more focused on the Brower Extension version.
[Update: link is replaced with Chrome extension since OS app is not reliable as of now]
---
8. Cloudflare VPN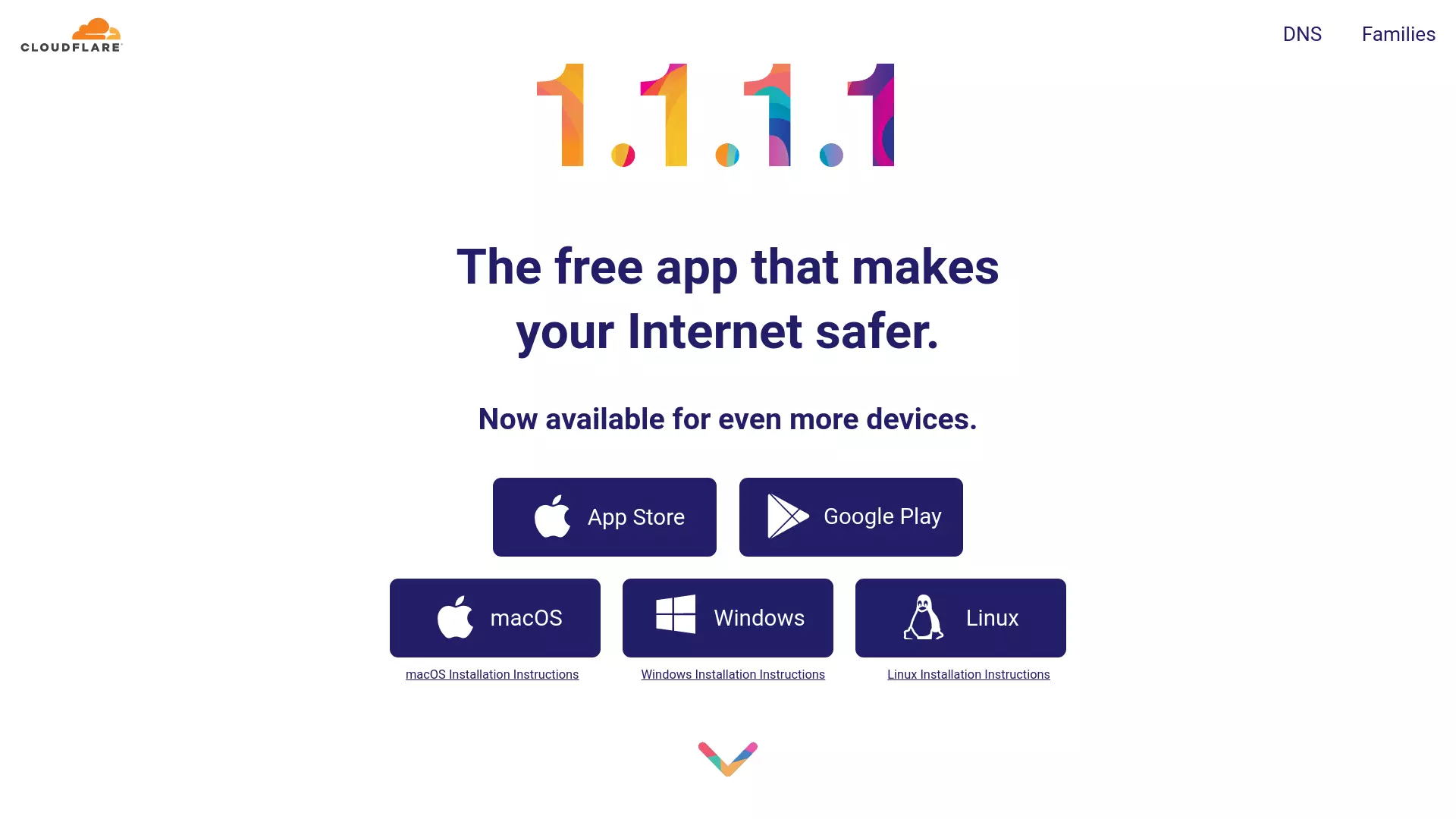 Cloudflare Warp is an encrypted solution that doesn't provide any anonymity and doesn't change the IP address. In a nutshell, you'll be able to unlock all the geo-restricted websites, for a majority of people that'll be enough. The Desktop client is available from the website and sits in your taskbar. It has two options one being a Secure DNS that does change your DNS server to Cloudflare's 1.1.1.1 and the second additionally encrypts your traffic.
---
7. Hotspot Shield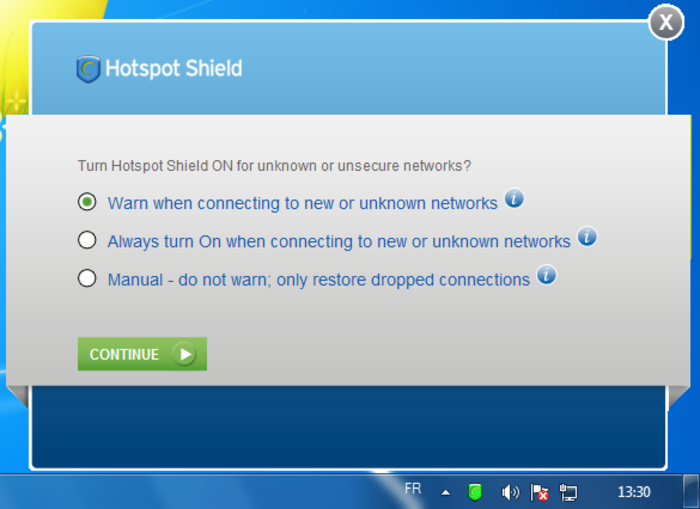 The massive success of the Hotspot shield having more than 400 million Downloads, from 200 countries shows its popularity around the globe. It is fair, cause it is based on secure encryption systems. It has been shortlisted across 3.5 million malicious, phishing and spam sites so you can be safe from them too. If your work is professional/Office, then Hotspot Shield is the best option.
Everyone should have a VPN if privacy is still a thing for you
As we have seen already, VPNs cannot be considered as 100% Anonymity because it depends on your VPN provider, if it logs traffic in order to earn money, you can be in trouble. Well, most of the top VPNs above don't. They have more than a million users and can be trusted up to a certain level. Still, you should never let your guard down! In case they log your activity then you will suffer a massive loss of privacy. VPNs are not guaranteed anonymity but up to some extent, they are. After all, it depends on how you use it.
So if some of the VPN providers got unnoticed, you could comment them down. Share the post with your friends and family, help them be safe over the internet!
A vacation today is never complete without taking a few (or plenty) Instagram pictures, staying connected, and firing up Google or TripAdvisor to find your next stop. If you are a digital nomad, you might even want to get some work done through the internet too. So how does a VPN service stack up among the must-have items on your vacation essentials?
Using the internet while on vacation is no different than If you were home. In fact, a VPN is easily a vacation essential for the following reasons:
You still need your security
While on vacation you will be forced to use foreign internet providers, loosely secured or unsecured WIFI hotspots, and shared hotel connections. You never know who would be lurking on these networks at this time when internet crime is on the rise across the world.
An emerging trend in cyberspace involves criminals specifically targeting foreign tourists with all manner of scams and frauds such as sim-swap scams, man-in-the-middle attacks, etc. Using a VPN on all your devices while on vacation is important because it secures your online data.
You still need your privacy while on vacation
Some foreign internet service providers are notorious for collecting users' data on their networks and selling it to third-party advertisers or giving access to government agencies. While you may have strict data protection laws in your country of origin, the same may not apply to your vacation destination.
There is no telling what kind of privacy violation you might face abroad should you choose to use your devices while you are there. A VPN is an essential item when it comes to protecting your internet privacy while abroad. There are many arguments for the use of a VPN for privacy but a recent Reddit discussion stands out. According to the Redditors, a VPN protects your privacy by providing end-to-end encryption and routing your data through private secure servers.
You still need access to your favorite websites and shows
Traveling abroad means having to deal with geo-restrictions, banned websites, and government surveillance on the internet. For instance, you may still need to access your favorite Netflix shows that will probably be unavailable in the country you are spending your vacation. This is a very common occurrence in most European, China, Africa, and some Middle-Eastern countries.
At the same time, you should be wary of government surveillance and what accessing banned websites or posting sensitive posts on the internet might lead to in such countries. You might find yourself on the wrong side of the law in a foreign country for using the internet in the way you are used to at home.
Among other things, a good VPN service will give you unfettered access to the internet and your favorite websites and shows in a foreign land. You will be able to watch geo-restricted streaming sites, enjoy your music on sites like Spotify and communicate with your loved ones without a problem.
More importantly, the VPN will keep your internet activity private so you don't have to worry about surveillance and potential arrests in countries with strict internet censorship and surveillance. Your browsing data will be anonymized and only accessible to you while on vacation.
Accessing company resources securely
If you are the kind that likes to get some work done while on vacation, then you will need a secure and trusted VPN service. Using a VPN, you can remotely access secure company resources like emails, CRM's file servers cloud resources, teleconferencing apps, among others. Accessing such resources on an unsecured foreign network should be out of the question because of security risks.
Use public foreign public networks
You may have trouble registering a new SIM card to access the internet while on vacation. Roaming with your home network is not a good option because data charges tend to be high while roaming. You will have to rely on free public networks such as those found in restaurants, cafes, and nightclubs. You can still these networks without worry if you have a VPN on your devices.
Find amazing vacation deals by using a VPN
In the age of internet marketing and big data, most businesses tend to display different prices and deals based on the location of the visitor as captured by their systems. You can save a lot of money by changing your location to a different country while shopping for things like airline tickets, hotel rooms, and the like using a VPN.
All in all, a VPN is a vacation essential considering all the things it would help you accomplish. You don't even need to be tech-savvy to use a VPN on your devices. Just download the VPN app, turn in on and you will be good to go. Happy holidays!