FydeOS is an operating system that is based on the Chromium OS as you know it. Then see you know you cannot simply officially install Chrome OS on a Windows or Mac computer. With this operating system you can quickly e make a bootable USB and run it on your computer it supports a majority of laptops and computers. If you are looking to test Chrome operating system with minimal effort to install on your computer FydeOS is a good option that you have for free.
FydeOS Download (64-bit) Only
Download fydeOS 64-bit IMG (1.8GB) official link
Download fydeOS 64-bit IMG (1.8GB) iCloud link

Either RUFUS or Etcher can be used to make bootable USB.
FydeOS is based on chromium to run on Intel-based computers. Version 11 is running on Chromium r86 and supports Android and Linux Apps. Despite you won't find the play store as it was mainly focused on the Chinese market where Google services are banned. Still, you can sideload Android apps or. It is available as a PC and Vmware system image.
You can log in with Google Account on FydeOS, for that to work registration is required with a FydeOS account. However, you can browse as a guest to avoid this but that limits you to basic features.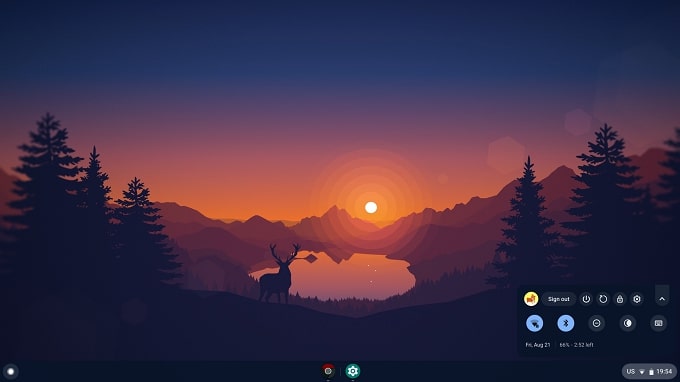 FydeOS because…
Runs Chrome Extensions, Android and Linux Apps* That's epic actually.
Chrome fork with more extra features such as Google Sync.
Linux Kernal is 5.4 (8th, 9th, and 10th gen processor support)
The new version was insanely fast and booted in under 20 seconds. This is tested on a HP ENVY laptop (Intel i7 8th gen). Android subsystem and related functionalities are limited to Intel series graphics cards. We are quite impressed to see how it manages to run Linux Apps and Android apps together. That being said you could install Chrome extensions, Android Apps, and Linux Apps on FydeOS. Based on Chromium OS we found both Google's Assistant and Play store are missing.
*Enable Android and Linux support before sideloading apps.
Name FydeOS for PC
Version: v11.3
Adapt to the x86 architecture Intel graphics model
Based on Chromium OS release-R86-13421.B
Release date 2020/12/14
how to enable android subsystem; FydeOS
Press Windows key to open start bar, scroll and find Android app.
Open and accept License and terms.
You can now download Android app (.apk) from site like ApkMirror and install them.
these screenshots depict the process to enable Android app on system.