Rufus is the smallest and powerful utility to create bootable USB drives using operating system images such as ISO and IMG file.
We've used Rufus for all-purpose from creating Windows 10 USB to ChromiumOS forks- it's just fun and fast.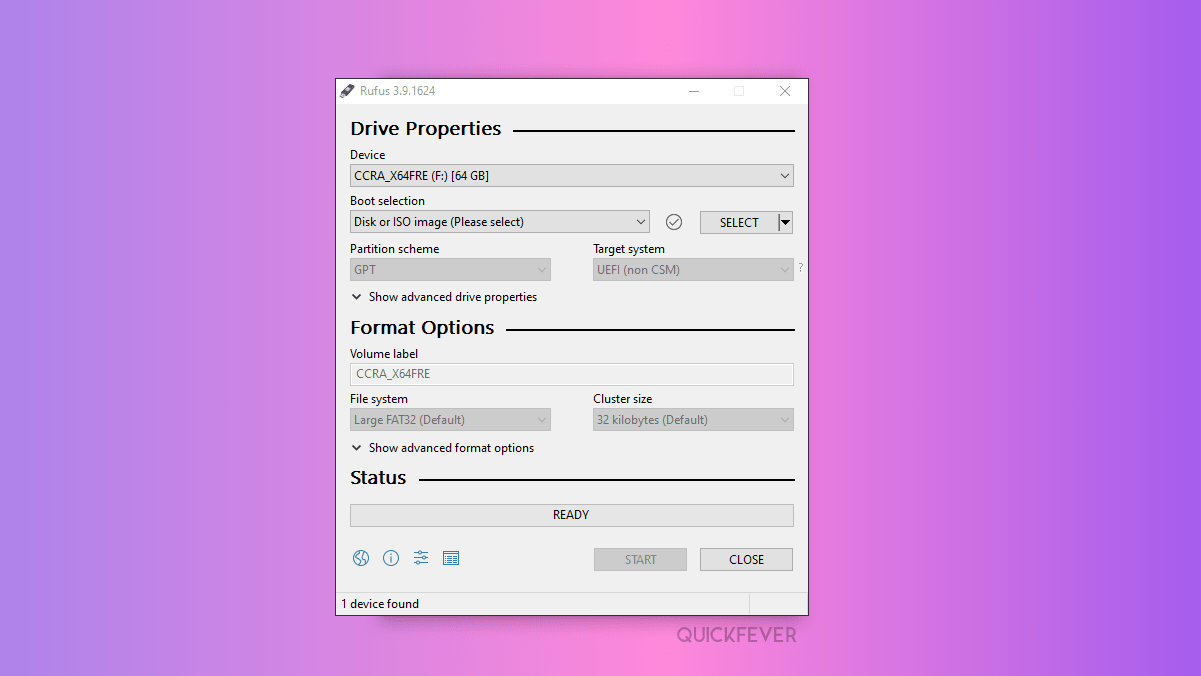 Download Rufus 3.14
 rufus-3.14.exe             2021-04-30 13:42  1.1M  Rufus 3.14
 rufus-3.14p.exe            2021-04-30 13:42  1.1M  Rufus 3.14 (Portable Version)
 rufus-3.14_arm64.exe       2021-04-30 16:14  3.2M  Rufus 3.14 (ARM64 Version)
 rufus-3.14_arm.exe         2021-04-30 16:13  2.9M  Rufus 3.14 (ARM Version)
 rufus-3.13.exe             2020-11-20 13:29  1.1M  Rufus 3.13
 rufus-3.13p.exe            2020-11-20 13:29  1.1M  Rufus 3.13 (Portable Version)
 rufus-3.13_arm64.exe       2020-11-20 13:32  3.2M  Rufus 3.13 (ARM64 Version)
Rufus is the tiniest and lightweight tool to create bootable USB from system images i.e. IMG and ISO. It's free to use software and the developer intends no donation as he thinks it might be guilt-inducing for users who chose not to donate or unable to donate.
Unlike its similar tool, Rufus doesn't require additional software and framework to be installed on a computer. Neither one have to install the Rufus tool before using, despite the tool is less than 1MB in size but support all major ISO and other image file and does create bootable USB drive along with other options such as UEFI specified, there are other functions that you can read on the official website.
This is the lightweight and ultimate lightweight tool that lets you make bootable USB from any Linux's ISO image file. Just download Rufus directly from its official website and copy it to your computer and double-click it to open it. This tool is a portable tool when you open this tool, you get an option to browse the system image file such of Windows, Linux and other. As far as the hard disk partition is concerned, there may be two types of hard disk partitions. First, the GPT, which can be seen on the new computer hard disk, the MBR partition is found in the old rotating disc hard drives. You get this information by selecting the disk in the Disk management in System Device Manager.
Supported OS
Windows 7/8/8.1/10, Linux (Ubuntu, fedora etc)
It's simple to use Rufus to create bootable USB drive as it supports most of the system images file type including the famous IMG and ISO. Majority of the operating system including Linux distributions, Windows, Pixel offer system image to let users be able to burn to a USB in order to boot the operating system.
Download Windows 10 21H1 using rufus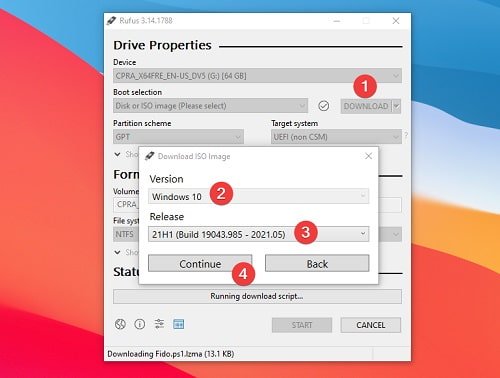 Open Rufus, get the latest version.
Select the download button, click on it.
In the box that appeared, select Windows 10 and 21H1.
Click on Continue.
Select Windows 10 Home/Pro or Education edition.
Select A language (English International)
Select Architecture (x64)
Click Download.
*Download using a browser opens the link in your default Browser.