Windows 10 lean was a single lightweight build of windows 10, stripped down, and it's fascinating. Unlike Windows 10 S, which wasn't lightweight at all. You can get an idea a standard windows 10 ISO is about 4gb while the windows 10 lean (64-bit) is approximately 2Gb, exciting? Yeah.
Learn where and how to download windows 10 lean (also known as cloudE) ISO (Or S build ISO) And install it on a computer using a USB flash drive.
Download Windows 10 lean (ISO).
Download Windows 10 Lean (cloudE) ISO using the links below.
Windows 10 Lean ISO Download | 64-bit 2.7GB
Windows 10 Lean ISO Download | 32-bit
We managed to get the 64-bit (Lean) 17655 from my old computer. No 32-bit sorry. Use Google Account to log in to copy the file to your Google Drive.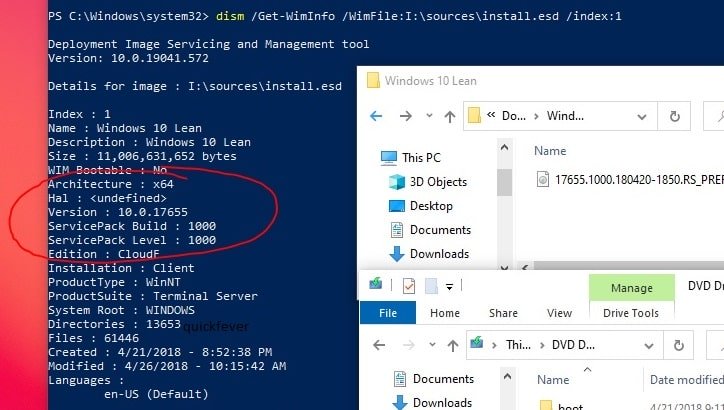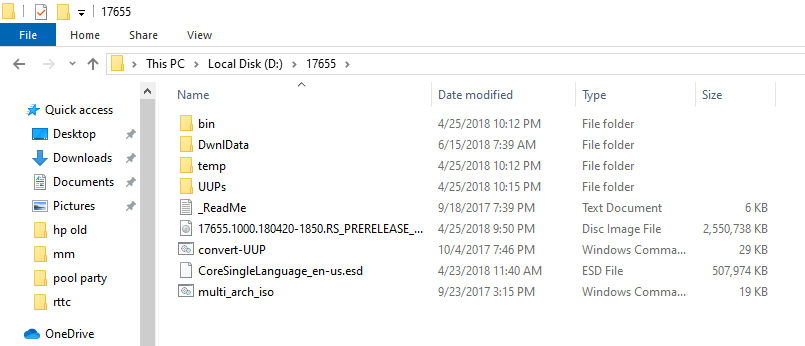 How to install Windows 10 Lean /CloudE/S
Verify you've got the correct ISO file
After you have the ISO, just to ensure right click on it select Mount. Open wither Powershell (as Admin) or Command Prompt and type the following command. (You may get ISO from websites, before making a bootable USB consider checking the authenticity of the ISO file, here is how).
dism /Get-WimInfo /WimFile:H:\sources\install.esd /index:1
Variables - install.wim / install.esd | :H: change it with the virtual drive letter.
Make bootable media
Use Rufus or any other tool to create bootable media. Check this guide for more help.
Start the setup
Just like the original Windows 10 setup, you will be going through on-screen instructions that you need to follow in order to install Windows 10 Lean. You had throughout the process we have a guide for that as well that you can check here.
first part.
The second part is pretty much simple if you installed through a bootable USB flash drive now it's time to unplug it Windows will ask you to account information like for example what name do you want to use for your computer account. If possible connect the computer to a Wi-Fi network when prompt so that way you will get the latest drivers automatically installed.
How to use the tool (outdated)
Since I updated the link with ISO file, no need to follow this section.
Step 1. Download the tool.
Step 2. Extract it, under it you'll see this file "CreatingISO.bat" or (aria2_download in Mirror) File.
This will download all the files required and using a tool aria2. It will download the files from the Microsoft server and later it will convert them to ISO file that you can use.
Step 3. Open the extracted folder, run creatingISO (aria2_download in Mirror) file, this script is an automated script that will download all the files using the Aria2 download program. This is necessary to download multiple files at once.
Step 4. Once done, this script will execute another tool that you can find inside the same folder. Run the UUP-Convert to start converting downloaded files to Windows 10 Lean ISO.
That's it, now use the ISO to create bootable media. That's it you should stop here, the below instructions are for people who want only Windows 10 Lean edition in the Windows 10 ISO.
Use this method when you want to save bandwidth (archived)
Also, I'm going to guide you in creating Windows 10 Lean (64bit or 32bit) ISO file that you can use to install Windows 10 on any computer. We are only going to download a specific Windows 10 lean file so that only that particular edition file should be present in ISO file to make the image file compact as possible. This is to spend less bandwidth and save time, especially when you're not on an ultra-fast connection.
You need Windows 10 insider preview latest UUP files = Save files according to the specific edition you want for example we are downloading single language insider preview UUP files for 64-bit.
# Download Windows 10 latest insider preview UUP – download this tool
This tool will start downloading the Windows 10 Lean files and save them inside a folder.
# Download Windows 10 Lean ESD file = get it from here (deleted)
The ESD file that you download is responsible for the Lean version.
Rename this Windows 10 lean ESD to CloudE-en-us.esd and then rename it to the "Core_en-us.esd" for example if your CORE.ESD file name is CoreSingleLanguage_en-us.esd copy this name and change name of the CloudE_en-us.esd
Note: Replace any of these below files to CloudE_en-us.esd
Professional_en-us.esd / ProfessionalN_en-us.esd / Core_en-us.esd / CoreN_en-us.esd
Now rename Original CloudE_en-us.esd >> Core_en-us.esd
This is a 2 step method that will save your bandwidth, it will download something 3GB of files. If you don't care about you can run the above-given tool, which downloads Windows 10 Lean files along with other editions and convert them to Windows 10 Lean ISO.
2. (Optional) Prepare ISO (When not used the tool)
Download this UUP to ISO converter tool, extract it on your desktop inside it there is a folder "UUP" copy all of your downloaded files into that folder and run the youtube convert file do you have a few options to choose whether you want to create an iso with install.wim or install.esd file obviously the ESD option will create a smaller ISO file because it is more compressed and not encrypted.
Or check the guide to better understand the process with images and step by step instructions.
Conclusion; Windows 10 Lean
Windows Lean was a concept that only made into single insider preview release. We managed to get our hands on 64-bit ISO which was created the same time when version 17655 was released.
It'd be a bad idea to use this as a daily driver, you face bugs on this unfinished version of Windows 10.