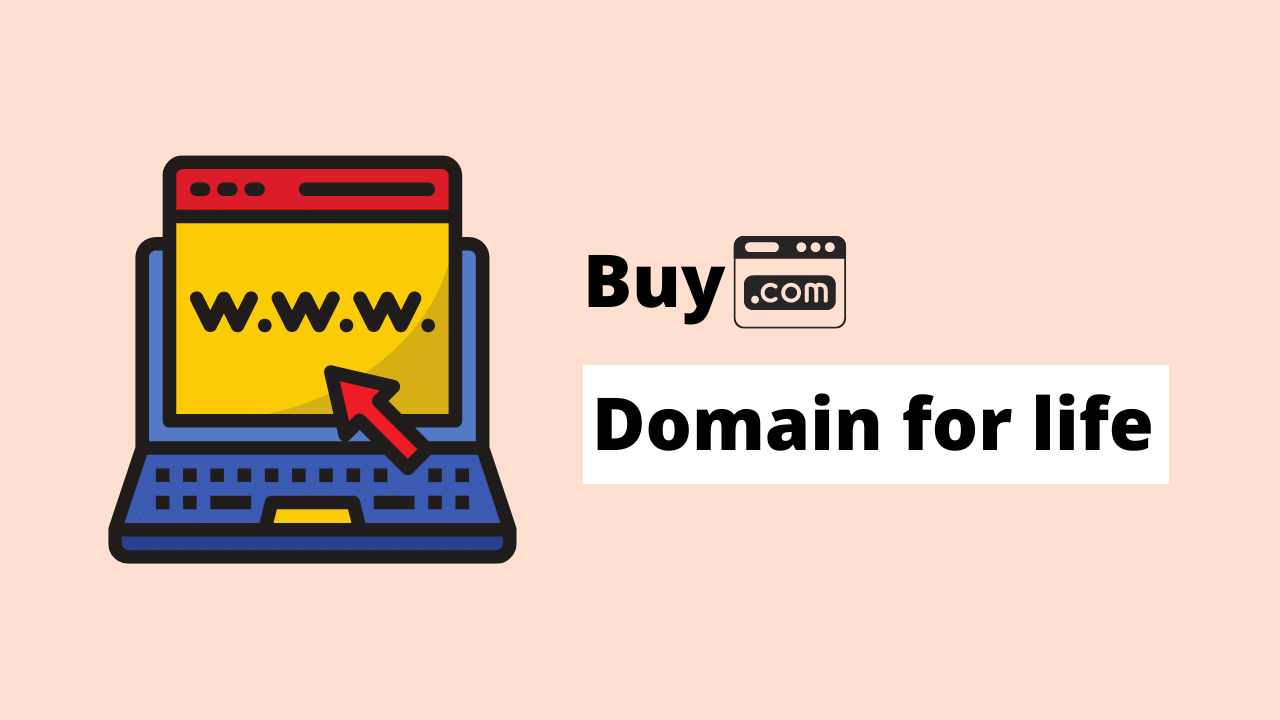 When you buy a domain you get to choose from 1 year up to 10 years, but what it takes to buy a Domain name for a lifetime, we're discussing all the possible ways in this article.
Buying a domain is a myth, it's more like you rent in a domain name as long as you want to use it. Fortunately, there are domain registrars, which offer lifetime validity when you buy a domain name with lifetime validity, one such domain company is Epik.
When you buy a domain name for life, you do not necessarily keep the domain name for the rest of your life. You keep the domain name as long as the company remains in business. For example, if the company gets acquired or chose to shut down; that will leave your domain goes away unless you have some backup plan.
Get domain for lifetime (.com, .net, .org and other)
What options you have
1. Epic.com lifetime domain fee is $399 and pricing is different for every TLD. but if you calculate you can have the domain for about 40 years for $399 (if we pay $10 per year).
Perhaps buy domain the normal way
Buy the domain
Set a reminder (multiple reminders)
Renew before expiry or months before
If domain provider goes out of business, you get notified so you can move to another registrar.
Don't fall for lifetime domains
Lifetime domain providers may go-down along with the domain
Never buy domain with Website-hosting, once you stop paying for hosting, getting the domain out is hard
Open a domain registrar's website and search your domain name and go ahead and buy it. There are many domain registrars that offer .com domain. Starting with $5 and that goes up to $11. The pricing may be slightly different if you choose to go with other TLD or ccTLD, gTLD like .how, .blog.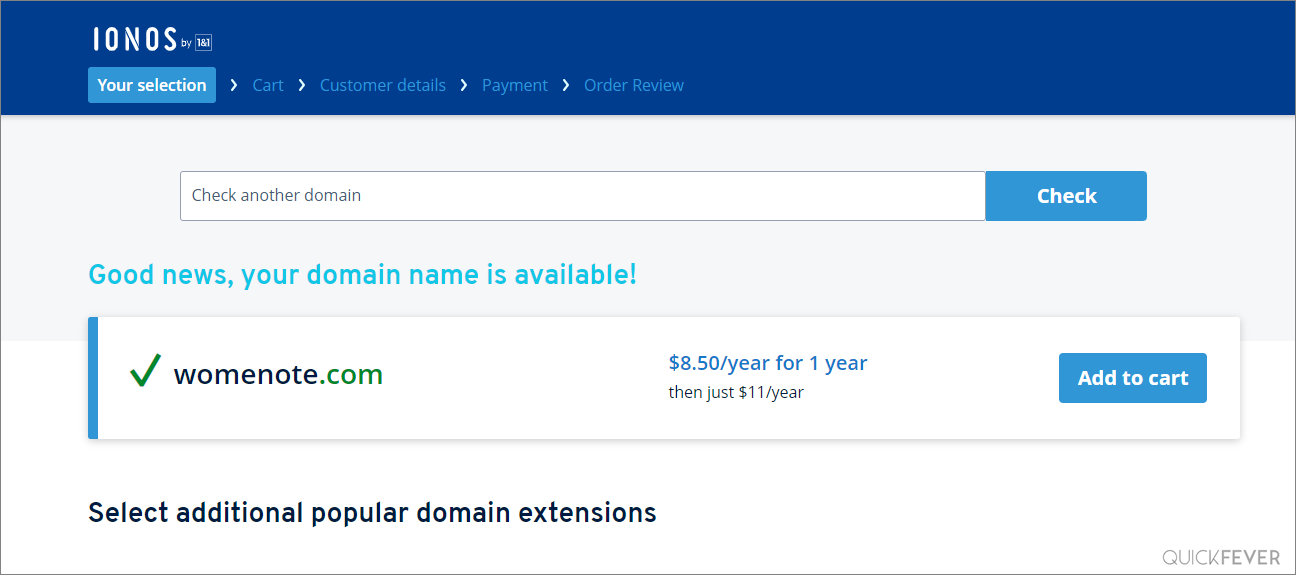 When you buy a domain for one year set a reminder on your calendar application one year ahead of the original domain purchase date you can offset these 230 days to 60 days so you have plenty of time to think about it whether you want to renew your domain or not.
Set a reminder on Google calendar
For this, you don't need to write down this on paper but can use either Google Calendar. if you use mostly a computer Microsoft calendar is your typical choice but if you also have an Android mobile phone use Google Calendar to set a reminder.
Follow these steps to get notified before the domain expiry.
Click on Create button.
Select the Domain expirey date, set notification 30 days before.
Add your friends or someone else so they will also receive reminders.
Click on save and you're good to go.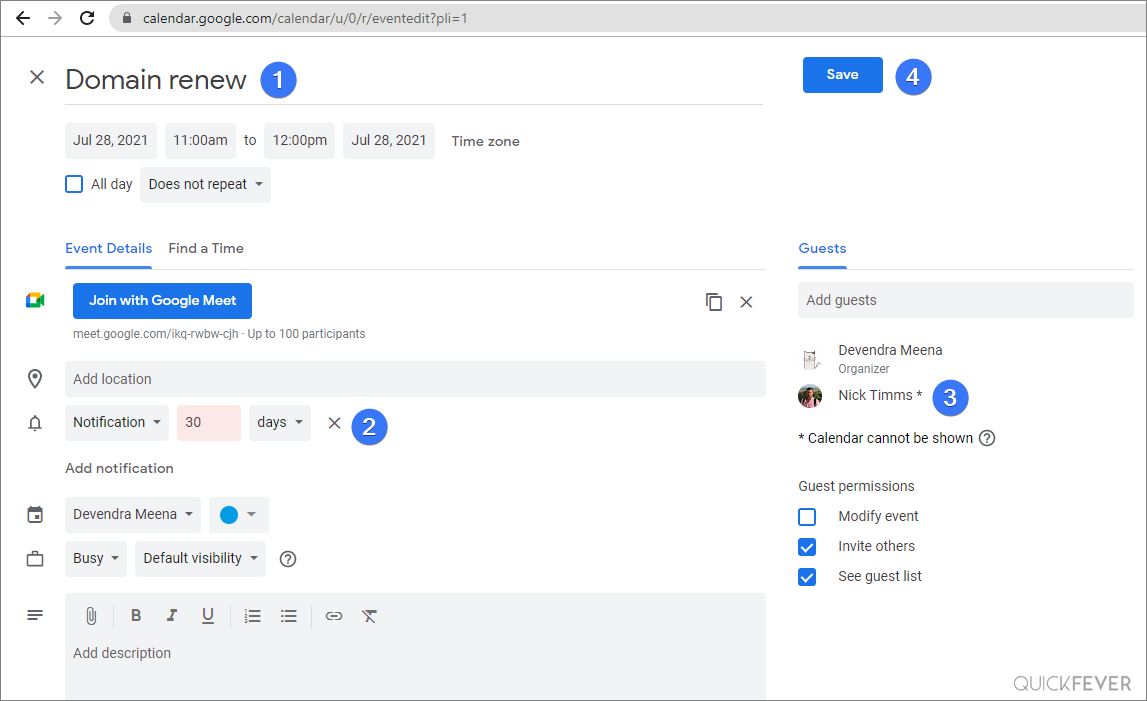 Firstly, I want to clarify – buying a domain name under a "lifetime" deal doesn't refer to you personally, but to the business, you're buying from. In this context, "lifetime" means for however long the domain registrar operates.
You may have a domain for at least 50 years if they stay in business. You would have it for 5 months if they choose to shut down without any prior notice.
It's worth noting that there are no reputable domain registrars (such as GoDaddy, NameCheap, HostGator, Bluehost, etc.) who offer lifetime domains. That's just a bad business practice.
You can instead "rent" a domain name for a set period of time (1-10 years). Your domain can be renewed when it expires.
If I owned a domain name, I wouldn't trust any registrar that marketed lifetime domain registrations (.com, etc.).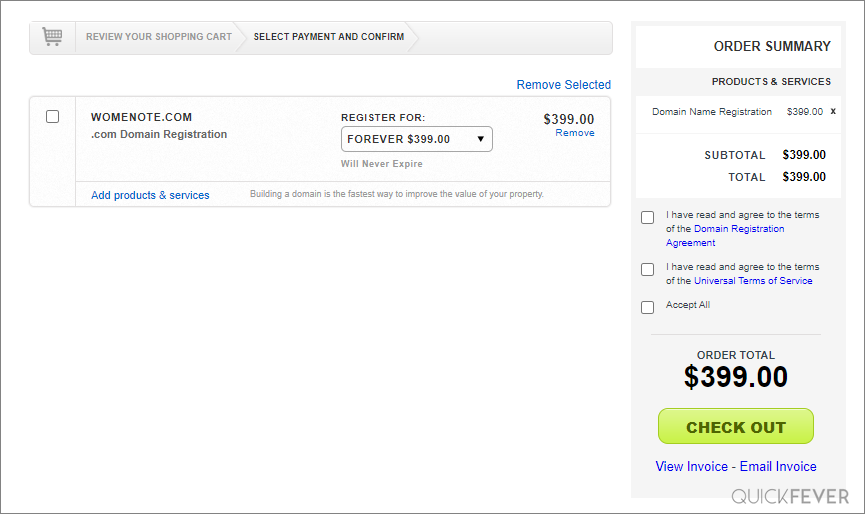 When you trust the domain company, go ahead and grab the deal. Personally, we wouldn't go after such a deal because these days domain names are cheap and over time you would lose interest in the domain names so why pay a huge amount before even using the domain. Just pick a domain for a year, see how it plays out then add more years to it – easy peasy.
Active or deactive auto renewal
When you buy a domain, you can add a payment method to make automatic payments when it's about to expire. A credit card works pretty well, but other prepaid methods should work with various domain registrars.
This option is available almost everywhere, for example, Google Domain has this option along with registration years selection. You should enable Auto-renew as shown in the screenshot below so it gets renewed automatically even if you miss the expiry date. The auto-renew feature can be enabled or disabled anytime from your Domain registrar website.
But don't rush to add a credit card to an unpopular website that you don't trust – ask your friends if they have any experience with the registrar in question.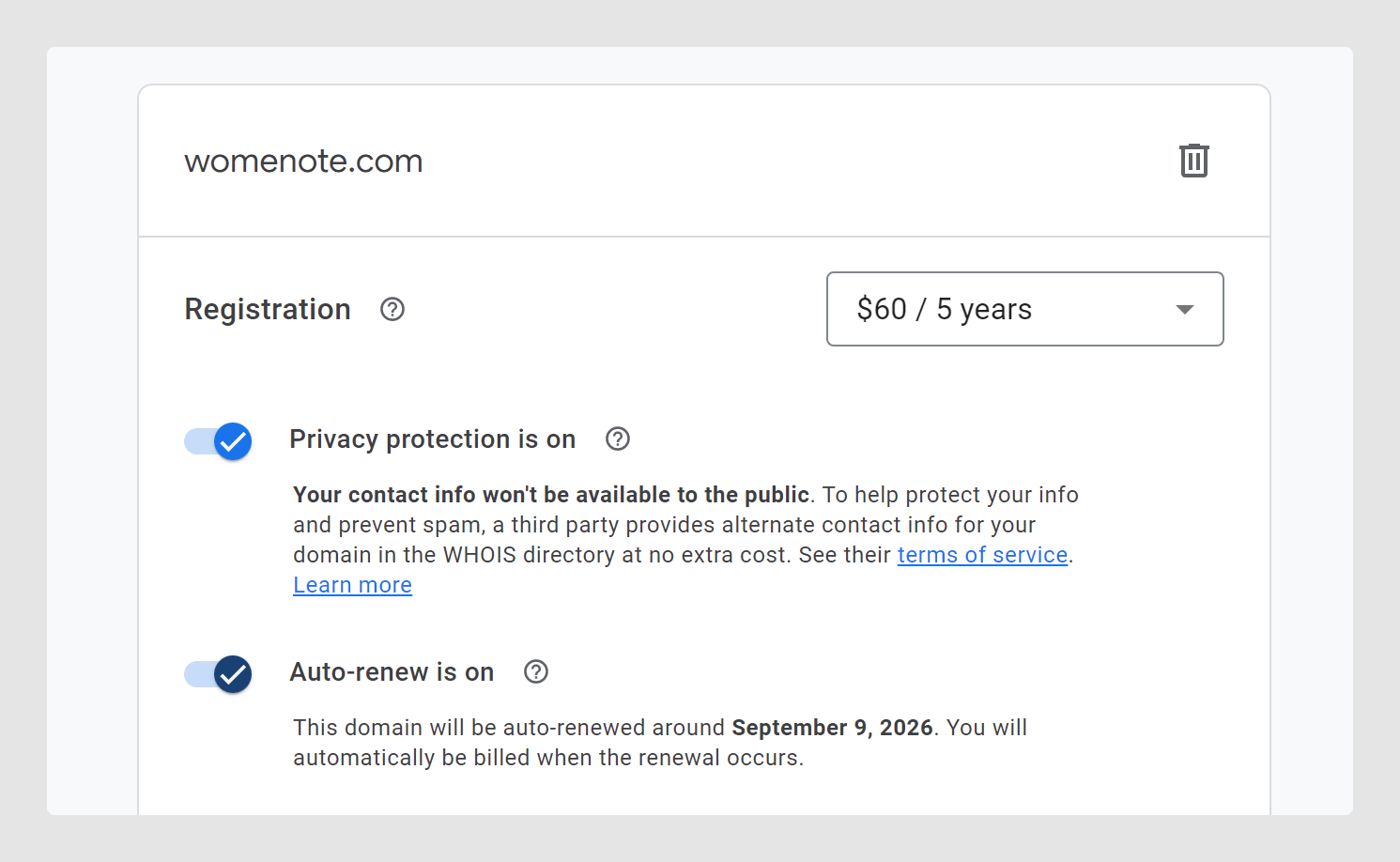 Add years to your domain and save money
If Auto-renew is not your cup of tea, or you prefer not to add a credit card you can buy additional years.
Now that you have a domain for 1 year, you can right away add more years to it. For example, you can renew the domain for up to 5 years and you can do this multiple times. Hence you have enough time to do business with your domain name. This adds extra safety and adds plenty of years.
The below screenshot is of Namesilo Domain registrar, where you can add up to 10 years.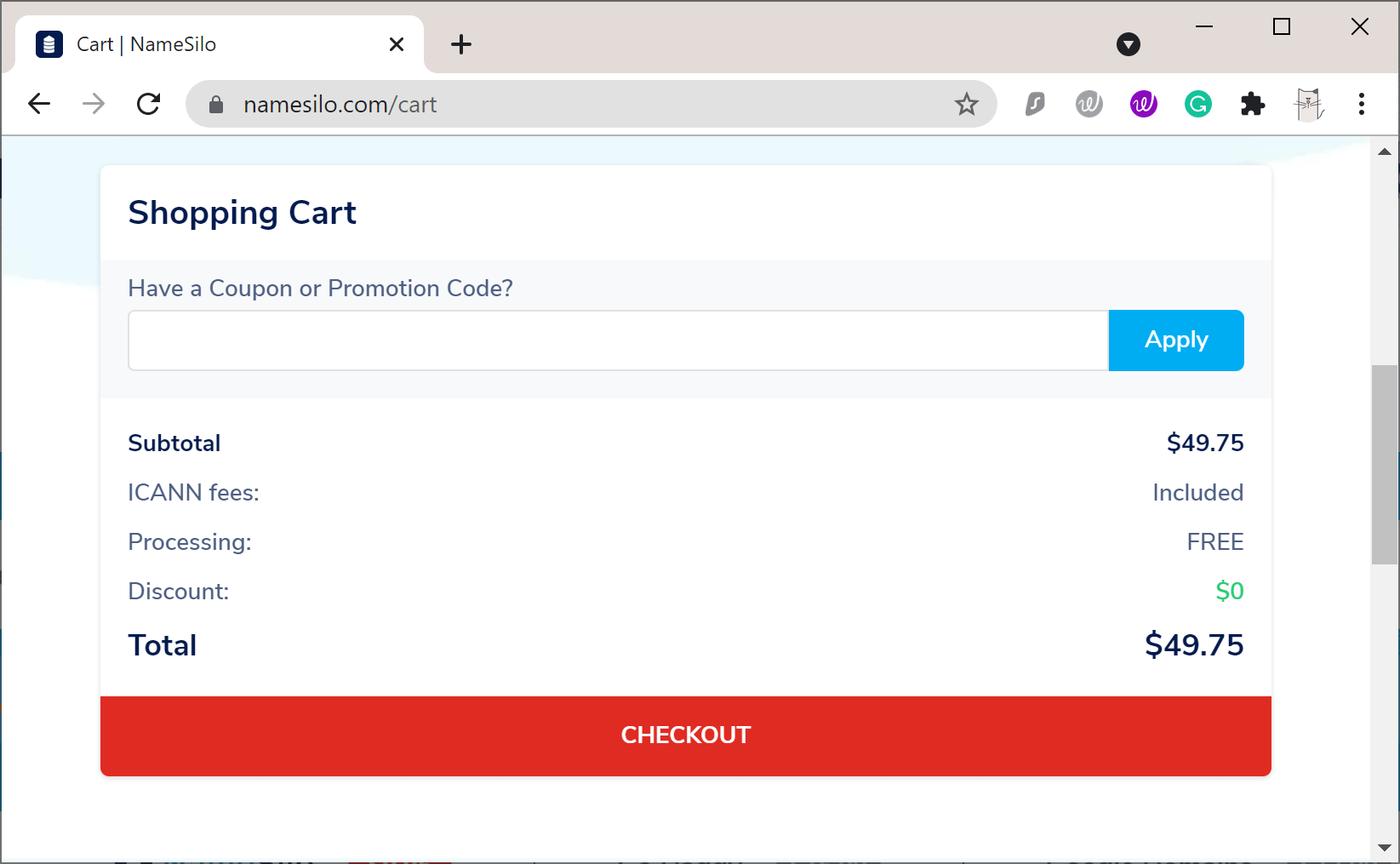 Some popular domain registrars may have high renewal rates compared to others. You can move a domain name to a registrar who offers a cheap renewal rate (such as Namesilo) maybe add 5 or 10 years and after 60-days move back to the original registrar that you trust.
For example, Google Domains cost $60 for 5 years and Nameilo cost just $49. You're saving straight $11. There is more domain offers ongoing especially when you transfer a domain to another registrar. Once you add up to 10 years, you have to wait for 60 days to unlock the domain transfer and move the domain back to the original registrar.
FYI: things you shoud know
Why should I register a domain for life?
When a single person or a company registers a domain name and pays the renewal fee, it has exclusive rights to that web address. This is, however, not the case when a domain is registered for eternity. When you purchase an eternal domain address, you're simply reserving that domain in case it ends up being valuable at some later date. Because nobody can know if any given domain name will become valuable in the future, it is always possible that someone else registers and retains your eternal
Do you really own that domain?
No. A lifetime domain name doesn't give you ownership of the domain. It is important to understand that a lifetime domain name simply grants you the privilege of unlimited ownership until such time as another registrant takes ownership.