Amazon Prime Video playing videos in low/poor quality on your mobile, PC, or SmartTV? This issue is quite popular among where you notice that video quality on Amazon Prime Video is not HD even if you selected a higher video quality option. This article depicts how you can change the quality of your prime video on the desktop browser, Windows App, smartTV, Android, and iOS app.
Amazon Prime Video is a great on-demand video platform that allows high-quality resolution videos for a good experience. Most Amazon Prime Video TV series and movies will play in HD and 4K by default with an Internet connection speed of 5Mbps and higher. If you don't get HD quality follow our tips.
Related: How to Manage Amazon Prime Video Watchlist
Change Prime Video Stream Quality in Desktop Browser
1. Login to PrimeVideo.com and select a country, then enter your Amazon account information. Now play a video, select a movie or series you want to watch, and start playing that.
2. At the bottom of the screen there is a screen quality icon, it can be either one of these "grayed out HD, HD, 1080p (FHD)". As you can see, in the below figure is a video streaming in HD 1080p.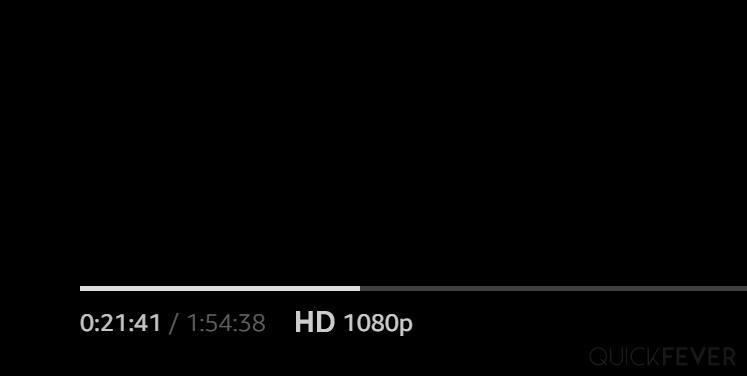 Grayed-out HD: The video quality is below 720p, maybe 480p or even less. HD: the video quality is 720p which is fairly enough for watching on a browser. HD 1080P: The standard resolution these days. 4K Ultra: You see this option on a smartTV (recent update won't allow that now)
3. If you want to adjust the video quality of Amazon Prime Video, then there is a gear icon at the top. When you click on it, you will see these options. (hover mouse to right-side click on the gear icon that appears). When you select "good" and "better" quality you get a stream quality of less than 720p resolution with both these options, if you want more crisp clarity (standard 1080p resolution) on Amazon Prime Video, you have to select the "best" option. When you select the best option, you get the best possible video resolution quality, and it again depends on your device. If you use Google Chrome on Windows 10, you will get video quality according to your monitor's resolution.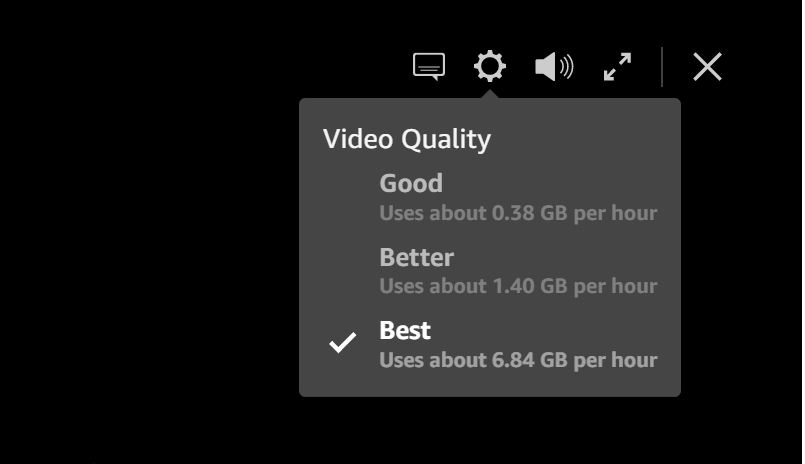 How to Change Prime Video Stream Quality on Android App
1. Find and open the Prime Video application on your phone, whether it's an Android or iPhone. On an Android phone, it's easier to search for an app on the play store and download it, always ensure you updated the app.
2. Once logged in, double-check if you're using a cellular network as it limits your video quality. If you notice something like this, then you can connect your phone to the WiFi network, then what happens is usually your prime video will stream over WiFi at the highest available video quality. Apart from this, check on your mobile that the mobile data saver and battery saver features are not turned on. Those two features also limit the internet and background usage allowance.
3. After connecting WiFi to your phone stream videos in full HD quality when you follow these steps. Open your Prime Video application, there will be an option of My Staff on the right side from the bottom, you have to click on that icon. A setting icon will appear on the top right side of the phone screen, click on it.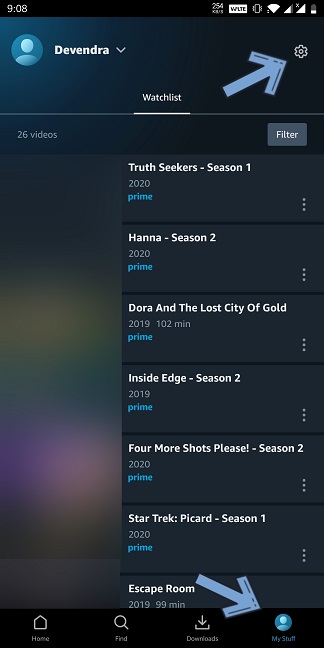 4. Click on the Stream & Download Option then go to Streaming quality settings. Now notice the option is tested on the Android app running on Android version 10 and Android version 11 and depending on the prime app version it may be slightly different for you.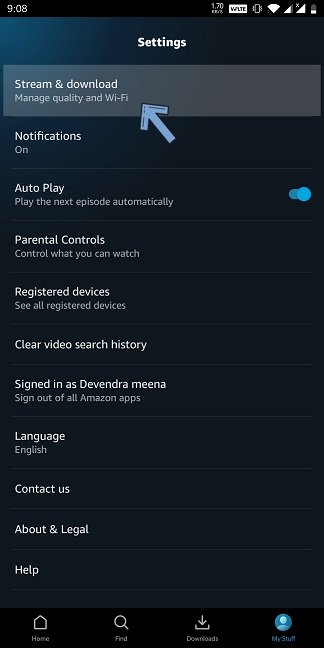 5. Amazon currently offers three options for defining streaming quality on its platform, but now an additional option is known as "data saving" will be available on mobile devices. You may want to select the "Best" option and tick the option that says "Use High quality on Wi-Fi" this ensures this will ensure that if you are connected to a cellular network Prime video will try to load the best quality as possible and when you are on Wi-Fi it will automatically stream in the highest quality possible.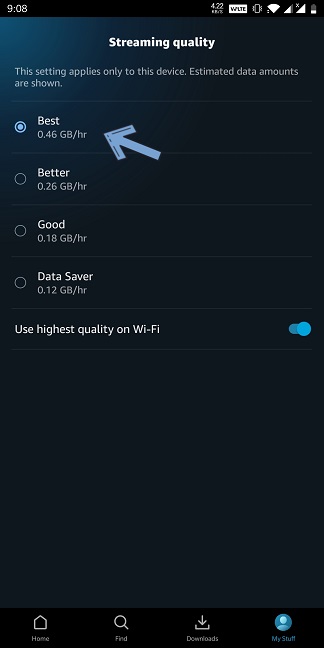 How to Change Amazon Prime Video Quality on TV
Sometimes you want to change your video quality to have a very immense video experience. Many times it may happen that you want to do this to control your internet data usage. You have video quality options on Android and desktop devices while all smart TV and OTT boxes don't have this option. The only way to ensure higher quality videos is to have a good internet connection, Prime Video recommends 5Mbps for constant HD content and if it determines the speed is lower it changes the quality to Standard definition.
Change Amazon Prime TV app Video Quality there are multiple ways to change the video clarity on a TV. Please read all the points to double-check or to be on the safe side.
If your SmartTv is running on Android, there might be an update pending you can install it from the Device's about > Update section.
Clear cache or re-install the Prime Video App on your TV. you can also try to see if there is an update to the Prime Video App.
Open Prime Video app, since there is no inbuilt option to change video quality on a TV you can try casting from your phone.
Open your prime video app from phon.
You'll see a cast button at the right bottom corner, cast it on to your Smart/Android TV.
(On phone) There you find a settings button which can be used to limit the data usage ranging from small to medium or high. Works decent and well.
How to change amazon prime to SD
To save bandwidth you can lower prime video quality easily on Browser and Mobile app but on TV you can go to the routers setting and set a control limit to force Amazon Prime to play Standerd Quality insted of High Quality.
Login to your router settings page, usually 198.168.0.1 or 192.168.1.1
Enter username and password, you can reset the router to change login credentials back to default.
Go to QOS packets settings and apply a limit.
Some troubleshooting
A. Did you mess up Prime Video settings? There are other things that can prevent good-quality videos, double-check your account settings if you're limiting resources to save bandwidth. If you believe you or someone else did mess up your account you can try checking every option in the streaming setting and reverting them banc to their default state.
B. When you watch Amazon Prime Video on your TV using a Display port/HDMI cable utilizing a laptop, check that you are using a good quality HDMI cable. If your HDMI cables have some adapters (such as VGA to HDMI, or type C to HDMI) you probably need a good quality single video cable. For example, buy a single Type C to HDMI rather than combining HDMI with adapters.
C. When using multiple monitors, keep only one screen active and turn off every other screen temporarily. You might want to try closing the app, setting only one primary monitor and then opening the app. Give a title a few seconds as playback starts from SD > HD > HD 1080P 💻.
Fix bad Video Quality issues with Amazon Prime Video
There's a good chance that you have selected a high-quality video option on Amazon Prime Video and you're still not seeing a good quality, It's likely that you have selected a high quality level on Amazon Prime Video, but you're still seeing awful quality you can try following these helpful pointers given below.
Stop using any outdated browser and Prime Video app, Old browsers don't usually support the latest technology, so if you're running Windows 7 or god knows any cranky Linux OS, use a popular browser and get it updated. Get an adequate Internet connection for yourself: a very common problem, so for this, you will have to check your internet speed. You can check your internet speed by going to fast.com or okala speed test website. Ensure you're getting at least 25 Mbps to watch a 1080p video without interruption. Sometimes if used an older or very cheap HDMI cable, the higher quality is automatically blocked. FHD streaming required a good standard HDMI cable version. When you switch between two displays while playing Prime Video, you get this problem, you may refresh after you change the switch to a secondary display or vice versa.
Ending words
Prime Video is available on the majority of platforms and the subscription is bundled with Amazon Prime. It's cheap than Netflix and brings more features like Amazon's fast delivery, Music, Photos, and gaming. This article should fix all your issues related to video quality while watching Prime Video shows and movies. if you happen to have a friend with similar issues, send them this article. Streaming devices MI Box, Airtel InternetTV, other streaming Box have options to set Amazon Prime Video quality from the app setting. SmartTV are good for watching movies and series, we've tested PrimeVideo 4k on a 55″ Oneplus TV and it worked really well. On other TVs, such as Sony and Samsung go to the home screen select the Amazon Prime app, and then visit Settings, further select Streaming option, and Video Quality settings.