Looking for the best online music streaming sites? Look no further! Our comprehensive list showcases the top 25 platforms that will satisfy your musical cravings. Whether you're a fan of popular artists like Bebe Rexha or seeking a diverse selection of songs, these websites have got you covered.
With user-friendly interfaces and a plethora of features, these sites offer an immersive music experience. Sign up to unlock exclusive benefits, such as creating personalized playlists and accessing various settings. While occasional advertisements may appear, they don't detract from the overall quality.
Explore an extensive library of thousands of music tracks and enjoy a wide range of expert-curated stations. Additionally, indulge in radio shows dedicated to sports, comedy, and hosted music programs. Free users can even create their own radio stations, ensuring a tailored listening experience.
Don't miss out on this opportunity to delve into the world of online music streaming. Get ready to discover your new favorite songs and artists with our top 25 selections.
Music streaming sites Of All time
Here is a list of the best music streaming sites, so you can listen to new or your favorite songs, peacefully. No sign-up, a subscription plan is required, however, some of them have premium plans to get extra functions. Most of the mentions are of free music streaming sites and a few of them are subscription-based or pay-per-track streaming music sites. And you can listen to songs on the Web, on your mobile phone, or even in your car's music system.
Saavn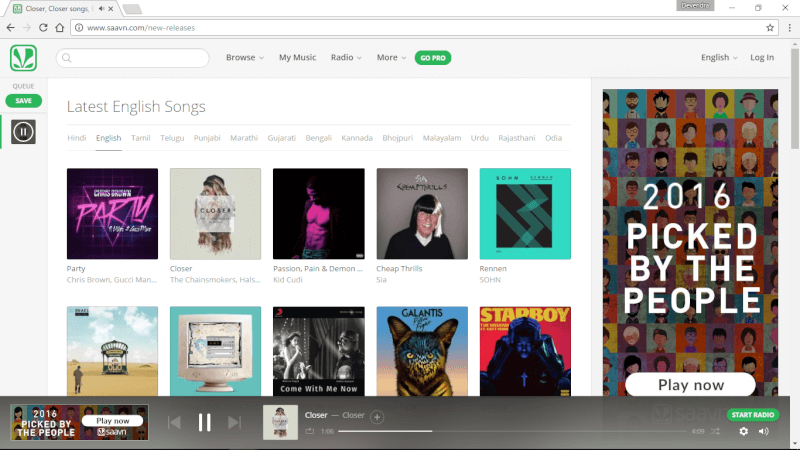 Saavn is not just for Indian users or Bollywood lovers—it's more than that. You can also listen to Hollywood tracks, download them, loop them. You can change the bitrate according to your internet connection speed. On the web, you can only listen up to 128Kbps, but in a mobile app, you can go up to 320, crystal clear sound. But seriously even in the 128kbps, the sound is just near amazing and pretty much enough. I've compared the same song on Saavn and Gaana, found out Saavn's quality is far much better. Pro-features requires a paid subscription to get all features such as 320 kbps streaming, downloading songs, being ad-free, unlock Saavn's original content and appreciate the amazing service. One unique feature is the "Radio" which is not an actual radio station instead suppose you search for "Bebe Rexha" and click the radio button, this plays all songs of the singer automatically, one after one, and you can get back to work. Saavn is available on Android, IOS, and Windows.
Boozooo → Saavn
---
Google Play Music is now Youtube Music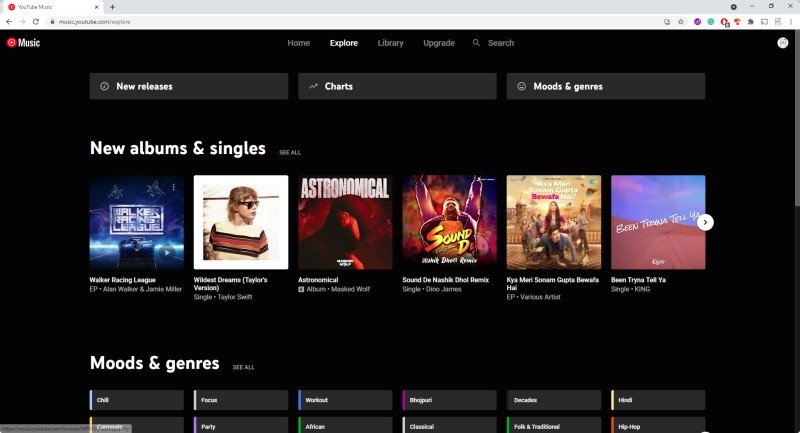 The product is from Youtube, which makes this a better alternative to any music streaming site, the music catalog is really big, bigger, and better. Better bit rate.
This is a tricky one, but let me ease this out for you. With the standard use or say free, you can upload your music, which means your collection of songs and listen to them on a Mobile. You can purchase songs from the Store, which is again a Humungousaur kind of ocean for music, use the search option to find the song you're looking to, or check new releases to find some more. You'll need to attach a CC/DC in order to get all the functionality, this is because the copyright law varies in each country. The service is available on the Web, Android IOS, and other mobile platforms.
Boozooo → Youtube Music
---
Microsoft Groove Music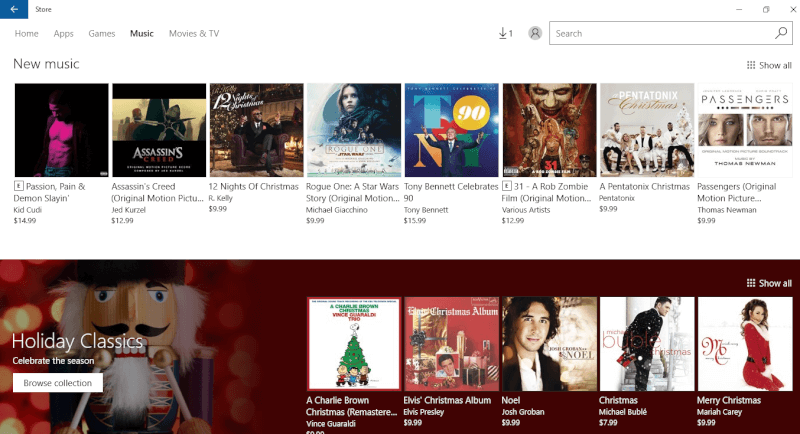 Microsoft's attempt at music, there are no counts to the songs available there. You can just search for a song and listen to it, as this is a legal store, new releases come fast to it. Well like the Itunes, all the songs are paid and you've to use your debit or Credit card to make a purchase. If you're looking for a simple free media streaming app, skip this one. This is not a website, an app that is built-in in Windows 10. Though, you can access the Music store from your browser and listen to a segment of any song for free.
---
Slacker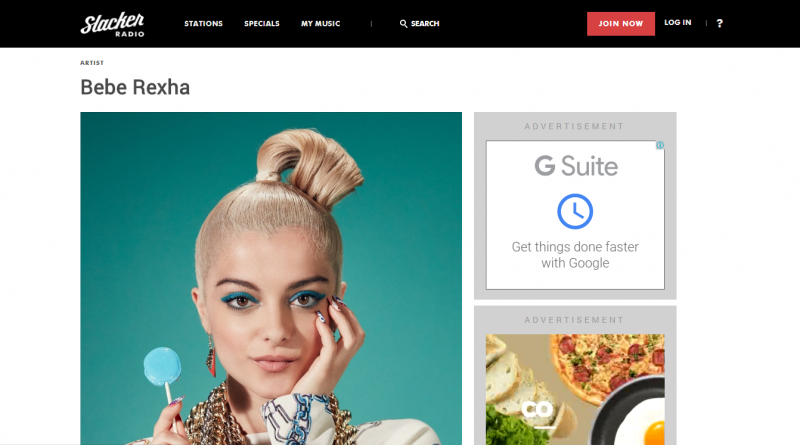 This is a great music streaming website, but it's only available in the US and Canada. I just wanted to mention that I really love Bebe Rexha, even though it's not related to this article. Besides Bebe Rexha, this website has a wide selection of songs. If you sign up, you can enjoy additional features like creating playlists and accessing various settings. However, there will be some advertisements, but that's okay. You'll have access to thousands of music tracks and a variety of expert-created stations, as well as radio shows for sports, comedy, and music. Free users can create their own radio stations and listen to them, but they can only skip up to six tracks per hour. Hopefully, you won't reach that limit, right?
The paid plan has some amazing features such as an ad-free experience, offline saving, no limit of skips, and custom playlists and frankly, I'm out of ideas.
Ohh baby Slacker // Bebe Rexha
---
Tidal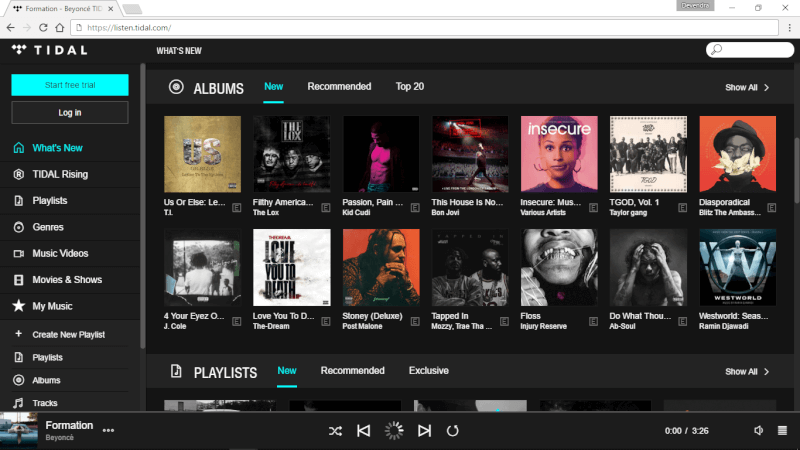 To start, go to the website and look for artists or songs you like. You can listen to the songs and watch videos, but to watch the videos or choose your preferred settings, you'll need to create an account. The website's design is simple and nice to look at. You can also use the navigation buttons to move between the songs you've played. Without signing in, you won't be able to control the music quality or make a playlist. The website has a pleasing dark background and doesn't have any distractions.
Watch out Tidal
---
MixCloud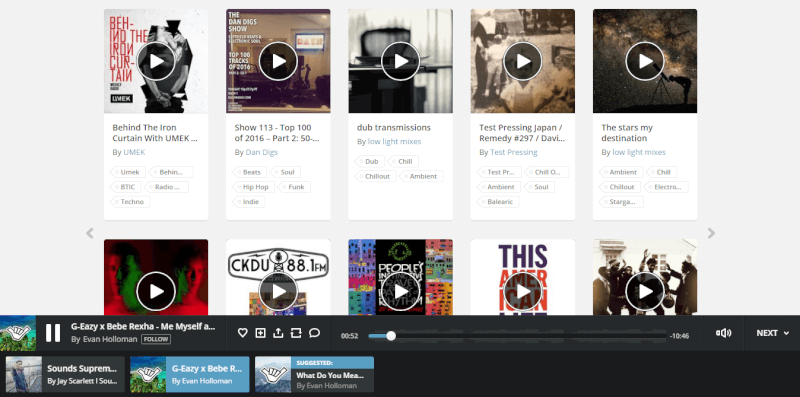 A different music streaming site, let's say a remix-music streaming website. You can found remixes and user-created music on this website. of course, you won't get original tracks here, but again they have got so many categories and tons of music tracks. The interface reminds me of the Google-style websites, they are simple and easy to navigate. So even a 5-year kid can listen to music, well, why would a kid jump and do this? anyway.
Listen to MixCloud
---
Paid music streaming sites
Here are some music streaming sites, if you're not in the mood to listen to a specific song, surprise yourself and listen to music according to your mood. Yes, set a mood like "romantic" and dive in.
The Best Grooveshark Alternative
---
Amazon music
Amazon music a new ad-free and on-demand music service come along with Amazon Prime membership. As they have stated, they have more than 2 million songs (6 zeros). You can either select playlists created by experts or make your own. It has skip and offline ability which is great if your concern is that. What's more, it comes with the famous 2-days shipping (Amazon shopping) and the ability to stream TV series and movies. The echo plan is priced at $3.99 a month and 3 other plans to shift from any other streaming service to Amazon music.
JanGO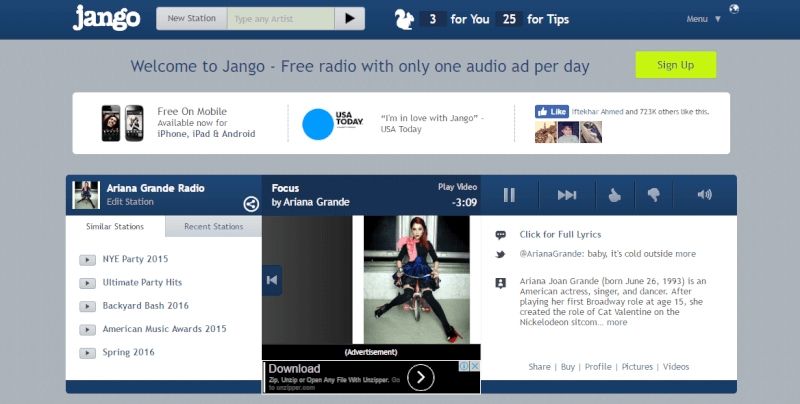 Simple yet useful free audio listening website, where you can listen to songs, upvote, or downvote them. It has many stations, for god sake, you can skip songs. Also available on iPhone and Android. The right sidebar contains useful links to the playing song, such as lyrics, buy and view the artist's profile.
---
Last.fm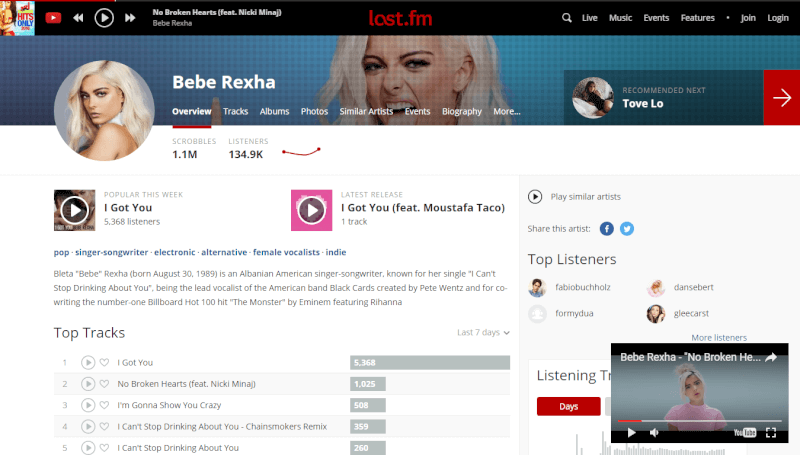 Yes, once again Bebe rexha <3, is it okay to mention her multiple time? last.FM is one nig shark in the music industry, and you can directly listen to music or tracks, and the music player UI (at the top) is hardwired with the Youtube, so instead of playing just a music track, you kind of listening (watching) from the Youtube. Other than that there are much more, that I can't sum up at this time.
Visit Last.fm
Artist: Bebe Rexha <"3_e"> / Facebook / Instagram
---
So that everything you need to take out your headphone (or EarBuds) quiet the world and enjoy the music, for now, forever. Do you mind take a step back and say something about Bebe Rexha, oh come on man? She helped me writing the post and taking screenshots. Apart from that, above listed free music streaming sites should be enough to find the one you can spend hours listening to music.
Do you know more free music sites or online streaming apps? Feel free to mention them below.