The Opera team came up with a brand new web browser concept last week "Opera Neon Browser," while it's the 3rd Web browser from Opera. The first one is obviously Opera itself, other Vivaldi and third is the new browser called Neon Browser, which dumped the old-style tabs and introduced astonishing bubble-style tabs. Since it's powered by Blink Engine, browsing on it feels really smooth. And I mean that.
Also see: Best Browsers For Windows 10
However, the MAC version looks more elegant compared to the Windows version. Both editions automatically set the Windows home screen wallpaper as browser background wallpaper, and it looks good by the way. It turns out the experience is lucid, and it does feel really fast, thanks to the Blink engine that powers the browser. It's a first attempt turn tabs into bubble style, and it comes with screen snap feature that comes handy to capture things from the web and send share it to anywhere by drag and drop.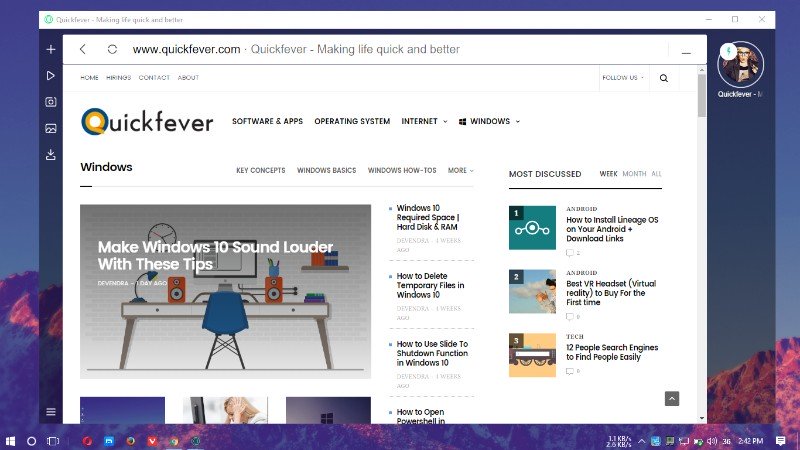 Though, the official website provides a live installer, which will require around 40 MB of internet bandwidth to fetch files from Opera server before it starts installing on your computer. The online installer works fine, just if you wanted offline links of the Neon Browser here you go.
---
If you liked the concept than with the standalone installer you can install it on several computers quickly. Moreover, some of the features could make their place in the future version of Opera Browser. Besides, there is no Linux version out there, and not the Company intends to make one. At this time Neon Browser doesn't support chrome extensions and Google Voice API, but we are uncertain that we'll get an update having such features.
PS: If you're wondering how the Windows Taskbar can be totally transparent, check out this guide.