If you're using any of the latest Windows 10 version, there is no need to use a third party ISO Mount software in order to mount an ISO image file. Mounting an Image is just like as if there is an optical drive, but since there will be no optical disc, mount simply create a virtual CD/DVD drive so you can access the files. However, mounting does not support all kind of ISO file and more Complex system images you might need an actual ISO mounting software in order to Mount and create virtual drive on your Windows 10 computer.
Since we are here you may find this article helpful, download Windows 10 1803 version ISO and install guide. So that way you can ensure you are running on the latest Windows 10.
How to mount ISO in Windows 10
Off that chance, if you don't know about this building option in Windows 10 to Mount ISO images and other image files. You can right click on the file you want to Mount on a virtual drive and select the first option that says "Mount". This will create a virtual drive that you can access under my computer/My PC as if it is a real DVD drive.
Best ISO mounting Software Free
If you are still using the old operating systems like Windows XP or anything older than Windows 7 and Windows 7 itself. You can use any of these free ISO mounting software for Microsoft Windows. Most of the operating system that you download from the internet is in ISO or other system image format, so when you download an ISO file (can be a game image or operating system) you can extract them and copy the files and paste them anywhere you need.
These are the known ISO mounting software that are free (some are even open-source) and quickly enables virtual drive and mount an image file.
01. Virtual CD-ROM Control Panel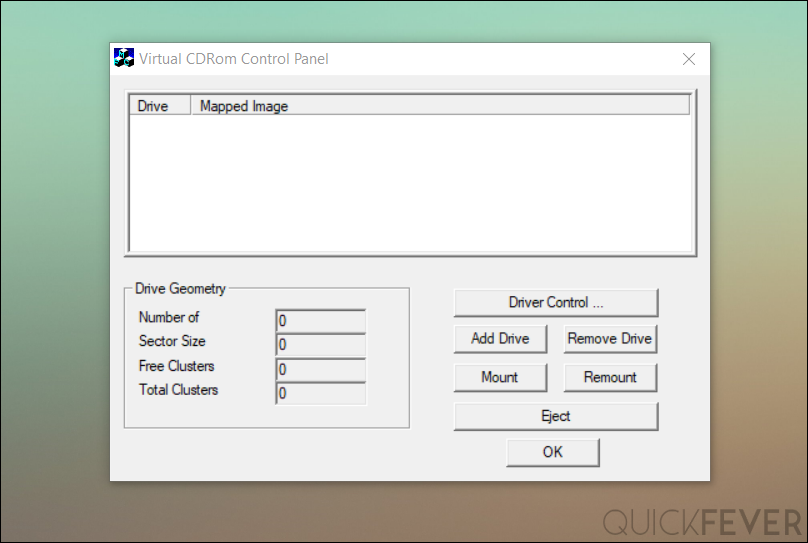 Features: Mount ISO file.
This utility enables users of Windows XP, Windows Vista, and Windows 7 to mount ISO disk image files as virtual CD-ROM drives.
This tiny little program is released by Microsoft back those days when Windows 7 and XP was so popular (they are still) to create a virtual drive so that you can easily Mount any ISO file in a virtual drive that you can access. But one thing that you need to know if this is an old app and is no longer supported by Microsoft that is because it has been so many years and Microsoft is solely focused on Windows 10 right now, and yes Windows 10 is great you should use it even if you have to upgrade your hardware. But if you are using Windows 8 or Windows 10 you don't need this utility as both versions of Microsoft Windows supports ISO out of the box, so you need to simply right click on that ISO image and select Mount and it will assign a drive letter and create a virtual drive that you can access under my computer (MY PC in W10).
Features: Mount, Extract, Edit, Make ISO, Bootable and more.
More than an ISO mounter.
The program this program is simply the beautiful creation no matter what if you are dealing with ISO file this is a must-have for you. Apart from mounting an ISO file it can extract that ISO file extract an operating system image file create an ISO file from extracted operating system file make bootable ISO file but ISO file to DVD. It had features more than anything and even features that you need but didn't know it was possible.
Some operating system needs additional drivers to run on different hardware; you can add specific hardware using this tool. The procedure is to open the image file inside the tool, extract it, add the driver you need to load when setup starts and you're good to go. One application of this tool is to adding vultr drivers to a Windows operating system image file so you can upload the image to run a Windows instance on the vultr cloud server.
So when you install this software you need to the right click on an ISO file select the power ISO option and then from there mount it in a virtual drive. The option in context menu should read "Mount image to Drive $.$"
Features: Mount, Create ISO from DVD. Lightweight 2 MB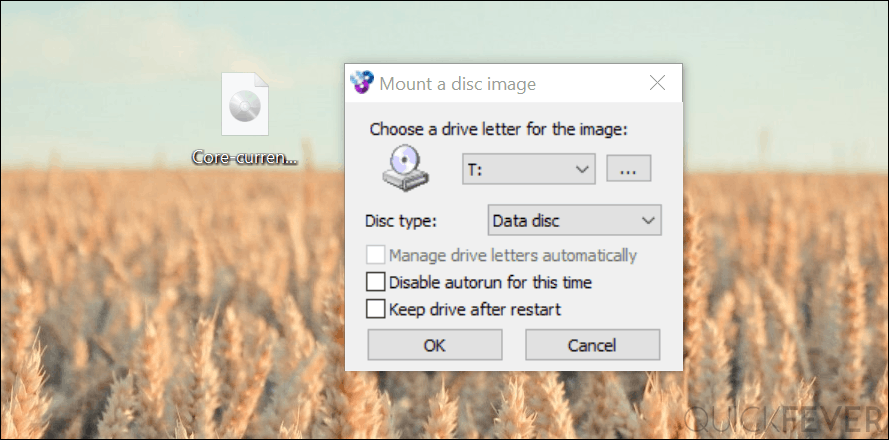 It's the best virtual drive software if you take a look at the size of the program. It's somewhat 2MB software that also has a portable version if you need.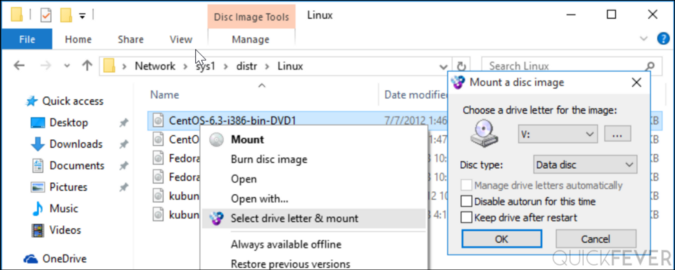 WinCDEmu (Windows CD Emulator) is an open-source CD, DVD, Blue-ray emulator — A tiny but powerful tool to mount optical disc images by clicking them from the context menu. That way you don't need to burn an optical image (ISO, IMG) to a blank DVD to access the data. Mount the image as if it's running from a DVD.
Apart from the ISO this also supports CUE, NRG, MDS/MDF, CCD, IMG images. That way you can make an unlimited number of virtual drives. The software works on Windows XP to the all the way latest Windows 10.
You can also create ISO image the context menu in Windows Explorer. The software runs on both 32bit and 64 bit Windows architecture. When you mount an image, it will occupy a drive letter of your choice, and when you are not using the software, the drive letter simply won't be used.
04. Deamon Lite
Deamon Lite is another tool free tool that you can use to mount a virtual drive on your Windows 10 computer. Apart from images, you can also Mount virtual hard disk image (VHD). The process of downloading this software's free version is a bit cliche. First they pop-up the pro version and gives you a live installer that further asks you to purchase the pro version. And yes there will be ads in the free version of the software. And yes the software tries to install 3rd party software on your computer during the installation. That's one of the reasons I didn't bother to install it and take a screenshot. It's a big software that will take around 80MB storage on your computer just for making the virtual drive? Even a 2MB software can get this done for you!
This is a story that some app developer follows when their app goes popular, so they provide stuffed free version to make money. Example the popular Android file manager ES file manager is gone very dark, with lots of AD and malware that you simply cannot put away. That is why most of the popular Android blogs made solid browser their favorite.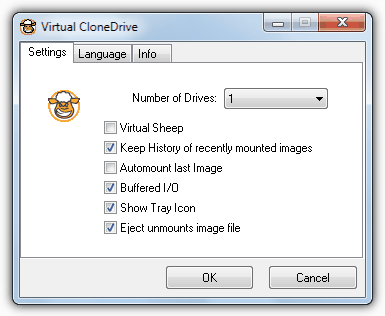 The concept behind this tool is so simple; you just focus on mounting image. This doesn't do any sort of things, including burning or creating ISO file that other software may have. Using the tool is from the tray icon or right-clicking and selecting the option, that is again like the rest of the software offer. You can run this on Windows from Windows 98 to Windows 8.1, it works on windows 10 just fine.
Bb
Get Data is a software development company that has launched Mount Image Pro (version — 6). It is a computer forensic tool which enables us to mount an image for forensic purpose.
This does mount ISO file into virtual drive but the catch here it'd be read only–so that you can not make changes to the mounted files. Like the other software this works when you open ISO image files using this tool, it will mount the image file in a virtual drive and assign a drive latter automatically. You can create many virtual drive instance and can remove them when you no longer need them.
(How to) Remove a Virtual Drive.
The first part is simple, but now in order to remove a mounted ISO image (virtual drive), you need to open my computer. Right-click on the virtual drive and select Eject from the context menu.
What's is ISO? (Citation from Wikipedia)
An ISO image is an archive file of an optical disc, a type of disk image composed of the data contents from every written sector on an optical disc, including the optical disc file system.[1] ISO image files usually have a file extension of .iso. The name ISO is taken from the ISO 9660 file system used with CD-ROM media, but what is known as an ISO image might also contain a UDF (ISO/IEC 13346) file system (commonly used by DVDs and Blu-ray Discs).
ISO images can be created from optical discs by disk imaging software, or from a collection of files by optical disc authoring software, or from a different disk image file by means of conversion. Software distributed on bootable discs is often available for download in ISO image format. And like any other ISO image, it may be written to an optical disc such as CD or DVD.
If you're dealing with ISO files a lot, you'll need powerful software for many tasks. Like you may need to change or modify files inside an ISO image. Sometimes its.
So what's the best ISO mounting software (free)?
WinCDEmu — Is our pick. The tiny, lightweight software help you mount ISO on no matter which Windows you're using. It could be the Windows XP, the still popular Windows 7 and the all the way latest Windows 10. The tool automatically chooses a drive latter (that you can override). So after installing this software, you do right-click on an ISO file select "Select drive latter and Mount" next find the virtual drive in "My computer" or "My PC."
Which is better? Creating ISO with install.wim or install.esd
So take this example, the UUP files size is 2.5 GB
Creating install.wim