All three four variant of the iPhone 13 series have a lot to offer, while the iPhone 13 Pro and Pro Max stands out in terms of screen size and battery capacity yet they are similar to iPhone 12 in design, the iPhone 13 series is the first to get 120Hz screen display from Apple. In this post we aim only to cover what could have been better in iPhone 13 series (including base, mini, Pro, and Pro Max), be assured that we like iPhone as everyone else does, it just we are more interested to see what Apple could do better next year.
1. Notch in 2021?
While the majority of companies shifted to notch-less and punch-hole camera setup layout, iPhone still uses a notch for the Face ID and other sensors.

2. Rear-camera setup
The 13 base and Mini variant have those two uneven camera modules at the back which may leave anyone thinking in which direction Apple product designers are working.

3. 120Hz display is not on every iPhone 13
Similar to the below the grade camera setup, the two lower model doesn't support 120Hz display with TruMotion technology.
4. Weight and Price
iPhone 13 Pro Max, iPhone 13 Pro, and iPhone 13 weights respectively 238 grams, 203 grams, and 173 grams. While the Mini weighs merely 140 grams. On the bright side, you get better battery backup on the 12 Pro Max.
Someone who is an Apple customer and thinking to upgrade to the new iPhone 13 (or other) for what? absolutely nothing but a better crisp TruMotion 120Hz display and few additional tweaks for what? extra dent on your pocket! for doing the exact same work you were doing on an older iPhone. while it's not a big surprise that people already started pre-ordering the iPhone 13 (Pro and Pro Max) that will surely melt your pocket unless you have lots of fortune to spend each time Apple announces a new phone.
5. RAM and battery hardware
The iPhone 13 has a 3240mAh Li-Ion battery which can easily run out in less than 8 hours. Coupled with just 4GB of RAM which is quite a pinch of salt as having more RAM is not what it used to be 10 years ago. if you plan to buy series 13, perhaps go with the Pro and the Max Pro variant, even if it makes a big hole in your pocket.
Battery backup for all iPhone 13 series smartphones.
iPhone 13 Mini: 6h 25m
iPhone 13: 7h 45m
iPhone 13 Pro: 8h 15m
iPhone 13 Pro Max: 10h
*Life drain test by mrwhosetheboss.
iPhone 13 (being the base model) have 3200mAh battery which lasted about 7 hours when used continuously. The phone is bonded with a powerful A15 chip which is quite good than the previous generation A14 chip.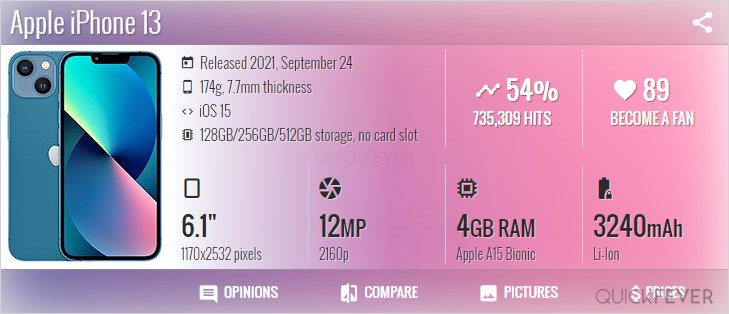 Only the Pro Max comes with enough battery to give you a whole day of battery backup that will last about 10 hours when used constantly.

---
Other Cons of the iPhone 13 series.
6. Lightning cable need to go
No Type-C charging port and you're still stuck with a lightning cable, According to a piece of recent news EU proposed mandatory type-c on all devices and will give 2 years' time.
7. A15 chip? why not M1
8. it looks rebranded
9. Still missing the Wow factor
10. Figure out the iPhone marketing gimmick