Today being secure online is not easy because every cyber freak is eager to get your info and use it against you. So what's the best you can do than staying offline? You can change you IP and MAC addresses, but that's not a cool way to get your work done. There are ways to which you can stay cool and remain a bit more secure over the internet. But don't get me twisted. I am not claiming that at the end of the post you will become complete "Anonymous" over the internet. I'm just providing you tips, the ones which can be googled too. But to make it easy for lazy people, here is my list of best VPNs which will let you be a bit more safe over the internet. Maybe safe enough so that any kid won't come between you and your privacy. So my list of Top VPNs goes here. But wait, what is a VPN?
A LITTLE PIECE OF ADVISE: Nothing can let you be invisible over the internet.
What's a VPN?
VPN ( Virtual Private Network) is a way you by which can extend your intranet('intranet' is an another name for LAN) into a public network. For example, you have an office and a LAN network of it. Now, you want a way for your employees to access your Office LAN network from home, so they can 'work from home'! Yes, you will use a VPN. But what do a VPN has to do with being safe? What does a typical office's problem have to do with being safe?
Here's the deal. What if we access the internet through someone else's private (LAN) network? Good idea! That's how a VPN works. And that "Someone" referenced above is your VPN provider. We use VPN to stay safe by accessing the internet from someone else's private network. Now you realize why you can't be safe? You have to trust your VPN provider because you are sending all your information through it (HTTPS wouldn't let your information leak before them). Now you are ready to distinguish between top 7 VPNs out there. Enjoy!
1. Opera Unlimited VPN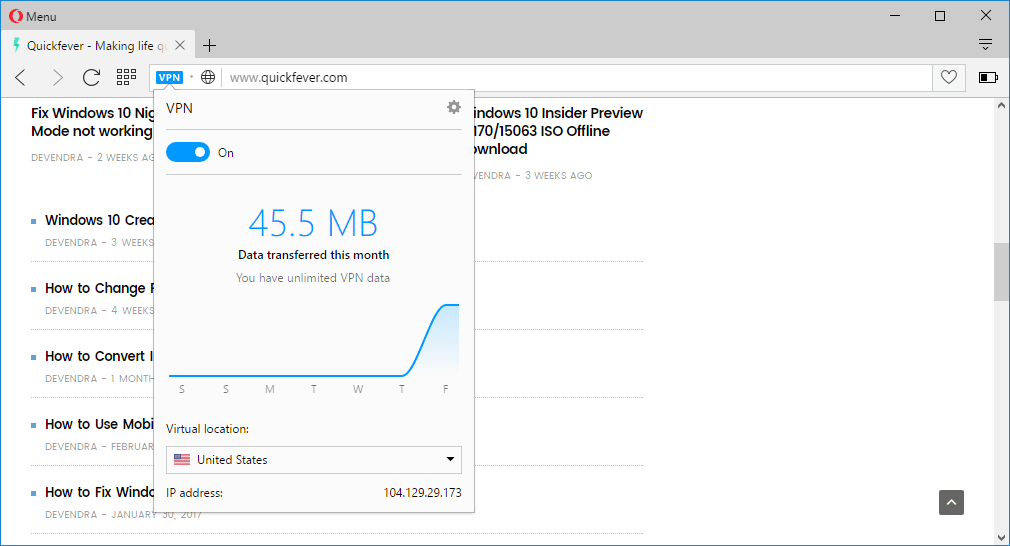 Opera is similar to TOR Browser in working, but it has its own built-in private network from where you can access the internet. This makes things pretty simple and safe. Here you don't need any additional software/extensions for securing your journey over the web. So on a public WiFi, just open your opera browser and enjoy a safe ride. (As long as you trust Opera). Opera VPN is also availabe in mobile app for Android.
2. ProtonVPN
3. Betternet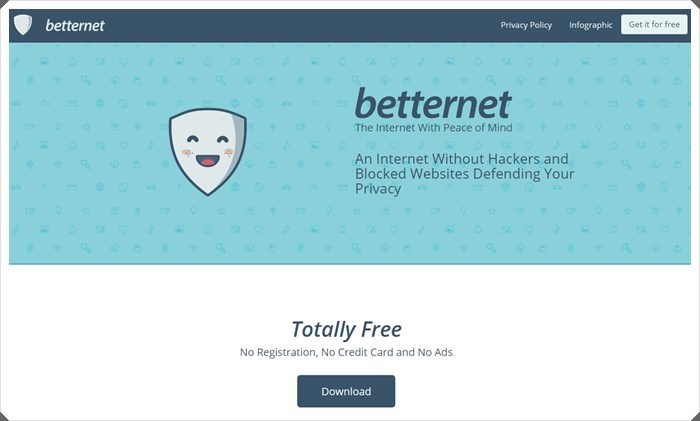 Really simple as a touch. No registration, no fee, simply and purely free. It made the list only because it's fast and simple plus provides fairly same features as other VPN providers. It doesn't make money from showing the annoying ads or logging your info but rather earns money from sponsored Apps that are offered to users. It's purely based on the idea of a free VPN.
4. Hide.me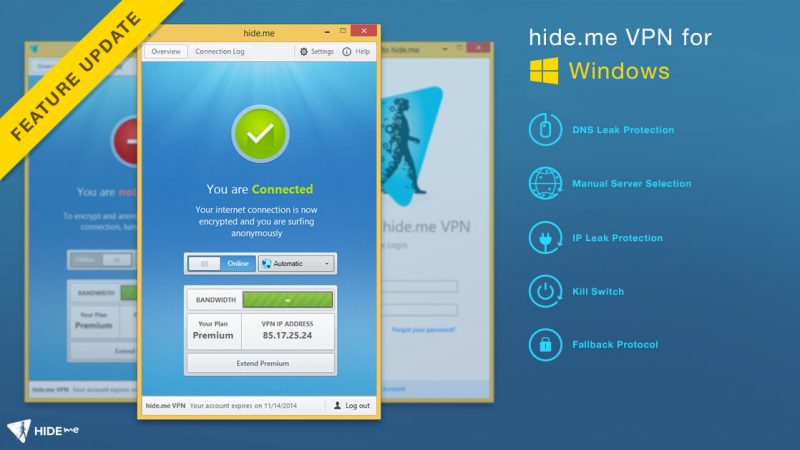 When we talk of VPNs, we should consider Hide.me. It's one of those services that claim that they never log their user's activities. It has one damn awesome feature that it's comparatively faster than most of VPNs. That's why it has over 5 million users. The free version is limited to 3 locations ( Canada, Netherlands, Singapore ), 2 GB data transfer/ month. It is considerable for Home users.
5. Cyberghost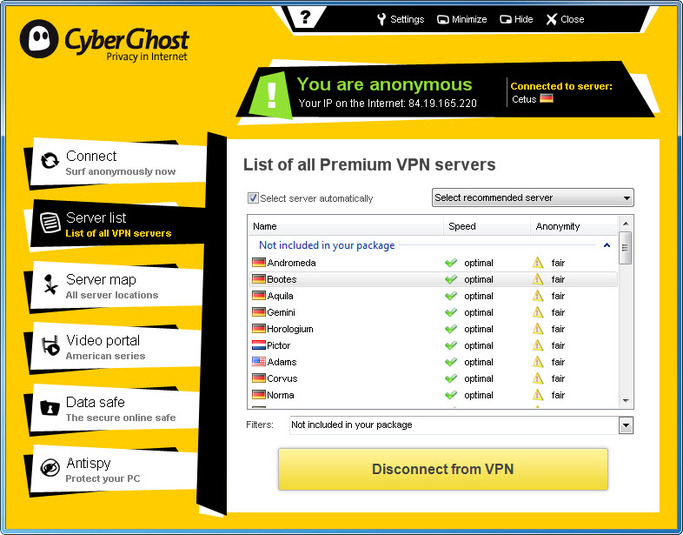 Well, according to CyberGhost- Everything is encrypted, we don't keep logs. It's encrypted with 256-AES bit technology. One feature it overweighs Hide.me is in bandwidth. CyberGhost Provides Unlimited Bandwidth. So can be used for Commercial purposes. Having over 700+ Proxy servers you can be sure that you aren't tailed and access all the restricted anything.
6. Browser Sec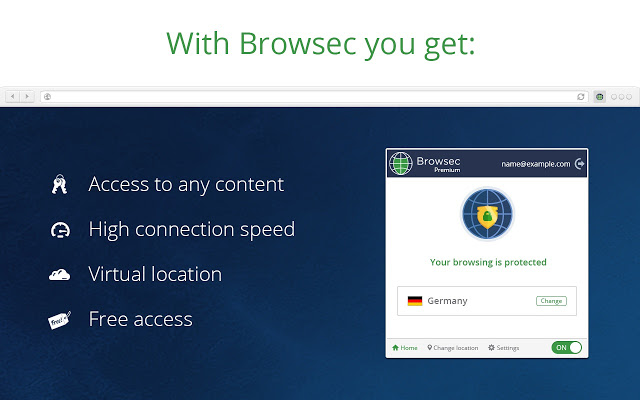 Browser – Your Online Freedom is one of the only providers which has a fair speed of 100 Mbit/s. ( Bits and bytes are 2 different things, 8 Bit= 8 bytes). Having more than more than 3,000,000 Users, it is still one of the world's fastest VPNs. Though Its available for Windows, IOS still not for Android. It's simple GUI makes things fair and simple.
7. Hotspot Shield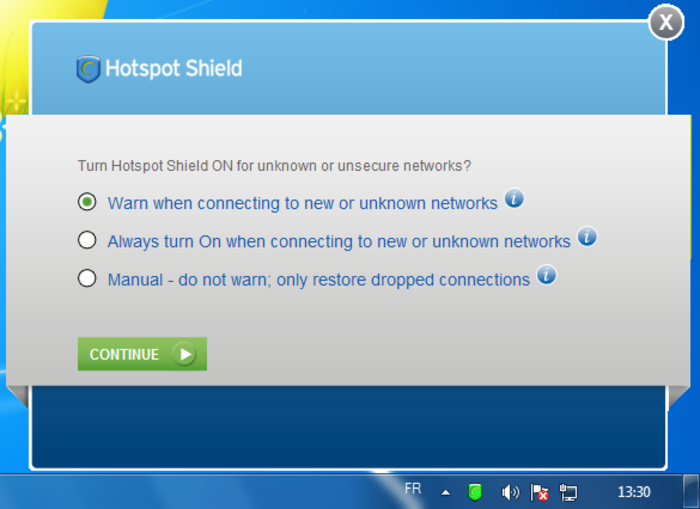 The massive success of Hotspot shield having more than 400 million Downloads, from 200 countries shows its popularity around the globe. It is fair, cause it is based on secure encryption systems. It has shortlisted across 3.5 million malicious, phishing and spam sites so you can be safe from them too. If your work is professional/Office, then Hotspot Shield is the best option.
8. TOR (Actually not a VPN by definition)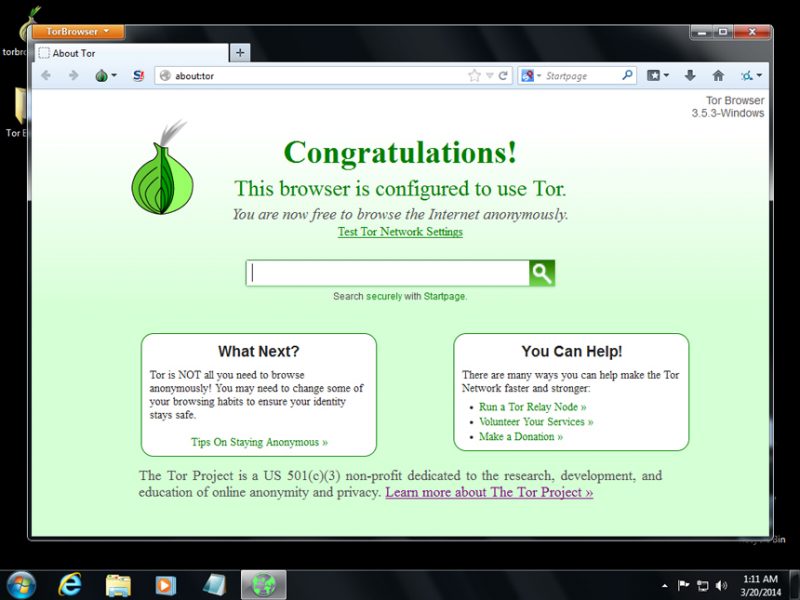 If we simply skip the technicals then Tor 'The Onion Router' is the best option out there. You are bouncing from one distributed network to another which are led by volunteer all around the world. You can securely browse around the internet without fear of being tailed. Use Tor browser on all OS – Windows, Android, Linux, etc. It's the most secure and easy way to browse the internet.
VPNs are not a Guarantee Anonymity
As we have seen already, VPNs cannot be considered as 100% Anonymity because it depends on your VPN provider, if it logs traffic in order to earn money, you can be in trouble. Well, most of top VPNs above don't. They have more than a million of users and can be trusted up to a certain level. Still, you should never let your guard down! In case they log your activity then you will suffer massive loss of privacy. VPNs are not a guaranteed anonymity but up to some extent, they are. After all, it depends on how you use it.
So if some of the VPN providers got unnoticed, you could comment them down. Share the post with your friends and family, help them be safe over the internet!