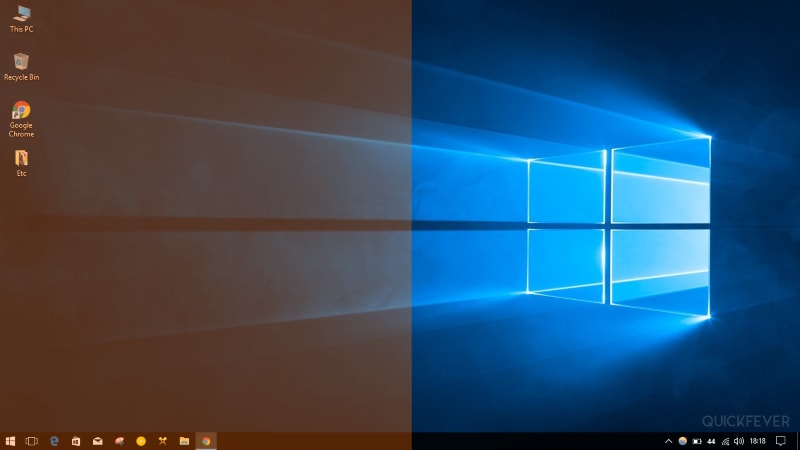 Windows 10 build 1903 Night Mode not working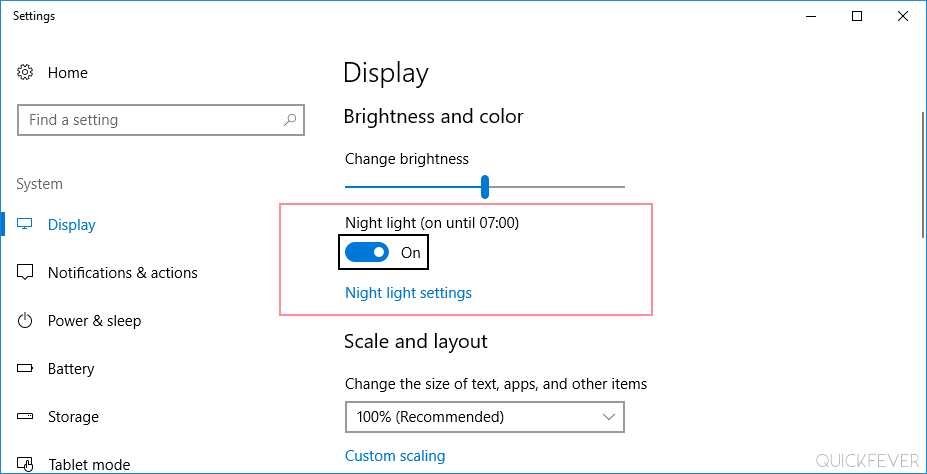 The night light is a fantastic feature for Windows 10 users, it decreases the blue light utilization on your computer screen. So basically it dims the blue light which keeps you awake at night, this feature displays warmer colors that help you sleep well at night.
After the creators update introduced for Windows 10 PC, people can use the night light feature from the action center or from PC setting; also this feature enables night light whenever needed. The automatic synchronization is not working for many users as supposed and read to fix all issues with the Night light.
Some users are facing this problem when they schedule timing for night light mode to activate and turn-off. But the setting works fine as long as your computer stays on if you turn off your computer where between the timing, this feature will remain active regardless of specified and time. Fortunately, when that happens, we can always go to PC setting can manually turn off the night light mode. It might annoy some users who do not put their computer off at night.
Microsoft started rolling out the creator update to most of the Windows 10 users who are hoping to get involved in the all-new operating system.
Fix Windows Night Light Mode
At present, if Night Light is set to turn on by means of a predefined time setting (or nightfall alternative) and the PC is turned totally off a short time later, the mode will stay active and the end time won't affect it.
Night Light mode setting is located Win+I > System > Display.
Also, due to some other issue night light feature might be disabled for your computer, you might see its settings grayed out.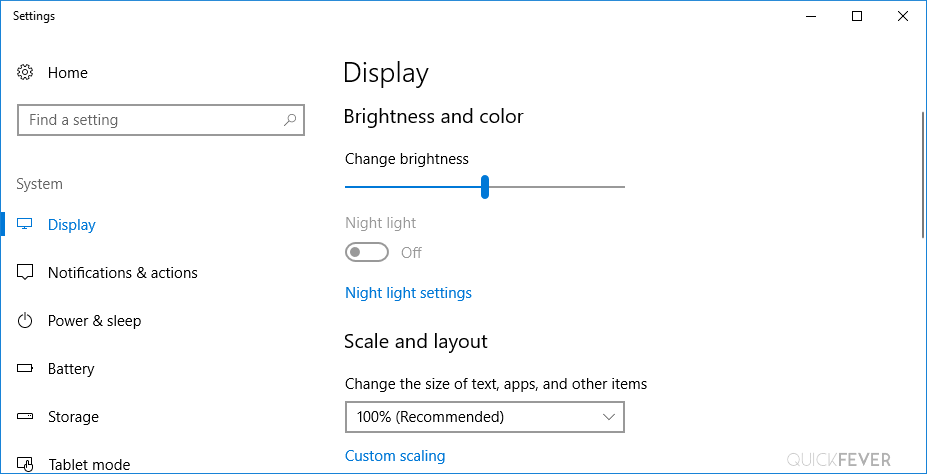 The further night light settings don't work as well.
And from Action center the option is also not accessible.
Restart your Computer and ensure drivers are installed
It is simply pretty straightforward, all you have to make sure Graphics drivers are installed. Just restart your computer and check again if the night light mode works fine or not.
Fix Night Light using Regedit
Press Win + R keys to open Run command. Type Regedit and click on ok. Navigate to this location, you can simply copy and paste.
HKEY_CURRENT_USER\Software\Microsoft\Windows\CurrentVersion\CloudStore\Store\Cache\DefaultAccount
New Windows 10 version user go to this location.
Computer\HKEY_CURRENT_USER\Software\Microsoft\Windows\CurrentVersion\CloudStore\Store\DefaultAccount\Cloud
Now delete these two registries key.
$$windows.data.bluelightreduction.bluelightreductionstate
$$windows.data.bluelightreduction.settings
Restart your computer to take effect.
Setup Night Light Mode in Windows 10
With the Windows 10 Creator update, you can make the night light mode on and off easily with a button which is located in the Action Center. To configure it further you need to get into Windows setting to change the density (right-click on the shortcut icon and select Settings).
[Help] Fix Windows 10 action center not working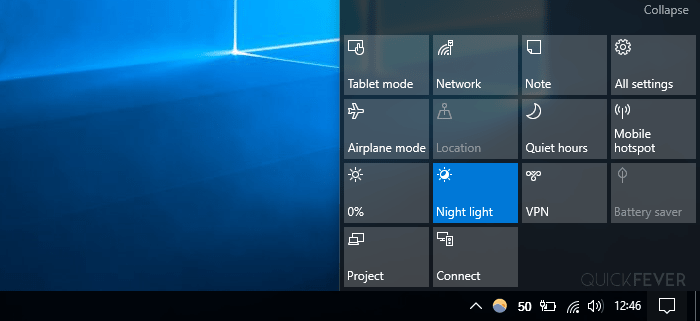 Turning Night Light Mode Manually
Open PC settings > Display > Night Light Settings
Here you can toggle night light on and off.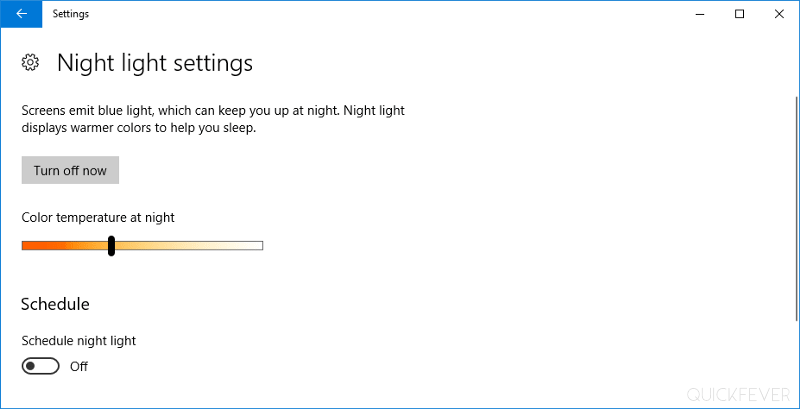 Scheduling Night Light
Beneath the slider to control color temperature, enable the schedule feature and select start time and end time. It will enable the night light mode automatically and turn off at the time you specified.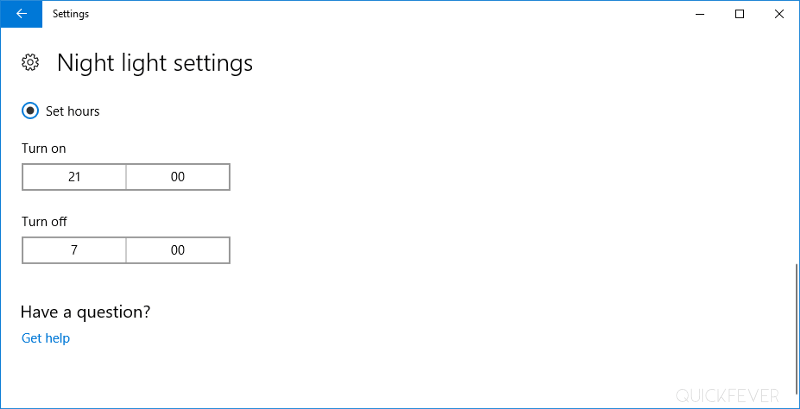 There is an option to schedule night light mode according to sunset and sunrise for any location where you live. For that feature to work, your computer should have location enabled. You can also specify a time to Trigger night light mode automatically.
Use F.lux (3rd party App)
The F.lux is the best app to reduce eyestrain during the day time and help you sleep well at night. So the beta Flux version is much more advanced than the Windows 10 night light mode, try it out.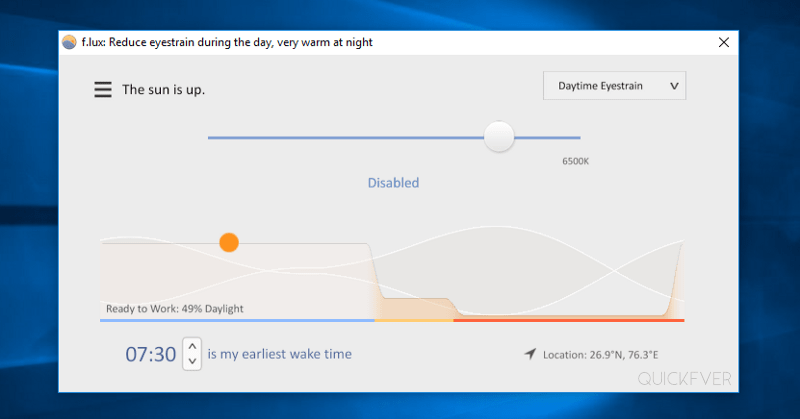 Update graphics drivers
Windows 10 depends on the Internet to download and install graphics Driver according to your computer. So you need to enable Windows update so Windows 10 can determine and install the latest graphics Driver for your computer. To do that manually you can visit your manufacturer's website and download driver for your computer. For example, this is Intel driver site, and this is HP driver website.
You can check your computer's manual to know your exact computer serial number you need to install drivers for the Windows you are using, in this case, it is Windows 10. But most of the time the driver came with your computer purchase gets outdated, downloading through Windows update is the best option.
Do a fresh Windows 10 Install
At this time the stable version of Windows 10 does not contain in night light feature if you want to get the night light feature you can download the latest insider preview ISO file of Windows 10 which is what is the finale Redstone 2 version 15063. You can download the ISO file using direct links (guide).
---
Windows 10 night light feature is a worthy feature to use as well as it will help your eyes by reducing strain and pain. Of course, it is not a way you can rely on, don't stare at the computer screen too much. Go outside, often.