You might want to control your laptop fan speed. Especially in summer when working on your laptop feels like it's transferring heat to your lap. Get me? I mean nobody wants to touch a volcano. Here is an easy workaround for notebooks to control their CPU fan speed.
Why use computer fan controller software: Controlling a laptop's fan is not easy. Most of the time Windows balances temperature, battery, and resource consumption. The problem is worse in thin laptops (ultrabooks) where Windows 10 uses a passive cooling policy when running on battery power. If you can control (increase or decrease) a laptop's fan speed, that'll be good! gasp.
This is where Notebook Fan Control (NBFC) tool appears in handy.
Once installed you Enable the module and select a specific PC model. Now the tools allow you to control the fan's speed ranging from 0 to 100%. You can consider the CPU temperature to increase the Fan speed. Keeping your fan at a higher speed will eat more battery life, but if you don't care you can set the speed to 50-100%. However, that's all up to you. Well if your computer has more than one fan, the tool will detect them as well.
how you can increase fan speed laptop
Let's start by getting this tool and running it on your laptop. The database is last updated in the year 2019 so maybe hard luck for laptops came after this, (however newer laptops come with the latest tech and they often don't get heated).
Download Notebook Fan Control [Github]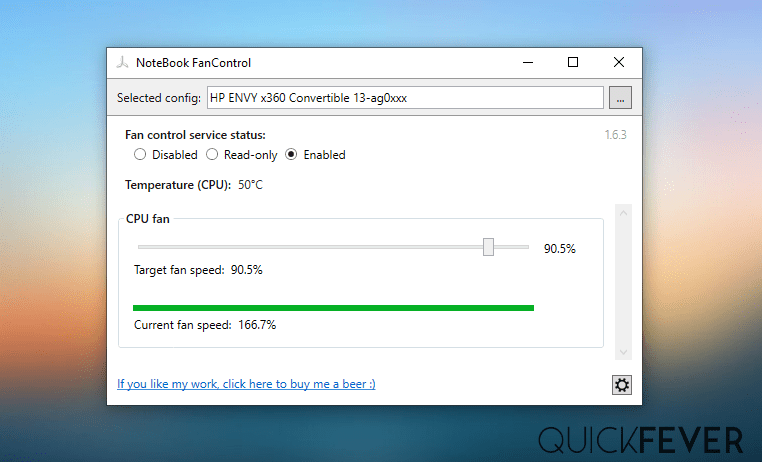 This tool is created by "Grantig" a user on the computer base forums, and it supports many modern notebooks. The range of systems the tool support is comprehensive, but not extensive or universal.
Fan control software: list of supported laptops
Acer Aspire 1410, 1810T, 1810TZ, 1825PTZ, 5738G, 5745G, 5749, 5930, 7735, 7751, 7740/41, E1-522-722, E5-471G, 475G, 575G, 731, LT-10Q
Acer Aspire One AO531h, AO751h, AOA110, AOA150
Acer Aspire S3, S7-191, S7-391, V13, V3-371, V3-571, V5-551, 572.
Asus F5SR, G53SX, Asus K43SD, K43U, K46C, K501LX, K501UX, M52VA, N550JV N551JB
Asus ROG G501JW, G751JL, G751JT, G751JY, G752VS, G752VT, G752VY, G75VX, GL702VM
Asus Zenbook UX410UQ, UX430UA, UX430UQ, UX51VZA, UX530U
Dell Inspiron 7348, 7375
Dell Vostro 3350
Dell XPS M1530
Fujitsu ESPRIMO Mobile V5505
Gateway AOA110, AOA150, LT31
Gigabyte AERO 14KV8
Gigabyte p35w v3
HP Compaq 15-s103tx, 615, 625, 6530b, 6735s Turion X2 RM-72, 8710p, Presario CQ40 Turion X2 RM-74, nw9440
HP ENVY m6 1206dx, m6 Sleekbook, m6-1254eo, x360 Convertible 13-ag0xxx, x360 Convertible 15-cn0xxx
HP EliteBook 2560p, 2570p, 2760p, 8560p, 8560w, 8760w, 1040 G1, 9470m, Folio 9470m_i5-3427u_bios-F.66
HP Laptop 14-cm0xxx, 17-by1xxx, 17-ca1xxx, 15-ba010ng
HP OMEN Notebook PC 15
HP Pavilion 14-v066br, 17-ab240nd, HDX18, dv6 6190, dv6, x360 Convertible 15-br0xx
HP ProBook 430 G1, 440 G3, 450 G1, 4520s, 4530s, 4535s, 4540s, 4710s, 4720s, 5330m, 6455b, 6460b, 6465b, 650 G1, 650 G2, 6550b, 6560b
HP Spectre x360 Convertible 13-ae0xx
HP ZBook 15 G3, ZBook 15, Studio G3,
Lenovo IdeaPad Y580, Ideapad 500S-13ISK, Ideapad 500S-14ISK, Ideapad 510s, Ideapad 710S, Ideapad U160, Ideapad U330p, Ideapad U430p, ThinkPad 13, ThinkPad Edge E520, ThinkPad Helix, ThinkPad L380 Yoga, ThinkPad L390 i7-8565U, ThinkPad T430s, ThinkPad T440s, ThinkPad T540p, ThinkPad x121e, ThinkPad x220i, ThinkPad x230, Thinkpad L530, U31-70, U41-70, V330-IKB(81AX), V580, Yoga 11s, Yoga 13 2191, Yoga 2 13, Yoga 3 14, Yoga 510, Yoga 710
Medion Akoya P6612, P6630
Packard Bell AOA110, AOA150, DOA150, DOTMA, DOTMU, DOTVR46, ENBFT, Easynote TJ65
Sony Vaio SVE1711, SVE1713Y1E, SVF13N190X, SVF14N1C5E, SVT1312M1ES, VPCF12S1E
Toshiba Satellite L740
Toshiba Satellite L745
Vestel Smartboard Series-14XXXX
Xiaomi Mi Book (TM1613, TM1703)
This list is not up-to-date, please check with Github supported list.
Note: The app doesn't come with all the laptop models' XML files so if you can't see your laptop name inside the model select the option in the tool. You need to [go here] and find your laptop model XML file and paste it to the Tools installation directory.
All the configuration files are stored in XML form so you can come up with your file that supports your computer. Only when you're willing to figure out the inner workings of your notebook's embedded controller.
What if your computer is not supported?
There may be other software like SpeedFan which may work on your laptop's fan. I have HP envy 13 (ad128TU) and sadly I couldn't find a proper way to make its fan run at high-speed all the time. but fortunately, you can do a few things.
Enable Active cooling policy
In order to make thin laptops completely silent, there is an approach called passive cooling that takes place. In those laptops, the fan remains off unless a high temperature triggers an active cooling policy.
You can disable passive cooling and enable the Active colling policy, here is how to do that.
Go to Power and Sleep Settings > Advanced power options > Change plan settings > Change advanced power setting > Process and management > System cooling policy
Control Panel\Hardware and Sound\Power Options\Edit Plan Settings
Go to Power & Sleep settings
For that press the Windows key and type it.
Advanced power options
This will take you to advanced settings to power options.
Change plan settings
Let you manage how Windows consume power.
Change advanced power setting
Get into more detailed power options.
Process and management
You will find three settings in this section.
System cooling policy
Set Active for and opt for System cooling policy.