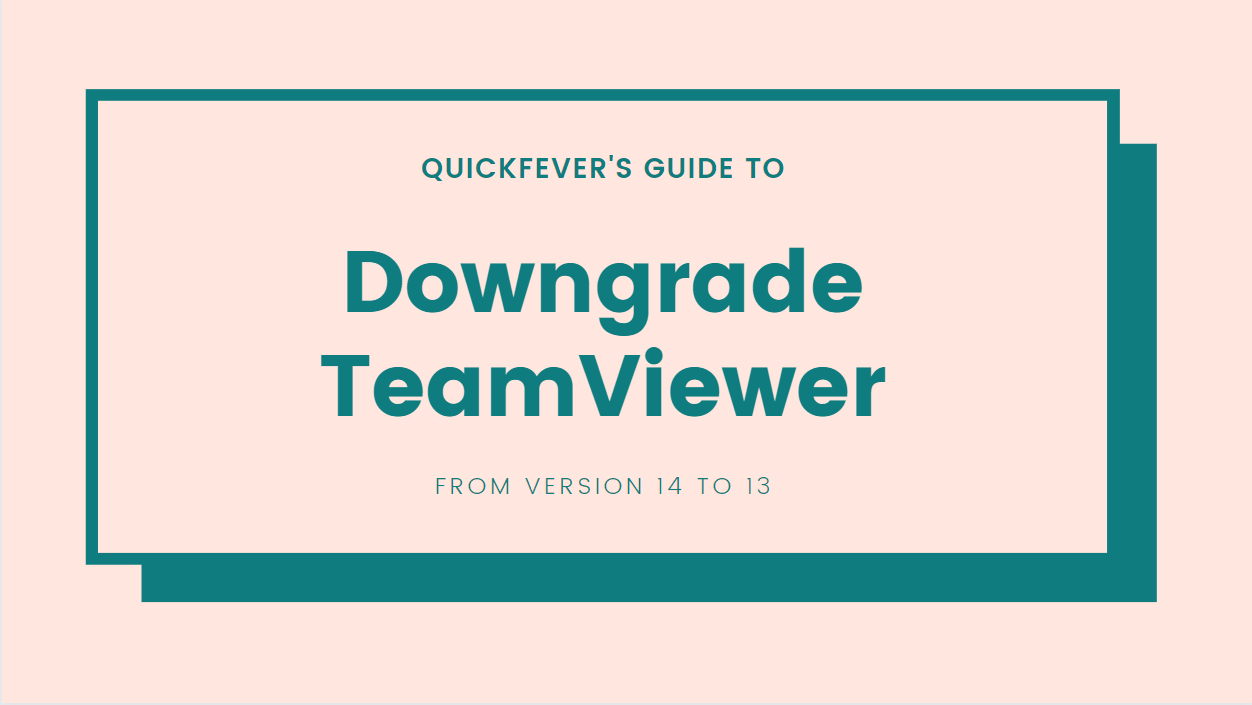 Teamviewer is very helpful when it comes to remote access. Even though lots of remote access tools are available. Teamviewer's usability made it a popular remote access tool. Version 14 of Teamviewer has been released with new features and design. Even, if it is very helpful, it requires same version on the other computer to establish a remote or file access connection. If you want to connect to the computer, in that an older version is Installed (i.e. V 13) You won't be able to make a remote access connection. From the situation, you got two option, either the old version should be upgraded to the same version you have, or you've got to downgrade the version on your computer. I must say instruction someone to upgrade may not be that simple if the other person is not tech savvy. Other reason to downgrade teamviewer is having licence of older version which does not work on newer version.
Downgrade Teamviewer Version From 14 to 13
TeamViewer should be removed in order to install an older version, follow this step by step and in the end your TeamViewer program would be downgraded from version 14 to 13. (or any older).
Step 1. Get an older version
Now get an older Teamviewer version (link), for the demo I have got the Version 14 to replace it with the Version 13. If you need links for MAC or Linux, etc. comment down below, I'll try to fetch links and send to you.
Step 2. Remove Teamviewer 14
Now you've got to uninstall the installed Teamviewer software Because you can not directly replace a newer version by installing an older one. Such, when you do try it will give you the following error.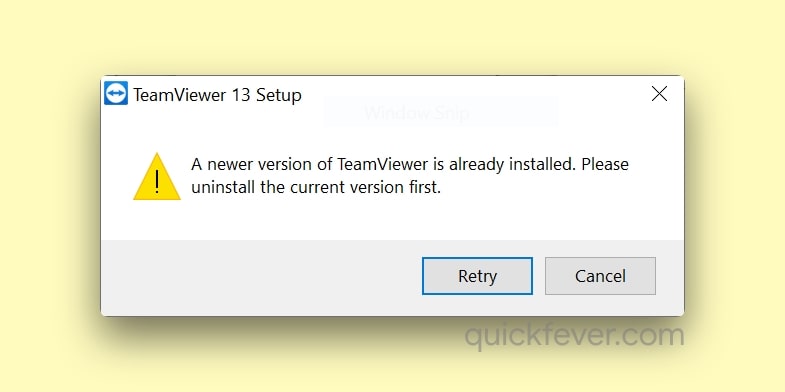 So You have to Uninstall the TeamViewer from Settings
Open computer's settings and navigate to "Remove or Uninstall Programs" or you can just search "Change or remove program" in the search bar to quickly go. When you're in the installed programs setting page, find Teamviewer and right-click and select Uninstall.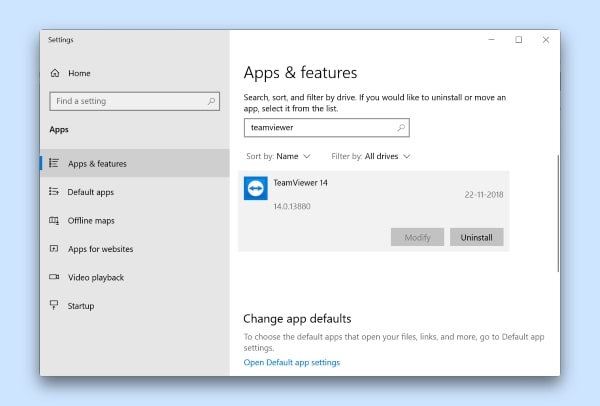 Once you do that, open the older version setup that you downloaded (step 1) and install it. Now you can connect between computers and devices having old Teamviewer version.
Downgrade Teamviewer on MAC
For other platforms such as MAC or Android, you've got to do the same, first, remove the installed version of Teamviewer and then download and install an older version. Here is brief information to uninstall it on different operating systems.
Downgrade Teamviewer on Android
Go to the phone's settings.
Navigate to the Installed app
Find Teamviewer, tap on App Settings and Uninstall.
MAC Users: Programs and setting > Find TeamViewer and Install. Linux Open app manager and uninstall from there.
Downgrade Teamviewer On Linux
(Reader Hem Rambhia asked for this.) If you installed the TeamViewer using a .deb installer use the following command.
sudo dpkg -r teamviewer
Otherwise, use this command in terminal
sudo apt-get remove teamviewer
Once you uninstalled the TeamViewer, install the older TeamViewer using a (.deb) installer.
Ending words
Did the article help you downgrading the Team-viewer version? If you use screen-sharing applications, type YES in comments.