Turns out you can disable the lock screen and directly step into the desktop screen when you start the computer. In windows 10 Even if you didn't set a login password, the lock screen will always be a barrier. Setting a password is a secure and good way to control (unwanted) people from using your computer without your permission. Anyway, It would be nice When your windows 10 auto login and you don't have to wait to get into the desktop screen. Using this way you can directly login to your Windows without entering any password or fingerprint.
This guide is written according to the new Windows 10, but if you're lagging on an earlier version of the Windows operating system chances are steps may be somewhat different but can be done.
Didn't you wish you didn't have to type the password to unlock the Windows each time you start the computer? This guide will help you make the Windows login automatically without entering passwords. Ever wished you didn't have to type in your password every time Windows starts up, but you don't want to lose the additional security that comes with having a password? If that's the case then today's your lucky day. Let's take a look.
Note: With a Microsoft Account the following steps won't work, change to a local account.
Make Windows 10 Automatically login
When you installed Windows 10 from scratch, you might have given your computer a password. Many people don't know when setting up Windows 10 for the first time, they could just leave the password field empty and hit enter to bypass it. Next time you do a Windows 10 setup, remember that.
Open the Run Box: Hit the Win + R key; the run box will appear. You can also search and type 'run' or right-click on the start menu to open the 'run' box. On older windows, the process will be almost similar, and the exact steps can be performed.
Type the command netplwiz in the box and click ok.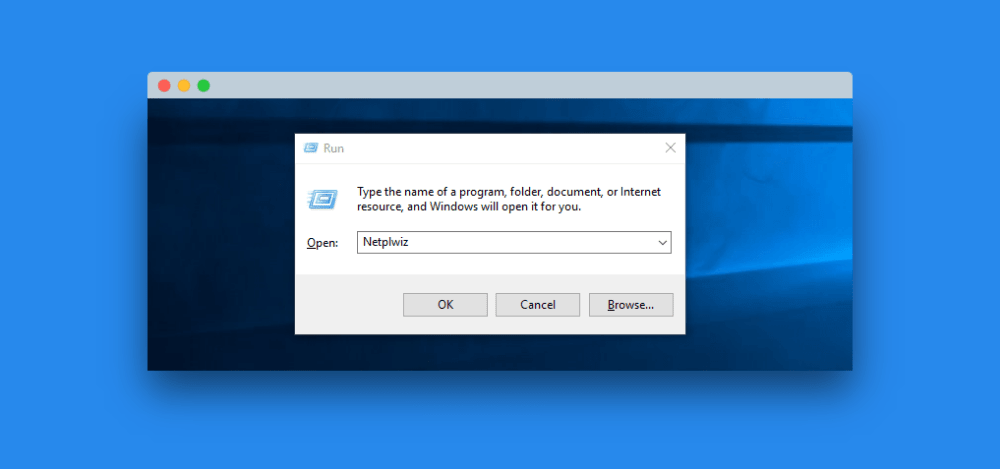 Disable the setting
Untick the "User must enter a username and password to use this computer" option, and follow the next instruction where you'll be asked to confirm your existing password. Unticking the option will make windows 10 automatically log in when starting the computer.
Please note: Making Windows 10 automatically login doesn't delete or remove the existing windows login password, it will just bypass the security check. Also if your computer has a PIN, Pattern, or fingerprint lock, all will be override making the system directly open the Windows 10 desktop screen.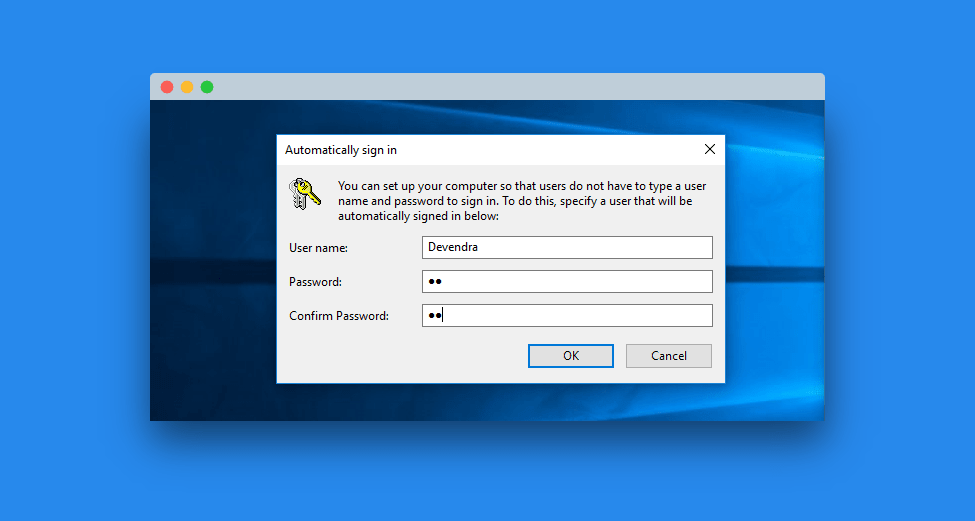 Disable Windows 10 auto login
If you want to turn off automatic login in Windows 10 at any time, repeat the steps in the reverse direction. Most of the time we've to let other access our computer when asked, in such case make a Guest Account and give to them. There is no point to gain hate by saying no to anyone who asks for your laptop.
A bit about what is Netplwiz
netplwiz stands for "Advanced User Accounts Control Panel" where the administrator can change the user settings. the netplwiz.exe is a tiny tool that can be found under C:\Windows\System32 directory. There are many ways to access it, you can also type 'Netplwiz' in a command prompt Windows.
Somewhat helpful to auto login windows 10 and it actually feels nice since there will be no authentications such as overly melodramatic passwords or fingerprint scanning. Whatsoever, I did this to my Windows 10, as normally nobody even touches my laptop so I'd like the way it starts and let me do whatever.
---
Below is a video and explained a little about the utility of this system accessible by the 'netplwiz' command.