Update: 💥 Windows 11 introduced new features to help your PC to save power while retaining negligible effect on your work. These features are called efficiency mode and suspended mode. Both words in a similar way that power throttling did in Windows 10.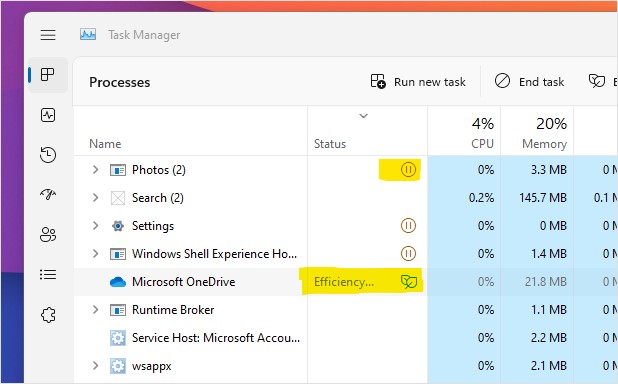 Power Throttling is a feature in Windows 10 that help save CPU power consumption. While the name is temporary, this feature is supposed to take place in next Windows 10 stable release. Here is how to manage and use power throttling feature in Windows 10 and save battery juice.
But first, you need to understand that this feature works only on special processors.
So what happens when you enable this feature? Windows puts the CPU to a slightly more energy-efficient condition when background apps are active. The background apps will work fine and get the work done, and it's just that they won't be demanding overall. Microsoft again started working on this feature designed to improve the power consumption of devices running on Windows 10 insider preview builds (starting from 16176) or in Redstone 3 insider preview builds.
Power throttling can be useful to
Underclock your CPU
Save power and reduce overheating
Make foreground apps to run faster
Requirements: If you're using at least 6th generation Intel Core processor you can take advantage of this. Also, wider support may be coming in upcoming months.
About the name: keep in mind that power throttling is the temporary name of this function and it is subject to change with newer build release. At this time it only works with Intel 6th generation processor, Microsoft is making efforts to improve support for other processors as well in upcoming months.
One of the key features of Windows operating system is support for multitasking so that you can run multiple programs at the same time, for example, you can open a web browser along with a video player, games, software, and lot more.
Windows 10 Power Throttling Feature limits all the software and programs which are running in background to reduce power consumption. As per a report Microsoft tested this feature and found out that it can save up to 11% CPU power consumption. Keep in mind that this varies upon the number of programs running and numbers of throttled programs, but overall it is a useful feature for battery powered devices running on Windows 10.
In Microsoft words.
With "Power Throttling", when background work is running, Windows places the CPU in its most energy-efficient operating modes – work gets done, but the minimal possible battery is spent on that work.
Managing Power Throttling
Turning off the Power Throttling feature
Excluding apps
Enabling it again
Turn Off Power Throttling Completely
It's completely shut down the power throttling features, but aware that it will increase the power consumption. It is the same as if power options are set to high performance, or power saving function is disabled.
Press Windows key + I to open Windows settings.
Head to system > power > additional settings or right click on the power icon on the Taskbar and click on power option.
Set power options to high performance to disable any kind of power saving mode of power throttling.
Disable Power Throttling for Certain Apps
You can always exclude application so that power throttling will not affect those applications. If you would like to do that open Windows setting > system > battery > battery usage by app > select any application you want to exclude > change the managed by windows. Next, remove tick mark of "Reduce work app does when in background" as well.
Tip: Windows 10 2020 display apps battery usage.
What's next
Although it is yet to be seen how much battery is able to save the battery, you need an Intel 6th Generation processor if you do not have it, then you may have to wait a few months because now only this feature is supported by new processors. Microsoft will support other processors in the next few months.
The post How to Use Power Throttling in Windows 10 appeared first on Quickfever.