Windows 10 Insider preview 21364 brings a set of new features, Eco mode is a new feature that can ultimately help you conserve power and throttle process resources. This feature will help you identify applications that are consuming a high amount of resources and by limiting, Windows can allow other applications to give priority which boosts the system responsiveness.
This feature is helpful when you notice an app consuming high resources and would like to limit its consumption so that the system gives priority to other apps which will lead to faster foreground responsiveness and better energy efficiency. Says Microsoft in a blog post.
If you want to try out the feature on your computer, check our guide to download the latest Insider preview 21364 ISO file.
The steps to enable eco mode for a program are the given below.
Open Task Manager.
Click on Processes tab.
Right-click on a child process or an individual process.
Click on "Eco mode" in the context menu to apply throttling.
The status column in the Processes tab should show Eco mode for the process.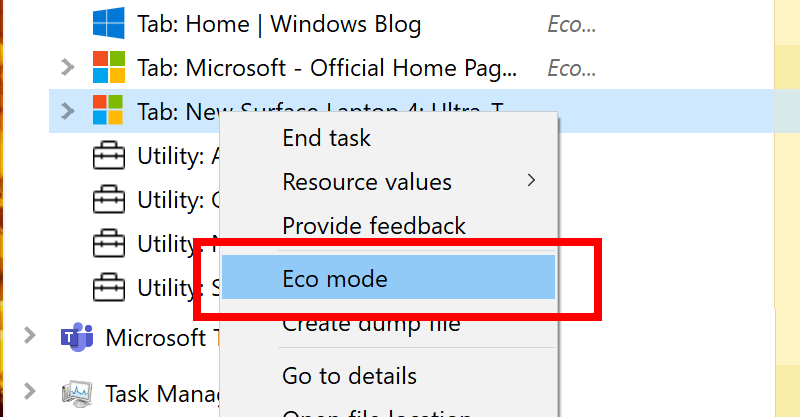 This helps in power-hungry processes by limiting them to use lesser resources. Eco mode is grayed out for group processes, expend to view all the process, and enable Eco mode for individual child process.
Other applications (if) can turn on Eco Mode automatically if they adapt to the technique to improve responsiveness.
It's a good effort from Microsoft Insider team: Windows releases two updates in a year but last few updates didn't came up with surprising features. We hope to see this features in Windows 10 version 21H2 if not in 21H1.