Microsoft Windows 365 is more and less Windows 11 running on cloud-based web servers mirrored to your screen. Having Microsoft's high and web servers as its base, Windows 365 provides excellent performance.
Essentially, Windows 365 is Windows 11 mirrored to your screen from cloud-based servers.
And we apparently have new sets of features released by Microsoft you can read more about that here. In a nutshell, Windows 365 is just Windows 11/10 running on cloud computing. There is no need to purchase a subscription unless you actually need it. The good side of this is you can run any software without having to stress your computer.
Windows 365
Cloud machines are used by large organizations and they use solutions like Citrix and Cisco for accessing cloud computers. With this approach, Microsoft can deliver Windows 11 experience directly to end-user. Employees can access pre-configured cloud PCs from their computers.
The good part here is users can boot into Windows operating systems using Windows 365 cloud PC without actually having to have Windows 11 on their local computer (so if they are running Windows 7 or Windows 10) they can simply use Windows 11. With Windows 365 Switch you can move with ease from Local Windows to Cloud PC as simple as switching Virtual Desktop. And very soon We'll see Microsoft Windows 365's offline features that will sync the data after internet connectivity issues. Microsoft is yet to put lights on how they will sync Cloud PC to local PC in case of a network outage.
And if a local computer is running on Windows 11 there will be better integration with Windows 365, for example using the task view button you can switch between the cloud PC and your local Windows 11, all the Virtual Desktop gestures will work (toggle, switch, move back and forth).
Windows 365 Wallpapers [download]
Microsoft managed to put together all the windows 11 wallpapers with Windows 365. If talking about the numbers of Windows 11 wallpaper they are over 30 e as of now, and Windows 365 has over 25 wallpapers (five of them come pre-built and every Saint update add 18 more wallpaper). We have used the wallpaper this Reddit user (u/Wallpapers8k)provided, all in 4K resolution and JPEG format. The wallpapers are a set of glass, abstract, gradient, and buildings.
Microsoft also extended the Bloom wallpaper set that was originally designed for windows 11. When you are fine with the wallpapers quality you can use this wallpaper on your desktop or mobile devices. All the wallpapers are in 4K resolution (2160 X 3840 Pixels). We have also provided you with a Zip link to download all the wallpapers in one go. And if you prefer a particular wallpaper use the Google photos link.
Note: download the wallpaper directly to your Windows computer or mobile devices. The below image showcases all the wallpapers. Use these zip download button to to get all the wallpapers in a single file.
Windows 365 Wallpapers [Preview]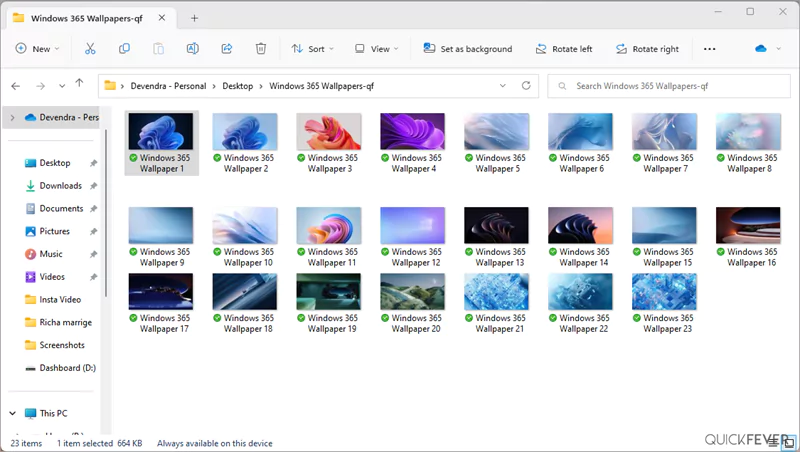 Download Windows 365 Wallpapers
If you like Windows 365 wallpapers you can use them on your Windows 11 desktop as well as on mobile devices. On a mobile screen, these wallpaper will surely look nicer to your eyes. But since these are in JPG quality they a looked little bit pixelated on your Windows PC. If we could find high-resolution wallpapers we will link them in the future. You can download Windows 365 wallpapers from Google Drive and other mirror links.
Once you download the compressed folder right click on it and select extract all. Open the folder and select the wallpaper that you like ok and set it as your desktop wallpaper. On Android open your gallery app select the wallpaper and use the menu to set it on your home screen.
You may also like – Best Windows 11 Tips
Hope you'll give heart to this article, If you have any queries, leave a comment below. Also, share this article with your friends to support us.