You may be using a cloud-based service like Dropbox or Google Drive at this very moment to back up your precious data, but did you know there are a host of other free services that will allow you to do the same while also helping you sync your files across multiple devices? Did you know you can use free cloud storage for backing up your files? In this post, we'll tell you the best ways to do it. your a good man.
If you have a smartphone, a tablet, and a laptop, chances are you're looking for a way to upload and share all your data across every device. Back up and sync your data for free with these amazing websites. We all have too many devices, too little storage space, and no time to keep track of it all. Here are a few ways you can easily sync files across multiple devices for free.
👉 Free Cloud storage websites in 2022
| Name | Ease of access | Free Storage (in GB) | Daily limit | Mount on PC | Desktop/ Mobile App | Speed |
| --- | --- | --- | --- | --- | --- | --- |
| IceDrive | Easy | 10+30 | 3GB | Yes | Yes | Fast |
| pCloud | Easy | 2+6 | ? | | Yes | Good |
| Koofr | Easy | 2+10 | ? | | | |
| BackBlaze | Hard | 10 | ? | no | No | Fast |
| Treasure* | Medium | 10, up to 800 | ? | ? | Yes | Medium |
| Google Backup | Easy | 15 | No | Yes | Yes | Best |
| Filen.io | Easy | 10 + 30 | No | Yes | Yes | Insane |
All data in GB.
With native 3rd party support, you can use your favorite FTP or SFTP client to connect.
| Name | Description | Website |
| --- | --- | --- |
| Filen | 10GB storage with immensely high download and upload speed. | Visit website |
| IceDrive | 10GB, the daily bandwidth limit is 3GB, no limit on sync. | Visit website |
| GDrive | 15GB shared storage, no limit on download. | Visit website |
| | | Visit website |
| | | Visit website |
Speed test
Decentralized
| decentralized | Download and Upload |
| --- | --- |
| Internxt | 10 and 10 |
| SiaSky | TBA |
| StorJ | TBA |
| FileCoin | TBA |
| | |
---
Filen.io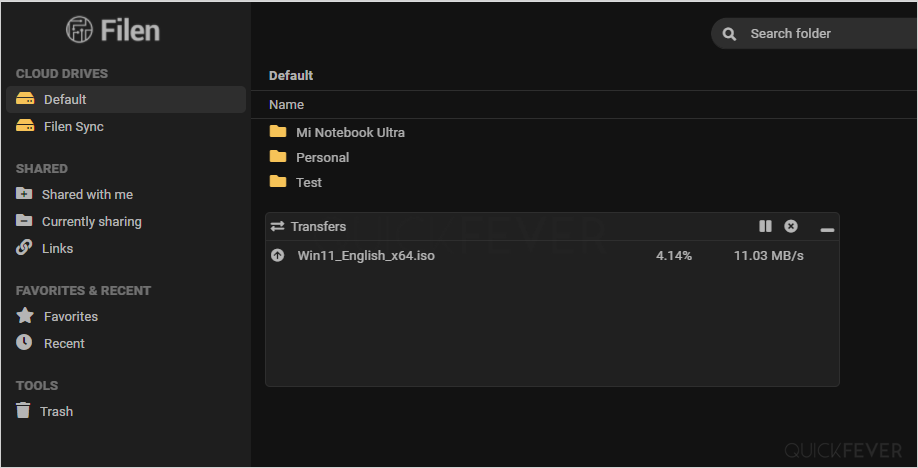 The best of 2023
The best of 2023
The free plan offers all the features of Paid plans.
The free plan offers all the features of Paid plans.
Total Score
i

Score given after testing data transfer speed, user interface and other aspects.
What we like
Filen Gives plenty of storage in a free plan
Free plan: no restrictions to other features
Desktop App offers great Sync
What we didn't
Mobile app sometimes fails to upload files from Media (could be MIUI/ColorOS issue)
The interface feels old in 2023
Filen.io website, get 10GB of space with high speed (additional 30GB by inviting friends)
Filen offers about 50GB of storage easily to share with friends.
Storage is 10GB which can be extended up to 40GB by simply inviting your friends.
You can use the referral program to earn a 10% commission.
We have not seen any speed throttling
Apart from the outdated web interface, everything seems to work out
Speeds are good for uploading (in our testing we almost hit 100% of our Internet bandwidth which was 100Mbps). the Desktop app feels a little outdated and looks exactly like OneDrive.
The desktop app offers these functions,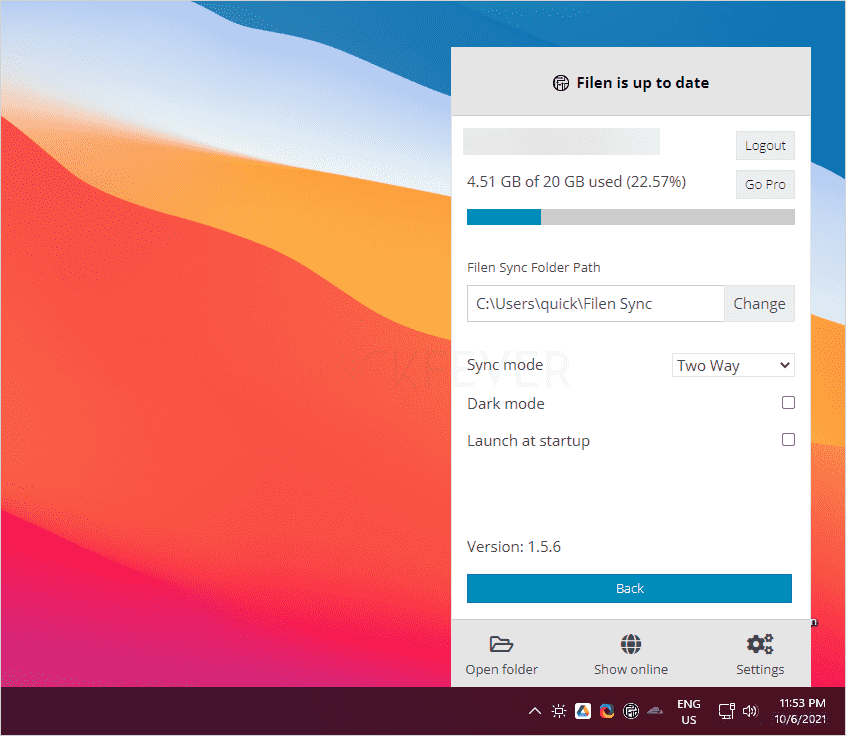 File Sync folder path: Choose where you want to store files and folders locally.
Sync mode: you can choose is think mode which suits your needs you can choose from local to cloud to local and two-way sync.
Download and upload speeds are the best.
View Photos and videos directly on the Website interface.
mobile and Desktop app for those who want to sync files and folders locally.
---
IceDrive
10GB, 3GB daily sync, mount on PC as a physical drive
Powered by cutting-edge cloud technology, Icedrive gives you the power to access your files from anywhere, on any device.
Free storage up to 10GB with 3 GB daily bandwidth
You can upload by drag and drop or copy-paste
Download to PC and organize in folders and subfolders
Backing up data in multiple formats (ZIP, ZIPX, RAR)
With Icedrive you can always have your files with you, wherever you go. Cool features include: uploading files via drag and drop or copy-and-paste, downloading them to any PC, organizing them in folders and subfolders, and backing up data in multiple formats such as ZIP, RAR, 7ZIP resulting in minimum space consumption on the server.
Considering the free plan is pretty good with lots of free space, this is a pretty good option. You can use the Desktop app to mount it as a Local Disk to manage files and folders really easily. The interface is user-friendly, and it's easy to use.
Now, let's take a look at what features the Desktop app offers. My favorite feature is Sync Pair, I can sync a folder on my computer to IceDrive cloud and it works two-way (changes will sync) or one side syne (changes will sync either from cloud to local folder or local folder to cloud).
Icedrive desktop app has 5 tabs to manage everything, Mount IceDrive cloud as a 'virtual drive' on your computer it works like a physical drive that makes working with files easy.
Disclosure: I might sound biased toward my opinion of IceDrive here, but we have not received any commission or compensation for this.
---
Google Drive
Free 15GB Space for Gmail, Drive, and Google Photos.
Everyone uses Google Account for emails and all sorts of stuff. Google Drive provides 15GB of storage which is combined with all the Google Services. You can take Photos and Videos backup and access them on any computer or mobile device.
The good news is the majority of people are familiar with a Google Account, even on iOS, Google offers good support for backup up photos and storing files.
If you want more juice, the Google One paid plans are affordable. However, I could not understand why Google is not offering an in the one-paid plan for, Google Storage, and Youtube Premium.
Skiff (Mail & Drive)
Skiff was founded in 2020 and going strong, it's been a while so we can actually say about it reliability and functions.
The amazing thing is you can store up to 10GB of storage.
The mail system is solid too, you can attach your custom domain in the free plan, so no issues there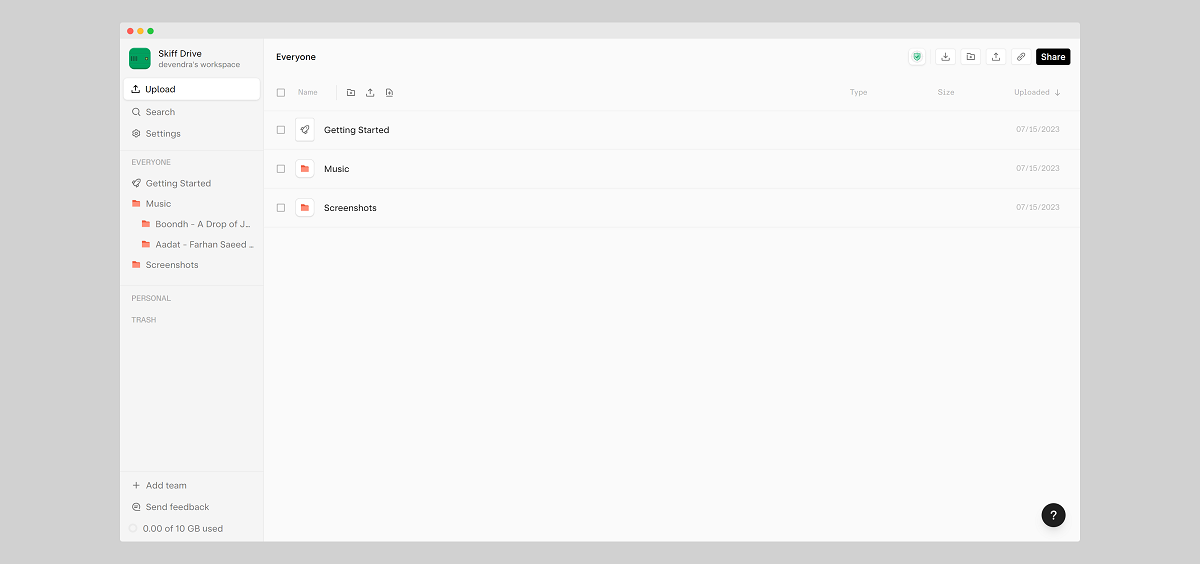 ---
pCloud
pCloud is a site that offers free storage for up to 10GB of backup files, and desktop apps. PCloud is a cloud storage service that offers free storage of up to 10GB. This means that you can store your files anywhere, regardless of where they are located on your computer. The service also has desktop apps for Windows and Mac. expensive storage option, then the company offers a $5/month plan that allows you to store up to 500GB of files.
PCloud also offers a range of paid services that offer more storage and backup
it's a popular choice, gives 10GB of space for free
Desktop sync app and mobile app
3rd-party app support
Pcloud is a service that offers you storage of up to 10GB and the ability to backup files, only you've to complete a few tasks to gain up to 10GB. The advantage of using pCloud over other cloud storage providers is that it doesn't restrict the number of files that you store in it, as long as you don't exceed 10GB of storage space. You have the ability to sync folders, files, or applications from your desktop or laptop computer with your mobile device with great ease so that you always have access to your data wherever you go.
---
Internxt
Decentralized Space
Access them from anywhere via a browser tab or app

Get started free today with 2GB of storage, and gain up to 10GB
Mobile application for Android that provides access to the Internxt cloud storage platform.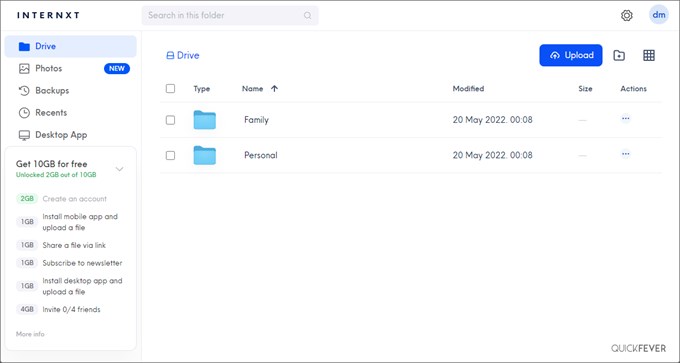 Internxt is a simple file-sharing website that lets you save your files up to 2GB in the cloud. With this, you can back up all your files in one place and access them from anywhere via a browser tab or app. Internxt allows both users to delete their own files as well as add files of any size to their list without having to upload them again to the server. think of it as Dropbox for files. You don't need an expensive hard drive or any special software to work with it.
Just visit the website, create your account (it takes less than 2 minutes), browse through the various plans (free, pro, enterprise), create your files (either via drag & drop or right-click on them and select select "save" option) and you're good to go.
---
StorJ
150GB Storage for 3 projects and 150GB bandwidth per month.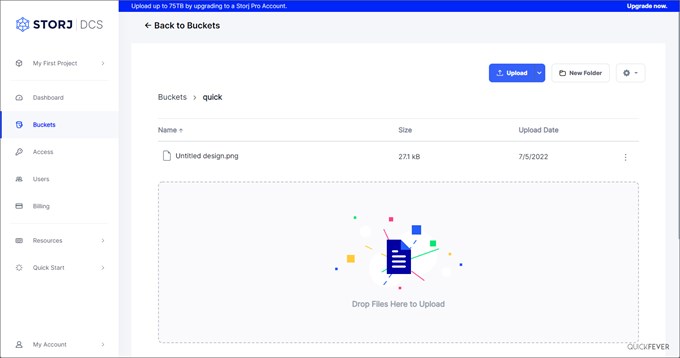 Native FileZilla mount support
The Storj network will provide free cloud storage of up to 150GB
It provides end-to-end encryption for all files uploaded
The Storj network will provide free cloud storage with the best possible performance, security, and reliability. You will be able to store your files securely and access them anywhere at any time. Think of it as a decentralized Dropbox. It provides end-to-end encryption for all files and serves as a complete decentralized network with no central control or knowledge, and storing data in StorJ doesn't require any special software on your computer. It's the perfect solution if you want secure access to your files online using FileZilla: a popular FTP client.
It works natively with FileZilla (an awesome app for accessing cloud files) so that's a great feature.
---
Backblaze B2
10GB is free, 1GB daily sync, backup app, CDN storage
Backblaze is a site that offers free storage to backup files, and allows 1Gb bandwidth and CDN storage. Their client is also free and available on all platforms as stand-alone or as an extension for browsers such as Chrome, Firefox, or Safari. Backblaze is a simple backup service. Store unlimited files on one computer for absolutely no cost. Backs up all the files on your computer, or any specific ones that you choose. Versioning ensures you can recover earlier versions of your files if needed. Automatic uploads mean you never need to think about it again. It works in the background so you can back up while working on other tasks and is delivered at gigabit speed from Backblaze's global network of data centers.
The web interface is bad, I didn't like it. Creating a Backblaze B2 was quite a task itself. on the bright side, all your data will be available over fast CDN so downloading or syncing will be much smoother than the competition.
You can upload or manage files using these third-party applications, RaiDrive, Air Explorer, and CyberDuck.
---
IDrive E2
10GB Storage. Choose from US servers
It's more of a Google and AWS competitor and claims to offer better pricing. But leaving that story aside gives you 10 GB of free storage space that you can claim by signing up on the website. Once you sign up can create a bucket and start uploading folders and files. The bucket has a preferred data center and you can use the S3 endpoint to address various tasks.
Vultr's $2.50 VPS
10GB, self-managed. Not beginner-friendly
Do you want to go full geek and do everything by yourself this is the option for you. Now what's a VPS, it's a virtual instance you can access using SSH or SFTP. We only need SFTP access to download/upload files on the server.
Create an IPV6-only server on Vultr, it costs just $2.50 that comes with 1 virtual CPU and 512MB of RAM, I installed it with Ubuntu 21.04 So you can use it for other purposes as well.
8.1. Create a server on Vultr
Open https://my.vultr.com/deploy/ assuming you're logged. And select New Jercy and pick the $2.50 plan, don't worry you have $100 free credit (only when you sign-up using the above offer link).
8.2. Click deploy now and it'll be done in a few seconds, select the server and you see a similar page that includes all the information you need to access. Remember you get about 10GB of storage and 500GB bandwidth. That's way more than the competition.
8.3. I was able to connect to it using FileZilla. Just enclose the ipv6 address like this sftp://[ipv6] It works.
---
MediaFire, Sync.com, Mega Cloud, Degoo, Koofr, SiaSky, and Telegram Drive are among other cloud storage options but we didn't include them as they have mixed opinions, bad reviews, and slow speed.
The Winner and the competition
🔒Filen.io: it serves the purpose while not getting between you and your files. The upload speed is uncapped which is arguably a good thing indeed. Filen may feel outdated in terms of web interface but does the file handling and preview part nicely.
⚡IceDrive: everything feels faster and more modern and when you want to sync your IceDrive folder on multiple computers you can do that quite well and effortlessly. It's like having the same folders across devices. on a plus point, the sync ping timing is insanely lower, which makes your files backed up instantly.
❗Google Drive: If you only want to backup personal documents and a few files, Google Drive got you covered and it comes preinstalled with Android devices these days, so that saves some clicks. You get 15GB for all Google services, but if you plan to use it for storing your files you can do that as well. You can upload your files and create a shareable link to let others view or download that files. If you use an Android mobile you must be familiar with the Google ecosystem, and Google Drive is deeply linked to other products, you can store your Whatsapp backup on Drive.