Google Assistant was officially launched with their Google pixel phone, and it's a voice assistant like Siri for iPhone or Cortana for Windows 10. Initially, this mobile assistant was supported only in Google pixel mobile, after which Google made it officially available to other smartphones that run on Marshmallow or newer Android version. This is really a big step in that. If your phone is based on Marshmallow or the new Android version, you can use Google Assistant.
To bring Google Assistant to your mobile, you will need to update the Google Play Store service and install latest app update of Google app. If possible, should join the beta version before updating both apps, the possibility of bringing Google Assistant to your smartphone will increase significantly.
It supports some of the evergreen commands (those who works everywhere, Cortana, Alexa, etc.song) such as "SinSong" and "flip a coin" but those are too basic, here is an extensive list of best tricks of Google assistant.
Best Google Assistant Tricks and Commands
Just say "Ok Google" try these mentioned best google assistant tricks and comments and make the most of Google assistant.
1. Change Settings
What normal people do is slide down the notification bar and manually toggle the quick settings, like adjusting brightness, and toggle hotspot or WiFi. But with Google Android Assistant dealing with all the quick setting is easier, for example just say, Ok, Google "enable the Automatic brightness" and the Assistant will do it.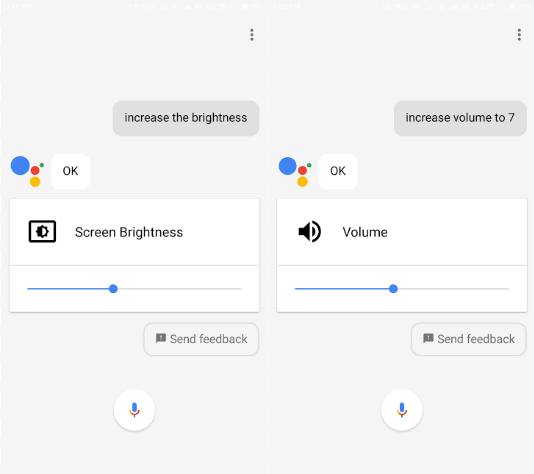 These are a couple of commands you can use.
Turn off flashlight/ turn on flashlight
Enable wifi/ disable wifi
make my phone silent
Increase volume/ increase volume to highest/ decrease volume/ set volume to 10
2. Make assistant remember things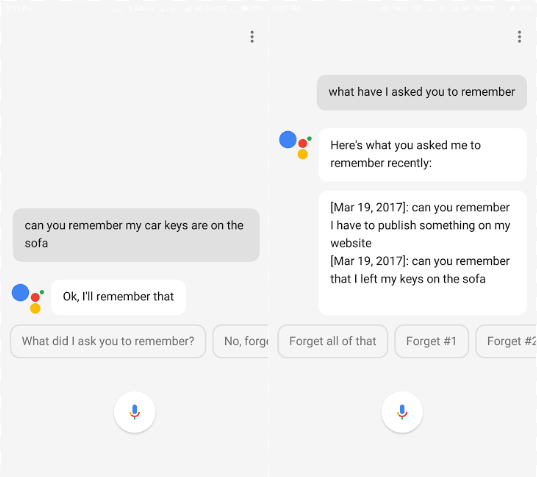 3. Know how "this" or "that" sounds
Google Assistant can do a lot of Amazing things as for example if you ask it how does a cat sound you will definitely get very impressed. You can ask about anything, literally how "this" or "that" sounds, whether it is a man or a parrot. Whatever you think in your mind, you can ask the Google Assistant to pick what kind of voice it is to be aware that at this time your mobile volume should be high.
how does Kitty sound
how does alligator sound
what sound does a cat make
what sound does an elephant make
4. Sing me a song
Just like Microsoft Cortana, Google Assistant does the same when you say "sing a song" or "Sing a melody." The songs it will sing aloud are not those sia cheap thrills type so you got to live with that, haha.
http://www.quickfever.com/funny-things-to-ask-cortana-297854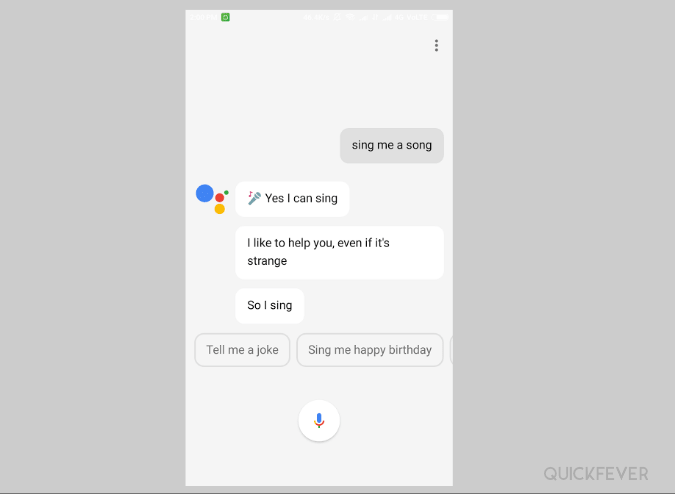 5. Play solitaire
This one is universal, and it also works in normal Google.com Search as well as right from your Google Assistant screen. All you have to say is "Play Solitaire" or "play card game, windows" and the classic game will launch.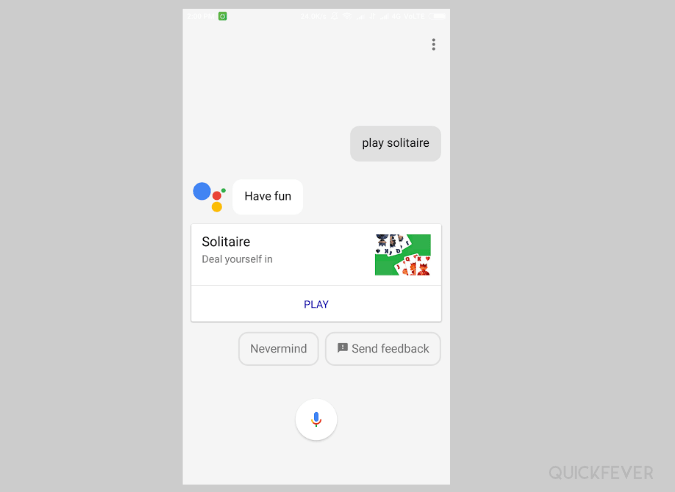 6. Play a trivia
When you're bored or something similar, say "Ok Google, play a trivia" and play a random task. There is lots of quiz to play like the Math and geography quiz where you can test your knowledge.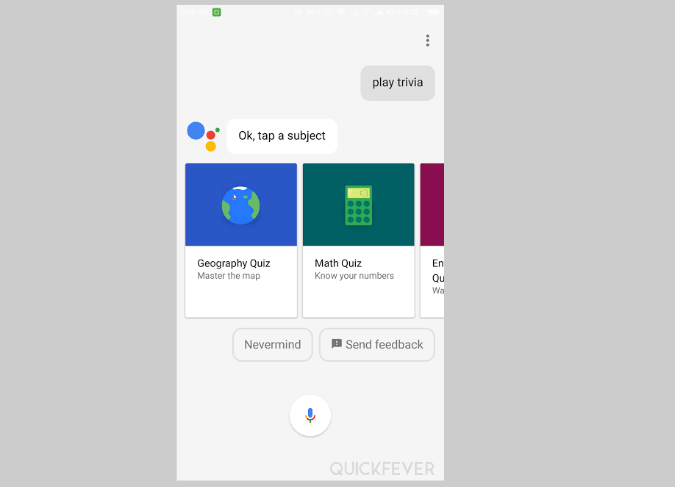 7. Translate This into that
If you are wondering how to say a phrase or words in another language, well, Google Translate is an option here, but why bother when you can just command Google assistant for that purpose. For example, you can say "translate (How are you) into Spanish" or anything you want to translate.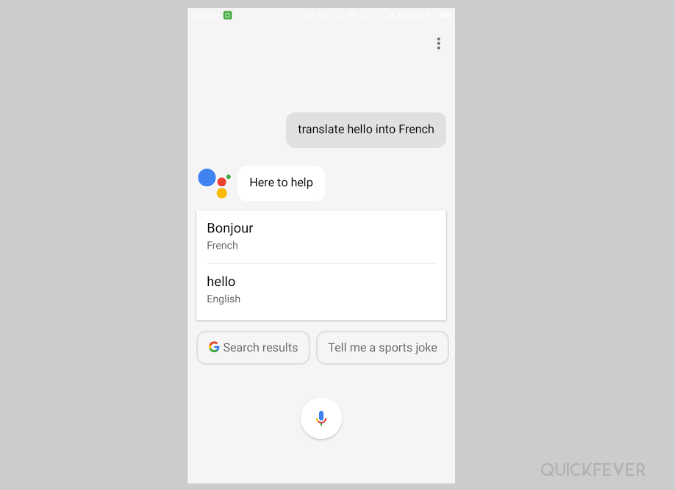 8. Read news topic wise
Show me news about Windows 10, or show news about Narendra Modi and Google Assistant will fetch you all the latest news that includes the topic you wish for.
"What's the news about Windows 10"
9. What's my name
Even you can ask what my brother's name or what's my sister's name, well at first you have to tell Google assistant their names.
Ok, google, my brother name is John. (She'll remember that).
Ok, Google, What's my brother name. (You told me that your brother name is John).
"Ok Google" read along with me I'm Barry Allen.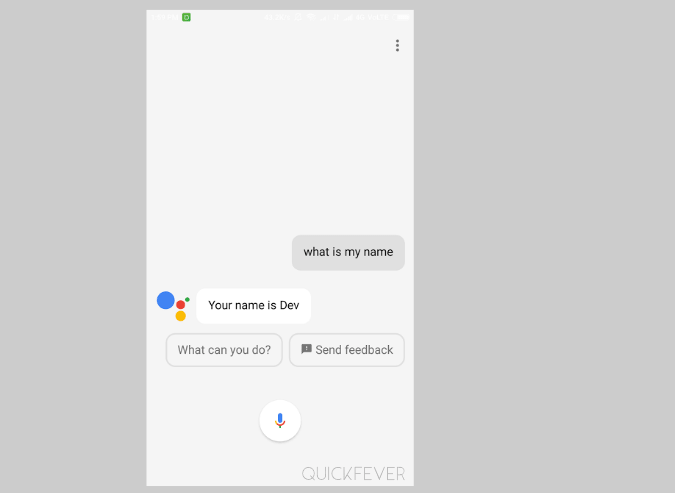 10. Call/message someone
You can instruct gogole assistant to call or message someone you like, you can say something "Call John" or "Make a call" > Say the contact name aloud > It will make call. I must say sending messages to someone is very easy as you've got to compose the message by your voice, that's cool.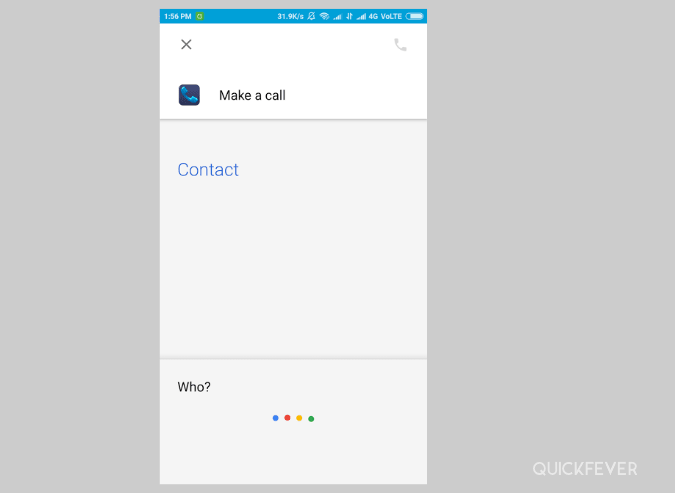 11. Ask common questions
You can ask common questions like "translate hundred USD into INR" to convert any USD amount to Indian currency or ask "how far to the Paris" to calculate the distance from your current location to Paris.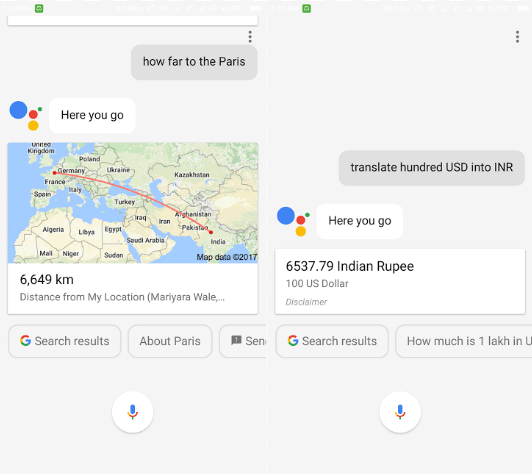 12. Play Music
By saying this command it will launch the music app, for example, it will launch the Google Play app (if installed) and play a song. All of that without touching your phone. It to work best with the Google Play Store music application, although it might work well with your other music application, that should be a default music player app.
13. Make reminders
Setting reminders are different than commanding assistant to remember things. Reminders are simply alarm you can set by your voice, by saying "set a reminder > name it" for example you can say, "remind me to wake up tomorrow 6 AM".
14. Repeat me after
You can say "repeat after me; my name is Barry Allen" Google Assistant you say that aloud right after it. You can also try variations like "I'm Batman" or "I'm poor" or anything you want Google assistant to repeat after you.
15. Give me a random number
If you want this random number, you can tell Google Assistant that "give me a random number" and this will show you a random number.
16. Have some fun
There are many commands you can use to get entertained, or timepass, Such cool Google Assistant tricks with which you can enjoy are given below.
I'm bored
play a music video
Show me dog pics
17. Tell me a joke
Would you like to hear a joke if so you can call Google Assistant, and it will present you a new joke? Each time you ask it to tell you a joke, it will surely make you laught. But don't overdo it as it might bore you after couple of attampts.
18. Open Apps and Sites
If you want to open a YouTube channel of pewdiepie, you can call Google Assistant, or you can open your favourite website without typing it without your voice only.
Open PewDiwPie's youtube channel
Open quickfever.com
19. Teach me something
There is no shortage of glitch in this world, if you want to learn something new, Google Assistant will help you in it, you just have to say "teach me something".
20. Beatbox for me
Bew, this one is totally amazing all you got to say is "beatbox for me" or "do beatbox" enjoy the awesome beatbox sounds that come right after it. khjhj
These are the best Google Assistant tricks and commands
Well, there are much more commands google assistant understands, for the basics you can tap the three dot (right-top side) and choose the "That can you do" to know all the basic commands you can use. I personally like the Tic Tac Toe game, to play this game on you have to say "play Tic Tac Toe game" and I can spend a couple of minutes to play this classic game. Google Assistant is no perfect and there is plenty of room for improvement, still, it's the best voice android assistant these days. For those who are running on the lollipop or older try these voice assistant apps for your android.