The Amazon Prime Video experience can be customized in many ways. For example, the stream quality can be adjusted, watchlist can be configured. In this post, we will show you how you can change the configuration of Prime Video both for the desktop version and also the mobile version.
You can change the language of your Amazon Prime video rather than changing the language of the website. This is because you would like to change the audio language of the video. See below for links. Amazon supports English, Spanish, Tamil, Deutsch, Espanol, Italiano, Dutch, Norwegian, and Brazilian Portuguese. Perhaps this will be a helpful article for you: Change the Quality of the Video Stream When Watching Amazon Prime Video and manage the watchlist of your Amazon Prime Video Account.
How to Change Language of Amazon Prime Video Website
This applies to the primevideo.com website language.
1. Visit primevideo.com (or directly https://www.primevideo.com/settings/language/)on your desktop computer.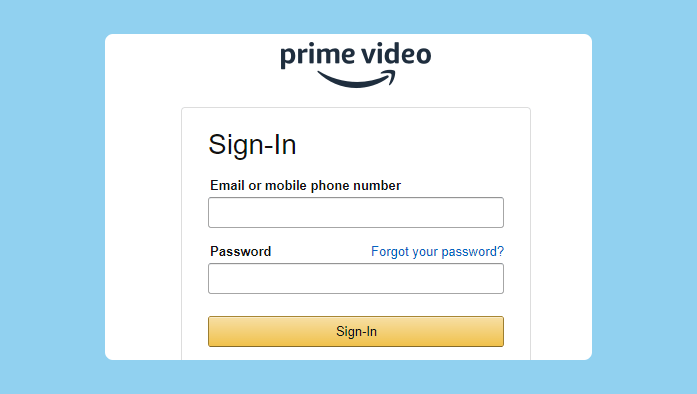 2. Enter your Amazon.com account credentials.
3. From the top-right side select Profile and then Account & Settings. Just before Watch History, you find the Language tab.
Click on any preferred language, here we've chosen English here, you should set it to your native language or universal English if you prefer it that way.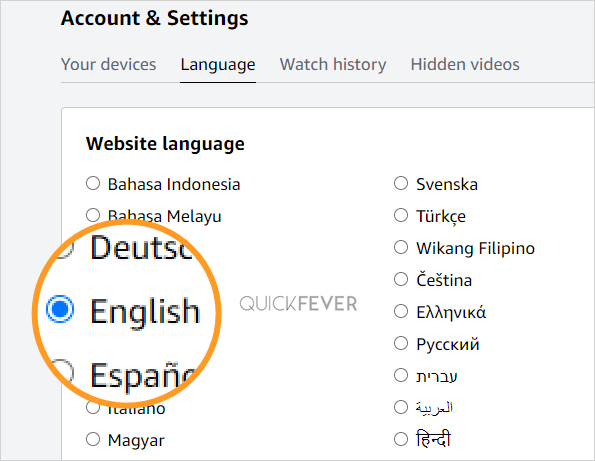 Note: This language change won't affect your main Amazon website language.
Change Audio Language while on Amazon prime Video
Amazon site language and Video language are different things, Amazon may try to match Series/Movies Video language with the preferred [amazon.com] site language, but you shouldn't bet on this, rather manually change any running video's language using these steps.
Open subtitle and audio options for a playing video, click on the subtitles and audio icon (the bubble icon) which is located in the top right corner. This is illustrated below in the screenshot.
You may choose another audio language if there is one available.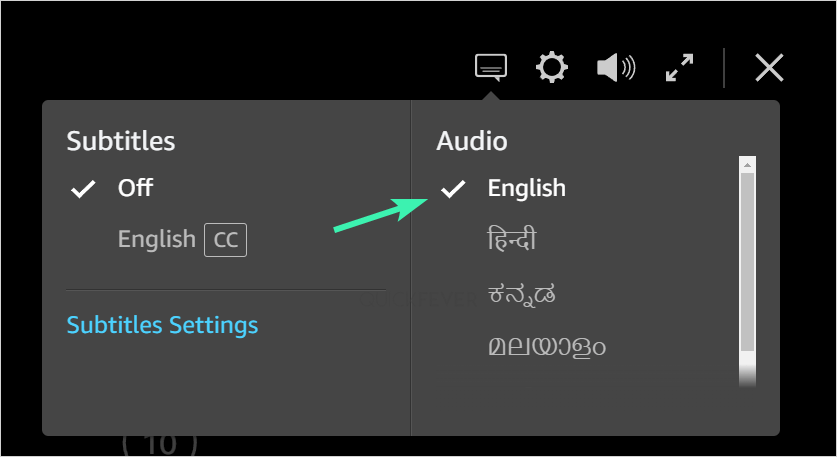 How to Change Language on Amazon Prime Video on SmartTV
Prime Video language on Smart TV can be configured, follow these steps in order.
Open the Prime Video app on your Smart TV.
Access the Prime Video settings option.
Under Language, select your desired language, here it can be anything of your choice, we're setting English for illustration purposes.
How Do I Change My Amazon Prime to English?
You can change Amazon Prime's language back to English if you have already changed it. Follow these steps.
Go to https://www.primevideo.com/settings/language/ in your web browser and sign in to your Amazon account, if prompted.
Please select your preferred language.
We suggest English.
Click on the Save button.
How to change the language on Amazon Prime Video mobile app
1. Launch the Prime Video app on your mobile device.
2. You may select the Gear icon at the top right of your profile by clicking on the "My Stuff" icon at the bottom of the app.
3. Select the language from this menu. By clicking on the language option, a list of language choices will be displayed.
4. The language will change when you select your favorite language.
5. You should have been able to adjust the language on the Amazon Prime Video website or mobile app to the language that you prefer.
6. It is not possible to change the language of your prime video mobile app along with the Amazon Prime Video website using a single method.
Frequently Asked Questions
Why Amazon Prime Video in German? How Do I Change to English
Launch the app and select the language option from the settings page. The available languages will be displayed. Tap the English option to switch from German to English.
How to change amazon prime video Language on Apple TV
Access the Amazon Prime Video app through your Apple TV. Click on the play option for the video you wish to view. Taking advantage of the Apple TV Remote, you can now scroll down to reveal the Video options by pausing the video and sliding down from the top. The next step is to swipe right, choose Audio, and next, you can change the language to the one you want in the Language option.
Why Is Amazon Prime in Spanish?
Using the Spanish-language Amazon website or if your preferred country is Spain, your Amazon account will be in Spanish. In the Account Settings section of your Amazon account, you have the option to change the language to your preference.
This is due to a number of different reasons. Below are a few of them.

1. You've clicked a regional link. You will receive a notice that your language preference has automatically been changed to Spanish if you have clicked an Amazon Mexico or Spain link, for example. 

2. Someone changed your language preference. It is possible that you have changed your language preferences on the Amazon website itself or through Prime Video. If this is the case, you should return to the language settings page.

How do I change the language on the Amazon homepage?
On the Amazon website, select your preferred language at amazon.com/gp/manage-lop, then save your changes. Amazon will use your chosen language when you browse and shop when logged in.