Netflix is one of the popular streaming services that keep the content updated. If you want to see the Netflix Stats for Nerds on Android TV, here are the steps. As well as we'll guide you on how to change Netflix quality on Android TV and PC.
Netflix playing videos in very low/poor quality on SmartTV? This issue is quite popular among those who have a nice Smart TV with good resolution and still Netflix doesn't play the content in FHD or in 4k. Since there are almost no methods to change Netflix Stream quality to FHD and 4K. This article depicts how you can check and change the quality of your Netflix video on Android TV.
Netflix is consistently working to improve its catalog and the suggestions on Netflix are far better than any other OTT platform. Not recently but Netflix has launched separate plans for mobile users in many countries. Netflix is working towards an ad-supported module to retain more subscribers reluctant to spend cash for on-demand streaming services. Following that Disney Plus and HBO Max are supposed to work in the ad-supported tiers as well.
How to check Netflix stream quality on Android TV
Thre is a method to change Video quality from a Browser that we're not adding to this guide. On Android TV/Box you can check stream quality with an F4 button. You are wondering, how to call an F4 key on an Android TV? There are three ways to activate it.
Method 1. Wired keyboard.
Start your Android TV (can be anything running on the Android operating system).
Connect a Keyboard (should have FN keys) to your Android TV via USB port. Check at the backside of your TV.
Play anything on Netflix, and press the F4 key using the keyboard.
An information panel with shown on the top-left screen with Stream quality resolution and bandwidth.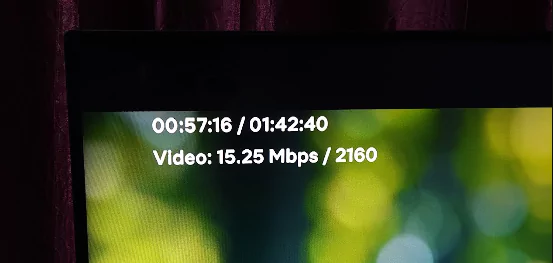 Method 2: Bluetooth keyboard
1. Bring a Bluetooth keyboard and connect it to your TV from Settings > Remotes & Accessories Accessories
2. Pair your Bluetooth keyboard with Android TV.
3. When a Netflix title is playing, press the F4 button on the keyboard, and video stats will appear on top of the screen.
3. The same key will toggle the overlay.
When you don't have a wired /wireless keyboard you can try the same using your Android mobile.
Method 3:
1. Install both the apps Technical Keyboard and Google TV from the play store.
2. Open "Technical Keyboard" and select it as the default keyboard.
3. Play a title on Netflix and select Google TV's remote and pair your Android TV.
5. Once connected, press the keyboard icon and use the Technical keyword to call out an F4 key on your Android TV.
For now, doing this on iOS would be hard, if you know a way feel free to tip us.
How to change Netflix video stream quality on PC App
When on a Windows 11 machine.
By default, Netflix streaming quality is dependent on Device resolution and Subscription plan. Let's suppose you've 4K plan, and your screen is more than 3.2K Resolution if you still can't able to stream Netflix, make sure of the following.
A 4-device Netflix plan is required
HEVC Codec should be installed on Windows 11
We tested Netflix on MI Notebook Ultra (3.2K Resolution, a little lesser than standard 2160p) yet it worked flawlessly.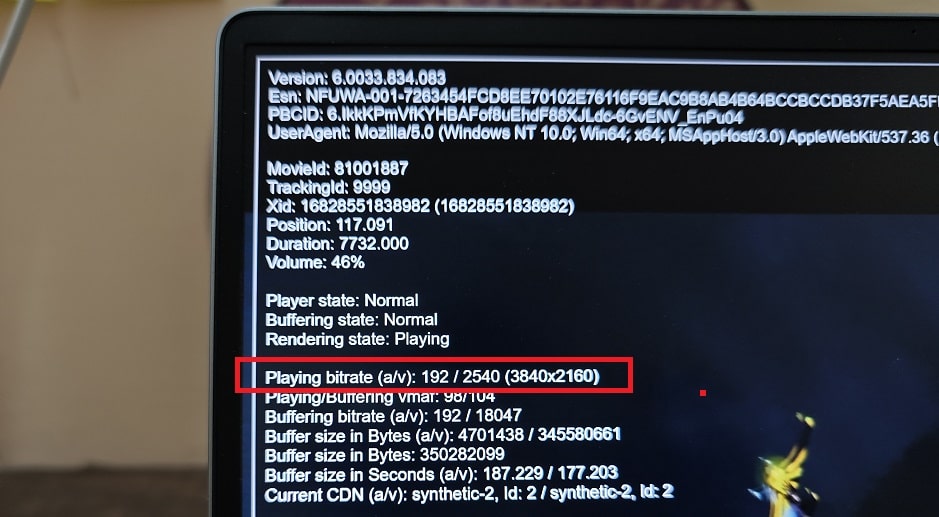 How to change Netflix video stream quality on Android TV
There is an option to change Stream quality on the Desktop app, Web-version, and mobile apps but Netflix's Android TV app is missing this feature for now.
1. Open netflix.com and sign in.
So as simple as that open Netflix on your smart TV and browse for shows there you see either any of this information written including "Ultra HD 4k, HD, Vision". Now we can understand that if a title is saying Ultra 4K and you start playing it and feel it's playing in the poor quality you can check the resolution using the above method.
Fix bad Video Quality issues with Netflix
There is a high chance that you're using WiFi with good internet speed but still not seeing the good quality in Netflix, that may be because your current Netflix plan doesn't allow higher resolution. The only plan that supports 4K content is the one with 4 screen support, if you're having anything less than that you can't simply stream 4K videos on Netflix on your Android TV.
The other plan with 2-screen support only gives you up to the FHD streaming option, but if even you're experiencing awful quality you can check these points and figure out the issue.
Check whether you have a good internet speed, popular speed test fast.com ad Okala have their app for Android TV, you can use them to see your connection speed on Android TV. A 25Mbps connection is required to watch stable 1080p content and higher is required to stream 4K content on Netflix.
If you're connected a laptop to an Android TV through an HDMI cable, check for the HDMI cable quality. Also if you switch between screens when the laptop is connected Netflix app's security may prevent you stream in HD.
There are more general fixes that are similar to those we've published for the Amazon Prime Video guide.
Frquientyly asked question