MountUUP is a folder that takes place when you Install/upgrade Windows or play with UUP creation tools. Here is a practical guide when you spot MountUUP folder on your computer and you cannot delete it. Windows 11 is the latest release from Microsoft in the year 2021. Many people jumped and installed it through Automatic Updates features, while others used upgrade methods which sometimes left residual folders like MountUUP, which is the topic for this article. Learn to remove the MountUUP folder from Windows 11 easily using this guide.
Why do I have a MountUUP folder?
There are multiple reasons for this, the first being you're using or using a UUP creation method such as described here.
Delete the MountUUP folder from Windows 11
Follow these tips to take ownership of that folder so you can safely delete the entire folder. In our case, we've secured up to 10GB of storage that was occupied by this folder.
Right-click on the Mount-UUP folder and access properties.
Switch to Security and click on Advanced.
Click on Change, which appears in front of the Owner's name.
In the Select user or group, click advanced and add "Users/yourPC name" from the list.
Enable Inheritance (also tick the Replace all child object permission with..)
Pro Tip: Step 4 is often overlooked, we rewrite it so users can better understand.
Delete MountUUP folder permanently
Come back to the folder and delete the MountUUP folder. The method will work with any resistible folder that is hard to delete due to permission issues.
Once you take ownership of that folder you can safely and permanently remove the folder from your system. Now when you do that it will not see any errors that were previously available when trying to delete the folder.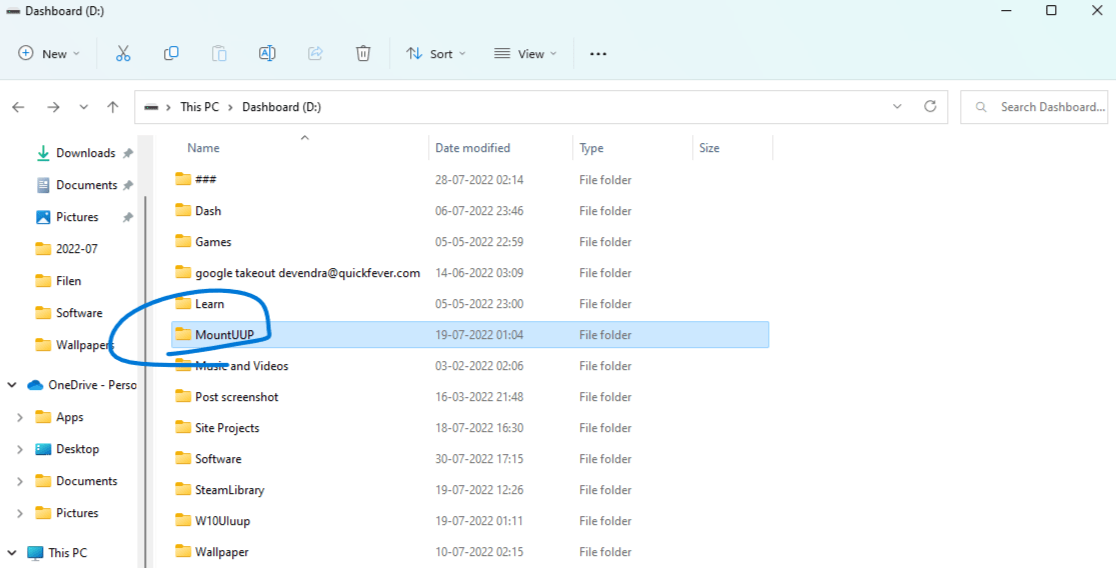 If you still getting errors make sure that you're gone through the instructions very carefully because if you miss a single thing this will not work out.
Other methods
During Windows installation format the hard disk that will remove everything including the MountUUP folder.
As per some community sites, the problem was solved with this command "dism.exe /Unmount-WIM /mount-dir=D:\MountUUP /discard".
Use a Bootable Media
Use this method when you have a backup of your important data and can format the partition where is MuntUUP folder exists. We need a bootable USB for this purpose, we suggest that you grab the latest ISO of Windows 11 or 10 and make bootable media.
Next boot from the USB, here is a guide for this. When Windows setup boots it asks to either Upgrade or Custom install Windows. There select Custom install and then you'll see a list of partitions, go ahead and delete the partition in question or format it. Installing Windows is not required when the MountUUP folder is not located on the OS partition.
If the folder is present on the OS partition you can go ahead and do the same and this time you've to re-install Windows.
Conclusion: What is MountUUP folder and remove it
We hope you've deleted the folder in question, and if you liked this How to delete MountUUP folder effortlessly on Windows 11 article, share it with people, that really helps us. Also, rate the article using the voting system that is located after the article. We appreciate your time here and hope to see you on your Social channels.