It is important!! Today in this post we are going to share helpful tips for How to find a lost Android phone. So you can get back your lost mobile. The majority of us are using an Android phone as the market is owned by the Android-based operating system by around 80 percent.
Just world insane and anything can happen to all Android smartphone. It can either stolen or theft by someone.
There is a risk of losing of Android smartphone, so we should prepare for the worse.
Sometimes it happens that you may drop it anywhere anytime, and we couldn't even know where it is then. In such conditions, we just don't have a clue and we just want to ask someone "how to track a cell phone location" to get it back. Don't you wish you can track android phone?
There is an inbuilt android feature that can help you in this case. By using this feature are there is a good chance that we get our phone back without installing any 3rd party apps.
How to find a lost Android Phone
Today we will tell you two different tips to recover a lost Android phone. First, we will talk about how we can retrieve a lost Android phone, and find a lost Samsung mobile phone. Even though Samsung mobiles are based on Android, so you still can use this first method to find your lost or stolen Android phone.
We will also talk about how you can configure your Android Settings to make it easier to find your phone in case if it gets stolen or dropped somewhere. Please stick to the below section to understand the process of making your Android secure as well as learn how you can use Google official Android manager to find your phone, ring and delete all data remotely.
How to recover a lost Android smartphone Using Google
There is an official Android manager from Google. You can use this to discover an android phone that you had owned.
Google's Android Device Manager Tool (ADM)
Google Android manager is an official way to manage your Android phone, using it you can detect the location of your Android mobile phone. We'll show you how to use ADM to perform some functions including ringing your Android phone for at least 5 minutes and remotely erase everything from your Android so no one can access your personal data.
But for that Google account should be same. You can only manage an Android phone if you had logged your Google account in your phone earlier. Only when you'd be able to trace your phone, as well as help your friends by telling them how to find my phone.
When you sign up on an Android phone, the ADM option will enable as default settings. It should be still enabled since when you lost your phone, or it got stolen. You can locate your mobile phone by opening following link in web browsers:
Google Android Device Manager Tool (https://www.google.com/android/devicemanager)
Make sure to use the same Google Account you were using on your Android phone. If you had signed multiple Android phones with the same Google account, they all would show when you open the Android Manager Website.
Also, you had signed up with your Google ID to each of your Android phones to manage theirs from Google Android manager website. In easy words, ADM allows managing multiple Android phones that are signed with your Google account.
When you open the link, you'll see this page, and it'll show you all of your Android phone that you used earlier or using. Click on a Phone that is lost and you want to track its location.
Click the 'Map icon' to locate your phone on the Google Map. Also, you'll know its exact location, for example in below photo the phone was 14 meters away from me.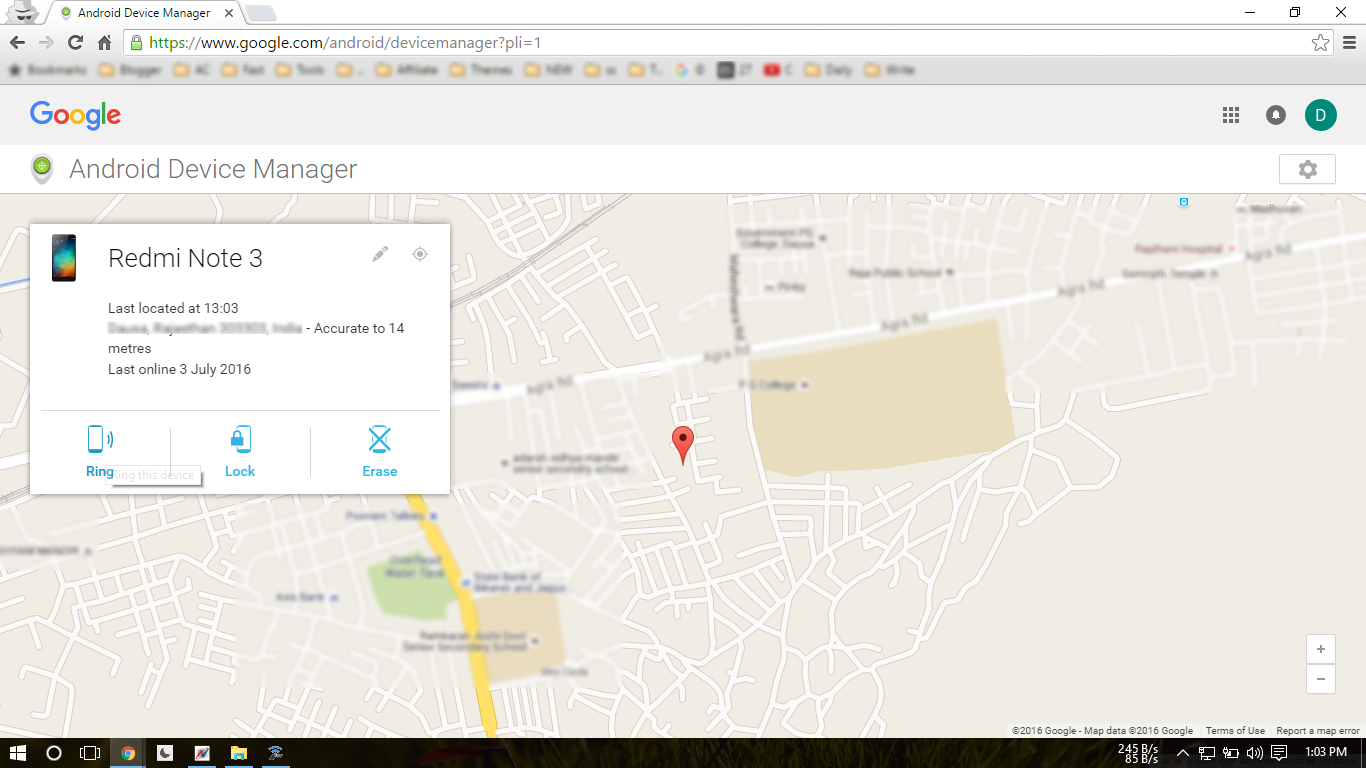 You can ring your Android right from here, click on the RING and your phone will start ringing. This is also useful if you just dropped your phone somewhere near you. You may want to check this thing right away. Right?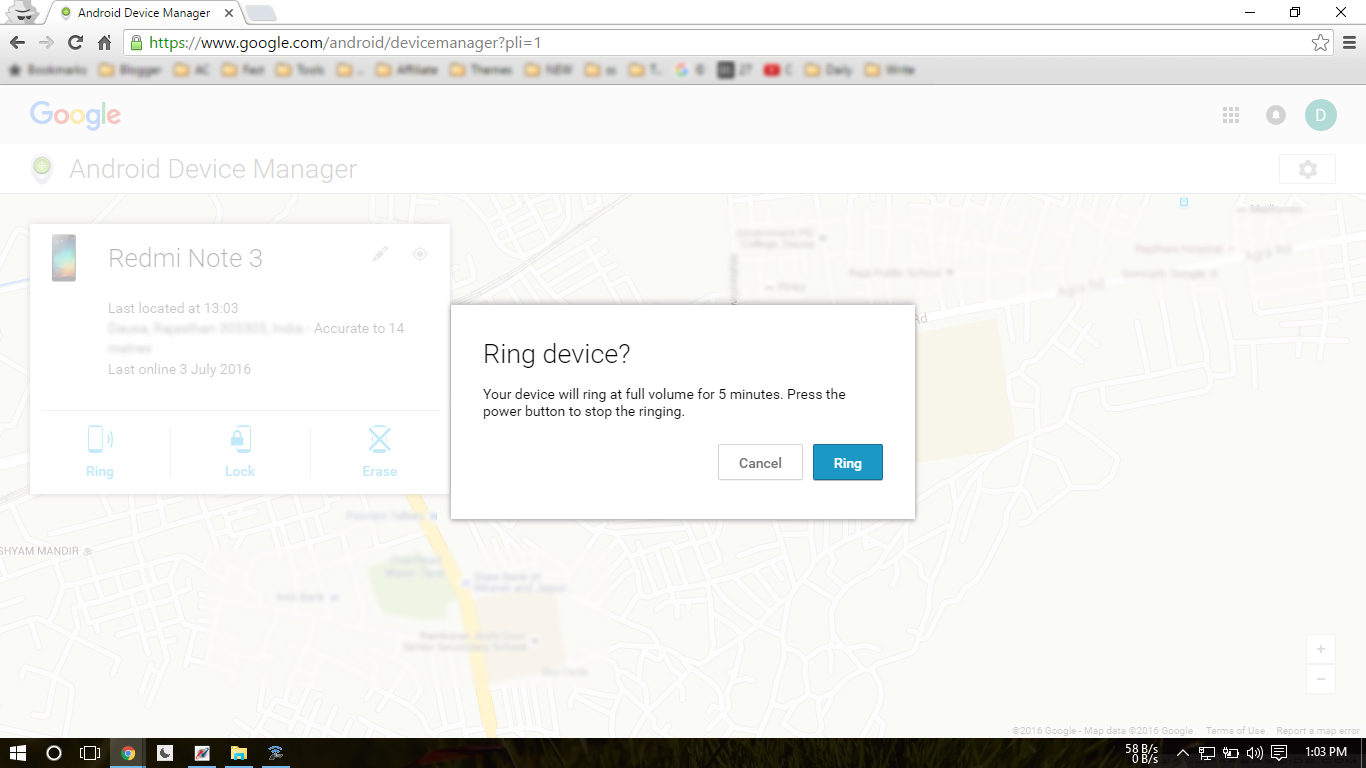 ==========
Please Note: You phone need GPS, and Internet connection turned on, to let Android device manager to detect its location or apply other action such as ringing on it or clearing data remotely.
What to do if none of this helping to get my phone back?
Your phone it was stolen and there us no way to get it back, Click on the "Erase" under you phone name in the Android Manager site. But I hope it won't come to this scenario.
==========
So if you have an Android, it is wiser to use this feature, If you're logged into Android phone with your Google account credentials. There are a pretty much chance that these options are already enabled on your phone, and you can use Android find my phone feature.
Once you are sure that you allow the "Android Device Manager features" you can just type this following link into any of browser and log in to your Google account to see the location of your Android phone. For this GPS should be enabled on your Android phone and an Internet connection is required to fetch data by Google Android manager
https://www.google.com/android/devicemanager
Note: To use ADM feature, you must first enable Android Device Manager options on your Android mobile phone. Make sure this feature is enabled on your phone follow these steps, double check whether you in every Android Device Manager option in your settings.
Here is how to enable it or double check it. (Skip this section if your phone is lost already).
You can find the settings under security section of Google settings app, or go to settings then Google if you have a new Android phone.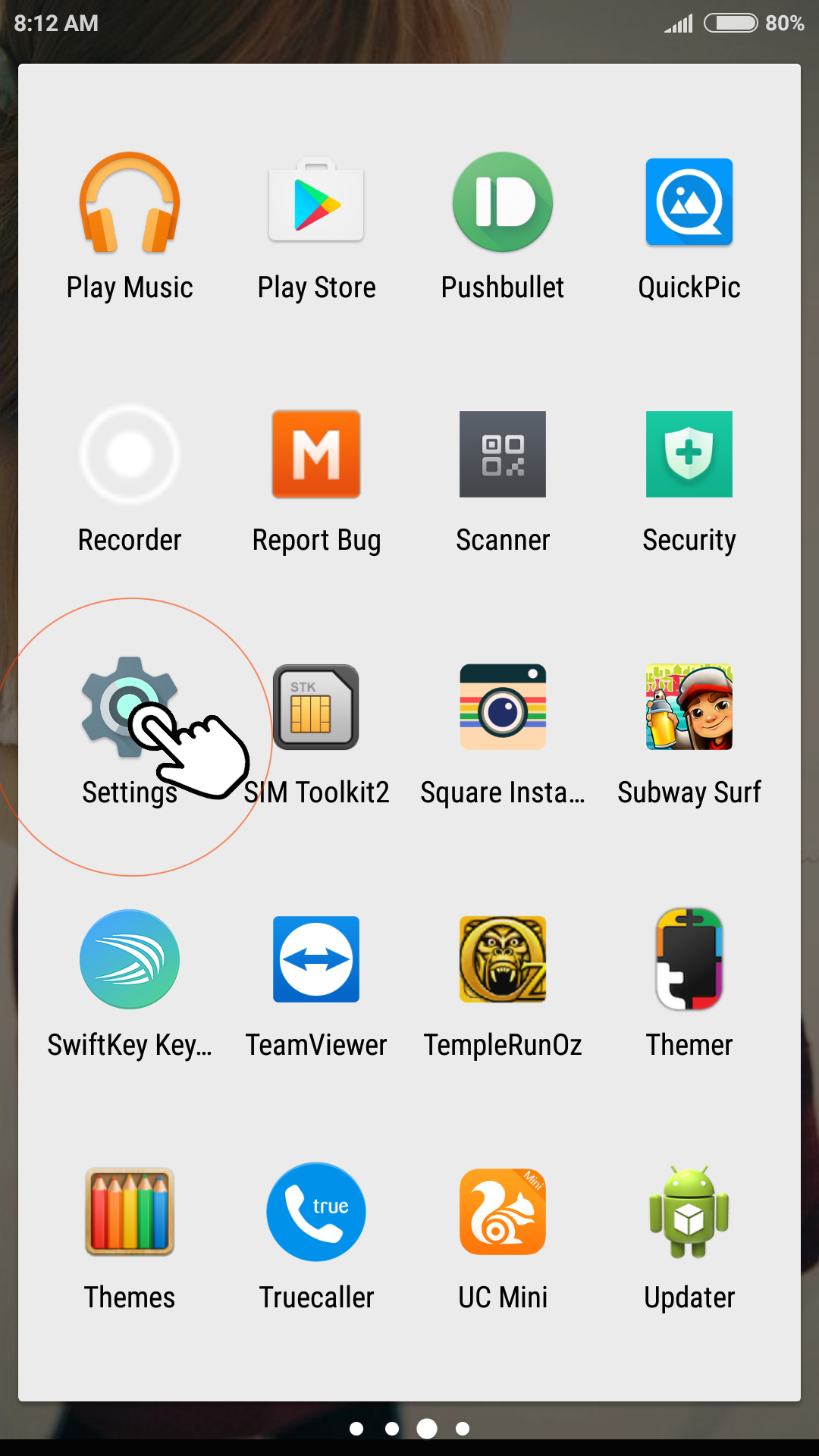 Find the Security tab and open it.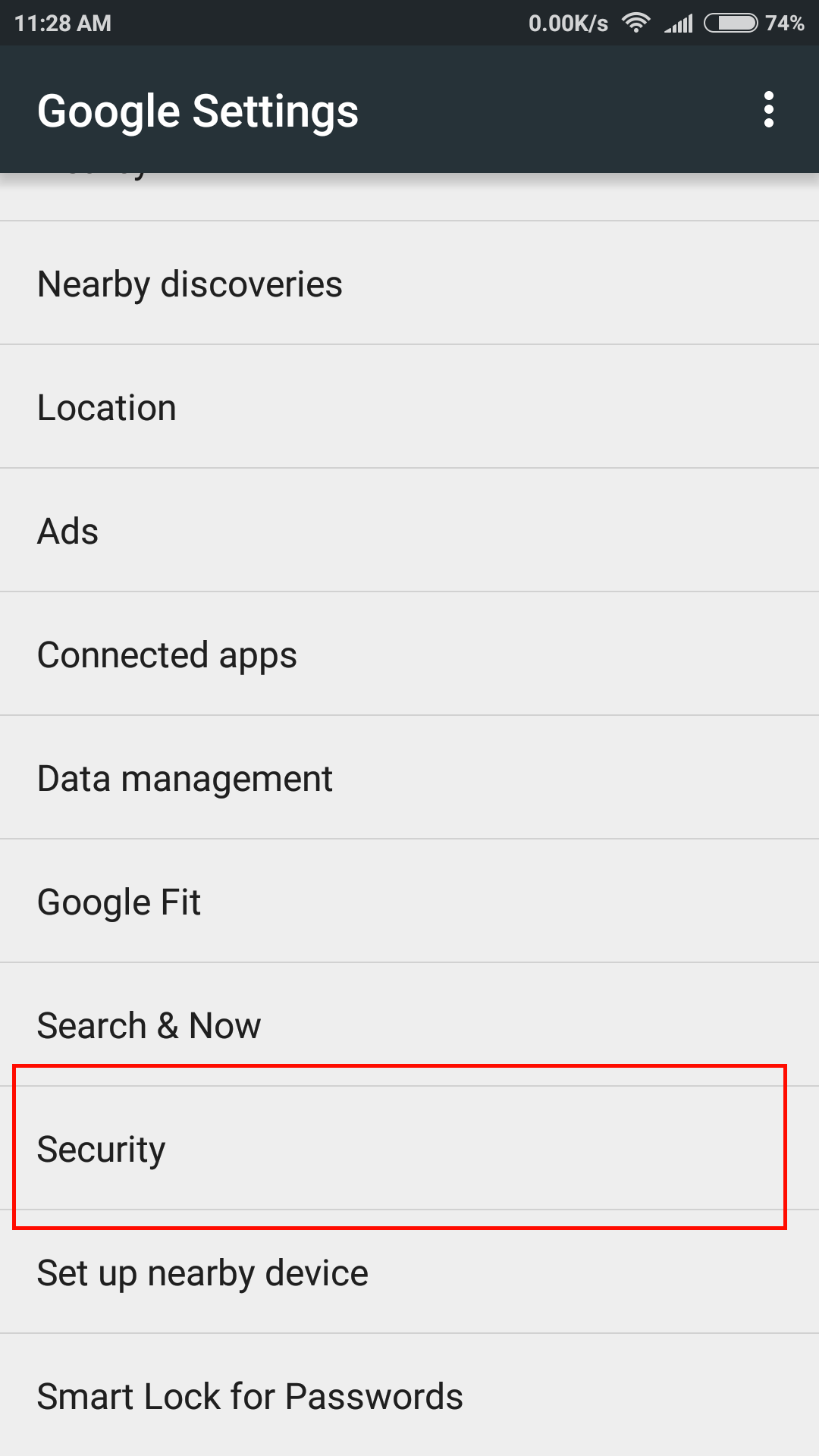 You'll need to enable both options under Android Device Manager. Tick the Both options, 'Remote locate this device' and 'Allow remote lock and erase'.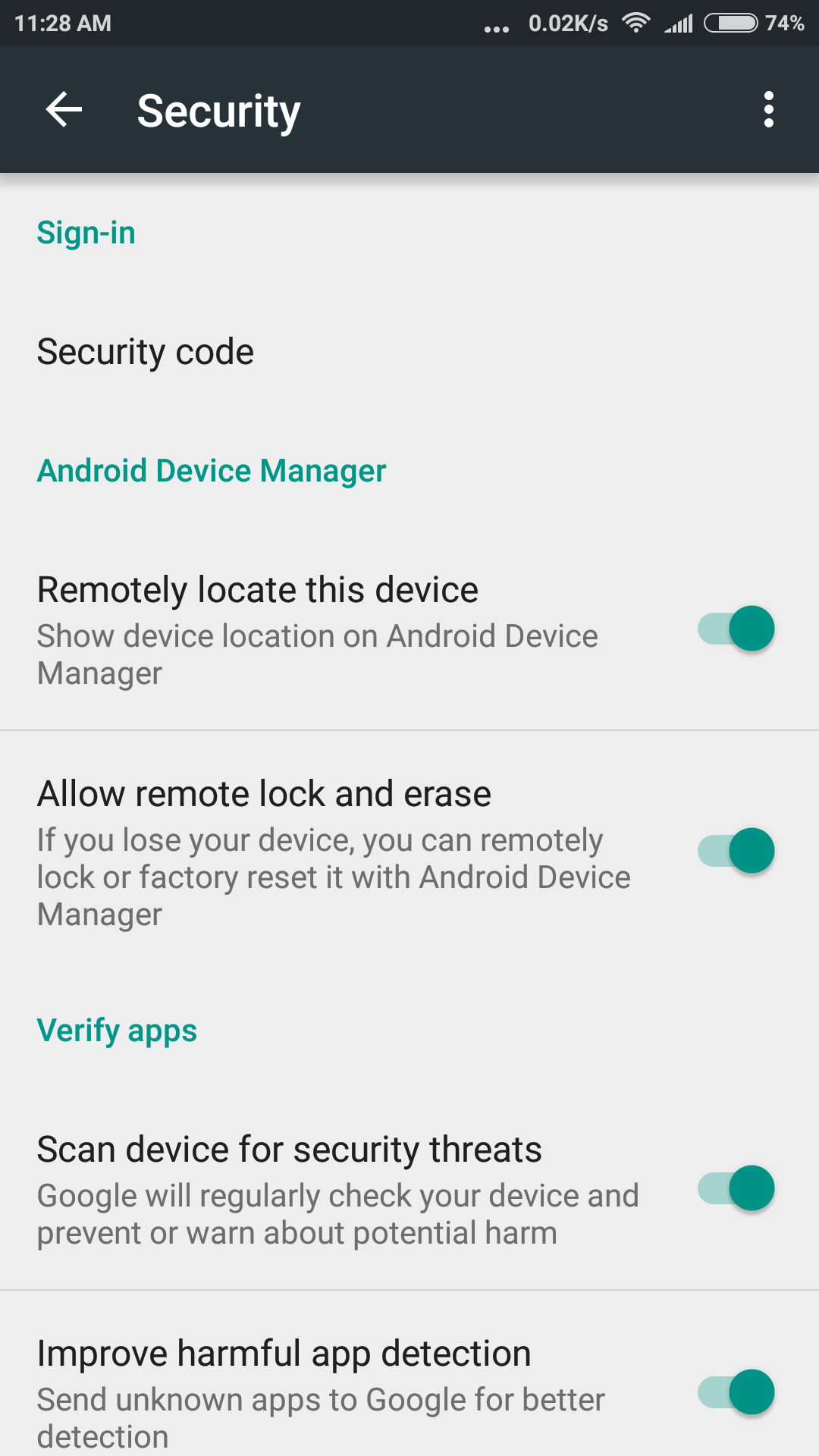 Samsung's Find My Mobile Feature
Samsung is also a popular brand and most of its phone are powered by the Android operating system. Samsung also provides a website to manage your signed Samsung Android phone. It gives more options then to Google's official Android manager.
Apart from locking and bringing your phone you can also extend the battery life and can wipe the data so that no one can access your Private data and all other files. This will also require GPS and the Internet on your phone to fetch data yo Samsung device manager.
To use this feature, you need and Samsung accounts to sign in on your Android phone after you can use this site to manage your Android.You can configure this setting under phone Settings → Lock & Security → Find Phone. To use this feature, you need and Samsung accounts to sign in on your Android phone after you can use this site to manage your Android.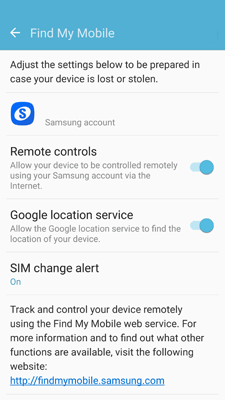 If you are testing this on a phone which you did not lost yet, you'll get this notification if you used Android Manager to location the phone's location.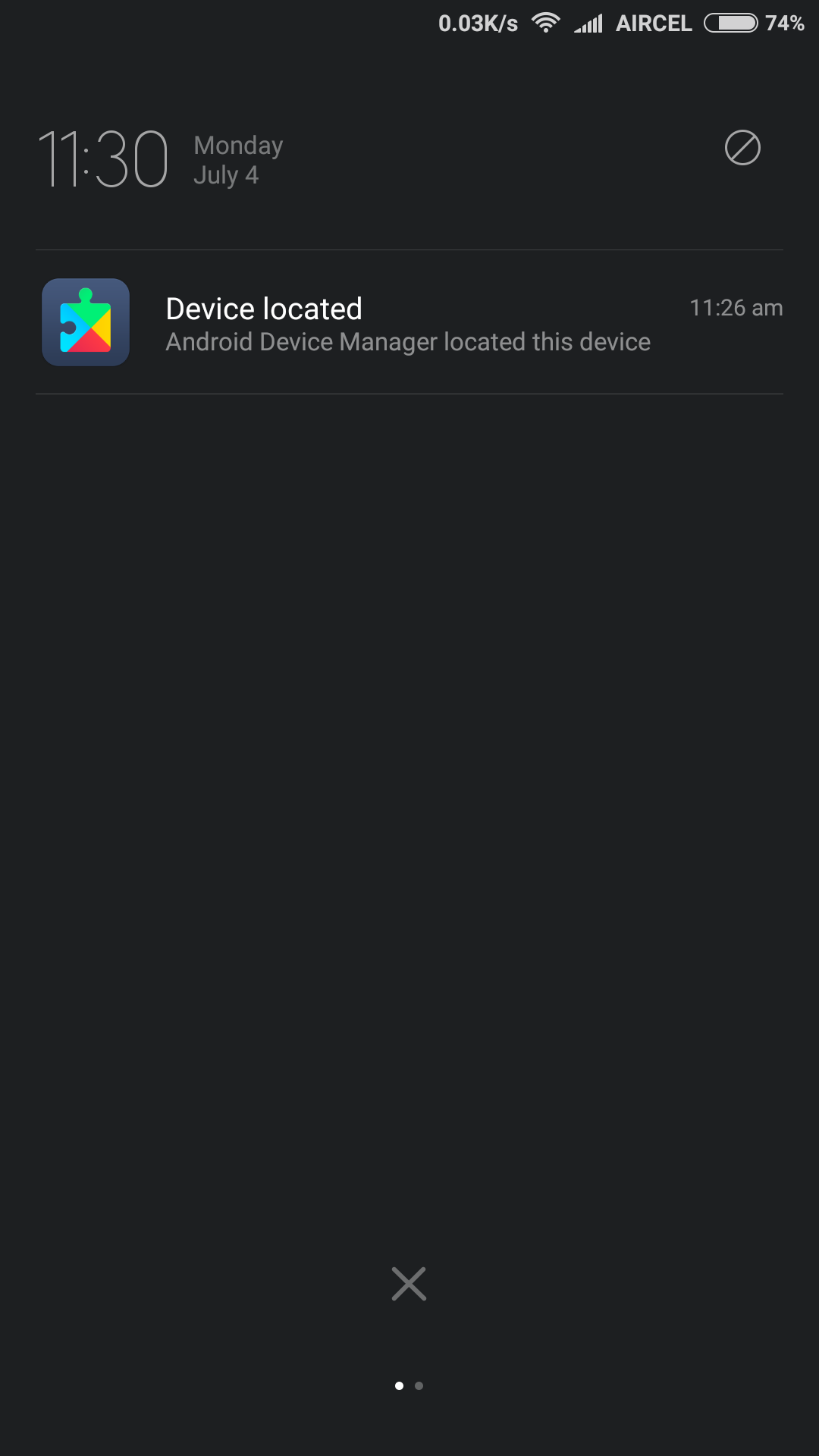 The above tips are helpful if you or your friends want to know How to find a lost Android phone, for both cases, you should always enable this security function and turn on GPS always. You may want to use an unlimited Internet connection.
[message]

Here are some more things you may want to read.
# When I can Find a Lost Android Smartphone.
There are a few things before you can be sure that you can track or find your Android phone, in case if it is already lost.
You must have signed with your Google account on your phone.
Your phone should have an internet connection to perform RING and Erase feature.
GPS should be enabled on your lost phone in order to track, else The Android manager will tell you it's the last location until someone turned off the GPS or Phone.
# What are the success rate in finding lost android phone.
Even if above given points fits in your case, there are still no solid chance that you will get your smartphone back, or track its location,
Why? If someone erased your Google account, turned off internet and GPS, reset the phone, changed IEMI.
# How to make my phone most secure so when it lost I can track.
Apart from the official Android manager, if you want to secure your android phone that isn't lost till. You can install a root app called Cerberus, this app can survive a factory reset and can send you message alerts when someone changes an SIM card. Also, it will send you a photo when someone put a wrong pattern to unlock your phone. You can disable power button and status bar remotely and can restrict by accessing your personal data. It requires Android 5 or latest.
=================
Ther Both of these features are extremely useful and can help you in locating your device quickly and easily without installing any 3rd party app on your device.
Enable this on your phone, and in case it gets lost you'd know where is my cell phone, as you can;t ask your telecom operator unless you are a minister. 🙂