The world is crazy about taking selfies and whatnot. Today we have access to the smartphones that can capture pictures identical to DSLR. Each day companies try to make their smartphone's camera good enough to take vibrant photos and shoot videos. We have seen the Honor company set to launch a four-lens camera smartphone, we have seen Samsung's three-lens camera smartphone. A lot of people face "Unfortunately Camera has stopped" when they open the camera application.
So before starting this article and jump to the solution, I would like to mention the possible reasons why this issue arises. When you update your phone sometimes things get messy, the same happens when you use a custom Android ROM. So today we are going to teach you all the possible solutions to fix your phone camera app.
I can tell from my experience when I root and flash custom ROMs and such ROMs are not bug-free. For example lineage, OS does provide an official branch of supported smartphones you can find an official custom ROMs for your smartphone on places like XDA Developer forums.
Why "Unfortunately, Camera has Stopped" error occurs?.
You are using a camera app that your hardware does not support correctly.
The camera lenses or hardware is damaged.
The camera app is not meant to run on your smartphone's hardware. 
These are the situations where you will get "unfortunately, the camera has stopped " error. but don't worry since all the problems due to software and wrong camera app can be fixed so just sit back and try these solutions.
Fix "Unfortunately Camera has stopped".
Uninstall 3-rd party camera
There are more than 1000 camera applications claims to supercharge your photos, few of them might actually work but rest is plain junk. When you use a third-party camera app it could be the main reason "Unfortunately Camera has stopped working" prompt appears. Remove any third party Camera applications and use the default one.
Also check what kind of permission camera app does require, in case of third party camera app go to its settings and allow it to use camera and storage.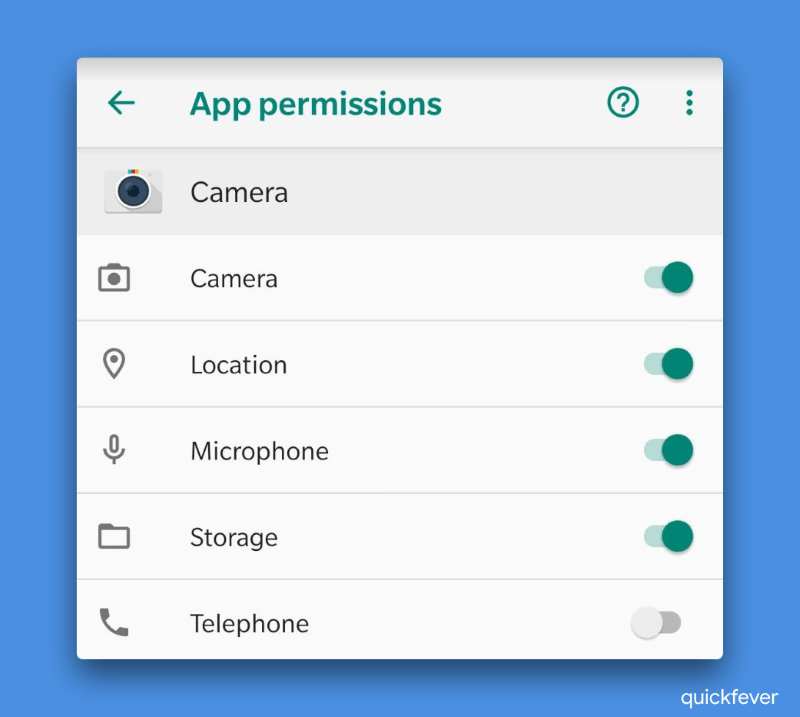 Open Settings.
Go App list.
Search camera.
Click the camera, then go to Permissions.
Tick required permissions.
If you are not using third-party camera application read on the next solution.
Restarting phone and camera 📴
Restarting phone sounds dumb enough that every people around-earth knows. A lot of applications uses rear camera, a simple restart will shut down all the ongoing and background process. You may also want to clear recent applications to uninstall any shady camera application.
Restart the camera app makes lot of sense. When your device has a considerable amount of Ram, it is beneficial for all the applications to stay in the background without closing them so you can reopen them and continue where you left off. If you open the camera app and then switch to another application there might be a slight chance is that you will receive the server when you again try to open the camera app. So what you need to close the camera app and then open it again.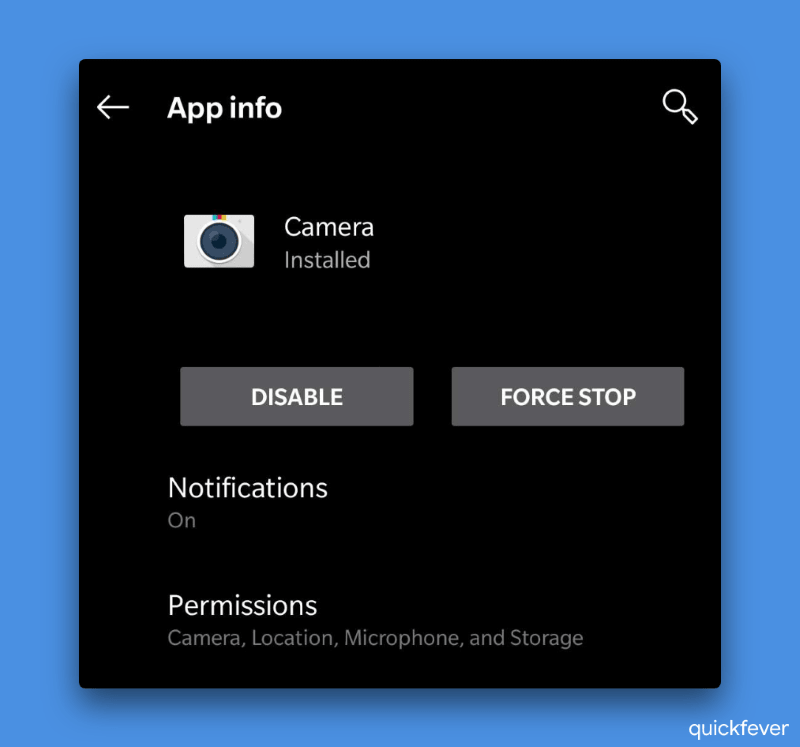 Force close the camera app by going to device settings > application list.
Look for the camera and tap force stop.
Open the camera app again from app drawer.
You may also want to give your camera application permissions to expect your storage to avoid any issues related. If restarting the camera app doesn't solve your issue read the following Complex solutions.
Check for updates
If you are lucky enough to receive frequent system updates from your smartphone vendor, sometime the update doesn't go to well and cause app crashing situation. Many people faces camera problems when they get a new phone, so companies quickly tries to push OTA update to address issues and fix things. Something things go opposite direction, mid-range phones has a wide user base, and anything wrong goes get covered by many Android news websites. A simple Google search will help you know if there has been a smartphone specific issue due to a patch.
When you installed a recent system patch, try to apply solutions #4 and solution #5.
Remove camera cache and data
When I have miss behave, it is the first thing we should do. Any application that shows "app has been stopped working" or similar can be fixed using this solution. In order to clear an app data and cache you have to reset the application to its default state.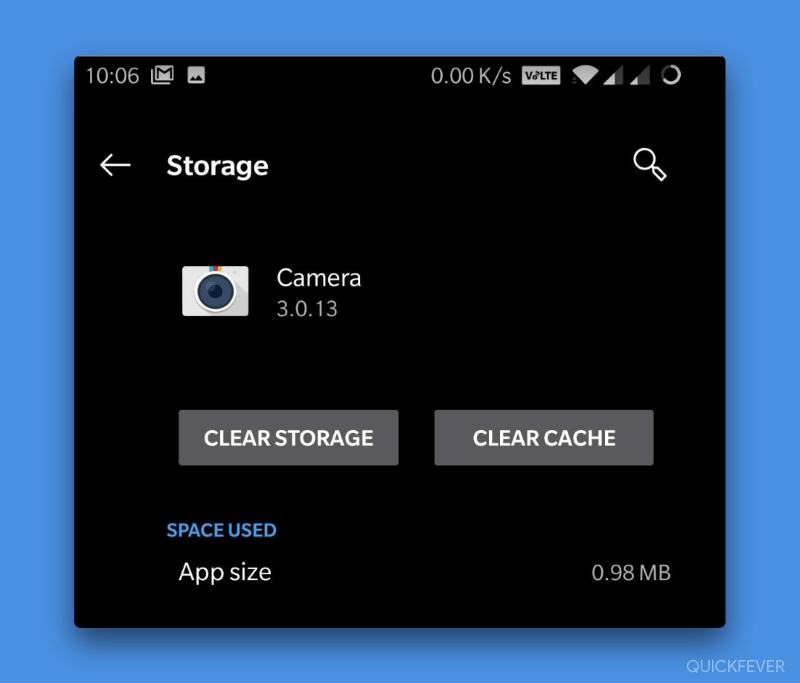 Visit Android Settings.
Open applications and load the application list.
Tap on the camera application.
Select storage.
Tap on clear data and cache.
You can first check by clearing only cash to see if the camera app work find now if not go ahead and clear application data. It will force the camera app to start from the base settings, and you will see that the problem should be gone by now.
Wipe full system cache 😎
Clearing camera data and cache didn't solved the issue and you keep seeing "Unfortunately Camera has stopped" message when using Camera app. Try to clear system cache also known as delvik cache. New Android version don't have this portion since they use higher level mechanism for cache storage.
Boot into your phone recovery menu, this can usually done by pressing volume + power up or Power down button simultaneously.
When the recovery menu opens look for something that says clear system cache.
There you might need to navigate through the volume button and power button to confirm a action.
Flash Stock ROM
Nerds have this habit to install custom ROM's on their smartphones. It you're using popular Custom ROM's likes of Lineage OS and Resurrection Remix you are likely to have few bugs on supported devices. I can't say the same for other ROM's and specially unofficial and unsupported one, there are thousands of threads alone on XDA-forums present for devices.
You might want to go back to your stock ROM, it might have older version but is more likely better stable compared to other options. there are abandoned phones which never receives new Android version updates, installing custom ROM on them is fine, but use Google Camera port instead of whatever Camera app you get pre-installed.
Warning: A tons of blogs write Custom Android ROM articles to get traffic, you might want to avoid downloading ROM from such website and only official Custom ROM project sites and Android Forums.
Use Google Camera port
GCam also known as Google Camera is a stable Camera App, forked from Google Pixel series smartphone and breakdown to support other devices. While GCam forks are usually device specific. ANd using a correct Gcam should fix "Unfortunately Camera has stopped" and all other error related to unsupported camera app.
We don't provide or store APK files on our website, you better make a Google search "Download Google Camera + Your Device" and similar queries.
Wrapping it up : unfortunately Camera has stopped
Users face this issue with all smartphones including Sony, Samsung, Xiaomi, Oneplus, Pixel and many more. Now that you know all the procedures to overcome camera has stopped issue. You can help yourself and friends when such situation occurs.
These solutions know to work fine with Motorola, Samsung S4/S5/S6/S7/S8/S9/S9 etc.), LG (LG G3, LG G4, etc,) and other devices running on Android lollipop, Marshmallow, Nougat and Pie.